When distant friends ask what's new in Albania, I laughingly tell them that most days are wonderfully the same, with three or four basic 'templates' that repeat blissfully. And no matter what I'm doing, every day includes a good dose of chatting with friends, good food, and new experiences in this land that I've come to call home.
But before I wax poetically about my crush on Albania, I should answer the one question that everyone asks me: How did I end up here?  As a child growing up on the coast of Maine, I wanted two things: to be a teacher and to travel. After completing my degree in secondary education and teaching for a few years in the U.S, I began teaching abroad. I started in England, and by the time I retired at 60, I had lived in Saudi Arabia, Egypt, Germany, Ecuador, and Brazil, and visited more than 30 other countries. My goal is now to leave my 'roving retirement' and find a place to settle down. And I just may have found it in Albania.
A year and a half ago, leaving Spain, I decided to visit Albania. I knew very little about the country, but over the next few months, I fell in love. However, any ideas of this as my new home were dashed, as Albania offered no retiree visa. As an American, that meant exiting after 365 days, then restarting the clock after 90 days out of the country. Not ideal, so imagine my delight when the government announced recently that they're creating a retirement visa for foreigners. Although it's still being developed, the basic requirements are a background check, health insurance, a notarized rental agreement, a local bank account, and an annual pension of $11,850 ($980/month).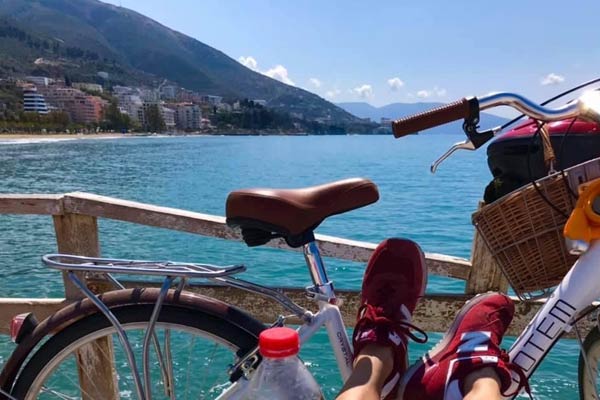 Life here is simple, relaxed, and no-frills. The cost of living is very low (more on that in a bit), the people are warm and friendly, and the coastal city I call home, Vlorë, is where the Ionian and Adriatic seas meet. That means a typical Southern European climate of mild winters, and summers that last from late April to early November. Admittedly, July and August are quite warm everywhere in Europe, but the sea breezes here help tremendously. I didn't need AC last summer, and a small space heater was ample on particularly chilly and damp winter evenings. Winters here are a far cry from shoveling snow in New England!
So, what's a typical day like here? I awaken and open the French doors to my balcony, letting the warm sun stream in, and gaze out over a cloudless sky, mountains to the west, and the deep turquoise sea to the east. Nearby church bells mark the hour, and the aroma of Italian coffee wafts up from the street below. I'm ready to head out to greet the day!
But before I cycle to the town center, I make a stop at the large outdoor produce market, just two blocks from my apartment. Today, mid-May, strawberries are plentiful ($1 a pound), and I count no fewer than a dozen types of greens. New carrots, baby zucchini, peas, radishes, and much more are making their first appearance. I fill two large bags with fruits and vegetables, add fresh eggs, and it's under $5.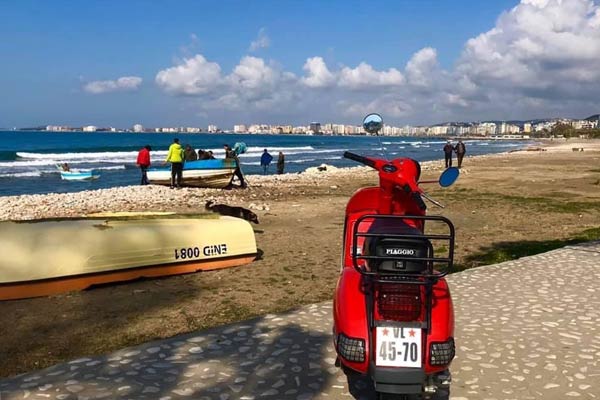 Shopping finished, I ride my bicycle to the center of town, where I'll meet friends for coffee.(Did You Know: Albania has more cafés per capita than any other European country.) And oh, the coffee! I'm not shy about saying I'm a coffee snob, and can you beat an Italian espresso for just 50 cents? Well, you actually can—at my favorite café, the price drops to just 30 cents on weekends!
After catching up with friends, I get on with my morning. First off, a stop at the pharmacy where I'll pick up a prescription (over $300 in the U.S., it's just $7 here). I smile inwardly knowing that the pharmacist will gently chide me about not learning Albanian very quickly, but two things are responsible for my slow progress. One, it's a difficult language, but two, even when I attempt to speak it, people understand my struggle and jump in with English. Most people speak at least some English here, and many are fluent. But when there's a language barrier, the locals use their best resource—the kindness of one another. More than once a shopkeeper has opened the door to her shop and called out to passersby, asking anyone who speaks English to come inside and translate. And invariably, within seconds, someone does just that! As one local told me early on, 'We are very kind to strangers.'
So, after the pharmacy, I'm heading to another outdoor market in the center of town where I'll pick up jars for the strawberry jam I'm making, and I also need some of the local hand-spun wool yarn. Fellow knitters will be shocked at the low prices for this beautiful wool—about $1.50 for an eight-ounce skein. It would be 10 to 20 times that in the U.S.
As I cycle past my dentist's office, I pop in to confirm that my crown will be finished for the next day, but the dentist tells me it's ready now, so within minutes it's cemented in place. By the way, the total cost for a porcelain crown is just $80. (I have a friend in Spain who is coming to visit in a few months, and she plans to get three crowns replaced at the same time. It will save her over $1,000 doing them here.)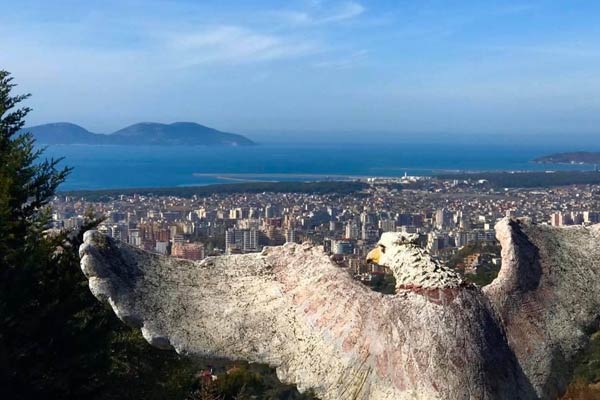 The supermarket is next on my list. While there are small mom-and-pop supermarkets on every block, the larger chain supermarkets have Italian foods as well, including prosciutto, pancetta, arborio rice, and aged Italian cheeses. Today I'm picking up mascarpone for tiramisu. Food costs are low in the supermarkets: a liter of local olive oil is just $7.50, plump roaster chickens are $3 to $4 each, paper goods, and cleaning products cost far less than in the U.S., and even my sensitive toothpaste doesn't cost any more here than back home. You can use debit and credit cards at the larger supermarkets, but otherwise, it's pretty much a cash culture here. The currency is the leke, and there are ATMs on every block or two, many without fees, even if you're using a debit card from the U.S.
So, errands done and my shopping put away, it's time to think about lunch. If you're craving a pizza, an individual pizza Margherita is just $3, but if you're feeding a few people, get the family size (which feeds 4) for $7. Bottled water (flat or sparkling) is 50 cents, soft drinks are $1, or you can enjoy a beer or a glass of wine for $2.
Afternoons are the perfect time for the beach or exploring the town (and beyond), as smaller shops and businesses close for a few hours. From the town center to the beach is less than a mile, and it's an easy bike ride due to the flat terrain and wonderful bicycle lanes. Yesterday I cycled out to a medieval Byzantine monastery on a tiny island north of town. It was an easy ride, traffic was low, and drivers are careful and considerate of cyclists. The miles-long promenade along the sea also has wide bike lanes lined with tall palms on each side, reminiscent of Miami Beach. On one side is the warm sand, bright umbrellas, chaises, and the deep turquoise sea, and on the other is one continuous row of hotels, cafés, and high-rise apartment buildings. Another afternoon excursion could be a climb to the old castle ruins (dating back to the 3rd century BC) overlooking the city. You can drive or take taxis (very inexpensive) to any of these. And city buses are just 30 cents per ride.
Speaking of costs, a quick aside to discuss the low cost of living. I pay $250 a month for a one-bedroom/one-bath apartment in the historic center of town. Friends tell me I'm paying too much, as most pay no more than $200 for a similar apartment, even on the beach. Those who do pay more generally have two to three bedrooms and two bathsrooms.  But I have a very attentive landlord, I love my neighborhood, my apartment is modern, large, light, includes new furnishings, a washer, full-sized fridge, oven and cook-top, and even has window screens (a luxury anywhere in Europe, to be sure!), so I'm content here despite the 'high' rent! Utilities are inexpensive as well—my electric bill averages $20 per month, the internet is $18 a month, and water is a flat rate of $6.50 a month as we don't have meters yet in my part of town.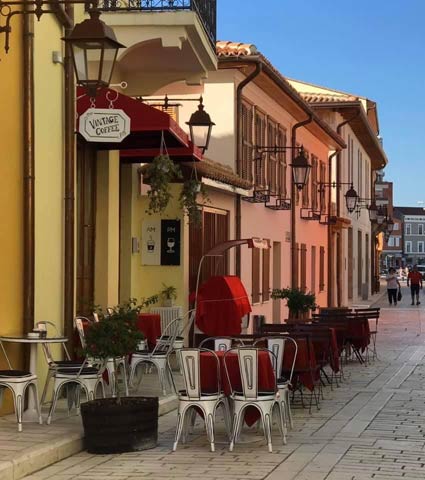 But does living in this paradise mean I've lost my desire to travel? Absolutely not. Italy is just 50 miles to the west, and there are daily ferries to Brindisi. To the south, drive just 100 miles and you're in Greece, or you could head north to Montenegro (and Croatia). If you get a hankering for a white Christmas, as I did this past winter, you can head east over the mountains to the beautiful town of Ohrid, on Lake Ohrid in North Macedonia. Snow-capped mountain peaks are a direct contrast to the warmth you'll experience from the friendly locals there; I stayed for the full three months permitted. For all of these destinations, you can drive, use the intercity buses, or hire one of the many very reasonably priced multi-lingual international drivers (their door-to-door service can't be beat). If you'd like to go farther abroad, Albania has easy access to the rest of Europe; over 30 new non-stop flights to Europe (and beyond) have been added just this past month. The main airport is in the capital city of Tirana, and the shuttle bus service from Vlorë is just $9 to the door of the airport.
Returning to our typical day in Albania, it's time for our evening meal. Restaurants along the beach offer good food at reasonable prices. The most popular meal is meats cooked on outdoor charcoal grills; these include beef, pork ribs, lamb, chicken, goat, and more. They're ordered by weight, so for four people, you might order 1 kg (2.2 lbs) of grilled chicken ($8) or perhaps a platter of mixed grilled meats ($15), a family-size salad ($4), and perhaps some grilled seasonal vegetables ($2 to $3). If you prefer fish, it's a bit more expensive but deliciously prepared; sea bream and sea bass are usually available, and 1 kg is $25.
Life in Vlorë, Albania is so wonderfully uncomplicated, right down to the final tradition of each day. No matter how you've spent your day, that final hour of daylight always ends with the evening 'passaggiata,' a tradition reflecting the Italian influence here. Every person of every age comes out of their homes in the evenings for a leisurely walk, to say hello to friends, and without fail, to enjoy a gelato. I love this part of the day, and as I walk, reflecting on my wonderful life in my newly adopted land, I hear my name called out. Tonight, it's an elderly gentleman from my neighborhood who leans forward and kisses the back of my hand. We chat for a few minutes, and then, as vivid hues of turquoise and pink fill the sky to the west, I walk home, content and happy as another day gently closes in this country that has welcomed me so lovingly.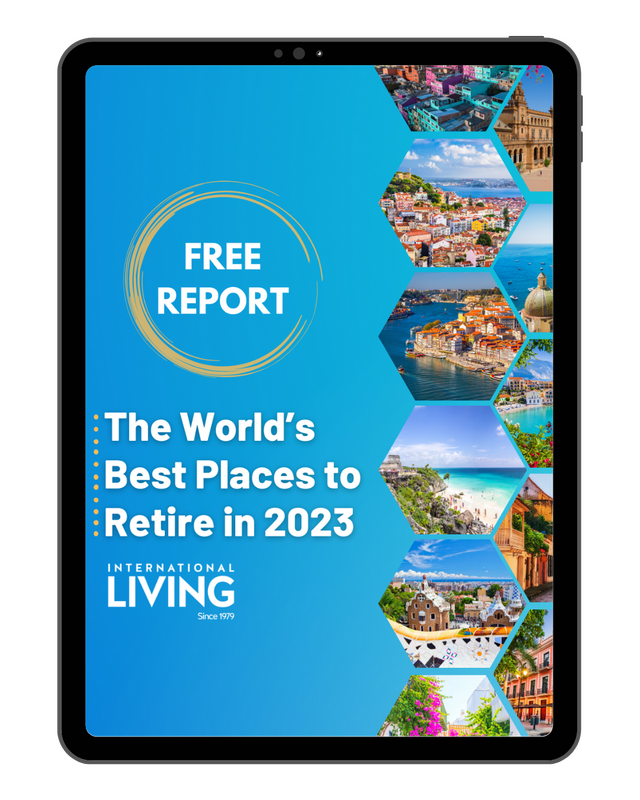 Get Your Free Report on the World's Best Places to Retire:
Learn more about the best places in the world to retire in our daily postcard e-letter.
Simply enter your email address below to sign up for our free daily postcards and we'll also send you a FREE report on The World's Top 10 Retirement Havens, plus access to over 10 more free reports. Our gift to you, on our favorite destinations.
Related Articles
6 Great Reasons to Live in Beautiful Albania
Three Faces of Albania—Europe's Last Frontier
5 Expat-friendly Balkan Nations Ideal for Roving Retirees
Popular Articles You May Also Like