When I was doing my check-out trip to Medellín in early 2012, Guatapé was one of my first day trips to the countryside. I had lived on the coast of Maine for 27 years before my decision to move overseas, so I was used to having quick access to water. The lake area in Guatapé is the closest body of water to landlocked Medellín.
Each turn delivered breathtaking views.
As I traveled east from cosmopolitan Medellín along the well-paved two-lane highway, the landscape changed from big city to rural country. I wound through the mountain roads, and each turn delivered breathtaking views of peaks and valleys, the next more beautiful than the last. Small farms with grazing cows dotted the lush green countryside as glimpses of the lake came into view.
When I arrived, I felt as if I were inside a postcard. I couldn't snap enough pictures of the lush green mountain vistas, the bright blue sky speckled with puffy white clouds, and the sprawling lake sparkling in the sunlight.
In the 1970s, Empresas Públicas de Medellín (EPM), the local public utility company, built an impressive hydroelectric project which flooded more than 15,000 acres of land, and submerged the town of Peñol. The newly created freshwater lake, that is also the main reservoir for water in Medellín, changed not only the landscape of the area, but also brought tourism to the local economy.
Fifteen or so years ago the people who had crystal balls, or accidently stumbled upon the Guatapé area, bought property before it became such a draw for tourists. Mostly middle-class Colombians from Medellín bought up land around the lake to build their family finca (vacation home) or to hold the lots for the future.
During the past couple of decades development has blossomed with the construction of many new fincas, some low-rise apartment buildings, and several hotels. But if you didn't buy years ago, you haven't missed out. There is still time to buy now and find some fabulous properties for either your personal use or to rent to vacationers before the next wave of tourism hits full force. And it's coming.
Only a 50-minute ride from the airport.
In August 2019 the town opened the new 4.7-acre malecón, (waterfront boardwalk). EPM contributed the lion's share of the $6 million price tag. In the next year the project will grow to include a $2.4 million boat dock. In the same month, the new $342 million tunnel opened, taking about an hour off the journey to Guatapé from Medellín, bringing it down to only 90 minutes.
These investments in infrastructure are a good sign that both the government and local businesses have faith in the continued growth of Guatapé and the lake area, so an investment in real estate for either personal enjoyment or rental income seems a safe bet.
If you visit picturesque Guatapé during the weekends, the pueblo will be packed with Colombian tourists, including many families with children. Also, on the weekends, the boardwalk fills up with local vendors selling art, food, and souvenirs. During the week, there are fewer tourists on the boardwalk, so you'll be able to explore the area without fighting the crowds.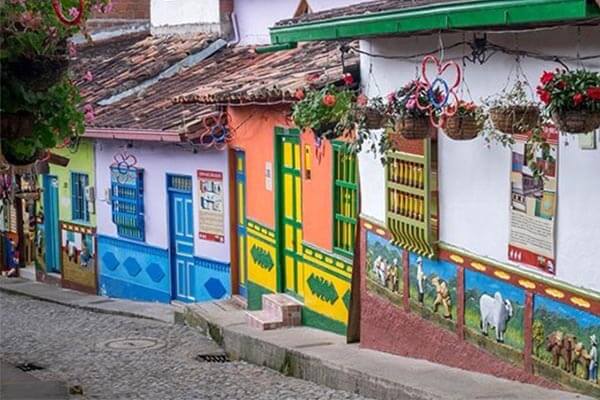 The lake has waterskiing and is stocked with North American rainbow trout for fishing. You can rent small boats, jet skis, kayaks, and paddleboards. If you are a little more adventurous, you should try the canopy zip line over the lake. One of the most popular activities is a boat cruise around the lake. Several large party boats are docked near the malecón and set sail every hour. The trip brings you to the last remnant of the underwater town: a church cross emerging from the water. On board you can purchase drinks, dance to piped-in salsa music, and certainly fill your camera with amazing scenery shots of the lake, mountains and, of course, "the rock."
At 7,005 feet above sea level, La Piedra del Peñol is a natural attraction for both visitors and locals. The views of the lake from the top of this 70-million-year-old monolith make climbing the 740 winding wooden steps well worth the effort. I've done it several times. I like to call it "nature's stairmaster." You can easily get from town to "the rock" by taking one of the brightly colored tuk-tuk style moto transports.
Nicknamed "The Most Colorful Town in Colombia," quaint Guatapé is well known for its in-town houses covered with brightly colored zócalos (decorative relief tiles) inspired by stories of village tradition, landscapes, flowers, fauna, and objects that are part of daily life. Spend a few hours wandering through the streets with a camera in hand capturing some of the creations.
Stubborn donkeys, inquisitive sheep, and priests seemed to be the most common emblems. However, there are also designs with dragons, giraffes, zebras, and flowers. Plaza de Zócalos is a pretty square with decorated steps and an entire street strung with umbrellas. It is a great place to sit for a while, enjoy a cup of rich Colombian coffee, and watch the world go by.
Guatapé is now a prime vacation spot.
Guatapé is now a prime vacation spot for both local Colombians and foreigners visiting the area. The town is only a 50-minute ride from José María Córdova International Airport, Colombia's second-largest airport, which receives nearly 9 million passengers a year. You can also get there by bus from the north bus terminal in Medellín located at the Caribe metro station. The direct and easy access along with the newly developed malecón makes Guatapé a good bet for buying vacation real estate.
If I've piqued your interest and made a case for purchasing real estate around Guatapé, let's explore what is available. You can find all types of real estate including moderate and large fincas, in-town apartments, and land to build your own slice of paradise.
Colombians tend to vacation with their whole family. The aunts, uncles, cousins, and grandparents often rent a large finca for weekends, or high season Christmas and Easter weeks. A perfect fit is this large six-bedroom, three-bathroom, 2,153-square-foot, two-story country home that sits on a 1.3-acre lot in the hills, for sale for $244,000.
A mere five-minute drive from the town center along a paved road brings you to a family compound complete with plenty of amenities to keep everyone having fun. This would be a great property for use by you and your friends, or you could rent it out to Colombian families. The property comes with space to park eight cars. The finca has a one-bedroom, one-bathroom majordomo (caretaker) cottage on the property. Leave your property in the constant care and capable hands of someone who will maintain the grounds and the house while you take it easy. See: Fincaraiz.com.co.
If you would rather be in town, a couple of blocks from the park, restaurants, and cafés, then a $55,000 two-bedroom, one-bathroom, 935-square-foot apartment may be just what you are looking for. The open living room, dining room, and kitchen area is spacious. You could use the property for your own getaways, or consider renting it out on weekends. Similar apartments in the area rent for $30 to $45 per night. See: Apartamento.mercadolibre.com.co.
While the mountains and the adorable town are wonderful, living right on the lake would be my first choice. I know of an amazing two-bedroom, two-bathroom, 861-square-foot luxury cabin-style condo on the shore of the lake directly across from El Peñon rock. It lists for $175,000. The current owner rents this unit for $175 per night on Airbnb. If you were to rent this for only every other weekend, you could realize a 5.2% gross return. See: Paradiserealtymedellin.com.
Of course, you could also decide to keep this for your own exclusive use. Relax on the balcony while drinking your favorite beverage next to the wood-burning fireplace. The extremely quiet resort lets you completely unwind. But even though you are in the country, you are not missing any modern amenities. The modern cabin has DirecTV and broadband internet so you can stay connected.
The unit is part of an exclusive gated community that has a private sand beach to soak up some rays and refresh yourself in the cool, clean mountain lake water. If you'd rather be a little more active, you can rent a jet ski, boat, or other water toys from the dock just beyond the beach.
For those weekends when you don't feel like cooking, just walk a few hundred yards from your front door to the onsite restaurant and bar. Best known for its brick-oven pizza, you can sit on the restaurant's enormous deck and enjoy views of El Peñon rock and the lake while sipping a cocktail in front of one of many gas firepits.
When it comes to choosing a place to live, people are usually slotted into categories. They are either water people or mountain people; city people or small-town people; close-to-everything people or remote-bliss people. Guatapé may be the spot on the earth where you can have easy access to all these types of living.
Get Your Free Real Estate Report Now
Sign up for our free daily Postcard e-letter and get a valuable free report on the The 5 Best Places to Buy Real Estate In 2023.
Related Articles
3 Towns I Love Near Medellín, Colombia – Guatapé, Jericó, and Jardín
5 Places to Live in Colombia; 2 to Avoid
20 Things to do in Bogota, Colombia