Medellín, the world-famous capital of Colombia's coffee-growing region, is a justly popular tourist destination. But if you visit just the city itself without exploring the smaller towns nearby, you're missing out on a treat. The charm, beauty, and friendliness of the locals are even more evident in these three towns.
Guatapé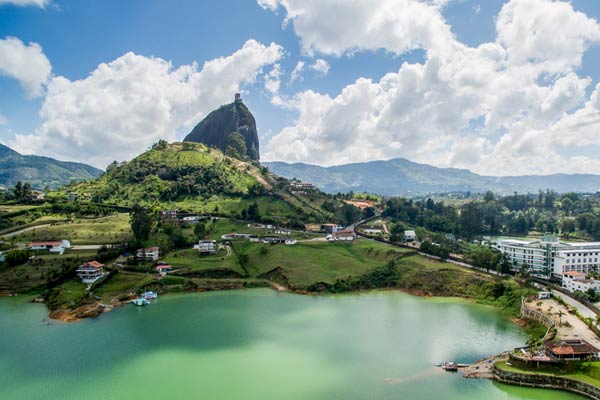 The town of Guatapé, considered one of the most colorful in the world, is located on the shores of a sinuous artificial lake created in the 1970s. The town is mostly famous for its 650 foot monolith, El Peñón de Guatapé, located next to the reservoir. The rock, a national monument, has a 750-step curving stairway carved into the northern face, with a shrine to the Virgin Mary halfway up. On the terrace, you'll enjoy an expansive, 360-degree view of the reservoir, islands, and distant mountains.
After visiting the rock, you can either walk 15 minutes or catch a tuk-tuk (rickshaw) into the center of town. On the steep, winding streets, residents paint their houses and businesses in vibrant primary colors, like out of a Crayon box. The lower half of the buildings are decorated with whimsically-shaped depictions of people, animals, plants, and landscapes. Sometimes they reflect the businesses inside, with images such as loaves of bread, sewing machines, or musical instruments. You can easily spend a couple of hours wandering along the streets admiring the artwork.
The lake itself offers much to do. You can walk along the malecón, or lakeside promenade, and take a boat ride to the town that was submerged by the creation of the reservoir. There's also a canopy zipline over the lake. We visited midweek, when it was calm and relaxing, but if you like a festival atmosphere, join the Colombian tourists and come during the weekend.
Guatapé is two hours by bus from Medellín's Terminal Norte.
Jericó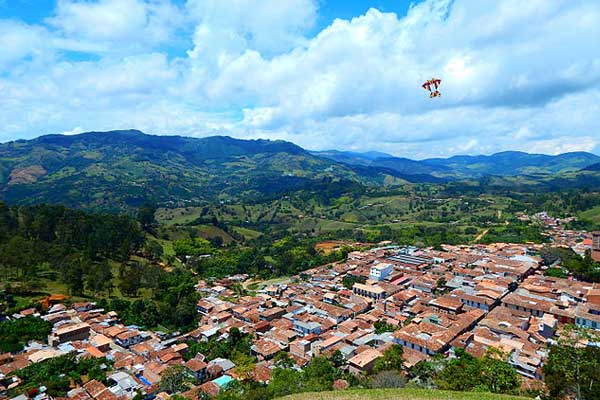 Jericó is one of Colombia's 17 pueblos patrimonios (heritage towns). It is filled with brightly painted houses, ornate balconies with flower boxes, and tuk-tuks bumping along cobblestone streets.
If you enjoy viewpoints, you're in the right place. Before breakfast one day, my husband, Barry, and I strolled along the paths of the lush botanical garden, then climbed to the top of a hill, where, standing by the 30 foot open-armed statue of Cristo Redentor, we looked down at the tiled rooftops below. Early the next morning we did another short climb to the pilgrimage shrine of La Gruta La Virgen de la Peña. There's nothing like an early-morning open-air workout to make you feel you've earned your breakfast.
We also hiked three miles up to Cerro de Las Nubes (Hill of the Clouds), following a trail of mottos that ranged from the cheesy ("La vida es un viaje, disfrutala" = "Life is a trip, enjoy it") to the wise ("Aquí no hay wifi, pero te asguro que encontrarás una mejor conexión." = "There's no WiFi here, but I assure you, you'll find a better connection." My favorite was, "Sonrie para la vida, no solo para la foto." = "Smile for life, not just for the photo." At the top was a generous grassy meadow with families picnicking.
If you want yet more places to climb, you don't have to leave town. Check out the short but steep picturesque streets of 80 Steps and 100 Steps. Or, for a less hilly walk, head to the church called Santuario de Santa Laura at the edge of town and walk along the dirt road just past it to the left, about 45 minutes. You'll reach a swimming hole called Las Brujas (The Witches), where people swim and picnic.
For a souvenir, consider buying one of the locally produced iconic leather bags called carriels, which were once used by muleteers traveling through the mountains of Antioquia. They are known for their many inner and outer pockets, some hidden.
Jericó is about three hours by bus from Terminal Sur.
Jardín
While in Jericó, we heard about a village called Jardín, said to be even more picturesque. Of course, we had to check it out. Having heard that the bus from Jericó to Jardín was torturously slow, we hired a local Jeep driver to drive us there. Two hours, he promised.
Well…after three a half bumpy hours on a dirt road, we crested a hill and peered down at the village. It looked almost make-believe, like a children's storybook, with ridiculously painted houses surrounding a large, inviting plaza. Men in cowboy hats sat outside sipping tinto, a locally produced coffee. We could hardly wait to join them.
Jardín, another pueblo patrimonio, boasts breathtaking mountain views, friendly locals, horsemen, and barely a tourist to be seen. With only 20,000 residents, and less accessible than Guatapé or Jericó, Jardín is said to be virtually unchanged architecturally in the last 140 years and one of the best-preserved colonial towns in Colombia.
There's much for both the active and less active visitor. You can take the funky yellow wooden cable car up to the viewpoint, then walk along the track to a locked tunnel, where the caretaker from the house opposite will guide you through the musty darkness, and show you the tiny entwined bats clinging to the walls. You'll be rewarded with a waterfall at the end.
Or take longer journeys on foot or on horseback into the green pastoral hills. Visit La Reserva Natural Jardín de Rocas, the bird sanctuary on the edge of the town, where if you're lucky you'll sight Colombia's national bird, the bright red cock-of-the-rock.
Or just sip tinto in what has to be one of the loveliest squares in the northern hemisphere.
Jardín is just over three hours by bus from Terminal Sur, a simpler (and more paved) journey than the way we did it.
The Takeaway
OK, it's decision time: which to visit? I'm not going to join the betting match and tell you that Jardín is better than Jericó. All three towns are worth visiting. Guatapé is easily manageable in a day, whereas the others involve a long enough journey that you'll want to spend at least two nights at each. If I had to choose, my favorite is Jericó, because of all the nearby walks and viewpoints. But they're all so delightful, you can't go wrong.
Related Articles
5 Places to Live in Colombia; 2 to Avoid
Is it Safe to Live in Colombia?