Mission Italy is underway…
As General Patton said when he was advancing up the Italian peninsula in 1944, "We are going to move and move fast."
My team are boots on the ground as I write…in Rome…in Florence…in Tuscany and god knows where…because they are moving fast. Ruthlessly hunting down opportunities…bargains…villas…homes with income potential…
Over the past week, they've been lighting up my WhatsApp non-stop with live reports, observations, and killer bargain listings.
I'm seeing Airbnb-ready condos within walking distance of some of the most recognizable attractions in the world from as little as €90,000…
Price drops as much as €60,000…
In ridiculously stunning settings…
Today, I'm handing you over to my guy on the ground in Rome, Paul O'Sullivan. He's one of the youngest on my team. And he's traveling with a very particular agenda in mind.
Paul recently joined the masses of "digital nomads" who are free to work from anywhere in the world, constrained only by the need for WiFi and good coffee. Along with finding real estate bargains and opportunities, his mission is to find his perfect base. A personal paradise where he can live under the sun, dine al fresco, and sip on espressos between work calls.
Naturally, he starts in Italy.
See what he's found below…
***
Wolf's Milk and Real Estate
By Paul O'Sullivan
In a city whose founding mythology includes wolf's milk, exile, fratricide, mass abduction, and a divine rape, don't expect to find a haven of tranquility.
Rome is nothing if not chaotic. But that's why millions of people come here every year.
Weave your way down cobbled streets and you'll see centuries bursting past in flashes. Standing and fallen columns, triumphal arches, ancient defensive walls, and narrow medieval lanes that dissect modern boulevards.
To step out your door into a Roman street is to surrender yourself to the city. You're immediately struck by the soundscape—a cacophony of tiny cars, scooters, church bells, shouting taxi drivers, and masses of people vying to be heard over it all. And while you may have set out in one direction with a specific goal in mind, the twisting streets will inevitably lead you astray, seducing you down mysterious lanes with glimpses of Renaissance domes or Romanesque towers that you'll never quite reach.
Rome is unapologetically busy. This is not a sterile tourist town nor a carefully preserved time capsule. It's a living and breathing city. Sometimes rough and decrepit. But always eager to satisfy.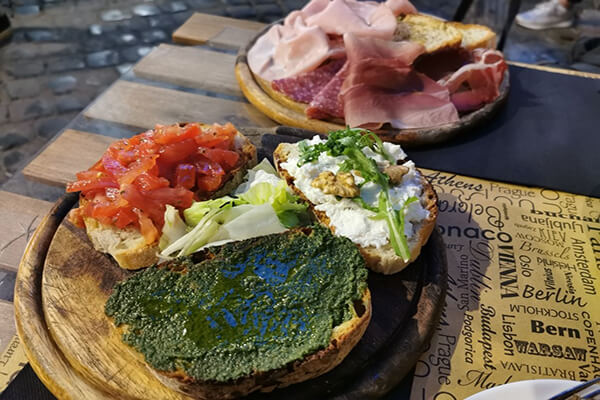 Mornings here start with a shot of espresso taken standing at a café counter. Get a cornetto (a sweet croissant) and watch the bartender create a little one-act drama—banging the portafilter, pulling levers, running faucets, and releasing giant puffs of steam.
No sooner than you're finished and it's lunchtime. The Romans take this very seriously. That means you don't bring your work with you. Not that you could get anything done, a lunch can be as much as five courses—antipasto, a primo (usually pasta), a secondo (meat or fish), contorno (vegetables), and a dolci (dessert).
In Italy, work is just a thing you do to pass time between meals.
Come evening, you can join the daily passeggiata, the time-honoured Italian art of a pre-dinner stroll. Men and women alike are dressed to the nines in their designer best. The point of passeggiata, isn't to get anywhere…it's a time of leisure and ease, a way to meet friends and neighbors, to see and be seen as you pass through cobblestone piazzas and rest on ancient fountain steps.
Or, if you're a foreigner like me, you can simply drink in the entire spectacle from a street-side ristorante. I recommend Da Vittorio in the Trastevere, the perfect place to watch generations of Romans float by while you dine on polpette (meatballs) and sip on Peroni.
After a day spent getting my bearings, I did my own version of passeggiata through the city, following a strategy Ronan advised me on. Taking out a map, I circled Rome's historic center creating a "walking distance" diameter. About 15-20 minutes' walk at the most in any direction from the forum, the Colosseum…
Then I opened the Idealista app and started walking, checking out hundreds of real estate listings within easy reach of the most iconic of Rome's attractions.
The point of the exercise is to find the diamond in the rough. The overlooked apartment in the center of one of the most visited destinations in the world. A base to bask in Rome's splendor where you can also make bank with a well-positioned Airbnb.
After Milan, Rome is the most expensive city in Italy for real estate, yet still shockingly cheap by most European capital city standards.
Prices have been kept up by the relentless flow of tourists over the past number of years and the demand they put on short-term rentals. (Even now, with restricted travel from the U.S., tourists ticket lines can still stretch around corners.)
But Rome is far from full capacity. And the shock to demand has hit real estate prices, sometimes spinning up deals in some of the most expensive parts of town.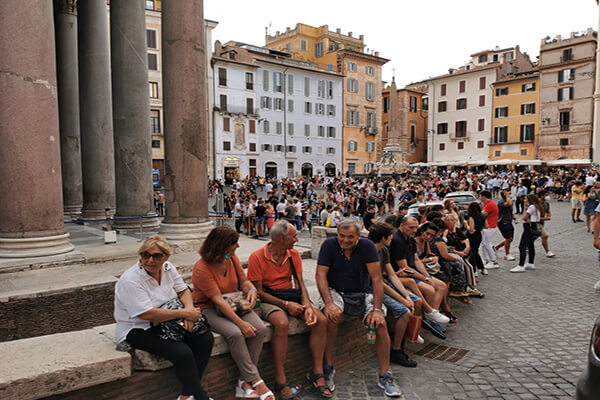 Walking through Rome's Centro Storico I found a number of opportunities worthy of investigation.
A large, three-bed apartment sitting on a quiet piazza in the Trastevere district, steps from the city's best nightlife for €290,000…(dropped from €350,000)
A three-bedroom apartment in the Monti district, the historic heart of the city. It comes with a parking space and is currently used as a four-bed B&B (rather than three-bedrooms and a living room) for €339,000…
And a unique opportunity to acquire a one-bedroom apartment, steps from the Colosseum for just €185,000…
You can watch this quick video from my scouting here: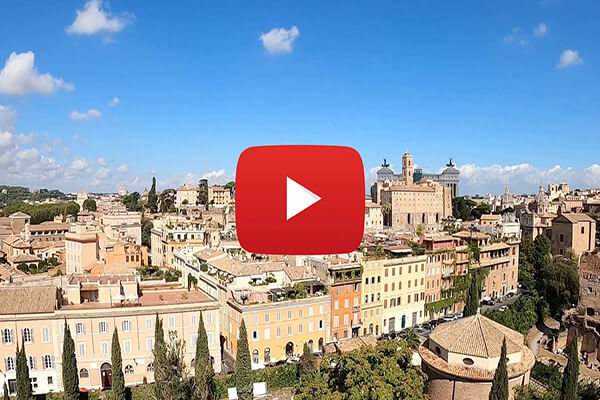 I've only skimmed the surface of the opportunity in Rome right now.
According to AirDNA, from 2019 to 2021 the number of active listings in Rome dropped by over 8,000. These are properties that have been pulled from the market, occupied permanently, sold, or are now for sale.
A lot of overleveraged Airbnb owners got caught out by Rome's tourism drop off, and have been forced to sell some of their properties on the periphery of the historic center, often at a discounted price.
My agenda is to follow Ronan's suggestion and look at the area surrounding Termini Station. Within 15 minutes' walk or so of Rome's major sites, and still within the Aurelian Walls, which mark the 3rd-century border of Ancient Rome, real estate prices here show real bang for your buck.
The play is to find something that can attract a strong occupancy when tourism fully rebounds, where you can buy at a low mortgage rate and earn enough from short-term renting to essentially cover all your costs, essentially handing you a base in the center of Rome for free.
***
Ronan says: Thanks Paul. I've been enjoying every minute of video you have sent me. I hate chaos, loud clattering of cups on marble, trash piled up, rude aggressive drivers…and yet, I can't wait to get back to Rome.
On paper I should hate Rome, yet it's one of my favorite cities. On my last visit two years ago I traveled with my wife, mother, and in-laws. We wanted reasonable comfort and a prime location. Hotels tended to be below our standards or above our budget. Many bigger apartments are used as small guest houses. I have stayed in these in the past, and been appalled by filth and horrible customer service. Never again.
In the end, we paid about $550 a night for a nice spacious three-bed apartment on Airbnb. We were lucky to find it…and get it at that price. Bigger apartments that could cater for bigger groups were priced significantly higher.
The floor below me was a bigger apartment of seven or eight bedrooms used as one of these B&Bs. It was empty at rates of €50 to €80 euro per night. Totally nuts…when all they had to do was rent it as a stand-alone Airbnb and they would have got great occupancy even at $1,000. Not surprisingly it was for sale…
Long story short, this experience got me focused on the idea of buying bigger apartments in use as a B&B and converting them back into comfortable spacious apartments to rent. I'm excited to see you are chasing down this idea. And, the property in the Monti district sure looks interesting. I'm going to run some numbers. I think it could be quite the earner…
Get Your Free Real Estate Report Now
Sign up for our free daily Postcard e-letter and get a valuable free report on the The 5 Best Places to Buy Real Estate In 2023.
Related Articles
Two Beautiful Small Towns to Live in Italy