For a coast that shares its name with a breed of dog, it sure has a lot of cats. You'll see them on park benches, at the base of fountains, slinking under café tables, even way up on the hillsides, far away from any habitation. They're feral, well fed, and friendly—at least for cats.
It's a little startling at first. But I soon understood why there were so many. These are creatures of comfort, heat seekers with more loyalty to place than people, and on the Dalmatian Coast, they've landed on their feet.
Indeed, so have I. Perched in a sunpuddle on an outcrop of limestone rock, I watch the evening light fade over the shimmering Mediterranean water. A slim-stemmed glass of rakija—a popular fruit brandy drink in the Balkans—makes for adequate company. Behind me, an 80-foot medieval wall paints a noble backdrop to the scene.
Dalmatia, on the eastern shore of the Adriatic Sea, is an extraordinary island-speckled coast that stretches from the Croatian town of Zadar to the Bay of Kotor in Montenegro. It offers one of Europe's most dramatic shorelines, encompassing enchanting cities such as Split, Sibenik, and Dubrovnik. Its coastal mountains sweep down towards a lush seaboard dotted with palm trees and olive plantations, and the entire coast is peppered with long stretches of shingle and pebble beaches.
It's a coast I've been slow traveling for a month while working remotely, beginning my journey in Split, before heading south to Dubrovnik, and then across the border to Montenegro and the Bay of Kotor. Thanks to its low cost, warm climate, beautiful beaches, and lively towns, the Dalmatian Coast is proving a hugely popular destination for the remote working set. I've met graphic designers, marketers, even folks working for a mysterious Japanese cryptocurrency company.
Like my feline friends, these digital nomads have a preternatural ability to find the best places in the world to live. So, when you find them congregating in one place, you need to take note.
A Base in the Hub City of Split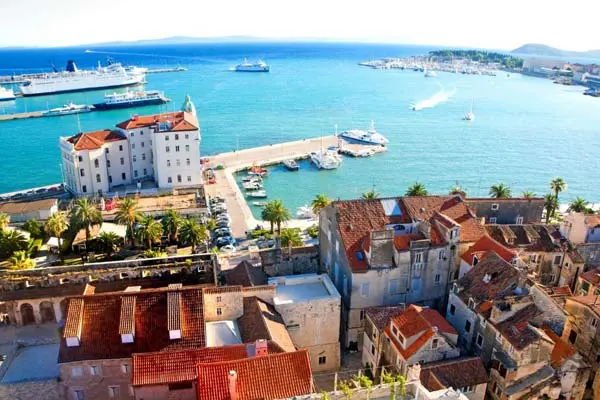 Split is perhaps the only city in the world where you can live inside a Roman palace. And you can do so for as little as 958,586 kuna ($144,402).
The city was founded by Roman Emperor Diocletian, who built his palace here at the end of the 3rd century A.D. This wasn't any ordinary emperor. Diocletian wasn't even Roman. He was born locally in Solin, a town close to Split from a family of modest means. He then joined the Roman army and rose through the ranks until opportunity handed him the throne.
Remarkably, he avoided the gruesome fate that awaited most Roman emperors. In fact, he was the only emperor to ever abdicate the throne and retire. He spent his senior years lolling around Split and tending to his garden of cabbages.
It's hard to blame him. Split is a city that invites you to slow down, relax, and enjoy "fjaka," the Dalmatian art of doing nothing. You can easily while away an entire afternoon on Split's Riva, a wide seafront promenade covered in palm trees and lined with restaurants and cafés. Linger in the warm glow of the Mediterranean sun while sipping on a $2 coffee and watch the world drift by.
For food, I'd recommend going inside the Diocletian Palace, just back from the promenade. A few centuries after the emperor's death, people took refuge here from invading Slavs, building their homes inside its walls. It was ruled by the Venetians during the Early Modern Period for 300 years. And despite it being a UNESCO World Heritage Site today, it remains crammed with restaurants, bars, cafés, and shops, as well as homes. The only thing that has really changed is the owners.
The city is a culinary delight, with a mix of traditions jumbled together within its walls. You'll find traditional Eastern European food but with a distinct Italian twist. Pasta, gnocchi, and risotto dishes; smoked Dalmatian ham with sheep's milk cheese; beef stews; and lots of fish.
As tourism has grown in Split, so too has the number of Airbnbs, which has driven up prices within the palace. Twenty years ago, this was the poor area of the city; you could get a home here for $20,000. Today, there are few properties on the market at all, and those that are typically go for about $400,000 for a two-bedroom apartment.
However, I did come across one property that offers good value. It's a small, 323-square-foot, one-bedroom apartment that puts you within the UNESCO-protected palace, and it costs just 958,586 kuna ($144,402).
For best value I'd look beyond the historic core of the city. Manuš is a quiet neighborhood just a few minutes' stroll from the palace walls, yet you'll see a noticeable drop in prices.
For instance, I came across a 549-square-foot, two-bedroom apartment in Manuš with a large balcony and views of the city center and the Cathedral of St. Duje listed for 1,235,677 kuna—that's about $186,211. You're just 15 minutes from Bacvice Beach, the closest sandy beach to the city center.
If you're looking for a well-rounded experience of Dalmatia, you don't need to look beyond Split. It's a very affordable place to live. A lively town with access to numerous beaches. But most importantly, it's a strategic place to base yourself in the region. It has multiple ferry terminals right in the city that will take you to the numerous serene islands of the Split Archipelago, like Biševo with its famous Blue Cave, Vis, Pakleni islands, and Hvar. Plus, Split's international airport offers low-cost routes right across Europe.
Get Your Free Report on Europe Here:
Learn more about countries in Europe and other countries from around the world in our daily postcard e-letter.
Simply enter your email address below and we'll also send you a FREE report - All the Charm and Romance of Europe…at a Price You Can Afford.
Own in the Pearl of the Adriatic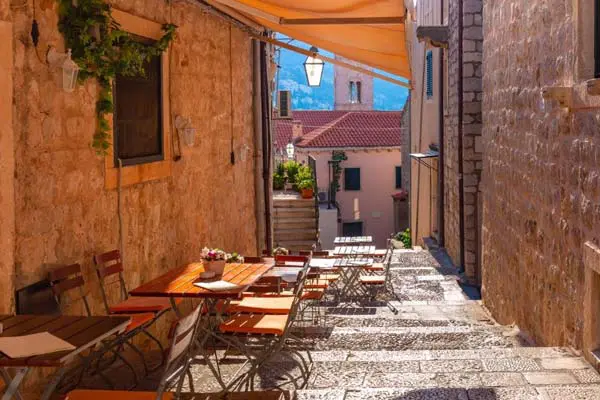 Dubrovnik was once a notoriously hard city to penetrate. Throughout its long history, the city (once known as Ragusa) survived sieges by various conquerors, maritime blockades, plague, hunger, disastrous earthquakes, and political turmoil.
Remarkably for a European city state, it maintained its freedom and autonomy for some 500 years. And has survived in immaculate condition to this day.
Dubrovnik is a feast for the eyes. Inside its thick medieval walls, you'll find gothic and baroque buildings, cathedrals, giant fountains, and an imposing harbor. Stroll down Stradun, the wide boulevard that bisects Old Town, and you'll see gift shops, jewelry stores, and ice-cream parlors tucked under arched limestone doorways. From the main spine, narrow streets and alleyways branch off like ribs, each lined with cafés and restaurants and illuminated by overhead lanterns that advertise the name of each business.
Old Town can be divided in two, roughly: there's the side of Stradun for the tourists and the side for the locals. However, there are very few full-time residents here anymore, and the population is old. Of the 1,557 inhabitants, a massive 856 are aged over 65.
Mass tourism is the main factor at play. In 2019, almost 1.4 million foreign tourists visited the city—a crazy number considering the population. The immense popularity of Game of Thrones, in which Dubrovnik doubled as the fictional city of Kings Landing, has caused an explosion of tourists in recent years. As a result of the crowds and noise, most people moved out beyond the walls.
Today, if you want to own in Old Town, you can figure on paying $680,000 for a mid-sized two-bedroom.
A residence permit upon purchase of a property.
In my opinion, the best neighborhood to live in is the seaside district of Ploce, which lies just beyond Old Town's 14th-century Ploce Gate. It feels less dense with residential buildings, it's close to the trendy Sveti Jakov, and it has iconic views over Old Town as well as Mount Srd. It offers upmarket clubs and seafood restaurants, and the pleasant sand-and-pebble Banje Beach is a stroll away.
Importantly, Ploce isn't as hilly as much of the rest of the city. (Dubrovnik is not for anyone with mobility issues.)
But it's not exactly cheap either. Figure on paying between 2,995,580 kuna ($451,979) and 3,744,475 kuna ($564,974) for a nice two-bedroom apartment.
A promising opportunity I came across here was for a 1,216-square-foot apartment that's been divided into three separate fully-furnished units and is selling for 3,370,028 kuna ($508,476).
Also in Ploce I found a 1,302-square-foot, four-bedroom apartment for 2,763,423 kuna ($416,951). It comes with two sheds and a terrace, with views of the Old Town and sea.
Stretch Your Budget in Montenegro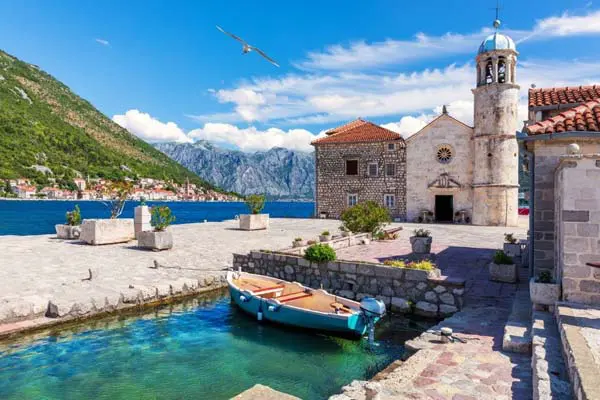 Kotor Bay is so visually stunning it could be mistaken for a Scandinavian fjord. It's surrounded on all sides by mountains that sit just back from the shore. While tucked away in its furthest corner is the beautiful medieval city of Kotor, a twisting maze of churches, café-fringed squares, and Venetian palaces.
The town is compact and pedestrianized, with cobblestone streets, overhead archways, and the green shutters on white limestone buildings that dominate medieval towns in Dalmatia. Most impressive of all is its fortified wall, which snakes up the mountainside to impossible heights.
Montenegro is very similar to Croatia, at least superficially. It has its own traditions and they've fallen on different sides of conflicts, but in many respects you won't notice a huge difference. You get the benefits of Croatia, with its beautiful towns and coastline, but you can avoid mass tourism and generally find better value for money.
Montenegro has been on an upward trajectory for years. It declared its independence from the State Union of Serbia and Montenegro in 2006 and joined NATO in 2017. And it expects to join the European Union by 2025—though with some of the division within the EU right now, that might be an ambitious target. Still, it makes for an interesting investment proposition. If Montenegro enters the EU, you could see strong appreciation.
I came across a renovated two-bedroom apartment in Old Town Kotor set inside an old stone palazzo, with mountain views and direct access to a small garden, listed for just €170,000 ($192,434).
Across the bay from Old Town, in an area called Muo, I found another interesting prospect. It's a stone house with two bedrooms that sits right on the first line to sea. It needs a little updating, but the building seems to be in good shape and comes with a garden in the back. The property lists for €370,000 ($416,712).
One big advantage to buying in Montenegro is that the federal government allows foreign homebuyers to obtain a residence permit here upon purchase of a property, regardless of its value. So, it makes for a convenient base, with cheap flights to western Europe as well as east.
Get Your Free Report on Europe Here:
Learn more about countries in Europe and other countries from around the world in our daily postcard e-letter.
Simply enter your email address below and we'll also send you a FREE report - All the Charm and Romance of Europe…at a Price You Can Afford.
Related Articles
Croatia Visa and Residency Information
Planning Your Roving European Retirement
4 Coastal Cities in Croatia Perfect for Part-Time European Living
Upcoming Conferences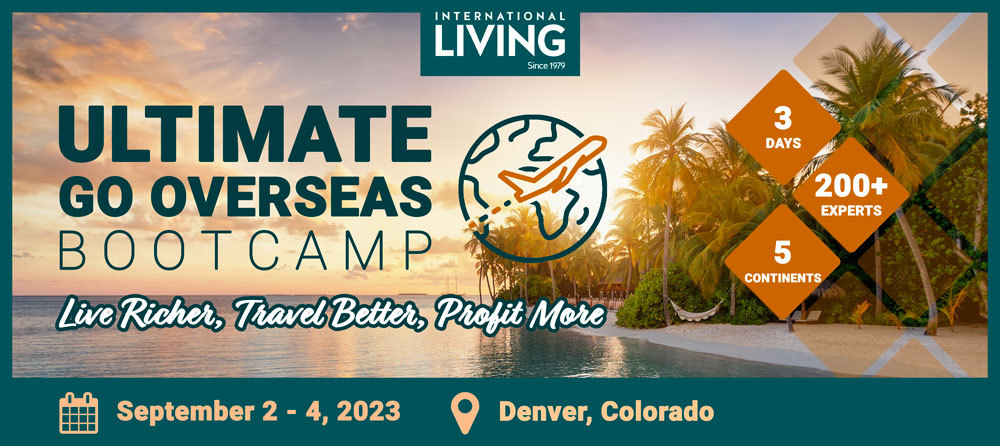 Most Popular Products
Popular Articles You May Also Like