If you had asked me three years ago, I never would have guessed that I would have become an expat. But a year-long stay in Kyoto, Japan opened my eyes to the joys of living overseas.
Then I returned abruptly to the States after news broke of the pandemic around the world. For 15 months, I desperately tried to assimilate back into the way of life in America with no success. It became very clear that this was a path and place I had left behind, and it was now time to chart a new course and direction in the greater world. I knew by now that looking overseas offered me the opportunity to live more simply and cheaply than the U.S, but did not know where I would ultimately end up.
The first leg of my journey, already a year ago, led me to Costa Rica on a one-way ticket. Costa Rica was a place I had fallen in love with over a decade ago on my first solo journey. Its pura vida way of life, in accordance with the rhythm and tide of nature, was a natural fit for the simple way of living I sought. Pura vida literally means "pure life" and it is practically the national motto of Costa Rica, telling people to slow down and enjoy life.
Are you interested in retiring abroad? Yes | Not Sure Yet
I spent a slow, quiet season along the Guanacaste coast immersed in one of the "Blue Zones" of the world, the home of some of the longest living people on the planet. I immersed myself in the simplicity of life there, walking for miles along the beach at sunrise, living healthfully on fish and vegetables, surrounded by nature.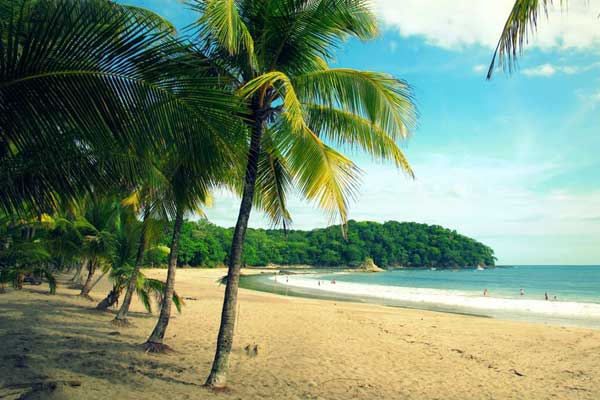 However, like many of the best love affairs, the season came to an end, and I moved on.
Through a series of side roads and detours, I ended up in the Central Valley in a lovely town called Ciudad Colón, which is close to the capital city of San José yet outside the far reaches of modernization.
I arrived in Ciudad Colón planning to stay perhaps a month, then make my way on down the traveler's road. However, I decided to embrace "pure life" and stick around a bit longer. I have now been living in Ciudad Colón for a season, three months, and have just extended my stay.
Ciudad Colón offered the following seven elements for my ideal location:
1. Natural Surroundings
Ciudad Colón is nestled in a beautiful natural environment that is a joy to hike through, offering mountains, waterfalls and even a biological reserve. It is located in the Mora Canton in the San José province of Costa Rica and known as a multicultural community. Writers and artists have been attracted to the area and it is also home to University of Peace, which attracts international students from around the world. Ciudad Colón offers hiking, mountain biking and running.
2. Water
In considering my ideal location, I knew I must be near water. In my home city of Austin, Texas, my favorite form of exercise and meditation was taking my stand-up paddleboard out at dawn on the section of the Colorado River that runs through the center of town. Ciudad Colón offers a number of hikes along the cascading river, as well as a waterfall to visit. The mountainous surroundings with hiking trails are also plentiful.
3. A Small Community Population
Having spent much of my life in larger metropolitan cities, I was hoping to find a place with fewer people. Before leaving the U.S., I considered moving to places like Asheville, NC and Bend, Oregon, which offered more modest populations, but still were growing rapidly. Ciudad Colón offered a smaller population of 16,000 with a unique mix of local Costa Ricans and expats. At times there are students from over 60 countries through the University of Peace. Near to Ciudad Colón is the indigenous reserve of Quitirrisi, where the residents are known for their handicrafts.
4. Access to the Ocean
Ciudad Colón is located in the San José province, which makes the Pacific and Caribbean Coasts easily accessible, by car or by bus. Within five hours, you can be in Puerto Viejo along the Caribbean or Tamarindo on the Pacific side. If you love the ocean, as I do, but may not want to live year-round at the ocean, Ciudad Colón offers the best of both the mountains and the ocean.
5. Access to Good Food
As a result of its diverse international population, Ciudad Colón has developed numerous excellent restaurants with varied menus from many cultures. You can enjoy Indian food, Greek, Argentinian, all within the town of Ciudad Colón. Two grocery stores and the bi-weekly farmers market in the center of town allow me to cook at home inexpensively. You can also eat at various local restaurants called "sodas," where the locals dine for just a few dollars.
6. Inexpensive Cost of Living
One of the main reasons I left the U.S for a simpler way of life was due to the unsustainable cost of living. In my home city of Austin, "the next Silicon Valley," the cost of housing escalated 43% in one year during 2020. For many like myself, this makes it an unsustainable place to live or create a future. My first home in Ciudad Colón was a studio across from the University of Peace. I was up on top of a mountain, surrounded by beautiful hiking and wildlife for $300 per month. I now live in a small house on the same mountain, overlooking lush trees, wildlife and all variety of birds for just $450 per month, which includes furnishings, electricity, heat, and water, as well as reliable internet. As a writer and digital nomad, this provides an excellent location for me to work remotely.
7. Walkable City
My ideal location will always be a walkable city. Recently, I sold my car, which was collecting dust in a parking lot back in the U.S. I have now lived for the past six months without need for a vehicle. Ciudad Colón is an easily walkable city with access to anything you might need in the center of town. From my home on the mountain, it's a three-mile walk downhill into Ciudad Colón; however, taxis are readily available for just a few dollars. Its proximity to the Santa Ana and Escazú suburbs of San José make it easy to access all the conveniences of modern civilization within minutes, while holding on to the peaceful way of living simply.
My expat journey has landed me, for now at least, in this small but beautiful Costa Rican town, surrounded by wildlife and nature. I now travel the world lightly and simply, living out of one bag with my laptop and a pour over coffee filter. Only time will tell if Ciudad Colón proves to be the ideal home base for which I have long been searching. Experience and travel throughout many countries have taught me that there is no perfect location, but what Ciudad Colón offers is pretty close.
Get Your Free Costa Rica Report Here:
Learn more about Costa Rica and other countries in our daily postcard e-letter. Simply enter your email address below and we'll send you a FREE REPORT – Costa Rica: The Land of Pura Vida
This special guide covers real estate, retirement and more in Costa Rica and is yours free when you sign up for our IL postcards below.
Related Articles
Best Places to Live in Costa Rica: Five Top Expat Havens
In Photos: The Top 5 Beaches in Costa Rica
Is it Safe to Live in Costa Rica?
Popular Articles You May Also Like