When you dream of a vacation (or living) in the tropics, often the first thing you imagine is the coastline. Long sandy stretches of palms swaying in the sea breezes. The waves gently lapping the shore. Playing in the surf or donning a mask and exploring the colorful submerged world. Yes, it is easy to talk about beaches, but it is definitely not so easy to pick the top five.
Costa Rica's beaches all have different personalities—bustling to deserted. With sands that run the gambit from black volcanic to golden to white. Levels of surf vary from professional surfing swells to gentle protected coves. Despite being a small country (about the size of West Virginia) with a relatively small coastline of 801 miles on the Pacific and Caribbean, Costa Rica has a beach to suit your desires. Here are our top five and a bonus sixth.
Are you interested in retiring abroad? Yes | Not Sure Yet
1. Manzanillo
Costa Rica's Caribbean coast is a good four hours' drive from the capital of San Jose and the least developed region of the country. If you take the coastal highway (it's really just a two-lane road) south of Limon, toward Panama, you come to the end of the road in the settlement of Manzanillo.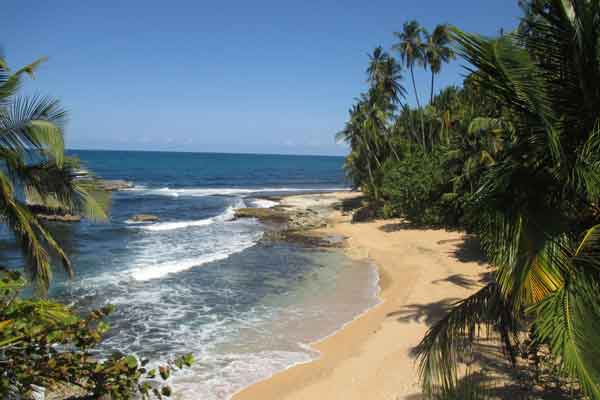 The beach at Manzanillo is perfect for nature-lovers. The sand is a beautiful golden-white and the waters are gentle. Just to the south is Gandoca Manzanillo National Wildlife Refuge, where you can find a series of coves lined with overhanging palm trees. Pick one and set up for a day of sunbathing and snorkeling in the crystal-clear water. The undersea world here is amazing.
There are a few small hostels and cabinas in the area, or you can stay in the main town of Puerto Viejo, a 25 minute drive north, with a much better variety of accommodation, dining, and entertainment.
2. Dominical
Dominical, on the southern Pacific coast, is a fishing village turned surfing hot spot that attracts a distinctly bohemian crowd. Despite its popularity on the backpacker circuit, it's still pretty low key.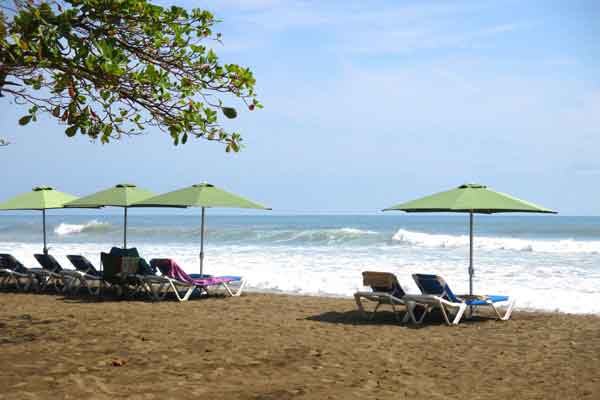 The narrow beach road is lined with small hotels and open-air restaurants serving up ceviche and fish tacos—and cold Imperial beer, a popular pastime on a hot and humid day. Which happens most days in this part of the country.
The nearby lush jungle hills provide a spectacular backdrop along this part of the coast. Here you can spot exotic wildlife like toucans, monkeys, and sloths or take a seat and watch the action as surfers take on some of the best waves in the country. You can also browse among the wares of the artisans set up in the shade along the beach.
3. Playa Biesanz
Manuel Antonio is Costa Rica's most visited beach destination, with the national park of the same name drawing sold-out crowds most days. As a result, this destination on the central Pacific can get crowded, especially during high season from December to April.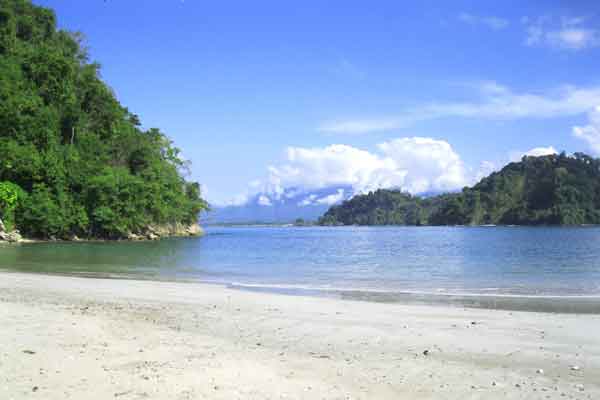 As an off-the-beaten-path alternative, you can check out Playa Biesanz, which is just to the north of the popular beaches. Follow the little sign off the main road by the Hotel Parador. There's a gap in the fence; walk down about 15 minutes and you'll come across a stunningly beautiful white-sand beach in a cove lined with tree-covered cliffs.
During the week and in low season, you might only share the beach with howler monkeys and two-toed sloths who are attracted to the tropical almond trees that grow at the beach.
Get Your Free Costa Rica Report Here:
Learn more about Costa Rica and other countries in our daily postcard e-letter. Simply enter your email address below and we'll send you a FREE REPORT – Costa Rica: The Land of Pura Vida
This special guide covers real estate, retirement and more in Costa Rica and is yours free when you sign up for our IL postcards below.
4. Tamarindo
Tamarindo is no hidden gem. It's a well-known bustling small resort town on the northern Pacific coast with restaurants, bars, and shops galore. A tourist mecca…at least for Costa Rica. Compared to a Cancún or Fort Lauderdale, it's tiny. And the expats who have settled here enjoy the small-town atmosphere with an international flair.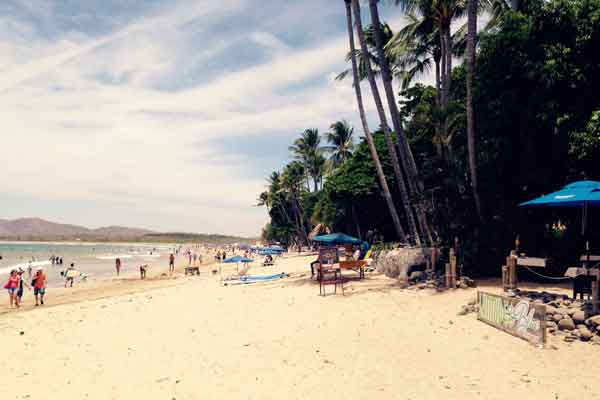 It earns a place on the list not for the tranquility or abundant nature, but for all the amenities the town had to offer, right on the long arcing sand beach: surf lessons, fishing trips, sunset sailing cruises, happy hour and sunset at one of many beach bars, live music, souvenir vendors, horseback riding, and roving mariachis.
5. Montezuma
On the far southern tip of the Nicoya Peninsula on the north Pacific coast, the tiny village of Montezuma is great for those looking for a remote destination. Here you will not find any major development. And the town center consists of just a few restaurants, hotels, and shops. It's a bit challenging to get to this part of Costa Rica— it is not on the bus route and the roads can be rough, especially in rainy season from May to November.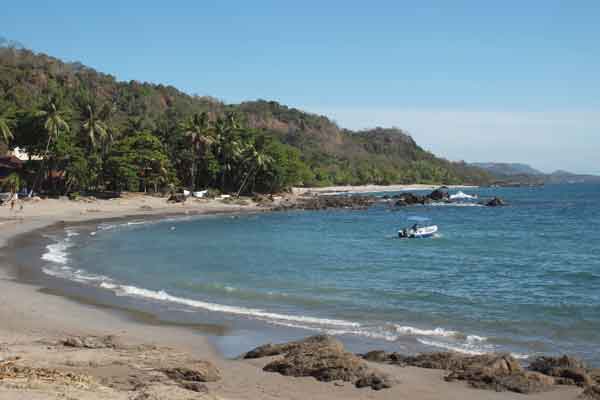 The jungle wraps around the lagoon at the beach and the small community of expats will tell you there is a healing power here, filled with natural beauty.
Something unique on the Pacific Ocean, in Montezuma you can see sunrise instead of sunset because it faces east on the peninsula. And if you walk down the beach from town, you'll find a beautiful freshwater waterfall right on the sand, with pools for soaking and swimming.
Bonus: Playa Conchal
On the Gold Coast of the Pacific Northwest, you will find a beach with white sand that sparkles. The secret behind the sparkle is that the sand consists of finely ground shells (conchal is the Spanish word for shell), rather than true grains of sand. Tucked away behind the championship golf course development of Reserva Conchal and the Westin and W Hotels, it gives the vibe of a private beach, but anyone can visit it.
Park in the town square of Brasilito just to the north and walk the quarter-mile. There is no driving or parking allowed on the beach any longer. So, the large groups of tourists and locals have now moved to easier accessible beaches in the area.
With the sparkly-sand bottom, the water takes on a nearly Caribbean shade of blue, which is great for snorkeling and water sports.
Video of Playa Conchal
Get Your Free Costa Rica Report Here:
Learn more about Costa Rica and other countries in our daily postcard e-letter. Simply enter your email address below and we'll send you a FREE REPORT – Costa Rica: The Land of Pura Vida
This special guide covers real estate, retirement and more in Costa Rica and is yours free when you sign up for our IL postcards below.
Related Articles
Maps of Costa Rica: Best Beachside and Mountain Towns
There Are Many Reasons to Move to Costa Rica
Real Estate in Tamarindo, Costa Rica
Upcoming Conferences
Live Better, Spend Less, Retire Sooner
IL's Retire Overseas Bootcamp
October 21-23, 2022 in Atlanta, GA

In safe, warm, welcoming communities abroad, as little as $1,700 a month can bankroll a good life... this fall, our experts will show you where—and how.
Early Bird DISCOUNT—Save $200 When You Register by Sep. 29
Details Here IL's Retire Overseas Bootcamp
---
Registration Now Open for the Best of Europe Private Screening

In the Right Spots in Europe, You Can Retire in Style—in an Historic, Sun-Drenched Locale—for as Little as $2,300 a Month or Less—Especially Now With the Dollar and Euro at Parity for the First Time in Two Decades.
And We'll Show You How, October 1-2, During the Special All-Online Best of Europe Private Screening.
---
The Income Revolution Forum
What if You Had the Freedom to Enjoy the Good Life Anywhere in the World You Wanted to Be...and Get Paid While You're There?
We'll show you how—with hands-on guidance—you could beat inflation...secure your retirement...ditch your commute...and turn a skill you already have into a portable side income of $300, $600, even $3,000 or more a month.
Popular Articles You May Also Like