Just a few hours from Athens by ferry lies Syros, the administrative capital of the Cyclades island cluster. Syros is a special place and a favorite island for second homes among many Athenians. Visitors enjoy a small island experience with an international, multicultural ambiance.
From art openings to theater performances and film festivals to fine dining, Syros feels different from most traditional Greek islands. It is also one of the few Greek islands that are active all year round, making it a good choice if full-time island life is one of your dreams.
The History of Syros
To fully appreciate Syros, it is essential to understand its history. The island was inhabited by Romans, Venetians, Franks, and Turks, and these influences are evident throughout the island today. For example, even though over 95% of Greece's general population identifies as Greek Orthodox, almost 50% of Syriots (people from Syros) identify as Catholic.
Civilization in Syros began in the Early Bronze Age, and you can see traces of those inhabitants today. Located on the northeastern coast, Kastri, the first settlement on the island, dates back between 2,800 to 2,300 BC. Take a few hours to visit the archaeological sites of Chalandriani and Kastri and connect with ancient Syros.
In the Middle Ages, Syros was under constant attack by Venetians, Franks, and Turks. In the early 1200s, the island was conquered by the Venetians and remained under Venetian rule for over 300 years. This left a strong Catholic influence on the island, which intensified in the coming centuries.
The Ottoman invasion began in the 16th century, and by 1522 Syros was under Ottoman rule. However, Syros came under the protection of the Vatican and France, allowing the Catholic community of Syros to have some privileges. Many Syriots became Catholic, and Catholic churches and monasteries were established during this period.
Syros remained neutral at the beginning of the Greek Revolution in 1821, and this neutrality attracted many Greek refugees from Asia Minor, Smyrna, Chios, and other Greek islands. These refugees built the capital city of Ermoupoli, bringing with them their cultural influences. When Greece won the war and was declared an independent state in 1830, Syros became part of the First Hellenic Republic.
Because of its colorful past, Syros today is strikingly sophisticated and multi-dimensional. Below are four things to see and do in Syros.
1. Take in a Sunset at Ano Syros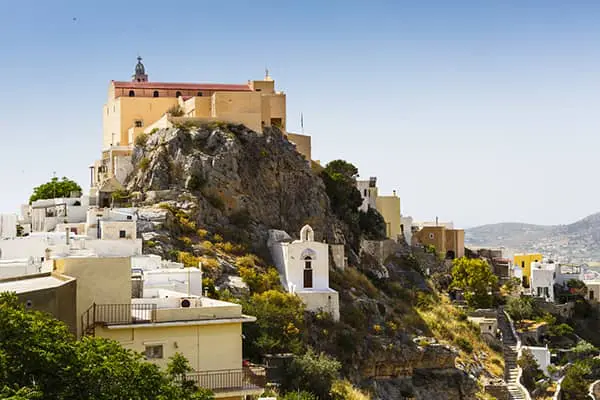 Be sure to take the opportunity to visit the fortress town of Ano Syros, located above the capital city of Ermoupoli. In ancient times, this village was gated, allowing inhabitants to ward off or escape from pirate raids. The highest point of the town is the Catholic Cathedral of Agios Giorgios (Saint George), and on clear days, you can see the neighboring islands of Tinos, Naxos, and Paros.
With its winding, steep cobbled paths, it is easy to get lost in the maze of Ano Syros, but the views throughout the village are breathtaking, and you'll have ample opportunity to stop for a beverage or snack at the cafes and restaurants all throughout the village. Drop into Feggari, an artist-owned cafe/bar with a warm ambiance, a festive vibe, and amazing views.
2. Appreciate the Arts at the Apollon Theater
If you are a culture vulture, no trip to Syros is complete without a visit to the Apollon Theater. Inspired by the famous Italian opera house LaScala, this 300-seat theater hosts a wide array of productions and festivals, including opera, theater, dance, and music festivals ranging from classical and jazz to contemporary music. If film is your thing, you are also in luck because Syros is home to an annual international film festival and an annual animation film festival.
Over 150 years old, the Apollon Theater building is worth a visit, even outside of the performances it hosts. Featuring a plush red and gold interior, the third floor of this theater includes a small exhibition of posters, photographs, programs, and other remnants from the theater's colorful past.
3. Explore the Grandeur of Ermoupoli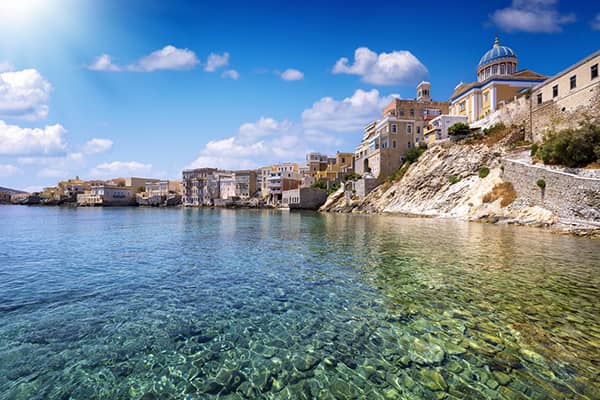 Named after Hermes, the messenger god of trade and travel, Ermoupoli was at one time the principal port of Greece. Today, it is the largest town in the Cyclades and is known for its impressive and varied architecture and European feel.
The Town Hall of Ermoupolis, located in Miaouli Square, features sweeping marble floors, rich oil paintings, as well as the Archaeological Museum of Syros and public service offices. Designed by the Bavarian architect Ernst Ziller, the building was completed in 1898. Step inside to look around or enjoy the neoclassical architecture from the steps of this impressive building.
After visiting the Town Hall, head to the aristocratic Vaporia district of the city, where you'll find colorful, high-ceiling captains' mansions built along the seaside. Vaporia is considered one of the most prestigious districts in Syros, and beyond the impressive architecture, it offers a few small beaches for swimming and sunbathing. The Church of St. Nicholas, with its famous bell towers, is also worth visiting.
4. Celebrate Two Easters on the Same Day
Easter is by far the most celebrated holiday in Greece, and because most of the country's population is Orthodox, Easter celebrations often fall a week or two after Catholic Easter. However, Syros negotiated a special arrangement with the Pope to allow both Easters to be celebrated on the Orthodox Easter date. The whole island comes together for Easter week, and from Catholic to Greek Orthodox churchgoers, there is an air of excitement and reverence.
The Easter celebration stretches for a whole week (called the Big Week), with the weekend events commanding the most attention. On Big Friday, three Epitaph processions weave through Ermoupoli before meeting in Miaoulis Square. With the solemn music, candle-lit processions, and religious hymns, the event leaves a powerful impression on you. The Resurrection of Christ is celebrated at midnight on Saturday, and with so many Catholic and Orthodox churches, you'll have many choices of where to go. Consider heading to the Church of St. Nicholas in Vaporia for the candle lighting and well-wishing "Christos Anesti" meaning "Christ has risen." Greek Easter in Syros is a magical event and a good reminder that it is possible for different religions to peacefully, and supportively co-exist.
How to Get to Syros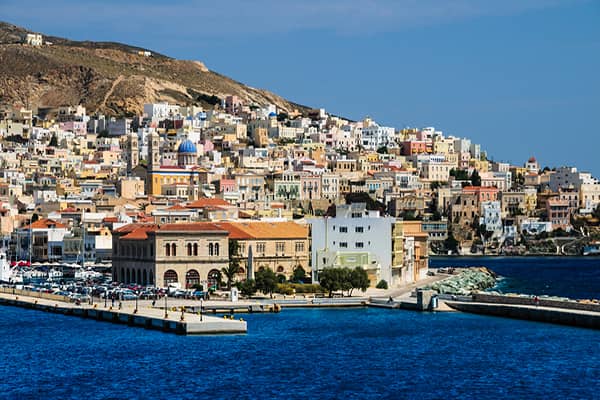 The most popular way to get to Syros is by boat with multiple ferry options each day to and from Piraeus port in Athens. The speed ferries can make the journey in just over two hours, while the slower ferries take a little under four hours.
Syros also has a national airport (airport code: JKY) offering limited flights to and from Athens. The 35-minute flight brings you to a single runway strip located in Manna on the west side of the island.
When to Visit Syros
Syros can be visited at any time. It is a bustling, active island, even in the off-season, offering visitors culture and entertainment year-round. Your expectations, however, should be different depending on the season. If beach-going and warm weather are what you have in mind, the months of June through October are the most ideal. Expect mild, rainy winters and warm, sunny summers.
It should also be mentioned that while Syros does offer seagoing options, it is not traditionally known for its beaches. If beach hopping is in your plans, check out Galissas, Megas Gialos, Kini, and Poseidonia beaches.
Where to Eat in Syros
You will have lots of opportunities for amazing meals in Syros. Below are just a few of the many places to try.
To Tsiporadiko Tis Mirsinis is a classic place to begin your culinary voyage through Syros. This busy, centrally located restaurant near the port offers traditional Greek dishes with a local Syros touch. Beyond the classic Greek dishes, this taverna offers a wide range of tsipouro (a strong Greek spirit) and ouzo.
Located in a quieter area between the seafront and Miaouli Square, you'll find Maritsa's Arhontariki. This taverna is a favorite among locals and is known for grilled meat, tasty recipes, and the elegant presentation of its dishes.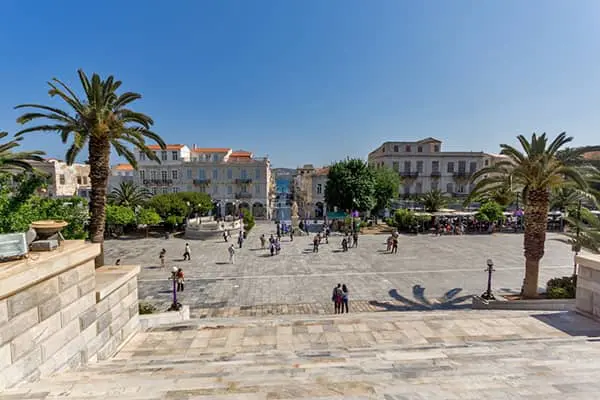 For a beautiful ambiance as well as delicious food, head to Allou Yiallou. Located right on Kini Beach, this seaside taverna offers fresh, authentic dishes featuring local seafood, meat, cheese, and produce.
Where to Stay in Syros
Syros offers lots of accommodation options with a concentration of hotels in Ermoupoli. Staying in the capital city gives you a great opportunity to be near the main activities, and most visitors opt to make this their base.
For a comfortable stay at a mid-range hotel in an impressive building listed as a historical monument, try Syrou Melathron in the Vaporia district near Asteria Bay. The restoration of this 18-room hotel preserved many historical details, including balconies made of Parian marble and ornately painted ceilings.
If you want to go upscale, try the top-rated Hotel Ploes at 2 Apollonos, Ermoupolis. This eight-room boutique hotel is set in a 19th-century neoclassical mansion featuring lots of tasteful touches, including vaulted, painted ceilings, genuine Venetian chandeliers, and a collection of art from the late 20th century.
For a more budget option, try Diogenis Hotel located in Ermoupolis about 250 meters from the nearest beach. Renovated in 2015, this 40-room hotel once served as a warehouse, a tannery, and even a cabaret. These days, it offers guests modern amenities, including a 24-hour bar/cafe, WiFi, and even secretarial services.
Your first trip to Syros is rarely your last, as this stately island has a lot to offer year-round. Come for a theater performance or film festival and then begin planning your return trip.
Get Your Free Report on Europe Here:
Learn more about countries in Europe and other countries from around the world in our daily postcard e-letter.
Simply enter your email address below and we'll also send you a FREE report - All the Charm and Romance of Europe…at a Price You Can Afford.
Related Articles
Greece Visa and Residency Information
Guide to Traditions and Culture in Greece
Upcoming Conferences
The Only 2023 Fast Track Costa Rica Conference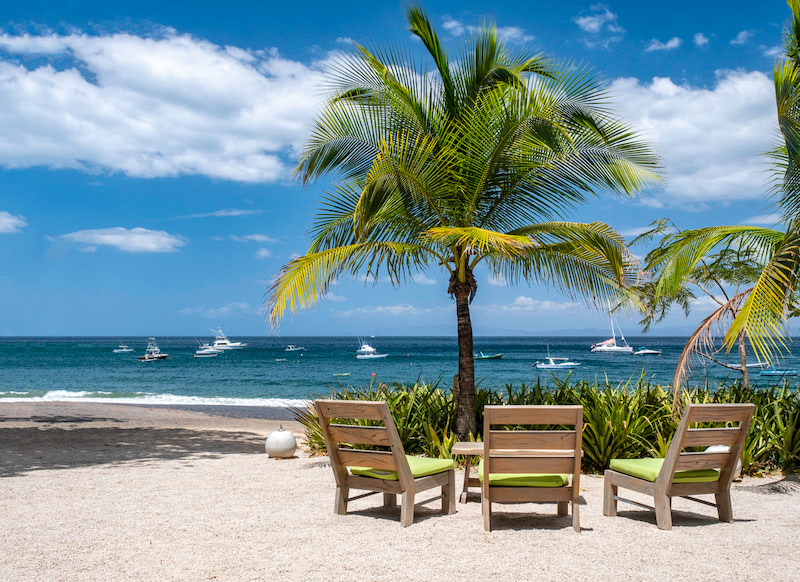 If your dream retirement involves stunning beaches… lush green mountains… a perfect year-round climate… first-rate healthcare… incredible value for money (a couple can live well on $2,109 a month—including rent!)...
Join our Costa Rica experts and expats in June and discover true Pura Vida.
REGISTER NOW, SEATS LIMITED: EARLY BIRD DISCOUNT HERE
---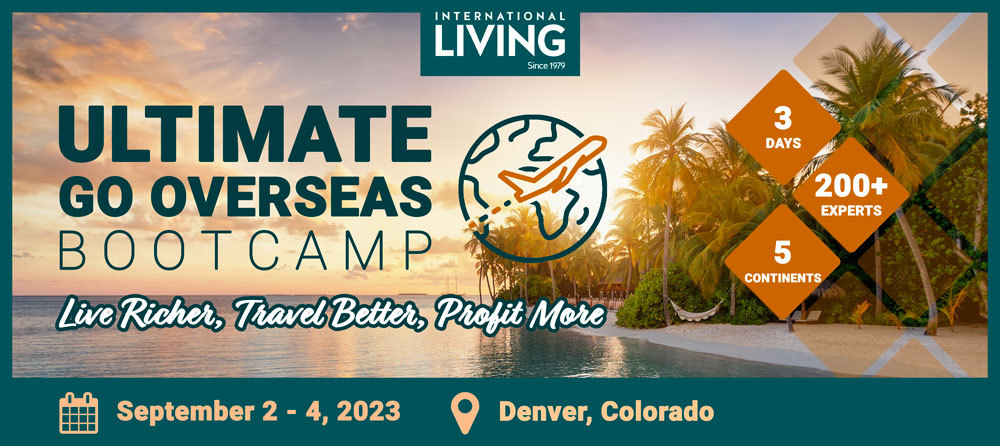 Most Popular Products
Popular Articles You May Also Like