How to Move to Greece as an Expat
By Lynn Roulo
If you are considering a move to Greece, one of the most important decisions you'll need to make is where to live. The good news is that you have lots of options, from snowy mountainside towns to cultural metropolitan areas, from charming island villages to bustling mainland cities. Below is an overview of the basic geographical layout of Greece and a few factors to consider as you look for your new home.
Greece has a population of 10.7 million with approximately 30% of that population living in Athens. The country is divided into the mainland and six distinct island groupings. The mainland features distinct northern, central, and southern areas. And while there are hundreds of Greek islands, less than 150 of them are inhabited. Of these, fewer still offer a good quality of life year-round, but many people opt for dual residence, spending the summer season on the islands and the winter season on the mainland. The bottom line is you will have lots of options.
Northern Mainland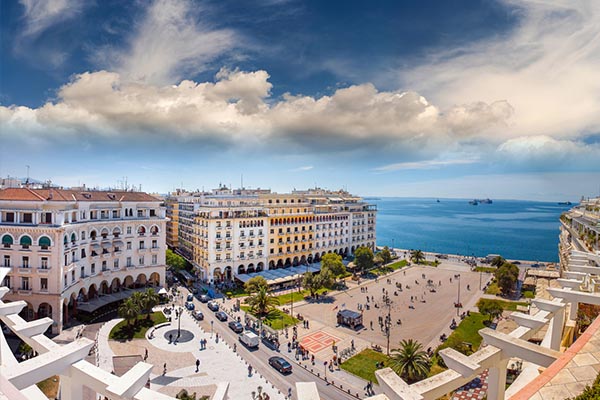 If you like a distinct change in season, the northern parts of mainland Greece are worth considering. The northern border of Greece runs along with Albania, FYROM (former Republic of Macedonia), and Bulgaria.  In the west, you'll find Ioannina and the Zagorochoria village clusters. In the center, you'll find Thessaloniki, Serres, and Edessa, and to the east, you'll find Kavala and Alexandroupoli.
Northern Greece tends to have a traditional vibe and culture.  Much of the geography is mountainous leaving the people who live there with a tough, can-do attitude. Skiing and snow sports are popular in the winter, and the area features gorgeous trails, lakes, and rivers for summer hiking and exploring. If you love nature and a distinct change of seasons, northern Greece might be the place for you.
Thessaloniki
Thessaloniki, also called Salonica, is the biggest city in this region of Greece and with 816,000 residents, it is the second-most populous city in the country. Greece's largest university, the Aristotle University, is based in Thessaloniki giving the city a dynamic feel and a large student population. Set along a beautiful waterfront, the city is characterized by reasonably priced housing, low crime, and access to art and culture. If you want a good value for living in a relatively big city, take a look at Thessaloniki.
Central Mainland Greece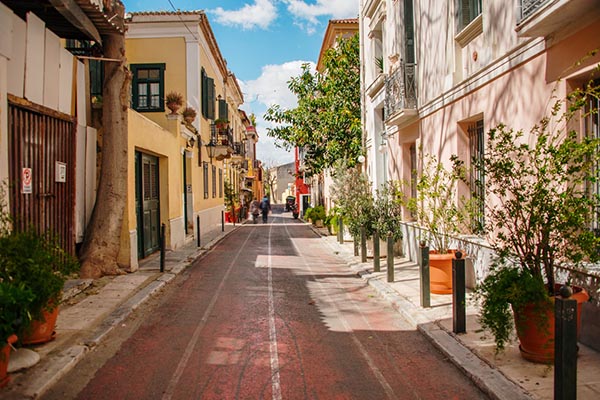 Athens
Athens dominates the scene in central Greece. The nation's capital is home to over 3.2 million people and is the commercial and cultural center of the country. The city bustles year-round except for the month of August when the majority of its residents leave for their summer holidays. The city center is compact and generally walkable, and the greater Athens sprawl is connected by a relatively clean, reliable subway/metro/train system. In Athens, you'll find a mix of modern and traditional, of cutting edge and old school.  The city offers a stable infrastructure for digital nomads and remote workers, and art, culture, and fine dining for tourists and residents alike. In Athens, you'll find both ancient ruins and modern attractions. Some people opt for living outside the center in the surrounding Athens suburbs such as Glyfada in the south or Kifisia in the north.  You can find many towns that offer easy access to the center of Athens with very low-cost rents like Peristeri and Kypseli.
Southern Mainland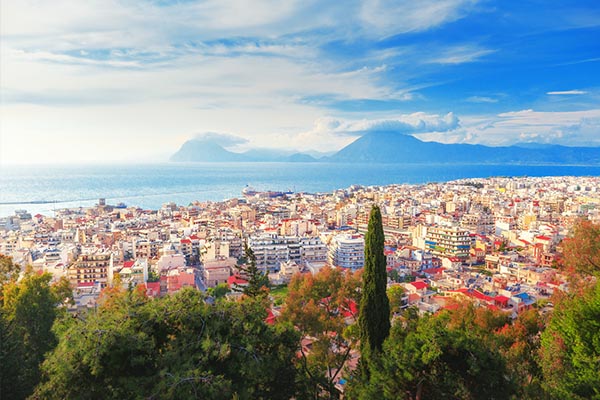 If you head just over an hour outside of Athens, you'll reach the Peloponnese, the southern part of mainland Greece that is famous for its unique architecture, charming villages, and amazing beaches. The Peloponnese offers many living options from the larger cities of Patras and Kalamata to the tiny villages both inland and along the coast.  If you want the feeling of island living but you have concerns, medical or otherwise, about being on an island, the Peloponnese might be your place. With drivable access to Athens, the Peloponnese offers affordable, traditional Greek living with easy proximity to art, culture, fine dining, and the modern conveniences of Athens.
Patras
Patras in the northern Peloponnese is Greece's third-largest city with a population of just under 200,000. It offers colorful year-round living due to being a commercial hub and the home of several universities. Reasonably priced, with a major port and international airport, Patras also offers easy access to much of Western Europe.
Major Greek Islands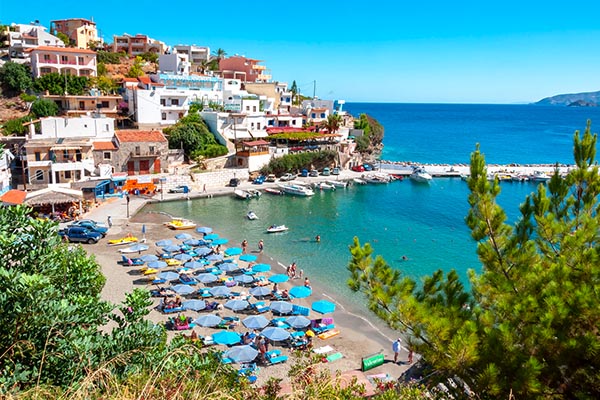 The biggest island in Greece and the 88th largest island in the world, Crete is home to roughly 630,000 residents. It is one of the only islands in Greece that can support itself independently without tourism. It has an established agricultural industry featuring olive production. Like Texas in the U.S., Crete has its own distinct culture. It was one of the few places in World War II that the Germans couldn't successfully occupy due to the tough Cretan resistance, island pride, and the extremely anti-authoritarian attitude of the population.
Evia
Evia is the second largest island in Greece, although, with its easy access to the mainland via bridges and short ferries, it is easy to forget it is an island. It is home to just under 200,000 people despite its large landmass of 1,422 square miles. Known for its natural beauty and varied landscape ranging from thick forests to Aegean beaches, Evia hosts conference centers, luxury accommodations and is the home of the city of Edipsos, the most popular sea spa in Greece.
Apart from the large islands of Crete and Evia, Greece has six major island groupings including the Cyclades, the Dodecanese, the Ionian, the Argo-Saronic, the Sporades, and the Northeastern Aegean groups. Each grouping has its own distinct feel, vibe, and marquee islands giving you lots of options if island living is your dream.
"I think I'm ready to leave the U.S."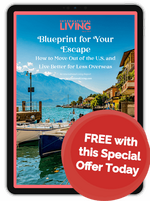 If that sounds like you, we can help—we'll show you, step-by-step how to move out of the U.S.
In lots of safe, warm, friendly spots abroad, a couple can live well for around $2,000 a month. Hundreds of thousands of Americans are already doing it—and you could, too.
We'll give you a Blueprint for Your Escape—FREE—with your discounted IL membership today, here.
Free Workshop: How to Move Out of the U.S.—Get the Experts' Guidance
If you know where to go, you can live better, spend less, and enjoy life more. Get the scoop with International Living's How to Move Out of the US Workshop-on-Demand, yours when you sign up for IL's free daily Postcards e-letter. In lots of safe, warm, friendly spots abroad, a couple can live well from $2,000 a month (all in, housing included). Find out where—and how...
Top 5 Reasons to Move to Greece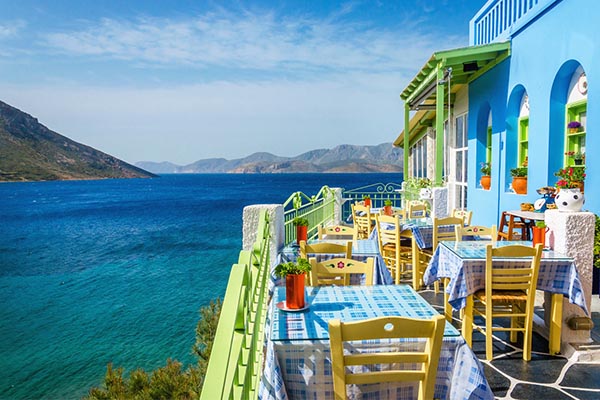 I've been living in Greece since 2012 and every year on my anniversary, I post the top 10 things I love the most about living here. You can read those lists here, but if I had to choose just 5 reasons, they would be these:
1. The Mediterranean Lifestyle
Brunch can last until 7 p.m. because in Greece the afternoon ends sometime after 8 p.m. It is normal to book a doctor's appointment or a manicure at 9 p.m. in the evening and most dinner plans often start after 10 p.m. Greece is a late-night Mediterranean country, and I love the relaxed and easy pace it sets. 
2. Greek Food
Greek food is amazing, and I appreciate that when I go to the outdoor market to buy my fruit and vegetables, more often than not they still have dirt on them. I like knowing that I am eating honest, real food that, more often than not, is locally produced.
3. Community Bonds
The mailman knows my travel schedule and where to leave packages when I'm away, without me ever saying a word. It's part of the neighborhood web of information. When I take a taxi home late at night, nine times out of ten the driver waits until I'm in the front door before he drives away. And all around my neighborhood, the merchants leave out food and water for the stray cats. There is a kindness and a concern among the Greek people that is rare to find these days.
4. Greek Easter
Easter is the biggest holiday celebration in Greece and even though I'm not particularly religious, I love going to church at midnight with my Easter candle and then having the special dinner afterward. Part of the fun is that it feels like all of Greece is celebrating together. 
5. Filotimo
The word "filotimo" exists only in Greek, and it means doing the right thing without expecting anything in return. In my time here, I've seen it acted out time and time again. There was the time my taxi driver Dimos came to pick me and my friends up in his personal car on a taxi strike day. He took us to the port but refused to accept money for the journey, because he wanted to respect the rules of the strike but also wanted us to have our holiday. Another time I got sick in a mountain village on a weekend trip. All the pharmacies were closed, but the souvenir store owner gave me his full package of Panadol. He was worried about me and wasn't sure when I'd be able to get to an open pharmacy. He didn't accept my offer to pay him, and in fact, he seemed confused when I tried to give him money. I could go on and on, but you'll see for yourself. Even people here for short visits usually experience filotimo in one way or another.
Is Greece where you should move to? That I can't say, but I do encourage you to come for a visit and decide for yourself. There is a lot to love about this country.