By Lynn Roulo
Greece is famous for its ancient history dating back over 2,000 years, Greek mythology, amazing cuisine, warm-hearted hospitable people, and fabulous sun-drenched islands. Often referred to as the "cradle of Western civilization," Greece is the birthplace of democracy and the home of Aristotle, Plato, and the original Olympic Games.
These are all logical reasons to come for a visit, but the thing about Greece is that it has something else: something intangible, something hard to define but something very real that makes it special. It has a magic that wins you over. I've never met someone who didn't speak fondly of their trip to Greece. If you haven't visited Greece, you should go. And if you have visited Greece, you don't need me to tell you that you should come back. I feel very grateful to call Greece home. I've been living here since 2012, and grow to love the country more with each passing year.
Where is Greece and is Greece in Europe?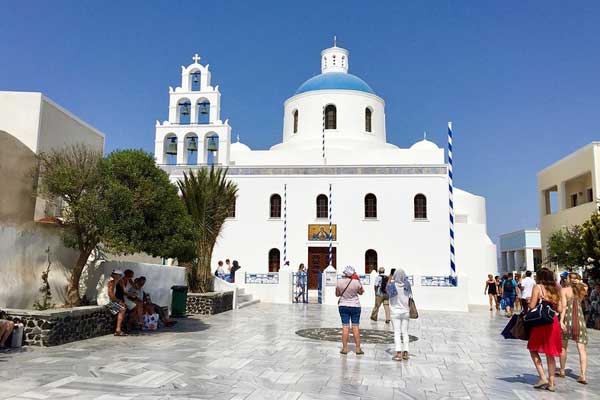 Greece is a Mediterranean country that shares land borders with Albania, Bulgaria, Turkey, and the Republic of North Macedonia. Located in southern Europe, Greece is in the eastern European time zone (EET). This makes it one hour ahead of central Europe which includes Germany, France, and Italy (CEST), and two hours ahead of the United Kingdom (GMT).
While Greece is in the Eastern European time zone, it is important to note it isn't considered an Eastern European country. That designation is reserved for formerly communist countries that became part of Europe when the Cold War ended. Greece has never been a communist country and therefore, despite its geographical location, is not considered an Eastern European country. It is referred to as a Mediterranean country in southeast Europe.
The water bodies that surround Greece include the Ionian Sea, the Aegean Sea, and the Mediterranean Sea. The country is divided into the mainland and six distinct island groupings. The mainland features distinct northern, central, and southern areas. There are hundreds of Greek islands but less than 150 of them are inhabited. Crete, located in the south Aegean Sea, is the largest Greek island, with a population of over 600,000. Greece itself has a population of 10.7 million with approximately one-third of that population living in the greater Athens area.
How to Get to Greece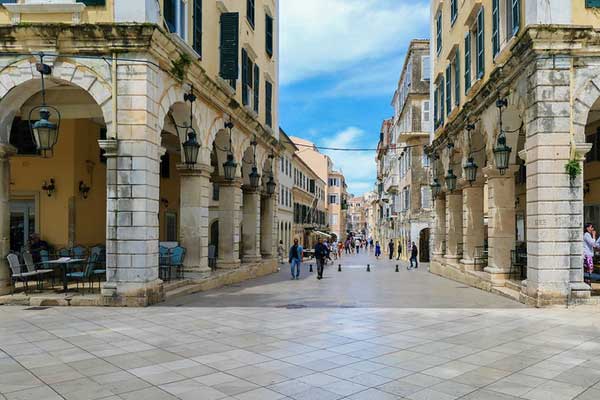 By Plane
With 15 international airports, flying to Greece is relatively easy. The Athens International Airport Eleftherios Venizelos, commonly initialized ATH, is the largest international airport in the country. It is 30 kilometers/19 miles by road from the center of Athens, the capital of Greece.
There are direct flights from New York (as of this writing) and, for the rest of the U.S., there are lots of connecting flights through various European cities. You can expect a 15+ hour flight if you are coming from San Francisco on the West Coast and just under 10 hours if you fly direct from New York City.
By Boat
If you choose to sail from another European country, you'll find lots of cruises that offer stops in Greece. Piraeus is the main port of Athens, and there are two smaller ports outside of Athens called Rafina and Lavrio. The city of Patras, in the Peloponnese part of mainland Greece, features another popular port for cruise ships.
If you are coming from North America, and time is not a factor, there are a few transatlantic cruises from the U.S. to Europe that give you the option to sail to Greece.
By Land
To come by land, you need to cross the border at Albania, Bulgaria, Turkey, or the Republic of North Macedonia.
Before Going
Remember to check your passport! You need at least six months remaining before the expiration date for your passport to be valid.
Popular Areas and Attractions in Greece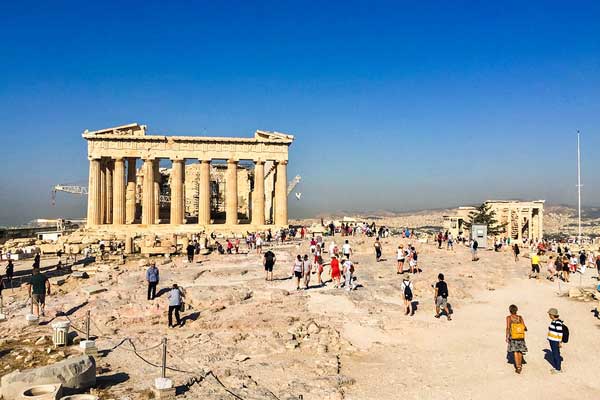 Athens
Athens is the capital of Greece, and no visit is complete without a stop to the Acropolis. The Acropolis is a rocky hill set above the city that houses several ancient sites, including the Parthenon, the ancient temple of Athena. The Parthenon is arguably the most important monument from ancient Greece and is one of the most visited sites in the world.
Meteora
With its cluster of monasteries perched dramatically on sheer cliffs, a visit to Meteora is an other-worldly experience not to be missed. The setting is breathtaking, and the fact the monasteries were built over 500 years ago before modern machinery was available makes the site even more impressive. Meteora is a 218-mile distance from Athens so it works better as an overnight trip.
Delphi
The mythical home of the Oracle of Delphi, this village lies 113 miles/180 kilometers from Athens. The ancient ruins themselves offer you three distinct places to visit including the Delphi Archaeological Museum, the precinct of the Athena Pronaia (also called Marmaria), and the main archaeological site featuring the Temple of Apollo. The village itself is visually impressive, and many spots through the town offer stunning views of the Parnassos mountains and out to the sea towards Galaxidi.
The Greek Islands
Greece is probably most famous for its colorful islands with stunning beaches. Each island has its own character and personality so you can island hop for months on end without getting bored.
Outside of the two largest islands of Crete and Evia, the islands are broken into six distinct groupings based on geography.
The Cyclades islands in the south east include Mykonos, Santorini, Sifnos, Serifos, Naxos, Paros, Antiparos, Delos, Amorgos, Milos, Folegandros.
The Sporades islands in the northeast but near mainland Greece include Skiathos, Skopelos, Skiros, Alonissos.
The Dodecanese islands to the east include Rhodes, Kos, Kalymnos, Kastellorizo, Symi.
The Argo-Saronic islands (closest to Athens) include Aegina, Hydra, Poros, Spetses, Salamis, and Agistri.
The Ionian Islands to the west include Corfu, Zakynthos, Kefalonia, Lefkada, Paxi, Kythira.
The North Aegean islands to the northeast include Thassos, Levsos, Samos, Limnos, Chios, Samothrace, Ikaria.
While most Greek islands become very quiet and closed down during the winter months, there are a few that are active year-round. You can read about four Greek islands you can live on year-round here.
Best Time to Visit Greece
Greece is a country that relies heavily on tourism, and the rhythm of the country tends to focus on the summer schedule. The tourist season typically begins at Greek Orthodox Easter and stretches into October, depending on the specific location and weather conditions. While Greece is most popular as a summer destination, there are also many things
to see and do during the winter months
.
The month of August in Greece is the highest point of the tourist season. Greeks tend to take their holidays during this time so Athens and other mainland cities tend to empty as locals head to their villages or the islands for holidays.
If you are seeking good weather but you want to avoid big crowds, June and September are optimal months for travel. July starts to get busy and crowded, and August is extremely full on all but the most remote islands. During July and August, prices often reflect the reduced supply, so you can expect to pay more for accommodations. And it is important to note that the summer weather can get quite hot (mid 80s F to over 100F).
Weather/ Terrain and Climate
There are three main types of climate throughout the country: Mediterranean, moderate, and alpine. The weather varies throughout the country with predictable trends: the mountains of the mainland are colder than the islands, the inland areas have more pronounced seasons than coastal ones, and the south of mainland Greece is warmer and drier than the north. Greece even has snowfall in various areas so don't imagine the country features hot summer weather year-round. Greece is characterized as having mild but distinct seasons. The summer heat is the most intense of the four seasons but in certain areas, Greece can also get quite cold.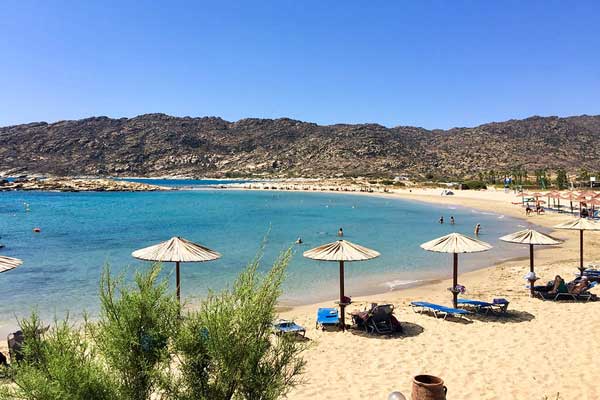 Prices
The cost of living in Greece is significantly lower than in the U.S. and in many western European countries. That said, the amount of money you spend in Greece is influenced by your lifestyle choices. You can spend very little or quite a lot depending on what you choose to do. Greece offers lots of luxury accommodations, fine dining experiences, high-end retail stores, and even private "members only" bars and clubs. The location also matters a lot, and the marquee islands like Mykonos and Santorini are more expensive than the lesser-known islands like Ikaria and Milos. While there are lots of variables, in the balance, the general cost of Greece remains lower than most cities in the U.S. In most Greek cities, you can easily have a quality taverna meal for two, with wine, for under $30.
Activities
Greece has a lot of natural beauty and apart from sunbathing and island hopping, there are plenty of activities available. Water sports are very popular including windsurfing, standup paddleboard, snorkeling, and scuba diving. I teach stand up paddleboard yoga during the summer months, often with full classes. Nature lovers will appreciate that Greece offers great hiking and rock climbing. Many tourist destinations offer horseback riding, and you can even find more extreme sports like paragliding in some destinations. If you come to Greece you will find lots of options to make your holiday an adventure.
Festivals and Important Days in Greece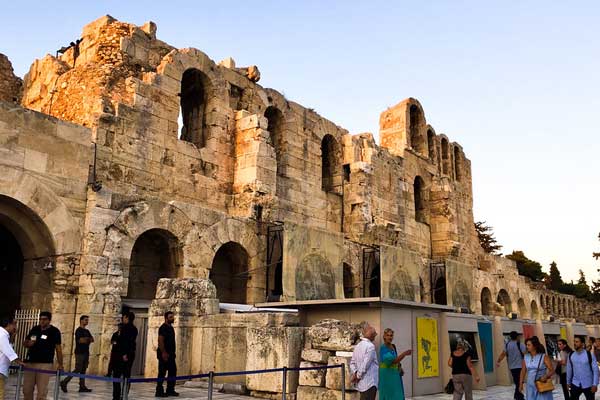 Greek Easter (varies each year)
Greece is a fun-loving country with a strong connection to the Greek Orthodox religion.  As such, a lot of the festivals are based on important religious days. Greek Easter is by far the most important holiday in Greece. Because Greece follows the Orthodox calendar, the date of Greek Easter is usually later than the date of Catholic Easter which follows the Roman calendar.  One of my favorite Greek Easter holidays was spent on the island of Corfu where the celebration includes a pot throwing tradition. At noon on Big Saturday (the Saturday preceding Easter Sunday) local Corfiots stand on their balconies and toss ceramic pots onto the street. The symbolism is to create an "earthquake" that is like the one that occurred following Christ's resurrection from his tomb. You can learn more about Greek customs and traditions here.
Panegyris (many dates)
Panegyri festivals are an important part of the culture. Many cities and villages have a connection to a specific saint and on that saint's day, the town will celebrate with a panegyri. These festivals are joyous celebrations where people come from all over to dance, eat together, and socialize. I particularly recommend the island of Ikaria for its lively and fun-loving panegyris and on more than one occasion, I've planned my holidays to coincide with a popular panegyri. You can check the saints day schedule here.
If you come to Greece, be forewarned you may fall in love with the country and its people. I came for a one-month holiday in May of 2011 just to see what Greece was like. I decided to move to Greece in 2012 and haven't looked back. That's the wonderful thing about Greece, you just never know where a visit might take you…