A Guide to Paros: The Windsurfing Capital of Greece
By Lynn Roulo
Located less than an hour by ferry to the west of Naxos and to the south of Mykonos, you'll find Paros, one of the marquee islands of the Cyclades island cluster in Greece.
In ancient Greece, Paros was known for its marble quarries and Parian marble, a fine-grained semi-translucent pure white marble that was used in many famous sculptures, including the Venus de Milo. These days, Paros is known for its beautiful beaches, vibrant nightlife, and world-class watersports. For those who visit, this island offers a kaleidoscope of places to see and things to do.
Getting to Paros

Paros is accessible by ferry or airplane. From the Athens port of Piraeus, there are multiple ferry options ranging from three to five hours in duration. Paros also has a national airport (airport code: PAS) with regular flights to and from Athens.
Getting Around Paros

Unless you plan to spend most of your time on a single beach or village, renting a car is the most efficient way to get around the island. With a total area of 76 square miles (196 square kilometers), you can drive the circumference of the island in about an hour. The tourist industry is well established in Paros, so the roads are generally well paved and easy to navigate.
When to Go to Paros

Because Paros is best known for its amazing beaches and watersports, most visitors go in the summer season between June and September. As it is a popular island, it can get extremely crowded during July and August. September is one of the best months to come because you'll enjoy the benefits of good weather while avoiding most of the crowds.
Greek Easter is another wonderful time to visit as the island is steeped in tradition. Different villages hold processions and performances commemorating the last days and the resurrection of Jesus. Paros has a spiritual feeling leading up to Easter Sunday and a festive vibe starting at midnight on Easter Sunday.
Get Your Free Report on Europe Here:
Learn more about countries in Europe and other countries from around the world in our daily postcard e-letter.
Simply enter your email address below and we'll also send you a FREE report - All the Charm and Romance of Europe…at a Price You Can Afford.
Where to Stay in Paros

If you want to stay on a Blue Flag beach with easy access to watersports, the family-run Paros Philoxenia Hotel is a top choice. This pet-friendly hotel with a sporty atmosphere is connected to the Paros Windsurf Center and has been welcoming guests since 1987. Kontaratos Studios and Apartments in Parikia get consistently high ratings and are located just a 15-minute walk from the port. If you want to go upscale, the 5-star luxury boutique Parilio Hotel Paros is considered one of the best hotels on the island.
What to See and Do in Paros

Below we offer you eight things to see and do during your stay in Paros.
Stroll Through the Lanes of Parikia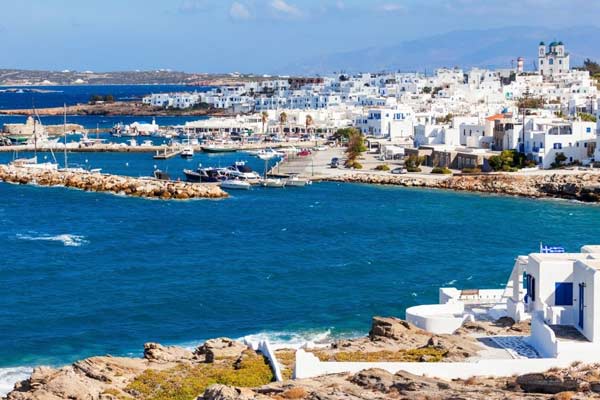 If you come by ferry, you will arrive in Parikia, the port city and capital of Paros. This town of about 3,000 full-time residents is the cultural and commercial center of the island, and the village showcases the typical Cycladic architecture of whitewashed buildings accented by colorful doors, windows, and balconies. The entrance to the port is impressive, with a large windmill serving as a meeting point for visitors. You can easily spend a few hours strolling through the winding lanes lined with clothing stores, restaurants, souvenir shops, and more.
While in Parikia, be sure to visit the Monastery of Panagia Ekatontapiliani located a few minutes by foot from the port. The church has 99 integrated gates, and according to legend, a 100th gate would appear if Agia Sophia in Constantinople (Istanbul) became an orthodox church again. The space is impressive, with sweeping archways connecting the main church to smaller chapels, monk residences, and the baptistery.
Visit the Mountain Village of Lefkes
Lefkes, with an altitude of about 600 feet (200 meters), was the capital of Paros during the Middle Ages. It was built in the mountains to provide residents protection from invading pirates. Modern Lefkes remains a car-free village, making a stroll through the streets and lanes a charming, peaceful way to spend an afternoon.
Ramnos, the central street in the village, is lined with restaurants and stores, and offers visitors beautiful views of the surrounding area. The village is also home to the Folklore Museum of Cycladic Civilization and the House of Literature, a building that houses writers, translators, and other artists who take advantage of the peaceful environment.
Take a Windsurfing Lesson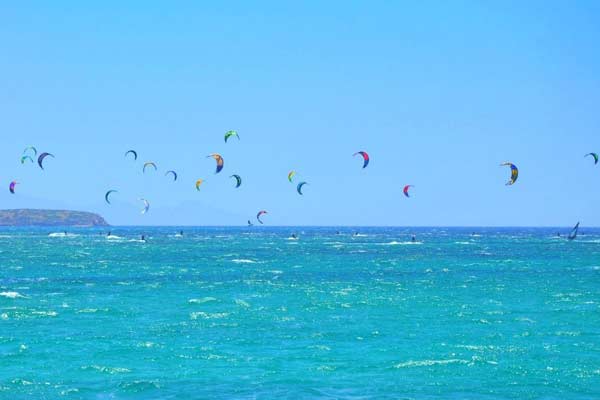 Chryssi Akti (Golden Beach) is approximately 2,300 feet (700- meter) long organized beach with fine, golden sand. The geographic conditions allow for lots of wind, making it a premier destination for windsurfers from all over the world.
On Chryssi Akti and Tserdakia Beach, its immediate neighbor to the north, you can easily find watersport facilities offering windsurfing lessons, kayak, canoe, stand-up paddleboard rentals, and more.
July and August are the months with the best wind conditions, and the Professional Windsurfing Association (PWA) holds its World Cup competition each year in Paros. If you like watersports, you'll find this island has a lot to offer.
Have a Seaside Meal in Naoussa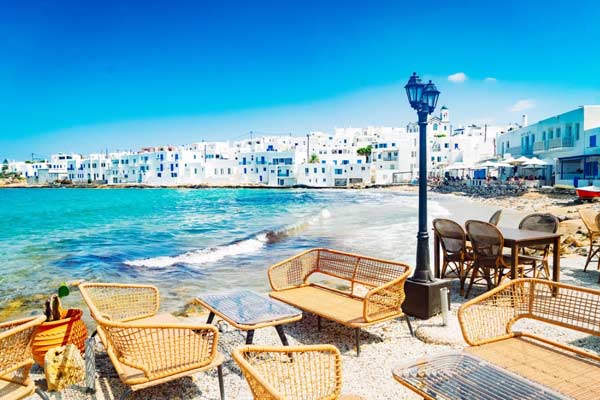 Naoussa is a small fishing village with a big reputation. This charming town with a full-time population of about 3,00o residents is known for its vibrant nightlife, excellent seafood, varied architecture, and charming streets and alleys. Featuring the whitewashed church of Agios Antonis, a Venetian fortress, a Byzantine Museum, a picturesque footbridge, as well as clubs, bars, shops, and restaurants galore, this is one of the most photographic and lively areas of Paros.
Be sure to have a meal along the seafront, where you'll find a variety of tavernas and restaurants offering fresh seafood, traditional Greek mezedes (small plates), and modern twists on classic recipes.
Dive into the Sea on a Boat Excursion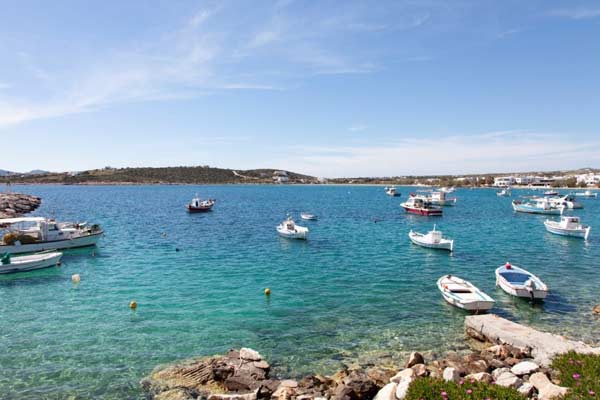 No island trip is complete without a boat ride, and the opportunity to sail away from the shore to enjoy Greece's stunning waters is not to be missed on the island of Paros.
One of the best boat rides can be found at the docks of Aliki, a fishing village on the southeast shores of the island. Rofos and his crew offer three-hour excursions with stops called the Blue Lagoon and the Pirate's Cove. This boat trip gives you a wonderful opportunity to see the different shades of turquoise, teal, aquamarine, and cobalt blue, with each of the stops offering a different seawater experience.
Get Your Free Report on Europe Here:
Learn more about countries in Europe and other countries from around the world in our daily postcard e-letter.
Simply enter your email address below and we'll also send you a FREE report - All the Charm and Romance of Europe…at a Price You Can Afford.
Beach Hop Among the Four Blue Flag Beaches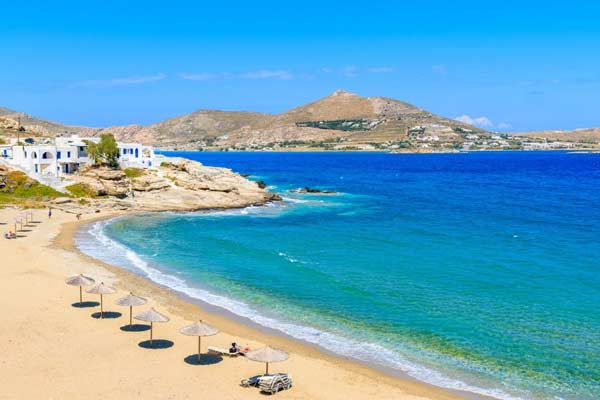 Paros is famous for its picturesque seaside, its stunning water, and its long, sandy beaches. Four of these beaches have earned Blue Flag status, the international Foundation for Environmental Education designation of excellence, and the good news is, they are all fairly close together. Three of these beaches, Chryssi Akti, Logaras, and Tserdakia, are found along the southeast side of the island within a 15-minute drive of each other.
Kolymbithres Beach, perhaps the most high-profile beach on the island, is located along the north coast of the island. Rent a car or scooter and visit all these famous beaches or just find one that suits your mood and spend your day relaxing along the gorgeous seaside.
If hidden beaches are more your style, walk along the coast from Marcelo Beach to Agios Fokos to find a few secret, sandy coves, big enough for a romantic picnic for two or to enjoy a beautiful view of Parikia town from across the water.
Watch the Sun Set on Antiparos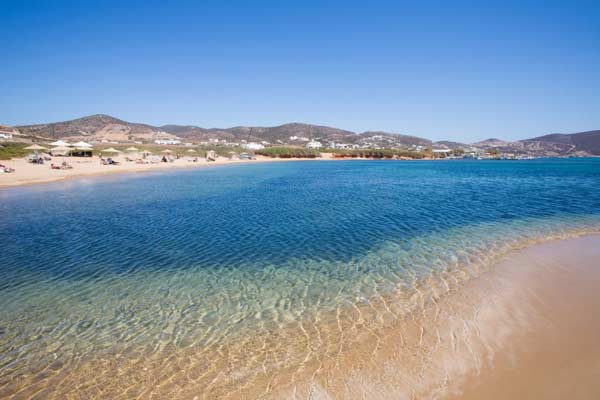 Less than one nautical mile (1.6 kilometers) from Paros lies Antiparos, the tiny island where you can take an excursion to see the beautiful sunset. Ferries offering the 15-minute boat ride from Paros to Antiparos run continually throughout the day. Once you arrive, you can walk through town to get to the beach bar and restaurant Sunset Deseo to catch the last rays of sunlight. You'll come for the sunset but don't be surprised if you stay for a meal, as Sunset Deseo's kitchen offers innovative, locally sourced cuisine.
Antiparos is worth a visit as the tiny island is walkable, offering a picturesque old town and a laidback vibe.
Plug into the Creative Scene in Paros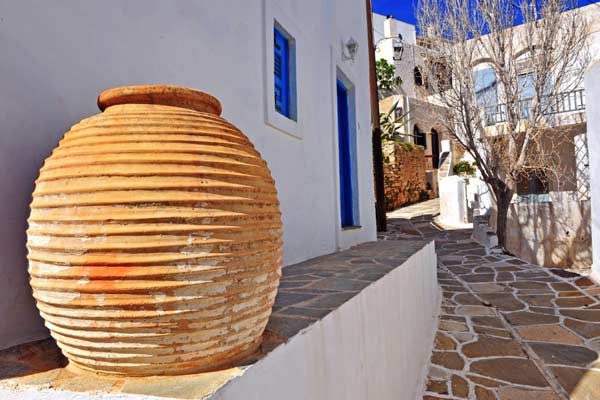 For an island its size, Paros has a vibrant arts scene. From creative businesses like upcyclers ThinkSea, who take used windsurf sails and turn them into stylish bags, to artists like Cecelia Lee who manages Cecelia Art Paros, a small gallery selling works by local artists, you are sure to find something of interest.
While in Paros visit the headquarters of Bit of Salt, another Paros brand that reflects the island's watersport focus. For modern, contemporary art, head to Marpissa and check out Athanasiadou Gallery. And if for you, creativity is expressed through the land, take a tour of Petra Organic Farm to get an education in sustainable farming and artisanal products.
Paros or Naxos? That is the question…
Because of their close proximity, people are often left wondering if they should spend their island holiday on Paros or Naxos. Both islands have a lot to offer, and you really can't go wrong with either choice, but there are some fundamental differences.
Paros is smaller than Naxos, and counterintuitively, this makes it easier to see more things. Because Naxos is a larger island, you may spend more time driving from sight to sight. In Paros, everything is closer together, meaning you'll spend less time in a car.
Both islands are classically Cycladic though Naxos is more mountainous and has more geographic variety. Naxos attracts a lot of families as many of the beaches have long shallow shores, making them child-friendly. Paros also caters to families, but its vibrant nightlife appeals to party-hungry visitors. Both islands are good choices for active travelers looking to enjoy world-renowned watersport spots.
The choice is really yours, but if you were to ask me, I choose Paros.
Featured Image Copyright: ©iStock/Poike