A Guide to Spetses: The Greek Island of Understated Elegance
By Lynn Roulo
Located a short ferry ride from Athens lies Spetses, a favorite island among Athenians for day trips or short getaways. Spetses, along with Hydra, Poros, and Aegina, is part of the Saronic island cluster, and because of its easy proximity to Athens, several tour groups offer day trips where you can island hop between two or three of these islands in a single day.
Spetses gets its name from the Venetians, who called it the "Isola de Spezzie" meaning the island of aromas or the island of spices due to its fragrant vegetation. In times past, the island was a significant naval force, and during the Greek War of Independence, the island had special significance largely because of its famous heroine, Lascarina Bouboulina, the indomitable naval commander during the revolution.
Are you interested in retiring abroad? Yes | Not Sure Yet
Today's Spetses offers visitors understated elegance, a lively nightlife, secluded beaches as well as special events like the annual Spetses Classic Yacht Regatta and Spetsathlon, the largest triathlon in Greece.
How to Get to Spetses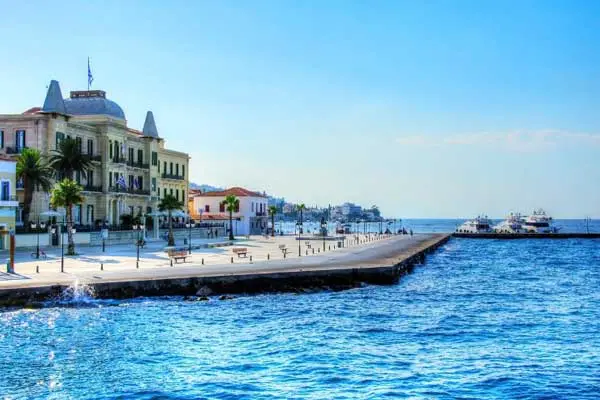 You can reach Spetses by ferry via the port of Piraeus or the port of Porto Heli.  The ferry ride from Athens takes between two and three hours, while the ferry from Porto Heli to Spetses takes just 10 minutes! Because of the easy proximity to Porto Heli, some people choose to drive from Athens to Porto Heli (approximately a 2.5-hour drive) and take a ferry or water taxi to Spetses.
There is no airport on Spetses, but if the cost is no concern, there is an option to arrive by helicopter from the mainland, weather permitting.
Best Time to Visit Spetses
The period starting on Orthodox Easter and running to mid-October is the busy season in Spetses, offering the best weather and the most vivid island life. Early spring and late fall are also great times to visit, as the weather is a bit cooler and the crowds are thinner. Winter visits are possible, but the weather can be unpredictable, so make sure to plan for the possibility of indoor activities.
Below are a few important dates to consider when planning your visit.
The Armata Festival is a well-attended week-long festival that culminates on the second Saturday of September. This celebration commemorates an 1822 naval battle and features fireworks shooting over a model Ottoman ship that is later set on fire.
Spetsathlon, the biggest triathlon in Greece, happens every May. Whether you are participating or coming as a spectator, the island has a sporty, lively vibe the whole weekend. And if running is your passion, come in October for the annual Spetses Marathon.
Founded in 2011, the Spetses Classic Yacht Regatta happens every summer, usually in June, and is the largest classic yacht race in Greece. Expect over 70 boats, hundreds of crew members, and even more spectators.
Beyond special events, Spetses offers you lots to see and do. Below we highlight four popular ways to enjoy your time on this classy island.
1. Take a Horse-Drawn Carriage or Pedal a Bike through the Car-Free Streets
Spetses is known for being a "car-free" island meaning that while there are a few taxis available for hire, most private automobiles are not allowed to drive within the city limits. This adds to the charm of the island as visitors walk, ride bicycles, take horse-drawn carriages, or use scooters or motorcycles.
Horse-drawn buggies can be pre-booked or, much like a taxi, you can just hail one on the street and jump in. Be sure to agree on the price before taking the ride.
Bicycles are another popular mode of transportation, and there are lots of bike rental stores offering reasonable day rates.  You can peddle through Spetses Town or, for those seeking a more vigorous experience, bike around the full 17-mile circumference of the island. The complete route takes about two hours and includes some small hills. If you opt to visit some of the more remote beaches by bicycle, prepare for a more challenging ride as some of the roads are steep and poorly paved.
Get Your Free Report on Europe Here:
Learn more about countries in Europe and other countries from around the world in our daily postcard e-letter.
Simply enter your email address below and we'll also send you a FREE report - All the Charm and Romance of Europe…at a Price You Can Afford.
2. Explore the Inviting Beaches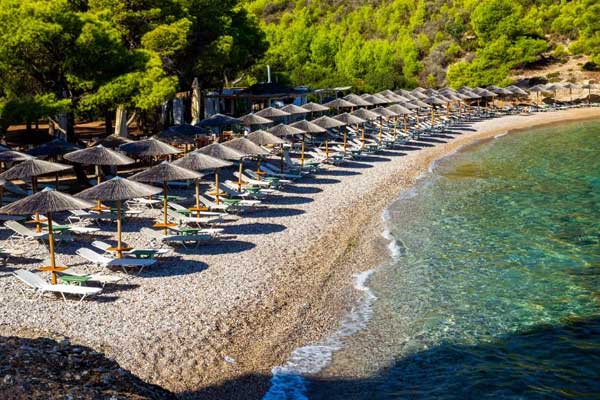 Spetses has plenty of beautiful beaches, many of which are set in front of fragrant pine forests. Located less than a half mile from the main port, Agios Mamas is one of the most accessible beaches. It offers sunbeds and umbrellas, and if you get hungry, you'll find lots of fish tavernas nearby. Also in close proximity to the town center is Kaiki Beach, another organized beach featuring a lively beach bar.
If you are willing to venture out a bit further, head to Agia Maria, located less than two miles from Spetses town. This tiny beach offers sun beds, umbrellas, and water sport equipment rentals.
About 7 miles from Spetses Town, you'll find Agio Anargiri, one of the most popular beaches on the island. This seaside features a few hotels and a walking trail leading from the beach to the cave of Bekiri. For the adventurous, the Bekiri Cave is worth a visit. Because the entrance of the cave is so low, you'll need to swim in, but inside you'll be rewarded with an otherworldly ambiance, including sparkling seawater, a small sandy beach, and stalactites.
If a more secluded experience is what you seek, head to Xilokeriza Beach, about 5 miles to the southeast of Spetses Town. You can access this beach by a dirt path or taxi boat, and while it is a bit isolated, you'll find one small taverna at this beach.
3. Pay Homage to Greece's First Female Naval Admiral at the Bouboulina Museum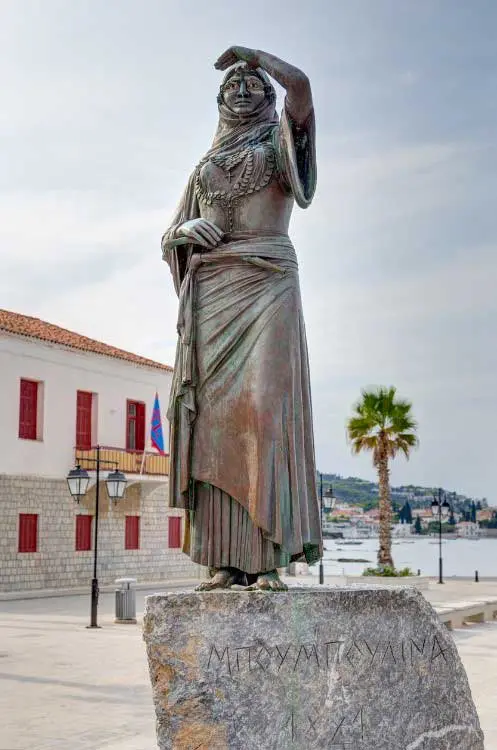 At Poseidon Square in the center of Spetses Town, you'll see a statue of Laskarina Bouboulina, but if you want a more in-depth look at the life and death of the island's most famous war hero, head to the Bouboulina Museum.
Located in her former home in the backstreets of Spetses Town, this museum offers guided tours from March through to October (and by appointment in the off-season). The tour guide offers a detailed history of how Bouboulina used her fortune, naval skills, and leadership abilities to stage a determined and effective resistance against the Ottoman Empire during the Greek War of Independence. It was because of Bouboulina that Spetses holds the honor of being the first island to raise a revolutionary flag against the Ottoman Empire in 1821, as it was she who hoisted the flag on the mast of her ship, the Agamemnon.
4. Dance the Night Away
Spetses is known for its vibrant nightlife, especially in the peak summer months. The most raucous clubs with a high-energy vibe are found near the Old Port. Be sure to check out Bikini Bar and Guzel.
For drinks and people watching, head to Votsalo for a festive vibe that spills out onto the alleyway during busy weekends. Bar Spetsa is another favorite for sunset cocktails or try Throubi Bar at the Old Port, another favorite for evening beverages.
Where to Eat in Spetses
Spetses has lots of dining options with the highest concentration of restaurants in the port area. If you are looking for something with more ambiance and peaceful vibe, head to one of the many seaside options a short walk from the town center. Below are a few restaurants worth a visit.
Expect fresh fish and innovative recipes at Tarsanas Fish Taverna, located along the seaside at the Old Port. This popular restaurant can get busy and noisy but that's because it's known for tasty dishes like salt-crusted sea bass, fish carpaccio, and lobster pasta.
If you want a quieter dining experience and delicious food, head to Patralis Psarotaverna (Fish Taverna) in Kounoupitsa, about eight minutes by foot from the port. Established in 1935, this family-run establishment is the oldest taverna in Spetses. Set along the water, it offers a beautiful atmosphere and top notch dishes.
For a casual place that's easy on the budget, head to Cockatoo for souvlaki and cold beverages. It's not fine dining, but you can expect quick services and good prices.
Where to Stay in Spetses

From luxury hotels to modest Airbnb rooms, there are lots of accommodations in Spetses, particularly along the harbor and near Dapia, the new port.
For high-end accommodations, head to the Poseidonion Grand Hotel. Built by tobacco mogul Sotirios Anargyros in 1914 and modeled after the LeNegresco Hotel in the French Riviera, the elegant Poseidonion Grand Hotel sets the tone for the island. If high end is what you seek but you're looking for a slightly lower cost per room, try Nissia, a family-run, seafront, 4-star hotel just minutes from Dapia.
If you prefer a personal touch, try Twin Houses where long-time Spetses resident Effi welcomes you with a big smile and ample support and information. Twin Houses is even pet-friendly in case you want to travel with your dog.
Spetses is an island with its own class and charm that really needs to be experienced to be understood. Take a few days to pedal around the island, explore the pine-lined beaches, take in the naval history, and sample the local cuisine. Spetses is a great addition to your island itinerary, so book a holiday here and explore for yourself.