Guide to Athens, Greece - Cost of Living, Things to Do and More
Written by Kevin Casey
Greece, the cradle of Western civilization, is where philosophy, democracy, literature, theater, and the Olympic Games were born. There are few places on earth so enriched with history and blessed with astonishing natural splendor… and there is no better city to begin your love affair with this amazing country than its exciting, ultra-livable capital: Athens.
Athens embodies everything wondrous about the Mediterranean lifestyle: brilliant cuisine, appealing weather, endless leisure activities, and a relaxed approach to day-to-day life that focuses on family, friendship, and tradition.
Are you interested in retiring abroad? Yes | Not Sure Yet
Athens is truly the pulsing heart of Greece. It's accessible to Asia, Africa, and major European destinations. You can fly there non-stop from New York City in less than 10 hours. It's also the gateway to the iconic Greek islands, a sun-swept wonderland of summer fun and azure seas where wild dolphins play and gleaming yachts bob at anchor.
Despite its size (more than 3 million inhabitants), many parts of Athens don't feel like a big city at all. There are plenty of quiet neighborhoods where you can find peace and serenity and enjoy the chilled-out Greek way of life.
Retire in Athens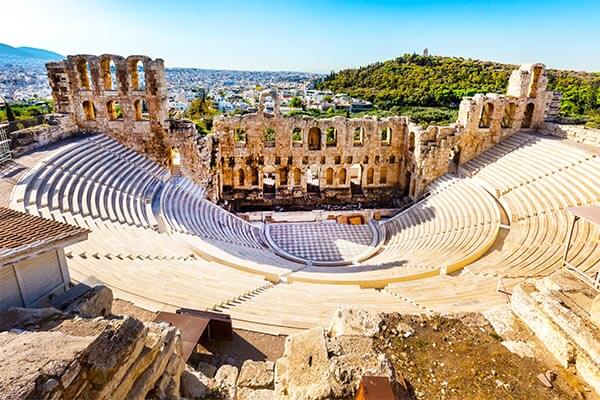 If you're dreaming of a new life in Europe that offers just the right blend of affordability, diversity, infrastructure, and low-key livability, Athens should be high on your list. It's the perfect place to enjoy a healthy outdoor lifestyle brimming with ample sunshine, fresh food, new friends, and fulfilling experiences.
Athens is easily one of the most expat-friendly cities in the Mediterranean. It provides a number of advantages for aspiring retirees, including:
Climate
The weather in Athens is characterized by hot, dry summers and mild winters: average temperatures in January tend to hover around the mid-50s F. The nicest times of year are spring and autumn, when temperatures are 'just right'. Athens is one of the top five sunniest cities in all of Europe, averaging more than 2,700 hours of sunshine per year.
Getting around
Athens' public transport system got a facelift around the time of the 2004 Olympics and includes buses, trams, metro lines, and a suburban railway (Proastiakos) that connects the airport with central Athens and the national rail network. The port of Piraeus, about seven miles south of the city center, offers ferry connections to the Greek islands and other parts of the Mediterranean.
Get Your Free Report on Europe Here:
Learn more about countries in Europe and other countries from around the world in our daily postcard e-letter.
Simply enter your email address below and we'll also send you a FREE report - All the Charm and Romance of Europe…at a Price You Can Afford.
Walkability
Exploring this city on foot is pure joy: its abundance of pedestrian-only streets, green spaces, and easy-to-reach historical areas make it a walker's heaven. Classic attractions such as the Acropolis, the Agora, Hadrian's Gate, the Temple of Zeus, and the Plaka district are all within walking distance of each other, with lots of spacious parks and café hotspots to meander through along the way. Athens is a city of hills, which means a spectacular, 360 degree viewpoint is never far away.
Safety
Athens is a remarkably safe city, where an individual's space and freedom are respected and courtesy is the norm. Most crime here is of the petty variety. You'll feel secure wandering the streets, day or night, in most parts of the city. As in any large urban center, common-sense precautions with personal belongings are the best deterrent to opportunistic theft.
Natural splendor is close at hand
Greece is a physically stunning country with a surprising variety of landscapes. Within handy reach of Athens, you'll find sparkling islands, rugged mountains, traditional villages, beautiful lakes, and countless examples of Greece's ancient past: temples, fortresses, ruins, and churches. Bike through wine country, sail the coast, or hike alongside snow-capped peaks in search of rare wildlife. When it comes to enjoying the outdoors, Athens is the perfect base for planning adventurous day trips.
Expat-friendly
Greece's Golden Visa program is arguably the best value residency-through-investment scheme in Europe, offering a renewable five-year residency visa to non-EU residents in exchange for a set amount of investment within the country.
The people
Greeks are passionate, resilient, peace loving, and family-focused. They appreciate quality food, lively company, and any excuse for a celebration. Their warmth is genuine. The more time you spend here, the more acts of spontaneous generosity and humble hospitality you'll experience.
Lifestyle in Athens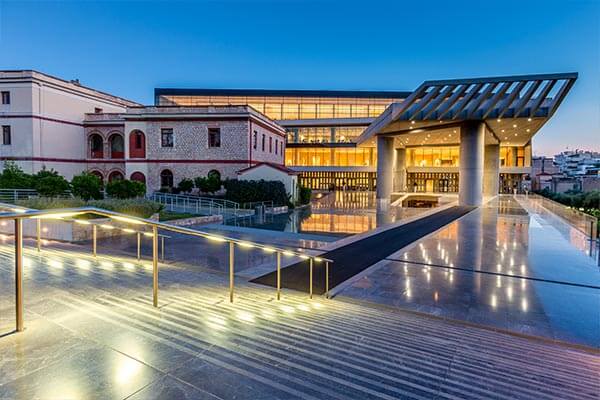 One of the first things you'll notice about Athenian life is the cafe culture. In North America, grabbing a coffee on the run is normal, but Greeks take a much more leisurely approach. There are cafes on nearly every corner in Athens, and it's not unusual for coffee-drinking sessions to drag on for hours, late into the night.
Escaping to the beach is a summer tradition, and there are several coastal spots not far from the city where you can cool off when temperatures rise. Schinias, Psatha, Pasalimani, Kalivia, and Legrena are just a few of the beaches you can reach in an hour or less from Athens' city center.
Keeping fit, eating well, and staying healthy is easy in Athens. Monthly gym memberships average around $35. Healthcare is reliable and affordable. More than 90% of doctors in Greece are specialists, rather than general practitioners.
Most expats in Athens take out some form of private health insurance and use private hospitals to ensure they receive the optimum level of care.
One of the pleasures of living in Athens is the amazing food. From cheap eats at local tavernas to fine dining with a view, eating out is an integral part of the culture. Although you can find all manner of Western-style or ethnic food options, it's the traditional Greek cuisine that really shines here.
Get Your Free Report on Europe Here:
Learn more about countries in Europe and other countries from around the world in our daily postcard e-letter.
Simply enter your email address below and we'll also send you a FREE report - All the Charm and Romance of Europe…at a Price You Can Afford.
Must-try Greek staples include souvlaki, moussaka, dolmades (stuffed grape leaves), galaktoboureko (custard, nuts and honey baked in filo pastry), pastitsio, and horta vrasta (fresh greens drizzled in lemon juice and olive oil). A Greek salad is always nutritious, colorful, and refreshing—and Athens is probably the best place on earth to order one.
The infrastructure in Athens will keep even the most discerning expat happy. Internet service is reliable, public transport is cheap and efficient, and there's no need to own a car here—getting around without one is easy.
For many expats, the most positive thing about life in Athens is the stress-free pace and relaxed vibe that permeates this ancient city. The longer you're here, the less you worry.
Cost of Living in Athens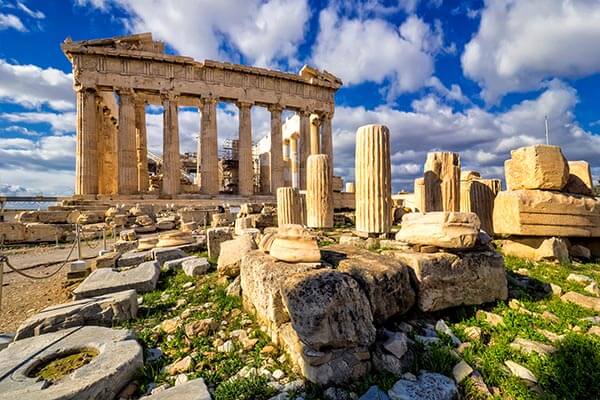 While Athens isn't quite as cheap as it was 20 years ago (Greece switched from Drachmas to Euros in 2002), prices for everyday necessities are still much lower than in the U.S.—about 50% cheaper than in Los Angeles, for example. Living in Athens, the biggest savings are noticeable with apartment rentals, which can be up to 85% more affordable than in a typical American city.
You can find a decent one-bedroom apartment in the Athens city center for $400 to $500 per month, and rentals in the suburbs are even better value. A one-way ticket on local public transport costs around $1.65, and prices for groceries (especially fresh produce) are pleasantly low, especially if you avoid chain supermarkets and frequent weekend farmers' markets instead.
House prices in Greece have dropped around 60% since 2009, so if you're looking to retire in the Athens area, there are some exceptional property deals to be had.
How to Spend a Day in Athens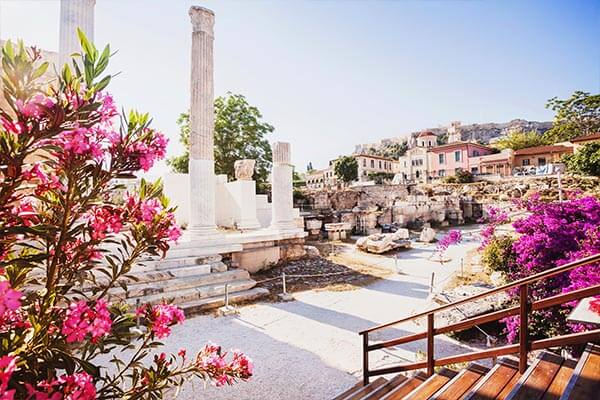 There are plenty of cool ways to get to know Athens better, as a tourist or a resident. Take a free walking tour, spend the morning on a 'hop-on, hop-off' bus, rent a bicycle, or just put on a good pair of walking shoes, grab a map, and start strolling.
History is all around you in this city: climb up to the Acropolis, amble through the Plaka, check out the ancient Agora, or spend the day checking out Athens' superb array of museums.
One of the simplest ways to hit the beach is to take the Green Line (metro) from Syntagma Square in the direction of Askllipiio Voulas and jump off at the stop for Edem. Some beaches near Athens charge a fee, but Edem is free.
For people-watching, there's no better place than Monastiraki Square. Yes, it's touristy, but there is some impressive ancient architecture in the area. For the best sunset views, climb up Lycabettus Hill (or cheat and take the funicular). Another fine spot for epic city views is the centrally located 'A for Athens' rooftop bar.
One of the quirkiest and most enjoyable Athens summer traditions is open-air cinema. There are normally two showings per evening, at 9 p.m. and 11 p.m. English movies are subtitled in Greek and you can sit anywhere. Some of the city's most famous open-air cinemas include Dexameni, Thission, Aegli, and Cine Paris, which has been around since the 1920s and offers premier views of the Acropolis to add to your movie experience.
Athens is well positioned as a hub for day trips to traditional villages, mountainous hiking areas and distant beaches. If you fancy an island jaunt, Hydra is an excellent choice. The ferry from Piraeus will get you there in an hour or so for around $64 (return). You can spend a thoroughly relaxing day on the island and be back in Athens before the sun sets.
Get Your Free Report on Europe Here:
Learn more about countries in Europe and other countries from around the world in our daily postcard e-letter.
Simply enter your email address below and we'll also send you a FREE report - All the Charm and Romance of Europe…at a Price You Can Afford.
Cultural Things to Do in Athens, Greece
By Lynn Roulo
Ancient Greece, Modern Athens
The words "ancient" and "Greece" are almost synonymous so it is a surprise to many people when I talk about how progressive Athens, the capital of Greece, has become. This is a more recent development but somehow, out of the rubble of a ten-year financial crisis and in the midst of a global pandemic, Athens found its way, and now buzzes like Berlin and Barcelona.
The historic sites still dominate the city but tucked between the Parthenon, the Ancient Agora, and the Temple of Zeus, you will find modern art, innovative fine dining, eco-friendly urban planning, inspiring lectures, and award-winning architecture. Here's what you can do and see in modern Athens.
Explore Modern and Contemporary Art

Pay a visit to the newcomer on the art scene, The B&E Goulandris Modern Art Museum. Opened in October of 2019, and situated behind the Ancient Stadium in the center of Athens, this museum houses the collection of Basil and Elise Goulandris, benefactors who believed that art should be open to society. The collection spans five floors with one floor dedicated completely to Greek artists and includes rare works by masters of the European avant-garde including Cézanne, van Gogh, Gauguin, Monet, Degas, Rodin, Toulouse-Lautrec, Bonnard, Picasso, Braque, Léger, Miró, Giacometti, and Balthus. The space doesn't stop at art. It includes a state-of-the-art 187-seat amphitheater that hosts events including lectures, conferences, screenings, performances, concerts, and other artistic and scientific activities.
If your visit to the Goulandris Modern Art Museum only served to whet your appetite, head over to The National Museum of Contemporary Art, an easy 15-minute walk away. Formerly the brewery for Fix beer, this museum's reconstruction was completed in 2014 and occupies 195,279 square feet on a 33,616 square foot surface. In 2017, the museum hosted Documenta, one of the largest contemporary art events in the world, and in February 2020, it became fully operational to the public. The space features 3D objects, architecture, design, photography, and new media, as well as traditional paintings. You can browse the museum's ever-changing collection here.
Enjoy an Innovative Dining Experience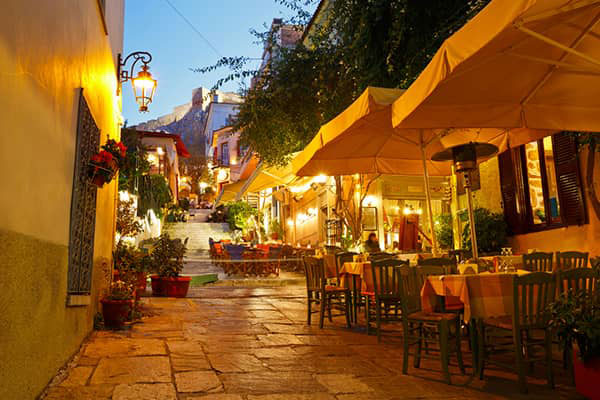 If you imagine a Greek tavernameal is your only option, you are in for a pleasant surprise. In recent years, Athens has made its mark on the international fine dining scene, and you have lots of diverse, high-quality restaurants to choose from. Greek physicist-turned-sushi master Antonis Drakoularakos was named among the world's 100 top chefs in 2016, and his restaurant Sushimou serves some of the best sushi on the planet. You can order off the menu, but it's more fun to just sit down and let him serve you whatever he thinks is the best for the day.
If sushi isn't your thing, try the Nice-n-Easy bio restaurant in the trendy Kolonaki district. The organic, healthy menu makes ordering easy by naming the dishes after American movie stars. Sample the Audrey Hepburn, a dish of mixed wild mushrooms sautéed with Rockford-style goat cheese from Evia. Or try the Sean Connery, fresh sea bass filet with a citrus herb crust served on quinoa flaxseed tabbouleh with mustard honey dressing. Nice-n-Easy offers creative twists following the "superfood" health movement so you'll get a great meal and be energized for the next stage in your day. And don't think the health food movement is reserved for restaurants. Regular supermarkets in Athens offer you coconut oil, almond milk, apple cider vinegar, and several types of quinoa. It is easy to eat healthy in Athens.
Stroll Down the Great Walk of Athens
Amid the global pandemic, the city launched this initiative, a 4.2-mile walking trail that weaves throughout historic Athens. The intent was to create more public space and to give priority to pedestrians, bicycles, and other new means of transport. While making social distancing easier was part of the concept, the backdrop of the project was a desire to safeguard public health and the environment by not allowing roads to be flooded by cars. The first part of The Great Walk of Athens opened in June of 2020, and when completed in 2022, the walkway will be the first to unite the historic neighborhoods of Athens. It's impressive to see locals and tourists alike taking advantage of the colorful, sprawling pedestrian zone.
Get Your Cultural Hit at the Stavros Niarchos Foundation Cultural Center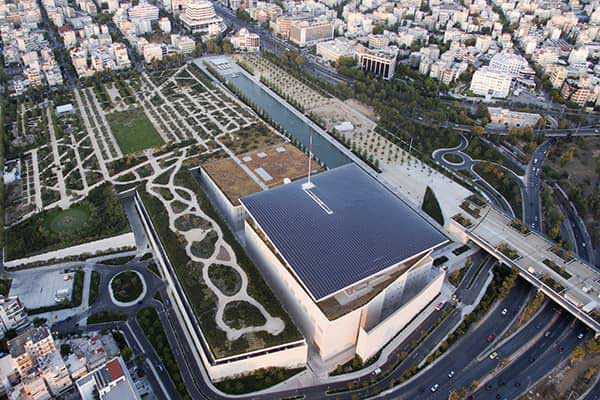 Pay a visit to the Stavros Niarchos Foundation Cultural Center by taking the free shuttle bus from the Syngrou-Fix Metro station. This public space opened in 2017 and earned significant architectural distinctions including the 2018 Award for International Excellence of the Royal Institute of British Architects – RIBA. The center includes an urban lighthouse, a canal, 52 acres of a green public park, a labyrinth, a vegetable garden, and more. Inside, the center offers cultural, educational, athletic, environmental, and recreational activities and events. It also houses the Greek National Opera and the National Library of Greece. My favorite time to visit is around Christmas when they offer a sound and light show in the reflecting pond that sits right outside the entrance. The dancing lights create an atmosphere of joy that uplifts you.
Listen to an Inspiring Lecture
Attend one of the many quality lectures available in Athens. If you are technology-focused, StartUp Grind hosts monthly events to showcase investors, entrepreneurs, and new technologies. If you prefer arts and science, the Megaron in Kolonaki has an ongoing program of guest lectures including speakers like Jane Goodall. Even TedX, the local chapter of the high-profile Technology, Education, Design conference in California, comes to Athens annually. There is plenty in Greece's capital to keep your mind-expanding.
The truth is, if you've studied Greek culture at all, none of this is a surprise. Greece is well-versed in adaptability. The Parthenon, the most iconic image of Athens sitting atop the hill of Acropolis, has been a church, a cathedral, a temple, and a mosque. Greece knows how to adapt. Maybe that's how it has survived so many centuries…