Naxos, in the south Aegean Sea, is the largest island in the Cyclades island grouping, dwarfing Mykonos and Paros, its closest neighbors. Over the last few years, Naxos has become an increasingly popular tourist destination due to its wide offerings ranging from water sports on blue flag beaches to distillery tours in mountain villages. Naxos offers you hiking on the highest mountain in the Cyclades and features charming hillside towns with delicious local dishes featuring gruyere and arseniko cheeses and the famously tasty Naxos potatoes.
Are you interested in retiring abroad? Yes | Not Sure Yet
With sports, gastronomy, beautiful beaches, and a family-friendly vibe, let's take a closer look at what Naxos has to offer.
Getting To Naxos
You can get to Naxos by ferry or by airplane. Naxos is 98 nautical miles from the Athens port of Piraeus, and the ferry ride lasts between four and six hours. Naxos has an international airport (JNX) and from Athens, the flight is less than one hour.
Getting Around Naxos
At 170 square miles, Naxos is a large island, so renting a car is one of the best ways to see all that the island has to offer. Public buses are also an option with the central bus stop in Chora, the main town on the island, connecting to many popular beaches and villages throughout the area. Taxis and private transfers are a third option, giving you more flexibility but being less economical than the public bus system. As the island has limited taxis, be sure to arrange transportation in advance, especially if you will be visiting in July or August.
When to Visit Naxos
Like all Greek islands, Naxos comes alive in the summer and is sleepier in the winter months. The tourist season typically starts on Greek Orthodox Easter (which is often a different date than Catholic Easter) in April or May and runs until mid-October. June and September are wonderful months to visit as the weather is warm, and the crowds are still thin. July and August feature hot Greek summer weather but very crowded beaches and villages.
What to Do in Naxos
Beach Hop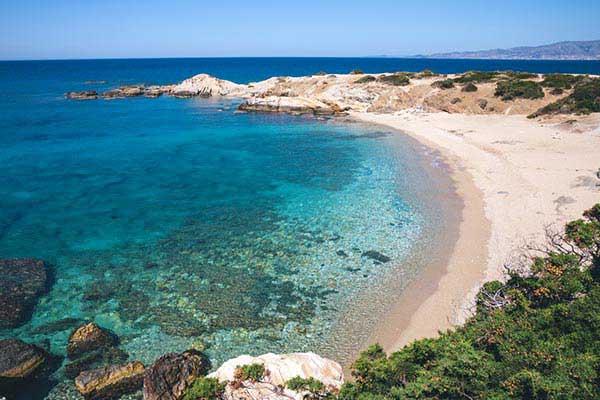 Because the island is so big, Naxos has beaches for everyone, from well-organized with lots of amenities like sunbeds, cafes, and tavernas, to unorganized and off-the-beaten trail. Beyond the classic beauty of a Greek beach, the island stands out from its neighbors for two other reasons: its shallow waters and windy conditions.
Families flock to Naxos because many of the sandy beaches are long and shallow, making them safe and accessible for children. Plaka, Maragas, and Agia Anna are great family-friendly beach choices.
For those seeking a little more adventure from their beach experience, some parts of the island are quite windy, creating favorable conditions for kitesurfing or windsurfing. Agios Prokopios and Agios Georgios are well-known wind and kitesurfing spots and have facilities where you can take lessons and hire equipment.
Agios Prokopios, Agios Georgios, and Agia Anna are all blue flag beaches, the highest certification by the International Foundation for Environmental Education (FEE).

Taste Local Dishes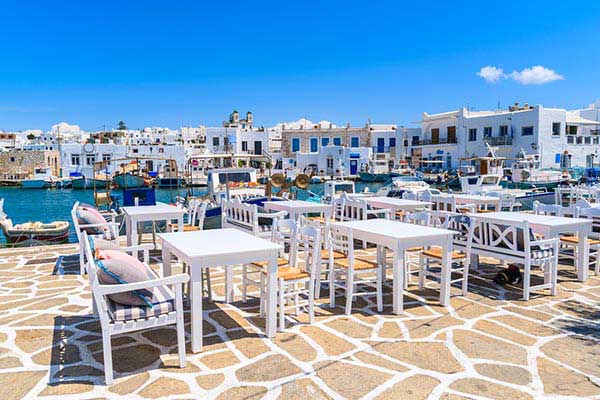 Naxos has fertile land and with over 10,000 cattle grazing on the island, it is called the King of Cheese in Greece. While there are many local kinds of cheese to try, there are two Naxian products that particularly stand out: Naxos Graviera and arseniko. Naxos Graviera is usually made from cow's milk or a blend of cow, goat, and sheep milk, and has a sweet, buttery flavor. You'll see it served on its own as a table cheese or melted over pasta, vegetables, or fresh local meat. Arseniko is a hard goat milk cheese that you'll find featured in cheese saganaki (fried cheese), kalogeros (eggplants stuffed with beef and cheese), or served on its own as a table cheese.
Naxos is also famous for its potatoes which are full in flavor due to the mineral-rich soil on the island. The island produces over 8,000 tons of potatoes a year and tavernas throughout Greece proudly serve "Naxos potatoes."
If you are looking for a local beverage, be sure to try kitrorako, a citron liqueur unique to the island. Kitrorako comes in three shades, green, yellow, and clear, and has a clean, citrus taste like limoncello. In the village of Chalki, you can visit the distillery where kitrorako is made and take a guided tour of the facilities which include equipment dating to 1862. And of course, they offer kitrorako tasting at the end of the tour.
Experience Greek Mythology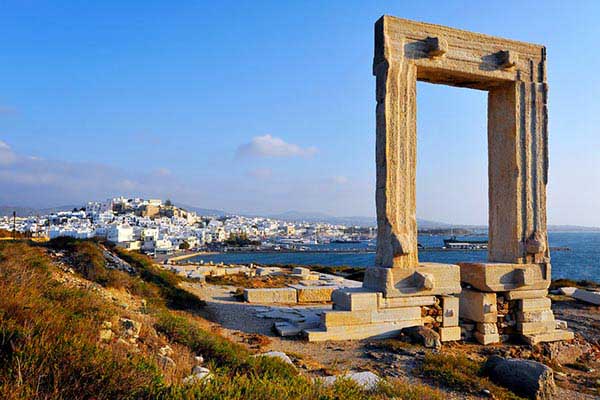 Greek mythology is inherently woven into the island of Naxos and if you arrive by ferry, you'll be greeted upon arrival by the remnants of the Temple of Apollo just outside the main harbor. It is here that Theseus abandoned Ariadne after he killed the Minotaur and fled Crete.
The harbor isn't the only place you'll find Greek myths. It is said that young Zeus, the King of the Twelve Olympian Gods was raised in a cave now called Mount Zas (Mount Zeus), the tallest mountain not just in Naxos but in all the Cyclades. If you like hiking, this three mile hike peaks at the summit, 1,640 feet above the sea.
Explore the Capital City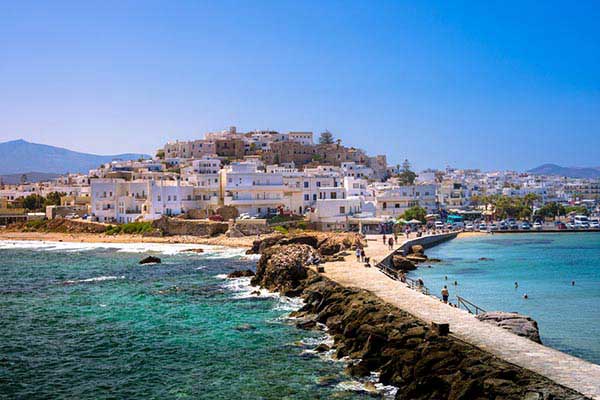 Chora, the capital of Naxos, is a lively town featuring the Kastro, a castle built in 1207 A.D by the Venetian Emperor Markos Sanoudos II within the colorful Old Town.
Within the inner walls of the Kastro are several Venetian residences and a 13th Century Catholic Cathedral. The Old Town is a vibrant touristy area with shops lining narrow, cobbled alleys. The area is a mix of architecture with a blend of Cycladic and Venetian influences.
As you can see, Naxos has something for everyone. Lower key than its neighbor Mykonos, you'll get a better value for your money on Naxos while enjoying equally beautiful beaches and delicious meals. Hike up to the mountain where a young Zeus was raised, tour the distillery where kitorako is created, windsurf one day and kitesurf the next. Or do none of that and just sit on a long, sandy beach under your umbrella and enjoy the good life on Naxos.

Get Your Free Report on Europe Here:
Learn more about countries in Europe and other countries from around the world in our daily postcard e-letter.
Simply enter your email address below and we'll also send you a FREE report - All the Charm and Romance of Europe…at a Price You Can Afford.
Related Articles
Top 5 Reasons to Move to Greece
The Good Life in Greece for Less Than $1,000 a Month
The Three Best Things About Living in Greece (and the Two Worst)