Ancient Greece, Modern Athens
The words "ancient" and "Greece" are almost synonymous so it is a surprise to many people when I talk about how progressive Athens, the capital of Greece, has become. This is a more recent development but somehow, out of the rubble of a ten-year financial crisis and in the midst of a global pandemic, Athens found its way, and now buzzes like Berlin and Barcelona.
The historic sites still dominate the city but tucked between the Parthenon, the Ancient Agora, and the Temple of Zeus, you will find modern art, innovative fine dining, eco-friendly urban planning, inspiring lectures, and award-winning architecture. Here's what you can do and see in modern Athens.
Explore Modern and Contemporary Art

Pay a visit to the newcomer on the art scene, The B&E Goulandris Modern Art Museum. Opened in October of 2019, and situated behind the Ancient Stadium in the center of Athens, this museum houses the collection of Basil and Elise Goulandris, benefactors who believed that art should be open to society. The collection spans five floors with one floor dedicated completely to Greek artists and includes rare works by masters of the European avant-garde including Cézanne, van Gogh, Gauguin, Monet, Degas, Rodin, Toulouse-Lautrec, Bonnard, Picasso, Braque, Léger, Miró, Giacometti, and Balthus. The space doesn't stop at art. It includes a state-of-the-art 187-seat amphitheater that hosts events including lectures, conferences, screenings, performances, concerts, and other artistic and scientific activities.
If your visit to the Goulandris Modern Art Museum only served to whet your appetite, head over to The National Museum of Contemporary Art, an easy 15-minute walk away. Formerly the brewery for Fix beer, this museum's reconstruction was completed in 2014 and occupies 195,279 square feet on a 33,616 square foot surface. In 2017, the museum hosted Documenta, one of the largest contemporary art events in the world, and in February 2020, it became fully operational to the public. The space features 3D objects, architecture, design, photography, and new media, as well as traditional paintings. You can browse the museum's ever-changing collection here.
Enjoy an Innovative Dining Experience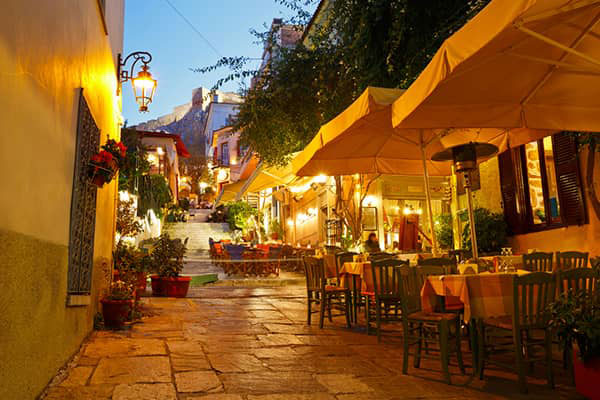 If you imagine a Greek tavernameal is your only option, you are in for a pleasant surprise. In recent years, Athens has made its mark on the international fine dining scene, and you have lots of diverse, high-quality restaurants to choose from. Greek physicist-turned-sushi master Antonis Drakoularakos was named among the world's 100 top chefs in 2016, and his restaurant Sushimou serves some of the best sushi on the planet. You can order off the menu, but it's more fun to just sit down and let him serve you whatever he thinks is the best for the day.
If sushi isn't your thing, try the Nice-n-Easy bio restaurant in the trendy Kolonaki district. The organic, healthy menu makes ordering easy by naming the dishes after American movie stars. Sample the Audrey Hepburn, a dish of mixed wild mushrooms sautéed with Rockford-style goat cheese from Evia. Or try the Sean Connery, fresh sea bass filet with a citrus herb crust served on quinoa flaxseed tabbouleh with mustard honey dressing. Nice-n-Easy offers creative twists following the "superfood" health movement so you'll get a great meal and be energized for the next stage in your day. And don't think the health food movement is reserved for restaurants. Regular supermarkets in Athens offer you coconut oil, almond milk, apple cider vinegar, and several types of quinoa. It is easy to eat healthy in Athens.
Stroll Down the Great Walk of Athens
Amid the global pandemic, the city launched this initiative, a 4.2-mile walking trail that weaves throughout historic Athens. The intent was to create more public space and to give priority to pedestrians, bicycles, and other new means of transport. While making social distancing easier was part of the concept, the backdrop of the project was a desire to safeguard public health and the environment by not allowing roads to be flooded by cars. The first part of The Great Walk of Athens opened in June of 2020, and when completed in 2022, the walkway will be the first to unite the historic neighborhoods of Athens. It's impressive to see locals and tourists alike taking advantage of the colorful, sprawling pedestrian zone.
Get Your Cultural Hit at the Stavros Niarchos Foundation Cultural Center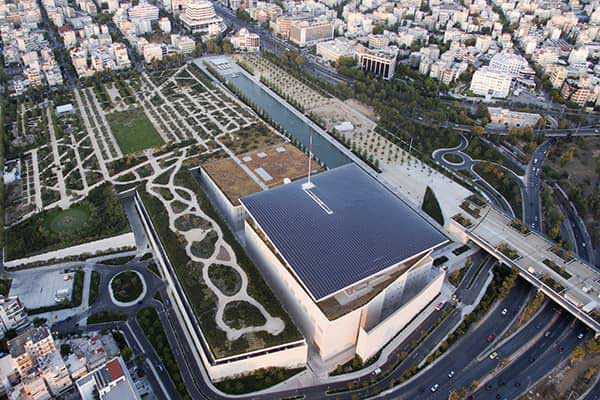 Pay a visit to the Stavros Niarchos Foundation Cultural Center by taking the free shuttle bus from the Syngrou-Fix Metro station. This public space opened in 2017 and earned significant architectural distinctions including the 2018 Award for International Excellence of the Royal Institute of British Architects – RIBA. The center includes an urban lighthouse, a canal, 52 acres of a green public park, a labyrinth, a vegetable garden, and more. Inside, the center offers cultural, educational, athletic, environmental, and recreational activities and events. It also houses the Greek National Opera and the National Library of Greece. My favorite time to visit is around Christmas when they offer a sound and light show in the reflecting pond that sits right outside the entrance. The dancing lights create an atmosphere of joy that uplifts you.
Listen to an Inspiring Lecture
Attend one of the many quality lectures available in Athens. If you are technology-focused, StartUp Grind hosts monthly events to showcase investors, entrepreneurs, and new technologies. If you prefer arts and science, the Megaron in Kolonaki has an ongoing program of guest lectures including speakers like Jane Goodall. Even TedX, the local chapter of the high-profile Technology, Education, Design conference in California, comes to Athens annually. There is plenty in Greece's capital to keep your mind-expanding.
The truth is, if you've studied Greek culture at all, none of this is a surprise. Greece is well-versed in adaptability. The Parthenon, the most iconic image of Athens sitting atop the hill of Acropolis, has been a church, a cathedral, a temple, and a mosque. Greece knows how to adapt. Maybe that's how it has survived so many centuries…
Get Your Free Report on Europe Here:
Learn more about countries in Europe and other countries from around the world in our daily postcard e-letter.
Simply enter your email address below and we'll also send you a FREE report - All the Charm and Romance of Europe…at a Price You Can Afford.
Related Articles
The Good Life in Greece for Less Than $1,000 a Month
Exploring Chania: Peaceful, Sun-Soaked Bliss on Greece's Largest Island
Meteora, Greece: Marvelous Monasteries and Otherworldly Geology
Upcoming Conferences
Live Better, Spend Less, Retire Sooner
IL's Retire Overseas Bootcamp
October 21-23, 2022 in Atlanta, GA

In safe, warm, welcoming communities abroad, as little as $1,700 a month can bankroll a good life... this fall, our experts will show you where—and how.
Early Bird DISCOUNT—Save $100 When You Register by Sep. 29
Details Here IL's Retire Overseas Bootcamp
---
Registration Now Open for the Best of Europe Private Screening

In the Right Spots in Europe, You Can Retire in Style—in an Historic, Sun-Drenched Locale—for as Little as $2,300 a Month or Less—Especially Now With the Dollar and Euro at Parity for the First Time in Two Decades.
And We'll Show You How, October 1-2, During the Special All-Online Best of Europe Private Screening.
---
The Income Revolution Forum
What if You Had the Freedom to Enjoy the Good Life Anywhere in the World You Wanted to Be...and Get Paid While You're There?
We'll show you how—with hands-on guidance—you could beat inflation...secure your retirement...ditch your commute...and turn a skill you already have into a portable side income of $300, $600, even $3,000 or more a month.