I've always found Da Nang enormously appealing. For one thing, I've never been to another city with a dragon bridge. The nearly half-mile-long dragon-shaped bridge spouts steam and fire every weekend night for the amusement of spectators young and old. It's astounding in no small part because the Dragon Bridge is a major thoroughfare that spans the Han River, dividing one side of the city from the other.
Da Nang's residential neighborhoods are delightful places to live. Every so often in the neighborhood we lived in three years ago, the entire block would close to traffic for a party, and all the residents and their kids would come outside to drink and play, visit, watch a soccer match, or sing karaoke. It didn't matter that my husband, David, and I were foreigners; we were encouraged to join in and everyone cheered good-naturedly if one of us got up the nerve to sing a song.
Da Nang is a curiously social city. There's an unspoken structure to conducting business here; business doesn't commence until social graces have been completed. It can be challenging if you're not fluent in Vietnamese, but it's greatly appreciated if you try. My solution when I went to the market with my husband, who generally carried the cash, was to make my selection, then explain with gestures that my husband had the money—"he always has all the money!" I'd pantomime—and make a humorous show of begging for the funds to pay for our goods. It would never fail to elicit laughs (and sometimes a better price!) from the market ladies, and our daily shopping trips soon became an amusing highlight of our day.
I met New York City native Quentin Dante, 61, in Da Nang. He also enjoys shopping at the markets. "One of the things about shopping here is that it isn't easy to find everything that you need or want in one place, so it's a bit of an experience. I'll go to the Han Market to get specific vegetables or fish. I've made relationships with some of the vendors. I try to find my restaurants, my barbershop, and my vendors by going through these routines. Finding the best produce and other products is a part of my day. I like going to the fish market for the fish and the egg farmer for the eggs; it's always an experience. I love checking out their products and seeing what's new."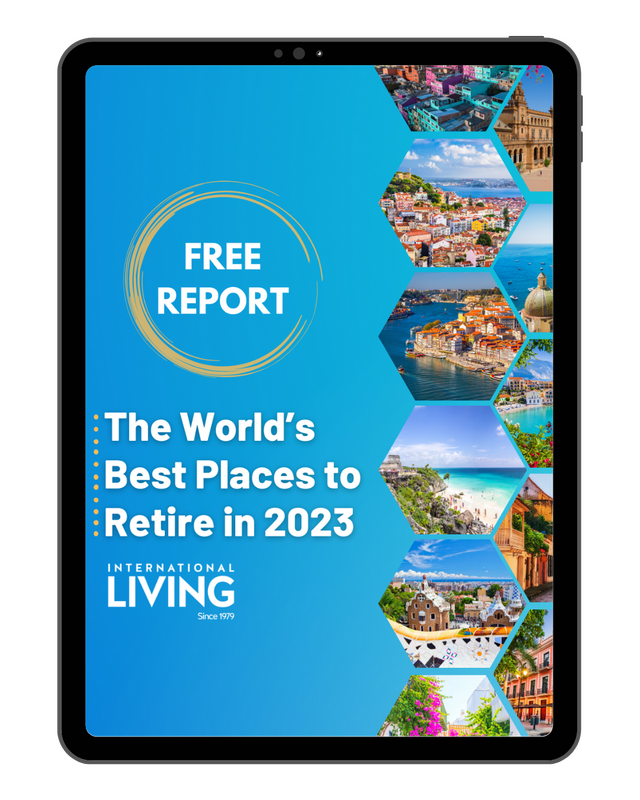 Get Your Free Report on the World's Best Places to Retire:
Learn more about the best places in the world to retire in our daily postcard e-letter.
Simply enter your email address below to sign up for our free daily postcards and we'll also send you a FREE report on The World's Top 10 Retirement Havens, plus access to over 10 more free reports. Our gift to you, on our favorite destinations.
When we were in Da Nang during a recent editorial trip, we chose to stay at the Prana Boutique Hotel in the expat-popular Ngu Hanh Son District. The Prana originally opened as a stylish hotel, but during the pandemic, the creative owners converted most of the units into studio and one-bedroom apartments, which they rented almost exclusively to long-term expats. This is where I met Quentin, and I was interested to hear his story. He had moved to Da Nang in December of 2019. Four months later, Da Nang was locked down due to COVID-19.
Quentin described his lockdown experience this way: "We were all expats locked up together; it was a uniquely social environment during that period. We'd have lunch or brunch twice a week with the other 15 to 18 residents in the building. When it was my turn, I'd cook one of my specialties. I did a Mexican lunch one day; other tenants would cook special dishes from their countries. We'd eat foods from around the world. The owner's wife does the Vietnamese cooking, and she's a great cook. It's been a very unique experience." The building's residents soon formed an extended family, started a private Facebook social group, and even now, long after the lockdown has ended, they're still in touch with one another.
When I was staying at the Prana, the owner's wife would ask me each day what I wanted for breakfast, and was delighted when I requested Vietnamese dishes like mì quảng, the hearty turmeric-infused noodle soup that originated in Da Nang. Though it's sold on practically every street corner in the city, she insisted on preparing it from scratch—and she really is a wonderful cook.
The hotel has a lovely rooftop pool, and the residents enjoyed spending time there during the lockdown. Quentin says, "I spent a lot of time cooking and a lot of time at the pool. It's a semi-retired lifestyle. I'm an architect, interior designer, and consultant for the hospitality industry. Normally, I'm on the road 200 days a year, but I haven't traveled for months. I thought I'd be going stir crazy by now, but I haven't yet. It's caused a general slowdown in my life, with a better balance of work and leisure. I don't plan on traveling as much or taking on as many projects in the future."
When we lived in Da Nang, our landlords couldn't do enough for us. During the time that we were there, they would frequently come and visit, accompanied by their teenage identical-twin daughters, bringing small gifts and food, helping with whatever came up, and even inviting us along on family trips. Our beautiful modern house, a three-story split-level, had a sunroof and wonderful airflow, which let in the fragrance of the flowering trees outside our windows. It was near the Son Tra Nature Reserve, a few miles north of Quentin's apartment.
Quentin lives in a split-level studio apartment with a balcony, a refrigerator, and a stove. "I bought some additional equipment–a juicer, a blender, a rice cooker, a grill attachment, and some specialty pans. I can always come downstairs to use the owner's kitchen. I have a one-year contract and pay $850 per month, but that includes laundry and housekeeping twice a week, internet, cable TV, tap water, discounted electricity, a gym, a pool, and a sauna. Daily breakfast is also included in my rent, and the owner's wife insists on serving me her special detox juice every day. On many occasions, we'll still share family dinners—that's also included," he says. "I spend more on food than most people, and I'm living well on around $1,500 per month, which includes everything, even health insurance."
His apartment is a five-minute walk from the powdery sand and swaying palm trees of My An Beach, one of the nicer beaches along Da Nang's long stretch of the South China Sea coastline. It's also a five-minute walk to Dirty Fingers, a popular expat-owned bar and restaurant that features live music and good pub food. Quentin enjoys going there mainly to meet friends, but I've found their tasty finger food to be worth a special trip.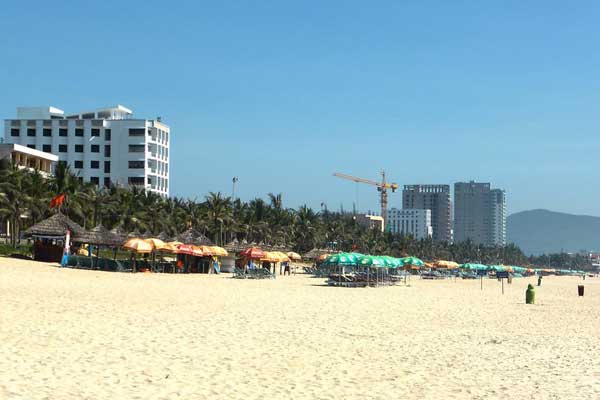 Central Coast cuisine is some of the most flavorful in Vietnam. We've found some great barbecue restaurants, as well as some excellent places serving lovingly prepared noodle and rice dishes. Seafood restaurants are everywhere, serving up delights caught that same morning.
Quentin says, "I love the bánh mì [a Vietnamese-style sub sandwich filled with a choice of meats, eggs, or pate, with sliced jicama, carrots, cilantro, and spreads]; that's probably my favorite local dish apart from mì quảng." He hasn't yet tried nem lui, Da Nang's other delicious specialty. It's skewers of seasoned ground pork grilled over a smoky open fire, then wrapped in rice paper with noodles and fresh, leafy greens. Dip each roll in peanut sauce and savor a truly addictive meal. Nem lui quickly became one of my local dishes.
Roads in the city are in good condition and drivers tend to be more considerate than they are in many other Vietnamese cities. Though many of Da Nang's expats own small motorbikes to get around, it isn't a necessity. Quentin says, "I don't have a motorbike and I have no plans to get one. I don't even have a driver's license now. I'll use Grab [a ride-hailing app similar to Lyft or Uber] or hire a private driver. I met a Grab driver who gave me his number, and he became my full-time driver during the lockdown; he still drives me and some of the other people in the building. We once paid him $30 to drive us to Lang Co, a fishing village about 23 miles from here where there's a beautiful beach. That price included all his expenses and a full day for us at the beach."
Da Nang's weather is generally pleasant, with cool winters and hot summers, tempered by ocean breezes. The wet season lasts from September through November, with near-daily rains and occasional tropical storms and typhoons. Fortunately, the city infrastructure is good, so if flooding occurs, it's only a short-term inconvenience. Quentin says, "If it stayed 80 F all year round, I wouldn't complain, but it still is good weather. The air is always fresh here.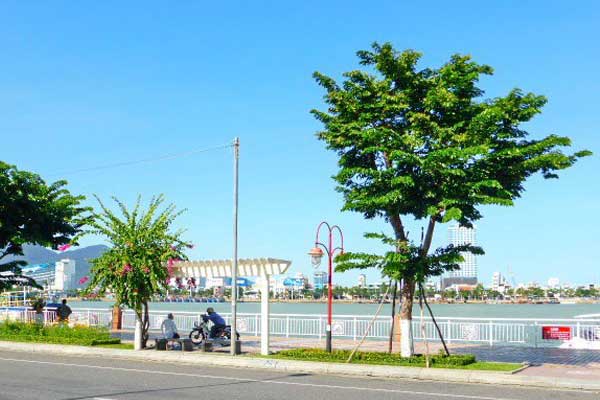 "Da Nang has a city environment but it doesn't feel like a big city. It's clean, orderly, and well organized, yet it's still just a small town on the beach," he says. "It has a good international flight schedule, too."
Da Nang has everything you need—good healthcare, supermarkets, great food—so it has all the conveniences of a big city in that respect, but it's not overwhelming. Quentin says, "There are things that are missing, like big shopping malls, but I haven't found anything that I couldn't get here and it's definitely a lot cheaper." My impression of Da Nang is the same; it's a friendly small town with a population of over 1 million.
The Son Tra Nature Reserve, just ten minutes from the central city, is a remarkably diverse scenic area of mountains, remote beaches, and a huge array of flora and fauna. The endangered red-shanked douc monkeys inhabit the park—one of the few places in the world that they do—and if you spend time quietly exploring, you're likely to spot them in the trees. To the west, Ba Na Hills was a French hill station that is now a quirky pseudo-French-themed resort, complete with castles, a gothic church, European-style gardens, and restaurants. The Instagram-famous Golden Hands Bridge is also located here; it's a dramatically sweeping footbridge that's supported by two giant hands, overlooking a superb vista of the ocean, the misty mountains, and the city of Da Nang far below.
Related Articles
Cost of Living in Vietnam – Sample Budget
Guide to Traditions and Culture in Vietnam
Upcoming Conferences
The Only 2023 Fast Track Costa Rica Conference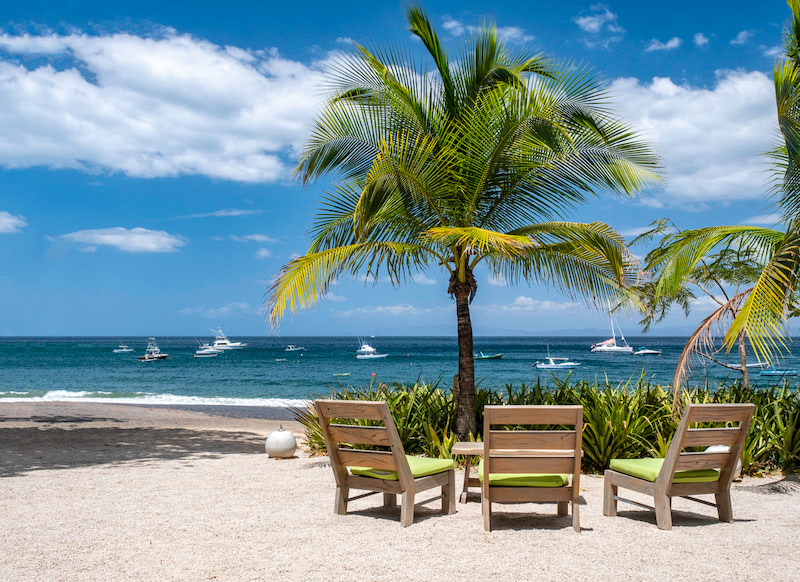 If your dream retirement involves stunning beaches… lush green mountains… a perfect year-round climate… first-rate healthcare… incredible value for money (a couple can live well on $2,109 a month—including rent!)...
Join our Costa Rica experts and expats in June and discover true Pura Vida.
REGISTER NOW, SEATS LIMITED: EARLY BIRD DISCOUNT HERE
---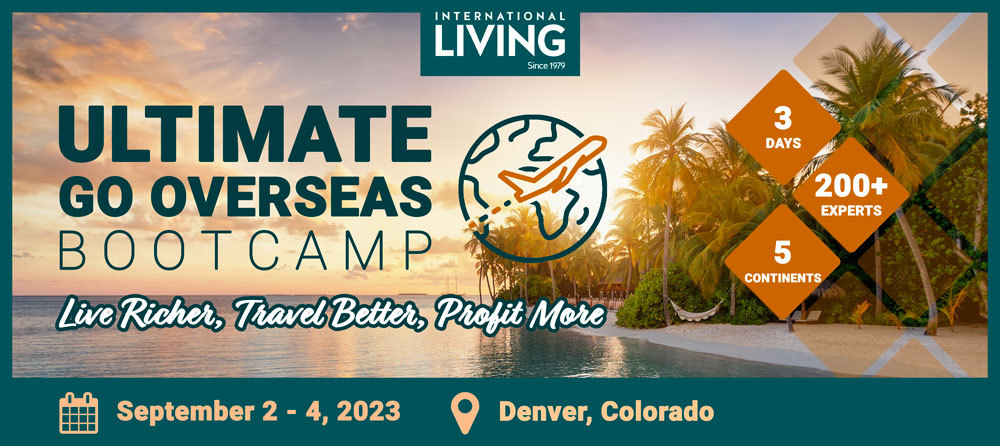 Most Popular Products
Popular Articles You May Also Like