My first few years in Belize, when people would ask what I missed the most, my response was always the same: Beer!
To be clear, there was beer available in Belize; but there were only four varieties, and they all came from the same company. When you ordered a "beer," restaurants would bring you a Belikin—The Beer of Belize. I was used to living where restaurants had a list of carefully selected beers, curated by an in-house beer snob.
Are you interested in retiring abroad? Yes | Not Sure Yet
How the Craft Beer Revolution Came to Belize
The history of beer in Belize is—thankfully—fairly short and uncomplicated. It all started in 1969 when Belize Brewing Company became the first, and only, beer company licensed in Belize.
For 50 years it enjoyed a competition-free market as it developed its flagship beer, Belikin, to the point where "beer" and "Belikin" became synonymous.
Back then, unless you knew someone whose uncle's brother-in-law smuggled contraband beer in from Mexico or Guatemala, you drank Belikin, or one of the few beers approved for import.
This changed in 2019, when Hobbs Brewing Company announced a new brewery in Belize. Based in Placencia, Hobbs began producing two flagship beers: Wildcat IPA and Hummingbird Golden Ale.
Today these beers can be found in 12-ounce cans in grocery stores throughout Belize, and in some bars and restaurants in our touristy areas.
You may wonder why I noted the cans hold 12 ounces of brew. At almost 33% more than a bottle of Belikin (which holds 9.6 ounces), the size was truly disruptive.
Hobbs also brews a wider selection of beers, but at the moment, they're available exclusively aboard the HMS Brew Barge, Hobbs' brewpub on the Placencia Peninsula.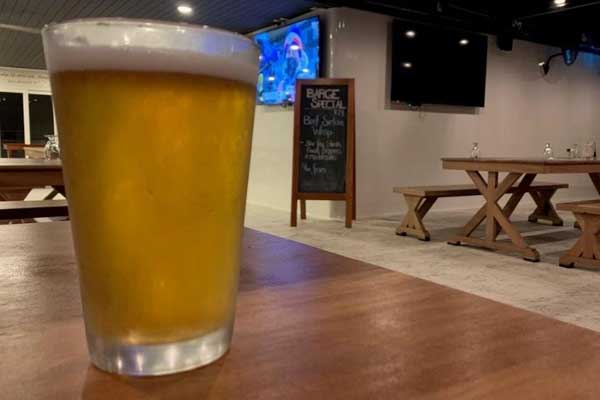 With the market now open to new beer companies, it didn't take long before someone else decided to go toe-to-toe with Belikin.
The Caribbean International Brewery opened in Orange Walk and launched with the aptly named "Pirate" beer, crafted to compete with Belikin on price and quality.
Since the launch, the company has added additional beer brands, the most popular of which is Mine Beer—it's become a go-to here in Placencia.
With new beer brands, styles, and flavors popping up, Belikin is edging its way into the craft beer market too.
It launched a separate business called Two-5 Brewing, with its brewmaster and marketing team. The hallmark of a Two-5 beer is that it contains at least one Belizean ingredient.
Year-round Two-5 beers include: Valencia IPA, Fevergrass Belgian Wheat, Bird Pepper Porter, and Piña Pale Ale. The brewery also releases limited edition and seasonal beers throughout the year.
Besides making a great-tasting beer and having access to the significant financial resources of Belikin, Two-5's main market advantage is being able to leverage Belikin's distribution network.
Over the last two years, it's been steadily equipping bars and restaurants with keg dispensing equipment, making Two-5 the most widely distributed craft beer in the country.
You can now find Two-5 in our main tourist spots, like Placencia Beach Club in Placencia Village and Crocs Sunset Sports Bar in San Pedro on Ambergris Caye.
Most of these establishments will also do a "flight" of Two-5 beers on tap. If you use the Untappd app, you can even rate the beers and brag to your friends about the beers they can't try without visiting Belize.
My new home is already paradise, but with these beer market developments, it's getting better every year.
Free Webinar: Belize, The Last Affordable Caribbean Paradise
This Special FREE Online Event, The Caribbean's Last Affordable Paradise will show you where you can...
  ➢ Recapture the carefree, contented days of time gone by...spend your time playing in the sea, fishing, swimming, sunning...
  ➢ Rent a luxuriously furnished two-bedroom condo just steps from the beach for just $1,200 a month. Or buy one—furnished—for as little as $139,000.
  ➢ Live all in...rent, utilities, groceries, fun and entertainment included...on as little as $1,700 a month—less than $20,000 a year—and vastly reduce your overall tax burden.
All in a friendly and welcoming English-speaking haven just 2 hours from Miami.
Your Hosts...Two of the Most Qualified Caribbean Experts are ready to share all their insights and first-hand knowledge about this often overlooked, low-cost paradise.
Sign up for our daily postcard e-letter and you'll get FREE and INSTANT access.
Related Articles
Guide to Traditions and Culture in Belize – Food, Beliefs and Customs
Five Places to Live in Belize; Two to Avoid
Is Belize A Safe Place To Live?
Popular Articles You May Also Like