My wife and I recently met our dearest friends in Oaxaca for Dia de Muertos. It was a trip we had talked about for years, and then something would inevitably come up, and we would say "next year!" Making the trip to Oaxaca, the epicenter for this magical, multi-day celebration, which involves family and friends gathering to pay respects and to remember loved ones who have passed, suddenly became an absolute when earlier this year we had a tragic death in our inner circle. Heartbroken and grieving, we decided this was the year we were going to make it happen, as a salute to our amazing friend, and to honor his life and our shared memories.
Arriving in Oaxaca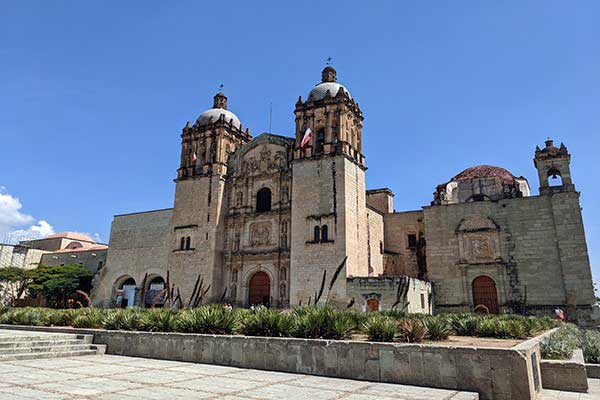 Dia de Muertos, also known as All Saints Day, officially starts on November 1, and the point of this annual ritual is to celebrate the deceased with food, drink, music, dancing, and other activities that connect people that have passed with the living.
Deciding to rent an apartment together in the centro of Oaxaca City, we all agreed to arrive a couple days early so we could get our bearings prior to the start of the festivities. We had also scoped out a DJ festival that was happening the night before many of the official celebrations started, and because our friend that we were honoring was "Mr. DJ," we knew it would be a great event to attend.
The first thing you notice when you arrive in Centro Oaxaca is the architecture and the feel it gives the city. Colorful, centuries-old Spanish colonial buildings line the sidewalks, with exquisite details and patterns, complimented with center courtyards that lend to open-air communal spaces where people gather and socialize.
After getting settled in our apartment, we headed out to the Zócalo, the main square in the center of town, where many Oaxaqueños were finishing up their preparations for the celebration, beautifully adorning their homes with bright bands of marigolds, along with colorful sugar skulls, and elaborate ofrendas.
An ofrenda is an altar, typically in a person's home, but sometimes in public or a business, that acts as the offering place for the family to celebrate their deceased family member and guide them home for the festival. The ofrendas were absolutely stunning and wonderful to observe and to pay our respects to all over the city. We were so inspired, we did our best to create our own ofrenda in the place we were staying, honoring our friend and other deceased members of our own family.
Get Your Free Mexico Report Here:
Learn more about Mexico and other countries in our daily postcard e-letter. Simply enter your email address below and we'll send you a free special report - Why Millions of Americans Are Moving to Mexico.
This special guide covers real estate, retirement and more in Mexico and is yours free when you sign up for our postcards below.
Mescal and Mole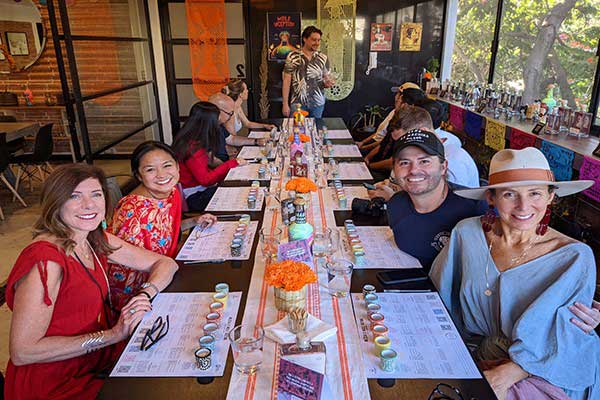 Besides Dia de Muertos, Oaxaca is also well known for mescal and mole (a thick, rich sauce usually served with meat). We thought we were fairly well educated in the world of mescal; turns out, not so much. Not only did we learn that most of the mescal we had been drinking prior to our trip was commercialized and artificially flavored with that smoky taste, we discovered a wider range mescal has to offer, and how it should be produced.
We did our fair share of mescal tastings on our own in Oaxaca, but we also decided to take a chance on an Airbnb experience that was described as a night of pairing seven authentic mescals with seven unique moles, and providing a detailed history of both. The experience is led by Daniel Rodriquez Gonzalez, a certified sommelier, who welcomes people into his home and leads an incredibly interesting and engaging event. Our previous exposure to moles were sauces with cacao featuring prominently in the flavors. The pairings shared in this experience opened our eyes to light, herbal-tasting moles paired with refreshing mescals…graduating to the spicier, more fragrant moles paired with richer mescals. We highly recommend booking this experience if you are going to Oaxaca.
The food in Oaxaca is incredible, and we did our best to try it all. Unique versions of mole verde or mole rojo, Oaxaqueño tamales, chile relleno (stuffed peppers), or memelas (tortillas made from masa dough) for breakfast were typical daily meals. We also discovered tlayudas in Oaxaca, a crispy tortilla that can be topped with any number of items, usually beans, lettuce, cheese, and your choice of meat.
Oaxaca not only features amazing Mexican cuisine, we also enjoyed outstanding Italian, Spanish, and Middle Eastern fare. Adama was one of our favorite restaurants we visited while in Oaxaca, so much so, we went there twice within a few days. The cool, chic restaurant features an open kitchen and a dining room, partially open to the elements. The proprietor/chef is fantastic and offers a wonderful menu, including savory hummus, tabouli (a fresh herb and bulgur wheat salad), and some of the best falafel we've ever eaten.
Much to Do About Everything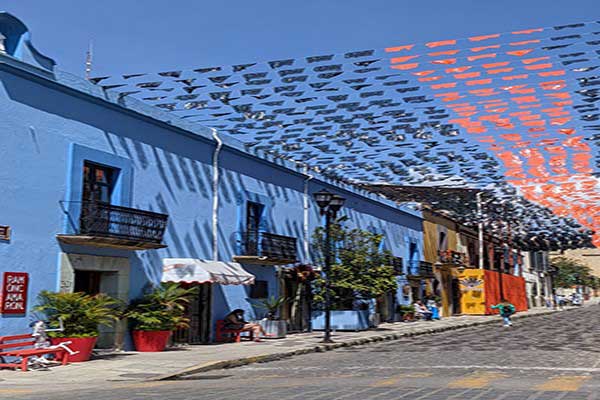 While we were there for the festival, we also made time for sightseeing in and around the city, and for shopping. Known for their textiles, Oaxaca is full of outstanding clothing and linen shops that are stylish and exquisitely made. Oaxaca also has numerous museums worth visiting, including the textile museum, which was one of the highlights of our trip. The museum does a great job of showcasing the unique history and style of textiles from different regions. Art galleries were another favorite part of our trip, as there are galleries all over the city, and the artists do an amazing job of showcasing their work in phenomenal spaces, adding to the experience.
Another place we loved shopping at was the markets. There are a lot of markets in Oaxaca, many of them quite large, but we spent most of our time at Mercado Benito Juarez, and Mercado 20 de Noviembre. These markets are fantastic, as you can shop, eat, taste all different types of mescal and mole, and just enjoy the atmosphere. One of our favorite parts of Mercado 20 de Noviembre was the pasillo de humo, a corridor 65 to 80 feet long of stalls grilling chicken, pork, beef, chorizo, and more. The smell as you walked through the smoke wafting off of the grills was unbelievable, and eating the finished product was even better.
Oaxaca is a city that is steeped in history, and no site encapsulates this more than Monte Alban. Dating back approximately 3,000 years, Monte Alban is an ancient city that served as the capital for the Zapotec civilization for over 1,000 years; at one point housing as many as 17,000 inhabitants. The historic city, which is located up a steep hill, accessed by a windy—at times nerve-racking—road is approximately five miles from Oaxaca, and consists of multiple pyramids, terraces, and canals. The site is designated a Unesco World Heritage Site, and is a must-see when you visit Oaxaca.
There are also numerous remarkable churches in Oaxaca, but the Templo de Santo Domingo de Guzman, dating back to the late 16th century, is truly extraordinary, and the square and courtyards that surround it are exceptional.
The Celebration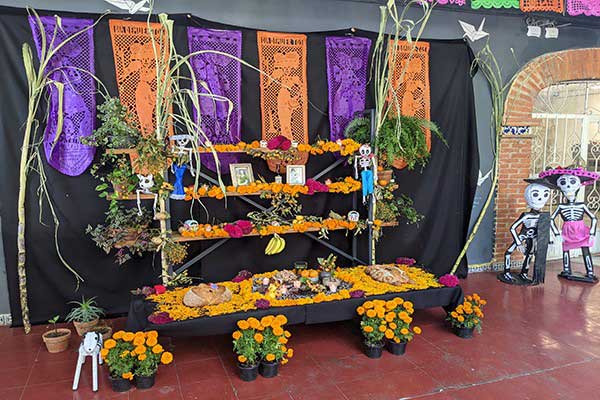 This year, the organized festivities and parades that normally go on during Dia de Muertos were scaled back by the city because of the pandemic, but events did go on, and the streets were alive with locals determined to celebrate and rejoice in their annual celebration.
On the afternoon of November 1, the streets around the Zócalo were blocked off, with elaborate decorations even more abundant. Many of these decorations included oversized calaveras (skulls), sometimes on giant mannequins with colorful clothing, other times being worn by someone on stilts, towering four to five feet over our heads as they walked by us. Bright marigolds, or the flor de muerto (flower of the dead), were evident at every turn, along with beautiful, rich headdresses full of blood-red roses. Processions took place in many locations in and around the Zócalo, with accompanying music, which often led to dancing, or scenes being acted out by a group of people in costume.
Along with the rituals and parades, food is another important part of the celebration and tribute to the dead, and we did our best to oblige. Tamales are an important tradition for many, along with moles, and other favorite foods of the deceased. Food and drink are placed on the ofrenda, and shared during the celebration. Chocolates and other sweets are also common, including pan de muerto (bread of the dead), which is a delicious roll, typically covered with sugar, and shaped as though it has bones on top of it.
Dia de Muertos is a spiritual ceremony like no other that I've ever experienced in my life. Parading through the Zócalo with our faces colorfully painted by Oaxaquenos, in a procession full of music, dancing, and pure energy, truly was a unique tribute. At times there were melancholy undertones, but ultimately it really was a celebration of both life and death. It was very cathartic to be able to collectively salute and mourn losing a great friend.
I look forward to going back to Oaxaca to spend more time enjoying this beautiful city with a great culture, incredible architecture, outstanding cuisine, and amazing people, but this first trip was absolutely transformational and much needed. It's a trip none of us will ever forget. RIP Chris, you will always be in our hearts.
Images Copyright: ©Mark Probst
Get Your Free Mexico Report Here:
Learn more about Mexico and other countries in our daily postcard e-letter. Simply enter your email address below and we'll send you a free special report - Why Millions of Americans Are Moving to Mexico.
This special guide covers real estate, retirement and more in Mexico and is yours free when you sign up for our postcards below.
Related Articles
5 Places to Live in Mexico…and 3 to Avoid
Is It Safe to Travel in Mexico?
Guide to San Miguel de Allende, Mexico
Popular Articles You May Also Like