Everything You Need to Know About Roatán
The verdant, jungle-covered hills of Roatán rise suddenly from the vivid blue sea. It's a tropical paradise…without the high costs you might expect from a Caribbean destination.
These days a small but active group of retirees and other expats live on this long and narrow island, whose total population is about 80,000.
They share 32 square miles of white-sand beaches, undeveloped natural areas, funky tourist-oriented beach towns, traditional fishing villages, bustling market towns, and more.
When talking about Roatán, it's important to understand the different lifestyles and characteristics of each section, as it changes along its 48 miles of length (it's five miles across at its widest).
The west side of the island, including communities like West End and West Bay, is the most developed and most frequented by tourists. Go to the middle of the island and you have larger towns like French Harbour and Coxen Hole. Most expats don't live here. But with hospitals and medical clinics, banks, larger grocery stores, hardware stores, government offices, and other services, they often visit to run errands.
The farther you go east, there's less development. Here you have mostly seaside villages. Expat communities tend to be small, with homes on the hillside overlooking the water, or on a stretch of virtually private beach. It is quieter and isolated out east, with the nearest sizable settlement a 30- to 45-minute drive away.
Part of the country of Honduras, Roatán—which is 30 miles offshore—is world's away from the mainland. Although Honduras is Spanish-speaking and it is spoken on the island, English is also widely used thanks to its historical link to England (it was once a British colony).


Retire in Roatán
If you're searching for a warm-weather climate, a lower cost of living, slower pace, surrounded by natural beauty…with plenty of services and amenities, retirement on Roatán could be worth a closer look.
It's easy to make the place your full-time home. A residence visa for retirees, known as the pensionado, requires only $1,500 in income for life from Social Security, a pension, or some other similar guaranteed source. This covers the applicant and a spouse as a dependent.
An international airport, with direct flights every day to multiple destinations in the U.S. and Canada, means getting to and from home (or having visitors come down) is easy.
You'll find multiple housing options on the island, from lots to homes to condos. Ready to build lots on the water go for around $100,000, or a lot with a sea view will start from $50,000. Beachfront condos—one- and two-bedrooms—can be found for under $200,000, while hilltop homes with panoramic views of the surrounding jungle-covered hills and Caribbean start from $150,000. And if you're a boater, you even have the option of getting a boat-access only home for under $200,000.

As far as grocery shopping, you have plenty of choices here. A local grocery store chain has plenty of items imported from Europe and North America. And a specialty market stocks good wine and gourmet meats, cheeses, and more. You'll have to do without some favorite items from the U.S., but a lot of the time these can be substituted with domestic brands.
Lifestyle in Roatán
As an island, it's no surprise that life on Roatán revolves around the beach and the Caribbean.
It's a haven for scuba divers, with sections of the Meso-American Reef, which is the world's second largest, just offshore (it surrounds much of the island). Take a boat a few minutes from the shore and see dozens of species of tropical fish, sea turtles, coral in a rainbow of colors, and more underwater wonders. You can even snorkel from right off the beach in some spots, including the famed West Bay beach.
Roatán is the perfect place for an active retirement in many other ways too. The boating is excellent, with plenty of smaller islands in the surrounding area to visit. And, of course, just spending an afternoon on the clear turquoise water is nice too. If you fish, you'll be in heaven. Snapper, wahoo, tuna, and more are abundant in these waters.
But watersports aren't the only thing to do. If you prefer to relax in the shade, with your toes in the sand, there are dozens of beaches to enjoy. Some are virtually deserted. Some might have one little beach restaurant. Some are residential and virtually private—but it's a quick walk for you if you live in the community.

Others, like West Bay and West End, are packed with people, with resorts, condos, beach bars, and vendors abundant, with a soundtrack of Latin music and reggae.
Cost of Living in Roatán
A retired couple can expect to spend about $2,000 to $2,500 a month for all their needs on Roatán.
Let's start with housing. Rents start at about $500 a month for an apartment or condo within walking distance of the beach. You'll pay around $800 to $1,000 for something right on the water. Homes—two or three bedrooms—with views or close to the beach will run you $1,000 and up. These prices are for long-term arrangements generally, where you'll sign a lease of three months or more.
If you're renting short term, rates will generally be higher during the "high season" (December to April). Also because of limited housing stock, it can be hard to find a rental, especially during the high season. It's best to find and reserve something as early as possible.
Renting or buying a home in such a beautiful location in Roatán is a fraction of what you pay in North America or other Caribbean islands. But the lower cost of living is seen in your everyday expenses, too. Local restaurants offer delicious and filling meals for around $6 a plate. The beers are $2.
But this is an island, and everything is imported. So you won't find bargain prices on these items. Expect to pay U.S. prices for staples at the grocery store. Also, top quality fresh fruits and vegetables (at least what isn't growing on your property), though cheap at local markets, are more difficult to come by.
You can get fresh off the boat fish (snapper, tuna, and mahi-mahi, for example) and lobster for a fraction of what you'd pay in the U.S. or Canada. And the fisherman might be your neighbor!
Here's an example of a monthly budget for a couple living on Roatán:
| | |
| --- | --- |
| Expense | U.S. $ |
| Rent (two-bedroom apartment) | $1,000 |
| Electricity | $120 |
| Gas & Water | $40 |
| Cell Phones (2) | $50 |
| Groceries & Household Items | $300 |
| Insurance | $100 |
| Internet | $60 |
| Streaming Media Accounts | $45 |
| Property Tax | $44 |
| Dining Out | $200 |
| Taxis, Buses | $50 |
| Total | $2,009 |
Where is the Tropical Island of Roatan?
By Ann Kuffner
In International Living's March issue, Roatan was named as one of the best islands to retire to in 2015. Having just returned from an exploratory trip of Roatan, that didn't surprise me. So what exactly makes this island so special?
Most islands are surrounded by a sea…but not all are created equal. If, like me, you find the Caribbean Sea's aquamarine hues and vibrant sea life irresistible, this article was written with you in mind…
I've experienced many seas during my many travels. But the Caribbean Sea is my all-time favorite. After my first trip to the Virgin Islands, my mind kept leading me back to the idea of investing in a property on the Caribbean Sea. But the property prices on the Virgin Islands were already excessive. So after that first trip, in the 1980s, I began researching more affordable alternatives.
At the time Ambergris Caye was a little-known island and it was affordable. We visited in 1999 and could afford to buy there at that time. But things have changed since 1999…Ambergris Caye was voted the best island two years running by Trip Advisor members and the cost of property has consistently increased since 2010. So it really surprised me to find that Roatan properties are still affordable.
Map of Roatán
Is it Affordable to Live on Roatan?
Roatan has about 80,000 residents. The island, at 48 miles long and 5 miles across (at its widest point), has a variety of towns and regions to choose from, and each appeals to a different type of lifestyle. A large percentage of expats settle in the northwest villages of West Bay and West End and other northern beach communities. But a growing number are settling in French Harbour, or the East Side, which are both on the south side of the island.
Each of the villages, towns and developments evoke a different feel and lifestyle. And the real estate prices vary considerably from one to another.
The cost of living on Roatan, for most expats, ranges from $1,500  to $3,000 a month. But we spoke with an expat couple, who live outside of French Harbour in the home they own, who spend less than $1,200 a month. Long-term monthly rents start at $600 a month. You'll find a good selection of rental homes and condos priced from $1,000 to $1,500a month in most areas of the island. These rentals are usually on the sea, or have a sea view.
There are plenty of activities on the island, as well as many good restaurants, bars and cafés. Some expats enjoy their beach time, or participate in water sports such as snorkeling, diving, fishing, and boating. Others join the local gym or take yoga classes. Expats get together at local expat hangouts like JavaVine, Bananarama, Sundowner's, or BJs. Many are actively involved in volunteer organizations such as the Humane Society, Rotary Club, or baseball leagues. And expats regularly pointed out that it takes quite a bit of their time to shop on Roatan, since expats' favorite stores are spread around the island. This is an island where it's best to have a car to get around.
Where to Live on the Island
For those who are seeking a sophisticated beach town environment, West Bay is a fantastic spot, but it's pricey when compared to other spots. With its beautiful beach, cozy cafés, fun beach bars, and gorgeous homes perched on panoramic hills, the West Bay is perfect for expats who can afford a chic beach lifestyle. Home prices start around $250,000. But you can rent a house on a hill, with an exceptional view, for $1,000 a month for a long-term rental.
Nearby, the West End is a hip, funky village situated along Halfmoon Bay. Although the West End runs along the sea its beach can't compare to that of the West Bay. But the overall scene is still attractive, with the glorious reef waves within view. There are many dive shops located along the sea. Boats zip in and out of the bay, picking up divers and taking them to a favorite drop-off spot.
The West End feels like a hot spot for younger generations. After a day of diving, the 20-year-olds hit the bars, cafés, and discos, looking for evening diversions. But some retirees enjoy living here and frequent their own hangouts. Just outside of the busy central village area we viewed several 1,500 square foot townhomes with two bedrooms and two bathrooms, a few blocks off the sea, selling from $150,000 to $200,000 each.
Heading east on the main road you'll come to Sandy Bay, a local neighborhood that's gradually transitioning. It's an easy drive from Sandy Bay to the main town of Coxen Hole, or back to the West End, for shopping. For expats who enjoy living in a locals' neighborhood, there are some exceptional deals in this area. We viewed a three-bedroom, three-bathroom house on the beach listed for only $179,000.
Keep driving and on the south side of the island you'll come to the port town of French Harbour, another expat favorite. This town centers around an industrial harbor where fishing, shipping, and shrimp boats dock. French Harbour is a good size town with several nearby developments, high-end grocery stores, and the island's only shopping mall, the Mega Plaza. For expats who want convenience, everything is within easy reach here.
Pineapple Villas, an off water condominium development in French Harbour, has a 1,500-square-foot, two-bedroom, two-bathroom condo unit for sale for $179,000, with a distant harbor view.  Herby's Sports Bar, and Pineapples Restaurant are located on-site, as well as a spa and gym. The Pristine Bay golf course is located nearby. The local Rotary Club holds their weekly meetings on-site.
The entire East Side of the island is spread out and remote as compared to the West End. It has a totally different feel, more reminiscent of Roatan country living, before cruise ship tourists regularly flooded the island. This area is less developed, wilder, and has maintained its natural habitat.
East End expats are an independent, self-sufficient lot. They value their privacy and enjoy living on remote bays or bight. They live in spots like Mango Bay, Port Royal, and Calabash. They come and go from town in their boats. And they also make a point of coming to town to socialize. Their favorite watering hole is BJs, in Oakridge, for the Friday afternoon jam session.
If you've ever dreamed of living on a tropical Caribbean island, you should consider Roatan.
Video: Roatan, An Affordable Caribbean Paradise
By Jason Holland
When it comes to tropical
Caribbean island paradises
, you can't do much better than Roatán.
From perfect white-sand beaches, and palm trees swaying in the breeze, to beach bars where you can enjoy a cold beverage and watch the glittering sea. Or from snorkeling to settling down in a hammock for a nap, lulled by the warm sun. It's all here in Roatán.
This is the largest and most populated of the Bay Islands 30 miles off the coast of mainland Honduras. About 38 miles long, and 5 miles wide at its widest, it takes a couple of hours to get from one end to the other thanks to roads that wind around its hilly and mountainous interior. The further east you go the more off-grid it gets, with dirt and gravel roads and small fishing villages.
In the west and central parts of the island you will find the most development. West End is the funky village by the sea, with waterfront restaurants (from Thai to sports bar fare) and bars, several docks full of dive boats, and plenty of affordable beachfront or off the beach condos and homes. Half Moon Bay, is calm and quiet. It's the perfect place to enjoy sunset, preferably at famed beach bar hangout, Sundowners.
Nearby West Bay, reached by road or water taxi for $5 from West End, is more of an active beach, the water lined with eateries, souvenir shops, hotels, and small resorts. You can snorkel a reef full of tropical fish right from the beach. Many expats here live in condos close to the water or up on the hill, with spectacular views, which come with hefty price tag.
In communities like Sandy Bay on the northern shore, which is mostly residential, as well as those further east you can still find beachfront lots and homes, some with their own dock for your boat. If you're a fisherman or diver…or just like to get out on the water, you are in luck as oceanfront lots can be had for $100,000. Go inland and you pay closer to $50,000, or less.
Some places, especially the further east (whether on the northern or southern shore) you go, are somewhat isolated and often off-grid. If you want to be on your own to enjoy the tropical forest and your own patch of private beach and the clear Caribbean, you have your pick.
In general, real estate prices are quite affordable compared to other Caribbean destinations. For a two-bedroom condo in a community on the water, prices start at around $200,000. Homes further from the beach, go for around $130,000. Luxury homes and condos run $400,000 and up.
If you want to try before you buy, two-bedroom homes and condos, walk to the beach or in beachfront communities, are generally $1,000 a month and up. Although by networking on the ground, you can find even better deals.
It's diving that first brought the world's attention to Roatán decades ago. The reef is a few minutes offshore, teeming with sea life. It's still the principle tourist attraction. Many expats who live here first came on dive trips…and either never left or put it at the top of their retirement list.
One of the biggest perks for retirees and other expats from North America is the fact that as an English protectorate, English is widely spoken, even as mainland Hondurans come for work and bring their native tongue.
Roatán has plenty of modern conveniences. High-speed internet works well and there is reliable cellphone service. Grocery stores and specialty markets carry imported goods—must-haves from home, albeit with a markup. There is also a branch of the top hospital in Honduras here, staffed with specialists. One point of contention is the infrastructure. The roads seem to always be in need of repair, and there can be power outages.

For the chance to live in a Caribbean paradise, expats take the good with the bad. And the good far outweighs any inconveniences in Roatán.
Weather in Roatán
By Don Murray
The weather in Roatan is boring. And by boring, I mean it is almost perfect every day. With temperatures ranging from about 75 F in the winter months and climbing into the low 90s F in the heat of the summer, your need for clothing is minimal. A few pairs of shorts, a handful of tops, and some rubber flip-flops fill out the wardrobe of most island dwellers. In fact, I met some folks whose normal attire is a swimsuit every day.
Roatan may arguably enjoy the best weather in the Caribbean as it lies just south and west of the major hurricane highway. It escapes the guiding air currents that direct these huge storms toward other Caribbean islands. In fact, statistically, Roatan has only been impacted by hurricanes about once every 25 to 26 years.
Roatan is a beautiful, rolling verdant island with lush green jungles covering peaks and valleys and flowing across hillsides. Naturally, such dense vegetation could not exist without sufficient rain. The rainy period on Roatan begins in October and ends in January with the heaviest rains falling in November and December.
Travelers and especially divers can take advantage of the rainy season to score for some lower rates in hotels and Airbnb rentals. You may save as much as 10% to 20% during this time. If you are planning to spend much of your vacation diving underwater anyway, the rain won't matter much, right? And full-time residents appreciate the rain and understand its importance.

Like other tropical locations, exposure to the sun needs to be monitored and sunscreen is mandatory to reduce the chances of skin problems later. Local residents tend to spend much of their time outdoors so being mindful of sun exposure is important.
Diving on Roatán
Roatan is a world-class SCUBA and snorkeling destination. Flippered enthusiasts from across the globe, flock to Roatan for its nearly perfect diving conditions. The world's second-largest reef system lies just offshore and slipping beneath the surface is like immersing yourself into an immense tropical aquarium. From my beachfront resort on the west end of the island, I simply waded, waist deep, into the gin-clear water and found myself surrounded by large schools of rainbow-infused fish and sprays of purple fan coral clinging to coral heads. I even saw a Moray eel guarding the entrance to her home.
The west side of the island is almost always perfectly calm as it is sheltered from the prevailing trade winds. Roatan is the perfect place to learn to dive. The water is warm and crystal-clear without dangerous currents to complicate things.
Local resorts and dive centers normally offer introductory lessons and the prices are hard to beat. For about $110, most dive centers offer some type of introductory class. Usually, these classes provide a four-hour session under the close, direct supervision of a PADI (Professional Association of Diving Instructors) certified instructor.
You will start out on the dock with a briefing about the gear, safety rules, and underwater behavior (some instructors/schools will use a pool). Then, you will move into waist-deep water, kneel down and experience your first underwater breaths. Next, you'll head to a shallow, confined water area to practice skills and add confidence and control, followed by a short swim around the area. At this point you will be ready to go diving. You will usually board a small boat for the ride to the nearby reef where you will follow an anchored line up and down a few times, getting more comfortable. At the end of four hours, you will be swimming freely about the confined area.
If you are like most and want to continue into the open water certification phase, that usually takes an additional two days and costs about $400 dollars. But don't forget that you will almost always receive credit for the money you spent on your introductory dive.

Those interested can find more information at www.roatanclearwater.com
How to Get to Roatán
Once on Roatan, you can immediately feel the island vibe soothing your soul as the fresh, salt air cleanses away the stress of the mainland life you left behind. But that first breath of sea air is going to cost you. Getting to Roatan is no bargain…unless of course you happen to find a great airfare deal somewhere. Normally, a roundtrip flight from any of the major hubs will run from $750 to $1,100. I did find two tickets on one site for about $550 but the routing was painful.
Both Miami and Houston offer direct flights with several carriers but most flights have one stop before landing at Coxen Hole airport on Roatan. U.S. citizens can travel with a passport without the need to apply for a special visa. Those seeking permanent residency must make an application according to Honduran regulations.

Roatan has become extremely popular as a dive destination and the small airport at Coxen Hole services thousands of passengers each week. Sometimes, three airliners arrive, one after another, and the small customs and immigration processing area become backlogged. It can take an hour or more to clear processing so bring plenty of patience with you.
5 Great Reasons to Move to Roatán
By Jason Holland
Little Roatán has its share of visitors. In high season, during the North American winter, it hosts multiple cruise ships each day. About a million tourists come each year, drawn by the tropical beach fun, world-class scuba diving, and relaxed attitude.
Still, it gets a fraction of the visitors that you would see in other Caribbean destinations and much of the development is small-scale and manageable. It's low-key and a bit rough around the edges—which makes it fun (and still perfectly safe).
But this island, 48 miles long and about five miles at its widest, off mainland Honduras, is also a great place to live long-term. The retirees and other expats who have made it their home (joining the 80,000 or so Hondurans and native islanders there too) have found a great quality of life, with a low cost of living, warm weather year-round, that classic "island" vibe, and tropical atmosphere, great restaurants, white-sand beaches, modern conveniences like high-speed internet, and, with the opening of a new hospital, good quality medical care.
There is so much that makes Roatán special. But here are five of the reasons you might want to make it your home.
1. It Has a Natural Beauty
When you approach Roatán from the mainland by sea or from the air, it's a striking sight. Verdant jungle-covered mountains and rolling hills rise from the spine of the island.
Get up close to see the details and it's even more beautiful, especially along the coastal areas. Picture white-sand beaches lined with palm trees, surrounded by a sea of azure, impossibly clear water.
Or head to the highlands. From the top of the hills you have the perfect vantage point to gaze upon the slopes that cascade down to the water and lead out to the huge reef that encircles the island.
2. It's the Perfect Place to Get in/on the Water
Visitors were first drawn to Roatán because the world's second largest barrier reef is just a quick boat ride offshore. It offers some of the best scuba diving and snorkeling opportunities in the world, and there are many dive shops where you can rent and buy gear. If you're an expat living on Roatán, you can get the local's discount—with dive tours (boat, divemaster, equipment, and everything included) for $25.
Boating around Roatán and nearby islands is also popular, as is fishing. Tarpon, bonefish, snapper, lobster, wahoo, and more are abundant in the surrounding water.
3. The Laidback Lifestyle
Roatán is the place many envision when they hear Jimmy Buffet singing about one of his tropical paradises. In communities like West End and West Bay, beach bars line the water, offering tasty cocktails and cold beers with views of the Caribbean. No shirt, no shoes…no problem.
And the laidback feeling isn't just in those areas. Everywhere on Roatán runs on island time. Nobody is in a rush. It's relaxed and casual. Sandals and shorts are the uniforms—even for nice dinners out. And if you see a friend or neighbor out and about…you'll always stop to chat.
4. You Can Find Good Value Real Estate
Homes, condos, and ready-to-build lots on Roatán are much more affordable than what you can get on other Caribbean islands. Consider beachfront lots in established developments for under $100,000. Go inland a bit, but still a quick walk to the water, and you could pay half that.
Homes on the water, built to North American standards, can be had from $200,000. And if you'd rather get a lock-and-leave condo in a resort-style community on something like popular West Bay beach, you can get a one-bedroom unit for well under $200,000.
Many homes offer water access too, whether it's a community marina or dock, or even a private dock. Some homes are even boat access only—the ultimate in privacy.
5. There's an Active Expat Community
There's always something going on here. You can find live music, often from expat musicians, at bars and restaurants in places like West End and Sandy Bay. Watching sunset with a cold beer in hand and surrounded by friends old and new is practically mandatory. And there are plenty of dinners out, sailboat trips, parties, and other get-togethers.
But it's not all about partying. Expats on Roatán also give back. When you fly in you'll see volunteers, mostly retirees, helping confused tourists get through the customs and immigration area of the airport. You can also work with local school kids doing sports activities or teaching English. Animal rescue is another opportunity, as is working in a health clinic that provides low-cost care for those in need.

10 Things to Do in Roatan, Honduras
By Melanie Wood
Roatan, the largest and most well-known of the Honduras Bay Islands, has often been referred to as the best-kept secret of the Caribbean. With so much to see and do, Roatan has become a popular cruise ship and vacation destination. Whether you are chilling on the top-rated Central American beach in West Bay, deep-sea or flats fishing in the calm water of the Bay of Honduras, soaring through the jungle canopy on a zip line, or enjoying local musicians while savoring the delicacies of the sea, Roatan will not disappoint.
1. Scuba Dive the World's Second Largest Barrier Reef
Located along the longest coral reef in the western hemisphere, Roatan is best known for scuba diving. Dive sites are situated on every part of the island, with each one offering a unique experience. You can explore wrecks, reefs, steep walls, holes, and crevices. Expect to see parrotfish, rays, sharks, lobster, tangs, puffers, jacks, eels, conch, damselfish, just to name a few species. Night dives are available for those who wish to observe nocturnal marine life when it is most active. Many dive centers offer the opportunity to become certified while enjoying a diving vacation. If it is your lucky day, you may even spot the gentle giant of the seas, the whale shark.
2. Swim with the Dolphins at Anthony's Key Resort
High on the list of popular tourist attractions on the island is the Dive with the Dolphins Encounter at Anthony's Key Resort, one of the original resorts on the island, boasting more than 40 years in business. The popular Dolphin Encounter, which is held in waist-high, crystal clear water, is a 25-minute personal petting session with one of the friendly mammals. Photos may be taken with personal cameras or purchased from professional photographers on site. The Dolphin Snorkel, in addition to the initial 25 minutes with one dolphin, offers an additional 30 minutes of snorkeling time with a dozen or more dolphins. The Dolphin Dive, which requires visitors to present a certification card to participate, begins with a 5-minute boat ride to the reef wall. Guests descend to a sandy bottom, 60 feet below the surface where they interact with dolphins in a natural setting for 45 minutes.
3. Go Deep-Sea Fishing in the Bay of Honduras
Roatan is considered one of the best sportfishing destinations in the Caribbean. With deep water beyond the reef so close to shore, you need not travel far to fish for wahoo, mahi-mahi, tuna, blue marlin, yellow-fin tuna, white marlin, sailfish, and barracuda. Fishing charters with experienced guides, including the use of professional rods, reels, and tackle, are available on all parts of the island. Roatan is a member of the International Game Fish Association (IGFA). An annual fishing tournament coincides with Honduran Independence Day on Sept 15th. This is an excellent week to visit the island. Enjoy the tournament and take in the land-based activities in the charming seaside town of West End. In recent years, an annual lionfish tournament has also been held. Teams compete for prizes for both the most and the largest of this invasive species of fish. Local restaurants compete for prizes offered for the best lionfish dishes. Best of all, the dishes are available for guests to sample.
4. Try Saltwater Flats Fishing at Mango Creek Lodge
Mango Creek Lodge, located in historic Port Royal, on the island's unspoiled east end, offers a unique flats-fishing experience. Swim, snorkel, and kayak right off the deck of your private, over-the-water cabana. Knowledgeable guides will take you fly fishing or spin fishing on the turtle grass flats nearby. Enjoy some of the tours to the nearby islands of Santa Helena and Morat. Try your luck catching the saltwater "grand slam" species – bonefish, permit, and tarpon.
5. Fly Through the Sky on a Jungle-Top Zip Line
Treat yourself and your family to the thrill of a lifetime while getting a bird's eye view of the island from 60-feet up in the jungle canopy. There are a wide variety of adventure tours available for all age groups and experience levels. Qualified guides ensure your safety as you zip from one platform to another. Soar like an eagle from the top of the mountain range down to the sea.
6. Life's a Beach in West Bay
Trip Advisor's list of the top 10 beaches in Central America rates West Bay Beach in Roatan as #1. Several of the larger resorts are located along this long stretch of powdery white sand. The beach is free and chairs are available to rent. There are many choices of fun restaurants and bars to be found, some with live entertainment on certain days of the week. Crystal clear water provides a beautiful setting for swimming, snorkeling, and kayaking.
7. Get Off the Beaten Path in the Remote East End
 Leave the crowds behind when you tour the east end of the island by boat. Explore the scenic fishing villages of Jonesville and Oak Ridge. You will feel like you are in the Venice of the Caribbean as you wind through the picturesque waterways connecting several communities along the south shore. Ride through the magical mangrove tunnels, a series of man-made channels that form this inland waterway. Continue east through historic Port Royal, past Fort Morgan Cay, the pirate stronghold of early days. Visit Santa Helena and enjoy a meal of fresh seafood, caught mere hours before it is served.
8. Enjoy a Horseback Ride at Scenic Palm Beach
Combine the adventure of a horseback riding tour with a visit to one of the most stunning beaches along the north shore of the island. Gentle, well-trained horses and knowledgeable and dedicated guides make this a safe and enjoyable activity for all ages and experience levels. Enjoy miles of the sandy, white beach after your ride, with swimming, snorkeling, and kayaking available. Stretch out under a shady palapa or enjoy a meal at Lionfish Louie's, the on-site restaurant, one of the best places to sample delicious lionfish.
9. Book an All-Day Boat trip to the Cayos Cochinos
The Cayos Cochinos (Hog Islands), a group of 15 small islands about halfway between Roatan and mainland Honduras, is a UNESCO world heritage site. This popular day trip, offered by several tour companies, will immerse you in the lifestyle of the Garifuna, the original settlers on the island of Roatan. After a snorkeling session, you will travel to the village of Chachahuate for lunch. Fresh snapper and lobster are grilled and served with rice and plantains. After lunch, explore the island, meet the locals, and observe a Garifuna dance to African drums.
10. Enjoy Some Local Musical Entertainment
No matter which part of the island you visit, you will be sure to find venues that showcase local musicians, providing entertainment while you soak in the scenery. This is a great chance to meet and speak with both locals and ex-pats who have decided to make Roatan home. Watch the children swim and play in the sea while you savor a cold rum punch or margarita. Sample the wide variety of local dishes while chilling to the island vibes.
Canadians Trade the White North for Roatán's Sun
By Melanie Wood
Waiting out the long winters in Ontario, Canada for the too-short boating season each year, had my husband, John, and me dreaming of heading south. "Just for the winter," we thought.
That was in the fall of 2006. Fourteen years later, we're living on the island of Roatán, the best-known of the three major islands that form the Bay Island archipelago of Honduras. It stretches almost 37 miles, but is only about five miles wide at its widest point.
The inlets and bays on the southern shore of the island that once attracted European pirates and loggers now attract scuba divers, drawn by the reef just offshore.
Ours was not a direct path from A to B. A trip-and-a-half around America's Great Loop on Diamond Lil, our 38' Bayliner, began our adventure. Two winters in the beautiful Bahamas followed. Next, a trip along the famous Rio Dulce in Guatemala, another dream of ours, came true.
John worked as an automobile and marine mechanic. Work-related injuries earned him a workers' compensation pension, enabling him to retire at an early age.
I worked in the web printing industry and was laid off from Transcontinental Printing when my plant closed in 2004. We decided to sell our house and move onboard Diamond Lil. John's pension was a godsend but would not allow us to retire in Canada, with its high cost of living. So, we took to the water.
"Are you going to the islands for the winter?"
It was a question we had heard several times during our six-month stay at Mario's Marina on the Rio Dulce.
"What islands?" I asked.
"The Honduras Bay Islands," a fellow boater said. "Most of us head there after the hurricane season."
We had never heard of Roatán. Eager for a new cruising adventure, we jumped at the chance to follow our marina mates across the Gulf of Honduras in search of this exotic land.
Living on Diamond Lil provided the flexibility to explore the island. We dropped our hook in French Harbour, Jonesville, West End, and Port Royal. We explored the neighboring islands of Utila and Guanaja.
After several months on the move, John showed me an advertisement in the Chisme Vindicator, a Rio Dulce website that we followed. The ad offered free dockage and electricity in the historic fishing village of Oak Ridge, Roatán. All we had to do was feed the owner's two dogs and watch the property while he was away.
"We are only making a three-month commitment," John assured me as we fastened our lines to the dock at Oak Ridge Point. I was less keen on spending time tied to a dock than he was.
Three months became three years. I supplemented John's pension by writing magazine articles, which led to the writing of four books. I'd written a newsletter for a Canadian company for 13 years, so I knew how to write a newsletter for a Roatán real estate company when that job came up. Most of this work was done online, while sitting on Diamond Lil, rocking with the motion of the water below me.
We had become part of a large and thriving community of expats. Some had come to be certified to scuba dive and never left. Many visited by cruise ship, fell in love, and returned for an extended stay. Before long, we watched as many of them began property shopping.
It's relatively easy to purchase property.
They were the planners, those who carefully studied various Caribbean retirement options and settled on Roatán. The cost of living is low. The weather is delightful, and the Honduran people are warm and inviting. It is relatively easy to purchase property and obtain residence.
We met expats in communities from one end of the island to the other. Before we knew it, we counted many more friends on the island than the number we had left behind in Canada.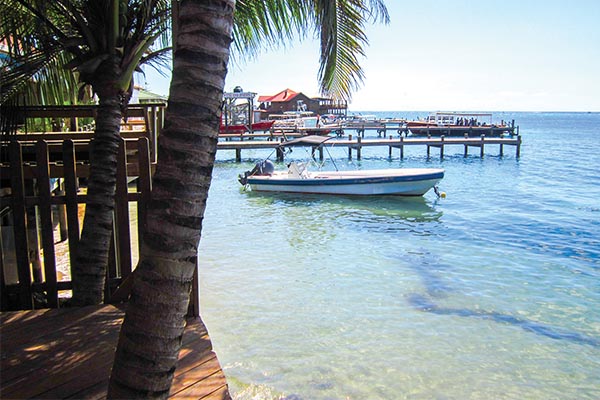 We had grown roots, too. First, we added a cat to the family. Then, we decided we needed a dog. Then we added a second dog, a rescue. Next came a horse. At this point, I realized that we were not leaving Roatán. It was time to buy ourselves a permanent place, but our criteria made it a challenge. We needed deep water for our boat and preferably a dock. We also needed enough property for our horse to graze on, with access to riding trails. It is difficult to find all these requirements in one property.
It all got fixed in the end, though, as these things do. I was chatting with a friend at BJ's Backyard, a small restaurant/ bar on the water. BJ's is an icon on the east end of the island, serving as a hub for both residents and east end resort owners picking up guests from the airport.
A spacious parking lot accommodates vehicles owned by those island residents whose homes are water-only access in points east such as Calabash Bight, Port Royal, and St. Helene. Tourists haul their bags from vans, buses, and taxis and load them into boats leaving from BJ's. Provisions purchased down island are dragged along the dock and stowed aboard vessels. It's a busy place. Most people take the time to stop for a cold drink before making the last leg of their trip home. Visiting with neighbors and friends at BJ's before heading home becomes part of the routine.
BJ herself has a colorful past and some juicy stories to share. She spent time as a young woman in Key West, back when Jimmy Buffett played for free drinks in bars. Friday afternoon jam sessions at BJ's are an open invitation to guests and tourists to join the house band, a group of expats called The Banditos.
John and I were sitting on the little bench outside BJ's Backyard one Friday afternoon. The regular crowd was out to enjoy music. I got talking to a friend who knew we were searching for a place to set up home. Word gets around. "I know of a couple of properties for sale up in Port Royal," she said. She and her husband had built a house in Port Royal, to the east of Oak Ridge.
"It's totally off the grid," she warned. "There are no services—no electricity, no mains water, and no garbage pickup. You would be on your own up there. There's one property for sale down by Lost Isles. There is another one, farther up in Port Royal, across from Fort Morgan Cay. It has been for sale for years. I bet you could get it at a good price."
The next morning, John and I hopped in our skiff and went for a ride to Port Royal. The first property was tucked in behind some mangroves and was hot, still, and buggy. We didn't stick around long.
But we fell in love with the second property immediately. It had 141 feet of clean, sandy beach, and an artesian well with a cistern. Schools of large fish darted through crystal-clear water. It was perfect for us. It seemed too good to be true.
Dreams do come true, however. After a trip home to Canada to get our finances in order, we returned to the island and bought that little piece of paradise in Port Royal, with 2.33 acres and a 90-foot long dock already in place. Unlike most Port Royal properties, we also have road access. We paid $130,000 for the property in 2014. We continued to live on Diamond Lil while we began the next chapter of our lives— building our dream retirement home while remaining ecologically responsible.
We used Alex Poirier, a buyer's agent, and Cristiana Carbajal as our lawyer. It was a smooth process. Cristiana assisted us with our residence application, for which she charged us $2,750. Our application cost for residency also cost $2,750.
We planned and built our dream retirement home, using various ecologically sound methods. The permit process with the municipality was laidback and inexpensive. We had almost no restrictions as to what we could or could not build.
We have a good medical clinic in the town of Oak Ridge, where we can see a doctor without an appointment and obtain most drugs without a prescription. In our 13 years in Roatán, we have needed special medical care only a few times. Specialists are located on the mainland of Honduras, so we travel by plane or ferry. Accommodation is inexpensive, either hotels or small apartments. Medical care is good and affordable.
I had major surgery in Tegucigalpa, the capital of Honduras. For the surgery, one night in the hospital, prescription drugs, and accommodation and meals for 12 days while I recovered, the total cost was $5,000.
We rarely travel to the busy, tourist area of the island. At our east end, a nice meal with a couple of drinks costs under $50. There are local places with local fare for much less. In the tourist town of West End, there is a wide variety of choices at a wide variety of prices.
We spend most of our waking hours outdoors.
We have a large and vibrant group of both expat and local friends. There are countless events, and we receive more invitations to outings than we can accept. Above all, there is a great sense of community here. Our lifestyle is quite physical for our golden years, as is that of most of our friends. We spend most of our waking hours outdoors in the fresh air. Best of all is that there is no industry on Roatán, which minimizes air pollution, traffic, and noise. It's paradise.