The blue-skies are reflected in the sapphire waters of Antigua and Barbuda
It doesn't matter where you go in life…as long as you go the beach. Live in the sunshine, swim in the sea, and live the good life on Antigua. This jagged edged island is ringed with beaches of the finest white sand, made all the more dramatic by the sapphire waters. The island has warm, steady winds, a complex coastline of safe harbors and a protective, nearly unbroken wall of coral reef. Antigua, the largest of the English-speaking Leeward Islands, is about 14 miles long and 11 miles wide.
And the fascinating little island of Barbuda—once a scavenger's paradise because so many ships wrecked on its reefs—is now home to one of the region's most significant bird sanctuaries. Barbuda, a flat coral island with an area of only 68 square miles, lies approximately 30 miles due north. The nation also includes the tiny (0.6 square mile) uninhabited island of Redonda, now a nature preserve.
Antigua and Barbuda Fact File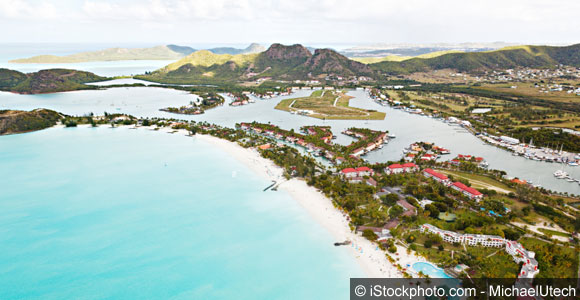 Antigua and Barbuda has 171 square miles of indented coast-line
History: The Siboney were the first people to inhabit the islands of Antigua and Barbuda in 2400 B.C., but Arawak Indians populated the islands when Columbus landed on his second voyage in 1493. Early Spanish and French settlements were succeeded by an English colony in 1667. Slavery, established to run the sugar plantations on Antigua, was abolished in 1834. The islands became an independent state within the British Commonwealth of Nations in 1981.
Location: Caribbean, islands between the Caribbean Sea and the North Atlantic Ocean, east-southeast of Puerto Rico.
Area: 171 square miles (Antigua 108 square miles; Barbuda 6.2 square miles). About 2.5 times the size of Washington, DC.
Population: 92,436 (July 2015 est.)
Capital: Saint John's
Geography: Antigua has a deeply indented shoreline with many natural harbors and beaches; Barbuda has a large western harbor.
Climate: Tropical maritime; little seasonal temperature variation.
Government: Constitutional monarchy with a parliamentary system of government and a Commonwealth Realm
Chief of State: Queen Elizabeth II (since 6 February 1952); represented by Governor General Louisse Lake-Tack (since 17 July 2007)
Head of Government: Prime Minister Winston Baldwin Spencer (since 24 March 2004).
Language: English (official), local dialects.
Religion: Protestant 68.3% (Anglican 17.6%, Seventh Day Adventist 12.4%, Pentecostal 12.2%, Moravian 8.3%, Methodist 5.6%, Wesleyan Holiness 4.5%, Church of God 4.1%, Baptist 3.6%), Roman Catholic 8.2%, other 12.2%, unspecified 5.5%, none 5.9% (2011 est.)
Time Zone: UTC-4 (1 hour ahead of Washington, DC during Standard Time)
Source: CIA The World Factbook
Live in Antigua and Barbuda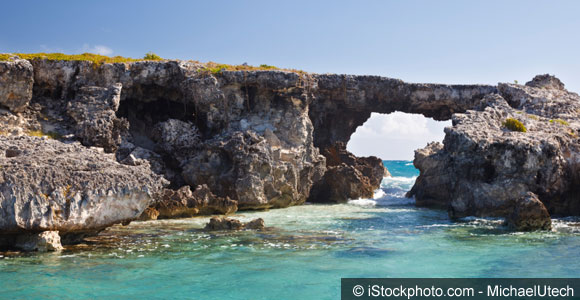 Expats living in Antigua and Barbuda find island life can be both energetic and relaxing.
The good thing about having 365 beaches to choose from within 108 square miles…is you can always find an empty one all to yourself. Visitors to the island enjoy the peace and tranquility of the surrounding seas, but the beach is only the beginning of what Antigua and Barbuda has to offer.
Antigua, the largest of the English-speaking Leeward Islands, is about 14 miles long and 11 miles wide. And its capital, St John's is a melting pot of architectural styles, and shops and restaurants can be found in either new complexes or beautiful brightly colored 19th century Caribbean buildings.
The fascinating little island of Barbuda—once a scavenger's paradise because so many ships wrecked on its reefs—is now home to one of the region's most significant bird sanctuaries. Barbuda, a flat coral island with an area of only 68 square miles, lies approximately 30 miles due north. The nation also includes the tiny (0.6 square mile) uninhabited island of Redonda, now a nature preserve
The easy-going, English-speaking people who call Antigua and Barbuda home have a reputation for humor and hospitality and a no problem attitude to life. Visitors to the shore rarely want to leave and are usually planning to return even before they take off.
The Economy in Antigua and Barbuda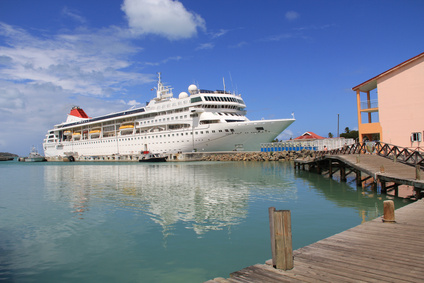 Tourism continues to dominate Antigua and Barbuda's economy, accounting for nearly 60% of GDP and 40% of investment. The dual-island nation's agricultural production is focused on the domestic market and constrained by a limited water supply and a labor shortage stemming from the lure of higher wages in tourism and construction. Manufacturing comprises enclave-type assembly for export with major products being bedding, handicrafts, and electronic components. Prospects for economic growth in the medium term will continue to depend on tourist arrivals from the U.S., Canada, and Europe and potential damages from natural disasters.
After taking office in 2004, the Spencer government adopted an ambitious fiscal reform program and was successful in reducing its public debt-to-GDP ratio from 120% to about 90% in 2008. The Antiguan economy experienced solid growth from 2003 to 2007, reaching over 12% in 2006 driven by a construction boom in hotels and housing associated with the Cricket World Cup.
In 2009, Antigua's economy was severely hit by the global economic crisis and suffered from the collapse of its largest financial institution, a steep decline in tourism, a rise in debt, and a sharp economic contraction between 2009-2011. Antigua has not yet returned to its pre-crisis growth levels.
Labor force: 30,000 (1991)
Labor force by occupation:
Agriculture: 7%
Industry: 11%
Services: 82% (1983)
Exports: $37.9 million (2012 est.)
Exports – commodities: petroleum products, bedding, handicrafts, electronic components, transport equipment, food and live animals
Imports: $400 million (2012 est.)
Imports – commodities: food and live animals, machinery and transport equipment, manufactures, chemicals, oil.
Buying Real Estate in Antigua and Barbuda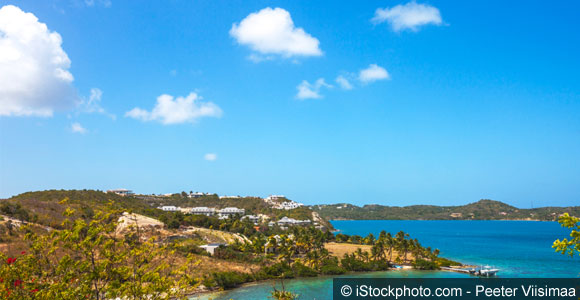 Although the Caribbean is traditionally viewed as a refuge for the rich and famous, there are still some affordable property options to be found in Antigua and Barbuda. Luxurious Beach Front Villas can still cost into the millions, but heading a small distance inland can significantly lower prices. Using your new property as a rental investment could also make good financial sense. Save money by planning your own self-build. Be warned though deadlines and build schedules may not be taken as literally as they are back home and huge delays on jobs can often be viewed as "no big ting".
There are a number of regulations to be observed when purchasing a property in Antigua. Non-nationals must apply for a non-citizen landholder license from the government when they have found a property to purchase. This can take several months to be approved, so for an expat to buy property in the country can be a time consuming business. This will cost approximately 5% of the value of the property. The purchaser must also pay a transfer fee of 2.5% of the purchase price and the seller will pay 7.5%. Other fees that must be paid by the purchaser include 1.5% in legal fees and a 3% government tax on any loans which are arranged through an Antiguan bank
Most properties available are freehold and if you are buying the property to rent out you can avail yourself of the services of a property management company for 10%-20% of the monthly rental income and all issues will be taken care of for you. All purchasers are advised to take out homes insurance to cover the building and separate contents cover if required. This is usually about 2% of the insured value.
Popular Real Estate Areas in Antigua and Barbuda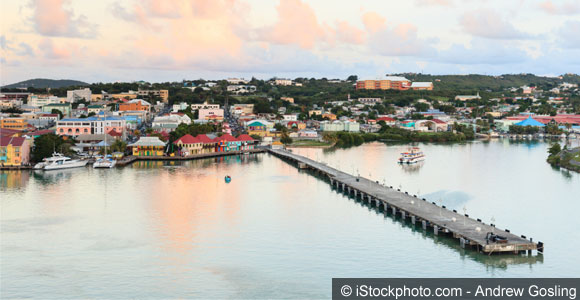 There is a wealth of real estate options available in Antigua and Barbuda, with many overseas visitors settling in the areas of St Johns, Jolly Harbour, and Cedar Valley. Location is vital of course and will have a great impact on your lifestyle and the resale value.
The capital of Antigua, St Johns, is a fun lively city with a small town feel. You can purchase property in secure quiet locations while still keeping close to the city and having access to all St. Johns amenities.
A 25-unit community is an ideal location for a second home or your income property. Enjoy the stunning views from every room; your tropical sunset 365 days per year. These units have two bedrooms, one bathroom and an open plan living space. This investment opportunity is located minutes away from the airport, entertainment, golf course, shopping and other services. It's just a short walk to the world famous Dickensons Bay, ideal for relaxing. Or for a bit more excitement, try some water sports. Day or night you can select from the many hillside and water front restaurants in the area. Price: $135,000.
Jolly Harbour is a secure friendly environment that offers a wide range of facilities, large swimming pool, shops, banks, restaurants, nightly entertainment, an 18-hole golf course, an excellent supermarket, in fact everything you need for day to day living.
Where else in the world can you purchase a fantastic, spacious, two=bedroom, waterfront property in a fantastic marina environment. The villa is freehold and comes beautifully furnished. Situated within the highly sought after Jolly Harbour Marina & Golf Resort and based in the residential north finger it is just 100 yards from a stunning private beach. The villa includes a private driveway, utility area with large washing machine, all kitchen appliances, cable TV, Internet, full air conditioning and ceiling fans, hurricane shutters, and expensive furniture. The captial of St Johns and the airport are just a 30-minute drive away. Price: $180,000.
New development, Tamarind Hills, are building a stunning collection of apartments and villas designed with a contemporary Caribbean feel. These beachfront freehold homes would be a fantastic rental opportunity, especially with the rental program that's available. The pricing is on the upper end of the scale, but do bear in mind the returns you would be able to make on this investment. For a two bedroom, open plan condo overlooking the beach prices start at $575,000.