Paradise Island, Caribbean
By Yvonne Bausch
A Tiny Tropical Gem Living Up to Its Name
Throughout history, countries have changed their name for one reason or another. Yet, never has a new name translated so well to the overall appeal of the place as Paradise Island. Formerly much-less-glamorously known as Hog Island, this tiny territory is a part of the Bahamas.
Essentially a privately-owned development, the small island (only five miles long and a single mile wide) began its rise towards becoming the go-to high-end holiday destination of the Caribbean back in 1959, when it was purchased by Huntington Hartford, the heir to the A&P Supermarket retail empire and a renowned philanthropist of his time.
Hartford gave the island its current name, envisioning it as a sort of tropical Monte Carlo, a casino resort for the wealthy and playful. Over the years it has changed ownership multiple times (even owned by Donald Trump at one brief point), continuing to grow in stature and tourist appeal.
The island is dominated by the imposing Atlantis, an ocean-themed resort complex that not only houses more than 3,000 rooms (including the famous Bridge Suite costing $25,000 a night), but also a sprawling aqua park, a professional golf course, and a large yacht marina, among other things. What remains of the island provides a welcome respite from the hustle and bustle of the resort, with a number of charming beaches for those who prefer a more private experience.
How to Get Around Paradise Island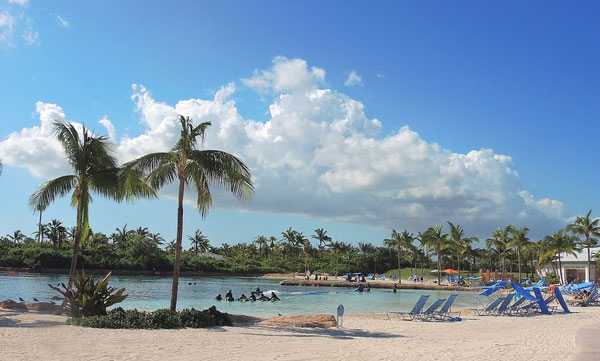 Although the island doesn't have its own airport, it is conveniently connected with New Providence's Nassau, which hosts the only International airport in this group of islands. From Nassau, Paradise Island can be accessed either by land via one of two existing bridges, or by water, usually with a short ferry ride.
Once there, the island's small size makes walking a reasonable option for most locations, but there is also public transport through the island and towards New Providence. Due to its proximity to the Nassau airport, Paradise Island is commonly the first stop for organized cruise sails, as well as the central hub for private sailing around the region.
Get Your Free Caribbean Report Here:
Learn more about the Caribbean and other countries in our daily postcard e-letter. Simply enter your email address below and we'll send you a free special report - The "Hidden", Affordable Caribbean
This special guide covers real estate, retirement and more in the Caribbean and is yours free when you sign up for our postcards below.
Things to Do on Paradise Island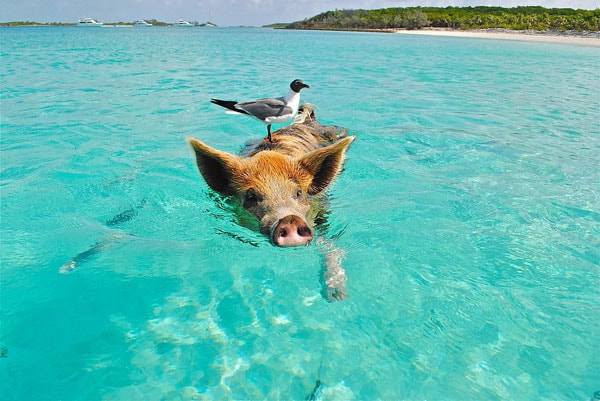 Whether you've reached Paradise Island in search of high-end indulgence or with a fascination for all things aquatic, the Caribbean pearl is certain not to disappoint. Aside from first-class leisure facilities (ranging from casinos and nightclubs to golf courses and water parks), the primary activities take place on the water. Paradise Island and nearby Nassau provide a wide array of sailing and fishing tours, including a popular day trip to the nearby privately-owned Rose Island.
The surrounding waters provide endless opportunities for diving and snorkeling, while there are also tours dedicated to dolphin watching. The Atlantis Marine Habitat is an excellent and detailed facility displaying a broad and fascinating selection of underwater life. For those more interested in land sightseeing, Paradise Island and the neighboring Nassau provide some nice public parks. Paradise Island has recently gained prominence as a wedding destination, owing to its idyllic romantic settings and upscale facilities.
Cost of Living on Paradise Island
From a tourist point of view, Paradise Island is definitely a luxury destination that requires a considerable budget. Everything on the island is dedicated to providing a high-class experience, and that costs money. Things are a little bit different if you're considering Paradise Island as a more long-term destination, but not by much. As is the case with most small countries in the region, the cost of living matches and often exceeds those of the most developed western countries.
Rent for a larger apartment can go well over $2,000 a month in the pricier areas, but can be found at about $1,500 or less in the less expensive areas, while the nearby Nassau provides potentially more affordable accommodation.
Utilities are generally on a level with western countries (which translates to fairly pricey overall), while groceries and other necessities are slightly more expensive. Finding bargains for meals or a night out on the town can be a bit tricky.
Unless it comes with employment or a professional interest, residence on Paradise Island is hardly an ideal option. It is an excellent tourist destination for those with a taste for high-class living, but in terms of permanent residence, the Caribbean offers an abundance of more reasonable options that deliver all the charms of the region without the constant presence of tourists, the commercial glitz and glamour, and often absurd prices.
*Feature Photo: ©iStock.com/VisionsbyAtlee*