Tequisquiapan, one of Mexico's pueblos mágicos, or magical towns, is a charming village famous for its vineyards, cheese production, handicrafts, attractive colonial-era architecture, natural hot springs and spas, golf, and custom-made furniture. It fills up every weekend with day-trippers who come from Querétaro, Mexico City, Guanajuato, and other cities in central Mexico to enjoy its mild, pleasant weather and relaxing ambiance.
Miguel Hidalgo Square lies at the heart of Tequisquiapan. It's surrounded by an assortment of casual and fine-dining restaurants, hotels, art galleries, and shops selling sweets, handicrafts, silver and opal jewelry, and locally made furniture. The majestic Santa María de la Asunción Catholic Church overlooks the square and is a focal point of the community. The church's original pink sandstone construction dates back to the 16th century; the building was completed in the Neoclassical style in the 1800s. A wrought iron and stone gazebo is in the center of the plaza—a platform for the musicians and performers who frequent the area.
Spanish colonial architecture is apparent throughout Tequisquiapan, but the finest examples are in the historic district around the square. Cobblestone streets lined with shade trees, bright yellow and terracotta two-story homes, restaurants, and shops adorn the historic quarter. Many buildings have balconies with wrought iron fixtures, arched windows, and distinctive doorways. Bougainvillea, with its intense, magenta-colored flowers, climbs many of the exterior walls. You'll find a variety of shops in the historic district selling locally produced cheeses, sparkling wines, hand-crafted baskets, sweets and confections, and other regional specialties.
The Temple of Santa María Magdalena is the oldest church in Tequisquiapan. It has been an active place of worship since 1551. A tidy, attractive plaza directly across the street from the church is a popular spot for children to play and adults to relax and unwind. The Barrio de la Magdalena neighborhood, where the church is located, is worth exploring; ancient cobblestone streets meander through neighborhoods where some of the houses are nearly as old as the church itself.
Things to Do in Tequisquiapan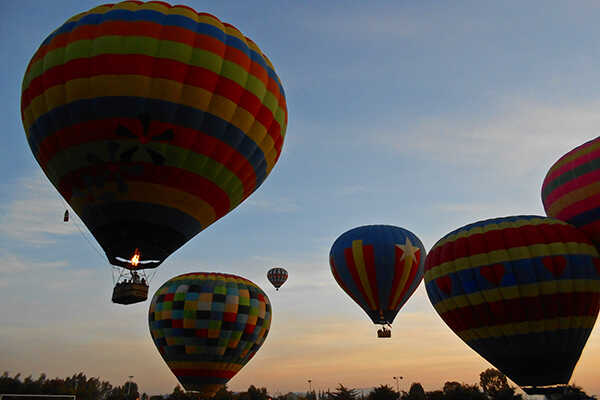 Tequisquiapan has two artisan markets. The Craft Market Tequesquicalli, the largest one in town, is less than a five-minute walk from the central plaza. It's next to the Mercado De Artesanías, another handicraft market featuring locally made treasures. Wander through the aisles and you'll get a sense of the wide variety of goods produced in town and in the state of Querétaro. The vendors offer an assortment of intricately woven baskets, striking opal and quartz jewelry, wrought iron, and beautiful clay and ceramic household and kitchen goods. Carefully crafted furniture made from distinctively grained parota wood (also known as guanacaste wood), wicker, and rattan is made locally and sold by vendors in the artisan's markets and elsewhere in town.
Tequisquiapan is a major stop along the Querétaro Art, Wine, and Cheese route, a recommended trip that passes through the towns of Ezequiel Montes, Bernal, El Marqués, and Cadereyta de Montes. It is also a center for wine-related festivals.
The annual National Cheese and Wine Festival, held in May, showcases wines and cheeses from the region and around the world. If you somehow become tired of world-class wine and artisanal cheese, there are chocolatiers, candy, and condiment producers who also offer samples of their products; live music and entertainment completes the festive atmosphere.
The is one of the oldest of the 10 wineries in and around Tequisquiapan. Tours, wine tasting, and horseback riding are available on-site.   manufactures Néole artisan cheeses; you can visit their cellars on the outskirts of Tequisquiapan for cheese tasting or buy their numerous artisanal dairy products in town.
Hot-air balloon rides are available through in Tequisquiapan. Floating in near-silence, 1,800 feet above the ground, you'll get a birds-eye view of the rising sun, the Plaza de Hidalgo, and the surrounding vineyards and farms.
If you go to Tequisquiapan, you'll want to base yourself as close to the center of town as possible. The Hotel de Plaza Tequisquiapan and La Posada del Virrey are two accommodation options close to Miguel Hidalgo Square and Tequisquiapan's best dining and drinking establishments.
It seems as if every restaurant on the plaza tries to outdo all the others, and I've yet to have a bad meal there. I try to get a table up on the second level where it's usually a bit quieter and the views of the church and square are the best.
Where is Tequisquiapan?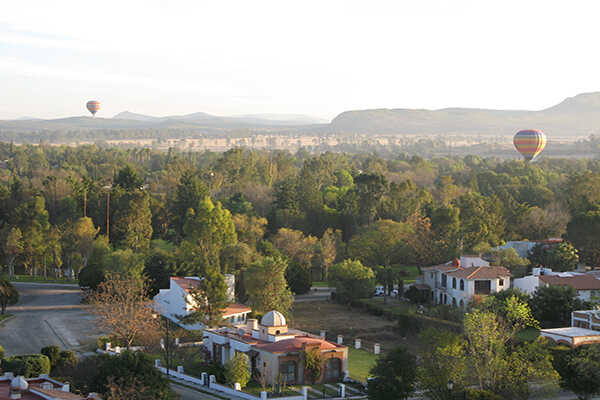 Tequis—which is much easier to pronounce than Tequisquiapan and is what the locals call it—is in the exact geographic center of Mexico. The area around the town has meandering streams and farmland—mostly corn, avocados, figs, chili peppers, and pomegranates. Several natural hot springs and red quartz and opal deposits can be found in gently rolling hills surrounding the city. There's a working opal mine that you can tour about a 10-minute drive from Tequisquiapan, which the locals say is great fun; the largest opal discovered in the mine was the size of a lemon and is now in a museum in New York. You can try your hand at chipping through the rocks and find your own opal if you're lucky.
Tequisquiapan has a temperate, semi-arid climate; its elevation at 6,170 feet gives it warm summers and chilly winters, with low temperatures occasionally dipping below freezing. Most of the year's rain falls between June and October; November to April are the driest months. It's a rare day that you would need to use either a heater or an air-conditioner and it's unusual to find homes that come equipped with them.
A Tour of Tequisquiapan
Expats in Tequisquiapan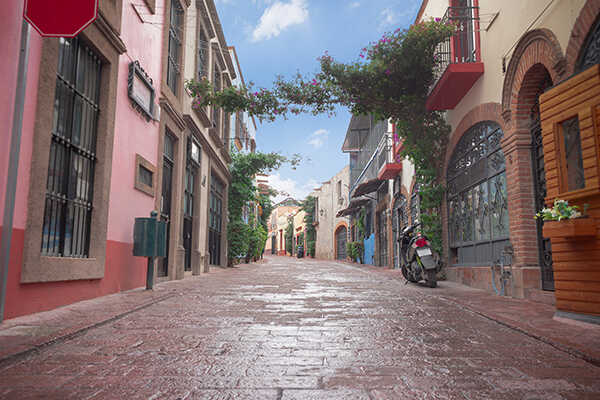 Several hundred foreigners have settled down in Tequisquiapan and the surrounding countryside. Yvonne van Uffelen, a long-time Dutch expat in Tequis, says that about half of them—around 200—are retirees. "The expat community has people from the U.S., Canada, France, Netherlands, the U.K., Germany, and Austria. We have the United Nations here," she says.
Although the expat community is small, it is an extraordinarily close-knit group. "We have frequent get-togethers for breakfast, lunch, or dinner in town or around town," Yvonne says. "We'll have potluck parties for Thanksgiving, Christmas, the Fourth of July, and Easter. We might go as a group of people to the Christmas market. We like to spend time together."
The best way to meet expats from this area is to join the Facebook group. Whenever someone decides to hold a party or an event, it will be posted here; it's also an excellent resource for local information, news, and housing opportunities.
Most of Tequisquiapan's expats live near the center of town or in gated communities in the Barrio de la Magdalena, though a few who want to own horses or keep their expenses to a minimum have rented or purchased small homes or ranches in the rural outskirts. Almost everyone lives in a house; apartments are uncommon here. Centrally located houses in town or in a gated community are readily available for $450 to $550 per month.
If you decide to stay in Tequisquiapan, you'll need to own a vehicle; there is no public bus system and even getting around by taxi can be inconvenient. Buying a car is not a difficult process in Mexico provided you have legal residency—a surprisingly easy process for most people. If you are a temporary resident, you can import your own U.S.-registered vehicle for use in Mexico.
Tequisquiapan is about an hours' drive on good roads from Querétaro, two hours from San Miguel de Allende, and three hours from Guanajuato. Basic groceries and household goods are available locally; there's a Soriana supermarket on the edge of town that carries a decent selection of mostly Mexican foods, clothing, and housewares. Aside from the Soriana, your shopping might require a trip to the butcher, one to the bakery, the vegetable store, the fruit store, and the hardware shop.
Most of the expats in Tequis make occasional trips to either the large La Comer in nearby San Juan del Rio, which has an enviable selection of both Mexican and imported foods, clothing, and household products, or they go to Querétaro, where they'll stock up at Costco, Sam's Club, H.E.B., or one of the other large U.S.-based chains. Yvonne says, "Once a month, I go to Querétaro to shop at City Market or H.E.B., and I'll buy good bread at La Comer. The rest of the stuff I buy here in town; Tequis has a good farmers' market with lots of fresh produce. I like to shop at the small stores and support the local community."
Safety in Tequisquiapan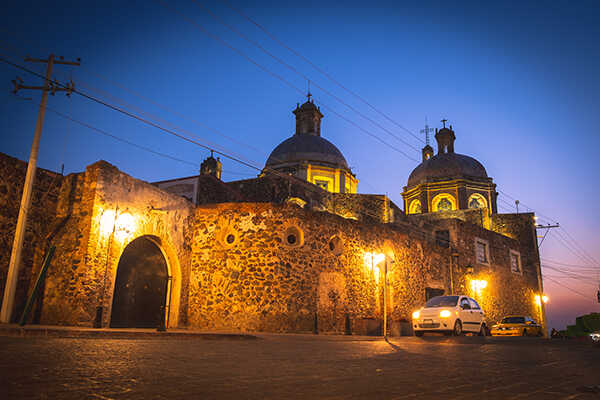 Querétaro is considered the second safest state in Mexico—only Yucatán is rated higher. Since Tequisquiapan is a tourist-oriented town in a mostly rural area, crime is especially low and it feels like a safe place to live. Burglaries do occur occasionally; owning a dog with a big bark is enough to deter all but the most determined thief. Neighbors tend to look out for one another here, too. Keep your doors locked and be aware of your surroundings; as in anyplace else, common sense is the best crime deterrent. Last year was an unusually wet year, and low-lying areas in Tequisquiapan experienced flooding. It took several days to return to normal.
Get Your Free Mexico Report Here:
Learn more about Mexico and other countries in our daily postcard e-letter. Simply enter your email address below and we'll send you a free special report - Why Millions of Americans Are Moving to Mexico.
This special guide covers real estate, retirement and more in Mexico and is yours free when you sign up for our postcards below.
Related Articles
A Fully Furnished Rental For $800 A Month—Bills Included
Can You Live in Mexico For Under $1,500 Per Month?
5 Places to Live in Mexico…and 3 to Avoid
Popular Articles You May Also Like