It doesn't take much Spanish to know that the phrase "pueblos mágicos" means "magic town." In Mexico, the phrase pueblos mágicos refers to the governmental program launched in 2001 to promote tourism in towns that offer natural beauty, cultural richness, history, archeology, cuisine, and the arts.
All well and good, but why retire there? Because in addition to their charm, these towns are generally more affordable, smaller, calmer, safer, and less busy and traffic-choked than many of Mexico's cities. Rarely do you need to own a car. I've been to all of them, and would love to live in each one.
Are you interested in retiring abroad? Yes | Not Sure Yet
Despite their many assets, pueblos mágicos do have one downside: since fewer expats live in these towns, you're more likely to need to speak Spanish and to be able to make friends with locals. You also need to be resourceful and a self-starter, because smaller towns don't have as many resources as cities do.
Looking for a house in one of these towns will be very different from what you're used to, and different from if you were buying a home in a major hotspot like Puerto Vallarta or Cancun. You won't find real estate officers on every corner or pamphlets advertising houses or condos for sale on newspaper stands. Real estate in Mexico is not a formal, established industry the way it is in the U.S. or Canada. You're much more likely to find your home through word-of-mouth, wandering around neighborhoods looking for signs on houses, checking out expat chat groups, or maybe in the classified section of the local newspaper. This is why it's wiser to start off renting—not only because you'll be able to test the community, but also because you'll have met people who may be the conduit to finding the home you want to buy.
I found buying a home in Guanajuato 15 years ago a fascinating cultural adventure. If you're up for that kind of experience, here are six pueblos mágicos in different parts of the country that I recommend for their charm and location near an international airport.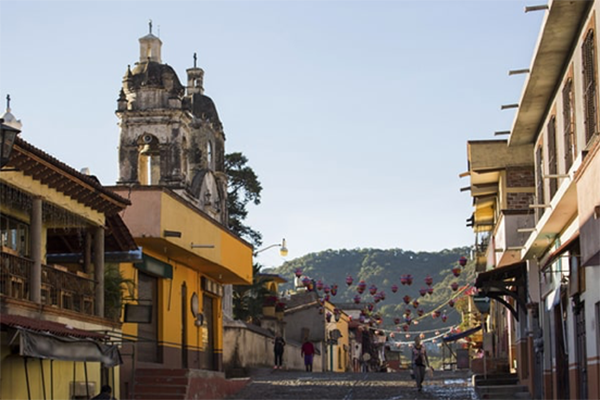 Tepoztlán, the "Sedona of Mexico," is a small, pretty town of 14,000 with an artistic flavor about 40 minutes south of Mexico City. Famous for its pyramid, Tepozteco, a temple complex of stone built on a cliff top above town, it is one of three monoliths in Mexico that local believes have "spiritual energy." Indeed, as I perched on the rock looking into the hills, I did feel like I was back in the hippie-soaked '60s. From the pyramid, you can explore a network of trails within the Tepozteco National Park.
Since it's a popular day destination for Mexico City residents, Tepotzlán gets busy on weekends, but is very pleasant during the week. It offers a variety of restaurants, including Italian, Indian, and vegetarian. It also has many independent shops and an organic market. Like the rest of central Mexico, you'll enjoy pleasant spring like weather year round if you choose to retire there.
Get Your Free Mexico Report Here:
Learn more about Mexico and other countries in our daily postcard e-letter. Simply enter your email address below and we'll send you a free special report - Why Millions of Americans Are Moving to Mexico.
This special guide covers real estate, retirement and more in Mexico and is yours free when you sign up for our postcards below.
Visitors and expats alike can go to concerts and workshops in town, and—if you're religiously inclined—to the Episcopalian church that offers services in English. Although there's no full-service hospital or big department stores in Tepotzlán, all those exist in nearby Cuernavaca, only 15 miles away.
Because of its location near Mexico City, Tepotzlán is probably the most "discovered" of the towns in this article.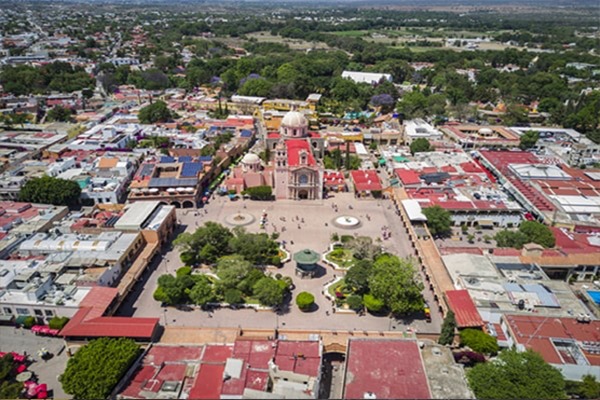 Tequisquiapan.  "Tequis," as the town of 28,000 is called by locals, is filled with whitewashed and brightly colored buildings, festooned with bougainvillea.
Tequis boasts several parks, one with a fresh water spring. It also has a new community center with an indoor Olympic-size pool and theater.
Several private clinics offer medical and dental services. The municipal clinic, open 24 hours a day, offers emergency and trauma services for $2.50 per visit. There is also a hospital in town.
Located on the Mexican altiplano, Tequis is nestled in a valley surrounded by mountain peaks. There's plenty to do in the area, between vineyards and dairy farms, hot air balloons, ruins, restored haciendas, and thermal spas. Not to mention the magnificent Sierra Gorda, Mexico's limestone mountain range, dotted with the Franciscan missions dating from the 16th century, only a couple of hours away.
Twelve miles south of Tequis is the city of San Juan del Rio, where expats go for major shopping at Costco and other big-box stores.
Tequis is about two hours from Querétaro's international airport.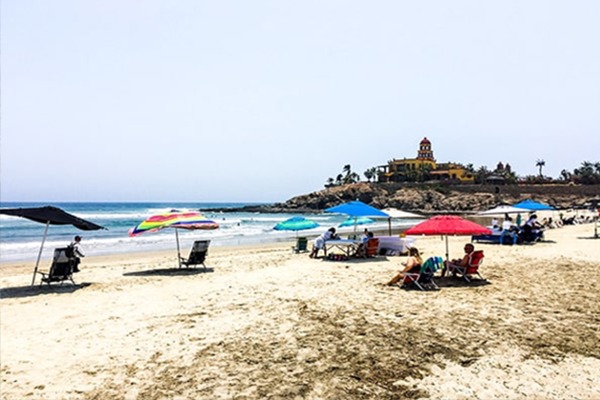 Todos Santos is a small beach town on the Baja Peninsula located halfway between Cabo San Lucas and La Paz, the capital of the Baja, and between the Sierra Laguna mountain range and the desert.
Known for its vibrant artistic community, the town has a population of 7,000, with a mix of expats and Mexicans. There is plenty to do there, between outdoor experiences like birding, hiking, snorkeling, and kayaking, but also yoga and even West African drumming. Women, both expats and Mexicans, own many of the small businesses, handicraft shops, and art galleries. The Hotel California, famous from the Eagles song, is a real place and right in town.
Dentists, doctors, and alternative health practitioners are all available. The local hospital handles basic care and has an ambulance to take patients to hospitals in La Paz or Cabo San Lucas, each 45 minutes away, for more advanced medical assistance.
If you want the buzz of city life, you can easily visit Cabo or La Paz, the capital of the state and itself a tourist destination, thanks partly to its beautiful malecón (seaside promenade).
The international airport in Cabo San Lucas, less than an hour away, offers direct flights to many cities in the U.S. and Canada.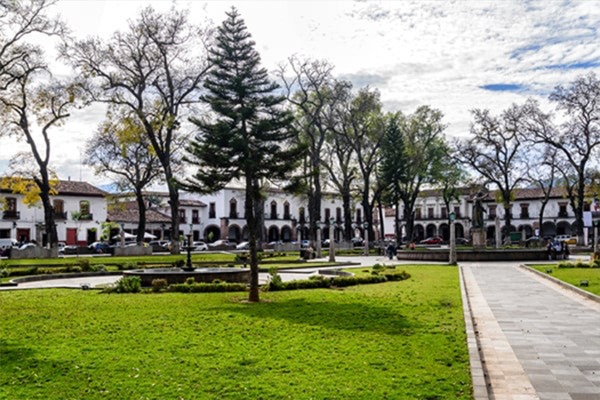 Patzcuaro is a an autentico mountain town of 80,000 with a mixed colonial and indigenous flavor, surrounded by forests and lakes and located just 45 minutes from Morelia, the capital of the state of Michoacán, and home to an international airport.
The town is particularly well known for the indigenous craft villages that surround its lake and for its Day of the Dead festivities.
Dozens of small shops line the cobblestone streets, along with a daily street market selling low-cost fresh produce, meat, poultry, spices, condiments, and other basic household goods. Expats go to Morelia for products that are not available in Patzcuaro. They also go there for advanced health care needs, as Patzcuaro has several clinics but no hospital. A volunteer-run English library exists inside a local restaurant.
The town was barely known outside of Mexico 10 years ago, but is being discovered and settled by expats who want to live in the mountains, close to modern amenities, with very low real estate costs. Buying a home in Patzcuaro costs much less than in the U.S.—and even less than in most of Mexico's other colonial towns and cities.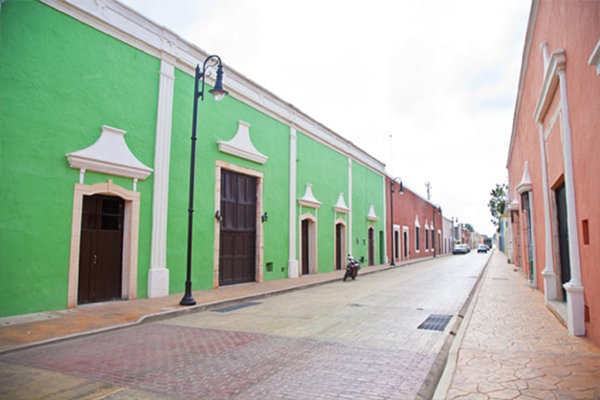 Valladolid is one of the calmest and most relaxed colonial cities you've never heard of, Valladolid lies at the exact midpoint (one and a half hours each way) between Cancun and Merida. With a population of 50,000, Valladolid is also located near several iconic Maya archaeological sites, including Chichen Itza and Ek Balam. The town has its very own cenote (underground fresh-water pool) right in the center, a perfect refreshing break on hot days.
While Valladolid is small, it has plenty of restaurants, cafes, and hotels. It is very clean, with wide, surprisingly unobstructed sidewalks. A few years ago, the Mexican government, recognizing that sleepy Valladolid had unused tourist potential, began investing in it, and Valladolid now boasts its own hospital and shopping mall, including a movie theater, supermarket, and a Bodega Aurrera, a derivative of Wal-Mart. Even with these modern conveniences, though, the town is still inexpensive.
The one downside I heard from expats in Valladolid—and all over the Yucatán—is that they have to leave in the summer months because of the heat and humidity.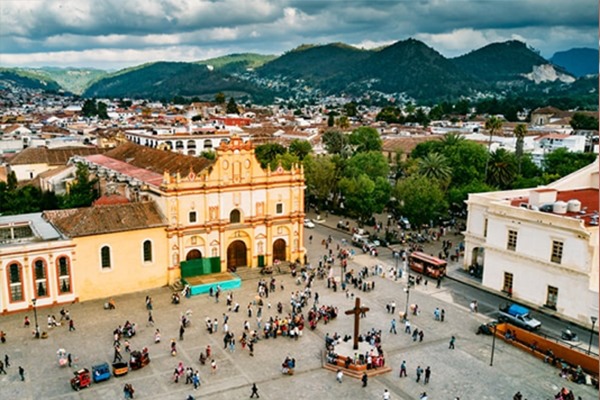 Everyone loves San Cristobal de las Casas, with its native people in original dress, delicious locally produced coffee, cafes, narrow cobblestone streets, and colonial architecture. The city of 185,000 is located in the southern state of Chiapas, the most rugged, least developed part of the country and filled with natural beauty. Chiapas also has one of the largest groups of indígenas, for whom Spanish is often their second language.
At 7,200 feet, the city of 185,000 attracts people who don't mind drizzly, chilly weather, especially at night when it can get cold. Because of the abundance of nonprofits, there are more English-speaking people and more working Europeans than usual in a pueblo mágico. If you don't speak Spanish, several language schools will help you out.
Thanks to San Cristobal's hills, you'll get in shape quickly. The town has an expansive market that sells food, art, textiles, shoes, and clothes; as well as art galleries, music venues, and an English-language bookstore with an attached café. Several hospitals are available in town.
The closest airport to San Cristobal is Tuxtla Guttierez, about 90 minutes away.
So there you have it. Six pueblos mágicos, in different parts of the country, each with its unique charms. I've done the heavy lifting for you, whittling the list of 121 down to six for you to choose from. Now you have the delicious dilemma of making the final choice. As they say in Spanish, "Suerte!"
Get Your Free Mexico Report Here:
Learn more about Mexico and other countries in our daily postcard e-letter. Simply enter your email address below and we'll send you a free special report - Why Millions of Americans Are Moving to Mexico.
This special guide covers real estate, retirement and more in Mexico and is yours free when you sign up for our postcards below.
Related Articles
Top 10 Reasons to Move to Mexico
Fun and Interesting Facts About Mexico
Maps of Mexico: Best Beachside and Mountain Towns