Mexico has long been a favorite destination for retirees and other expats from around the world, although fellow North Americans from Canada and the U.S. make up the bulk of the foreign population.
Why? Proximity, for one. You can easily drive into Mexico and get to many popular expat destinations. There are also cheap and plentiful flights—there are international airports all over the country. So whether you're going to Cabo San Lucas or Cancun, or anywhere in between, it's doable.
Are you interested in retiring abroad? Yes | Not Sure Yet
Mexico's popularity probably also has to do with its status as a top vacation destination. Since 2016, more than 30 million visitors from the U.S. alone have come to Mexico each year. In fact, the National Travel and Tourism Office at the U.S. Department of Commerce says Mexico is the #1 overseas destination for U.S. travelers. Canadian visitor numbers are also significant.
In short, people have been to Mexico…they like it…many decided to make it their home either permanently or for part of the year (there are many snowbirds in the country).
You'll find expats all over Mexico, from colonial cities to funky beach towns to resort hubs…
But no matter where they come from or where they live, expats in Mexico enjoy many of the same benefits like high quality/low cost healthcare, great weather (some places can be warmer or colder than others, of course), good infrastructure, good value real estate, friendly locals, welcoming expat communities, modern conveniences, and, of course, a lower cost of living.
You can actually have a lavish, luxurious lifestyle in Mexico…or stay at a very low budget…pretty much anywhere you go in the country. It all depends on lifestyle and individual needs.
But there are some locations that do tend to be more or less affordable on average. This is due to factors like location, the size of the expat community, and popularity as a tourist destination.
Here are some examples of places you can live in Mexico at various budget levels:
Under $1,500 per Month – Guanajuato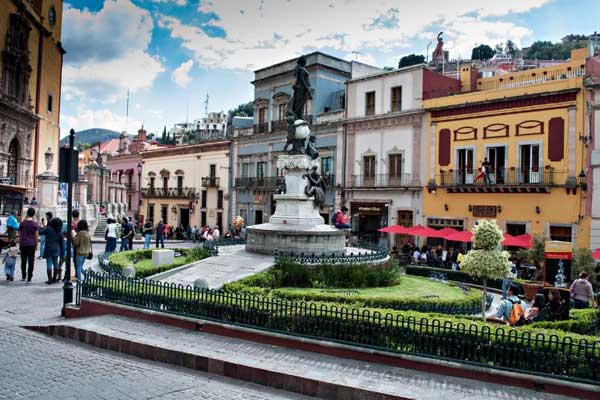 Less well known. Less expats. Less tourism. More immersion. More speaking Spanish. A great city with arts and culture. Colonial. Lower housing prices. A lot less than nearby San Miguel de Allende.
Thanks to a long legacy of Spanish colonial rule, there are dozens of historic cities, towns, and villages from that era throughout the country. Some, like San Miguel de Allende and Oaxaca, have been attracting international attention for decades and are well-known among travelers and expats.
But there are also more low-key destinations that haven't hit the mainstream that offer walkable historic centros, restored colonial architecture that has been repurposed into restaurants, offices, shops, private homes, and more; the chance to stroll down narrow cobblestone streets, past grand churches, and through immaculately kept plazas.
It's a similar experience…at a lower cost. Tourism and large numbers of expats can bring higher prices. But in under-the-radar colonial cities like Guanajuato, which is about one-and-a-half hours' drive from much better-known San Miguel, you enjoy lower costs across the board, from rentals, real estate for sale, meals out, and just about everything else.
That can give expats living in Guanajuato the ability to live on just $1,500 or less per month—all in, including rents from $400 per month for a two-bedroom apartment and dinners out for about $25 for a couple in some of the best mid-range restaurants in town.
Get Your Free Mexico Report Here:
Learn more about Mexico and other countries in our daily postcard e-letter. Simply enter your email address below and we'll send you a free special report - Why Millions of Americans Are Moving to Mexico.
This special guide covers real estate, retirement and more in Mexico and is yours free when you sign up for our postcards below.
$2,000 to $2,500 per Month – Lake Chapala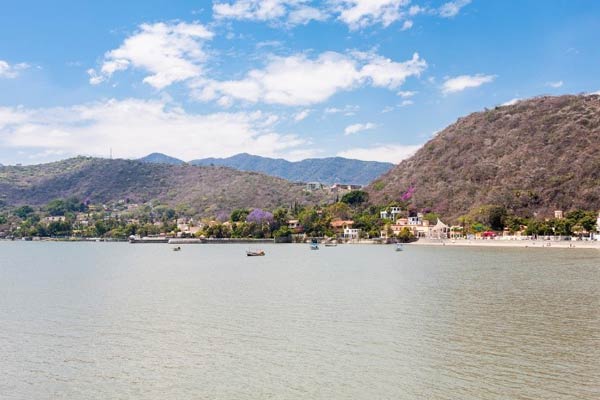 Expats have been coming to Lake Chapala for going on 60 years, including many snowbirds and part-time residents. They're drawn by the small-town vibe, plethora of activities, proximity to the services and amenities (including shopping and medical care) in nearby big-city Guadalajara, and the large and active expat community.
The vast majority of retirees and other expats here live in small towns and villages, including Ajijic and Chapala, along the northern shore. These are walkable little communities with farmers' markets, waterfront promenades, parks and plazas, inexpensive sidewalk restaurants, and the like.
To be sure, you could live a very luxurious lifestyle in the Lake Chapala area. There are plenty of high-end gated communities with lake views and easy access to big box stores and their expensive imported products.
But you can also live a comfortable life on a low budget as well by shopping at local farmers' market and patronizing simple neighborhood restaurants. But while small homes in nice areas under $100,000 are available, and even more so under $150,000, you should plan on paying over $200,000 for two- or three-bedroom homes in the best locations. Rents average about $1,000 for two-bedroom homes. That can add significantly to your costs.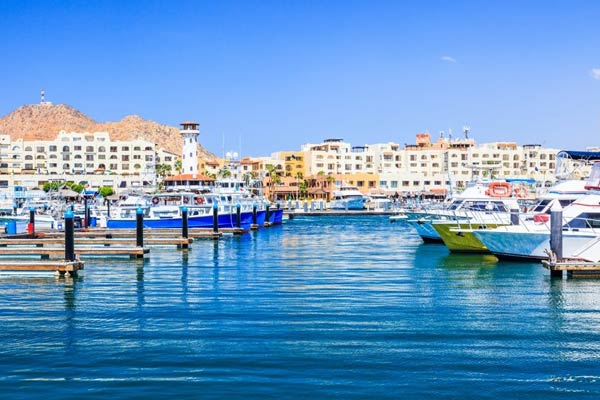 On the far southern end of the Baja California peninsula, Los Cabos was nothing more than a low-key little fishing port. Then celebrities like Bing Crosby and John Wayne found out about the top-notch sport fishing back in the 1950s… and started coming down regularly when it was accessible only by boat or small plane.
That put this region on the map and led to infrastructure improvements like modern highways and an international airport. And over the decades, it has become one of the most-visited destinations in Mexico, with large resorts, condo communities, and more in and around the main towns of Cabo San Lucas (which was basically purpose-built for tourism) and San Jose del Cabo (a more traditional Mexican small town with a walkable center with historic architecture and a focus on the arts), as well as in between in an area known as the Corridor. It's also popular with cruise ships.
Due to limited housing and the area's popularity with tourists and well-heeled part-time expats (celebrities and the wealthy still flock here), real estate prices tend to be higher here than in other beach resort destinations in Mexico, say about $300,000 and up for a nice condo on or near the beach—or with an ocean-view. Add about $100,000 for a home in a similar location.
Shopping at the area's big box stores and gourmet markets—paying import prices for items for from Europe or gluten-free options, for example—will also add to your cost of living. There are also plenty of fine dining options to tempt you.
A full breakdown of the cost of living in Mexico including budget can be found here.
Get Your Free Mexico Report Here:
Learn more about Mexico and other countries in our daily postcard e-letter. Simply enter your email address below and we'll send you a free special report - Why Millions of Americans Are Moving to Mexico.
This special guide covers real estate, retirement and more in Mexico and is yours free when you sign up for our postcards below.
Related Articles
Top 10 Reasons to Move to Mexico
5 Places to Live in Mexico…and 3 to Avoid
Is It Safe to Travel in Mexico?
Upcoming Conferences

Maximize what you receive in retirement benefits, pay less tax, and position yourself to retire earlier.
REGISTER NOW. DISCOUNT ENDS SOON
---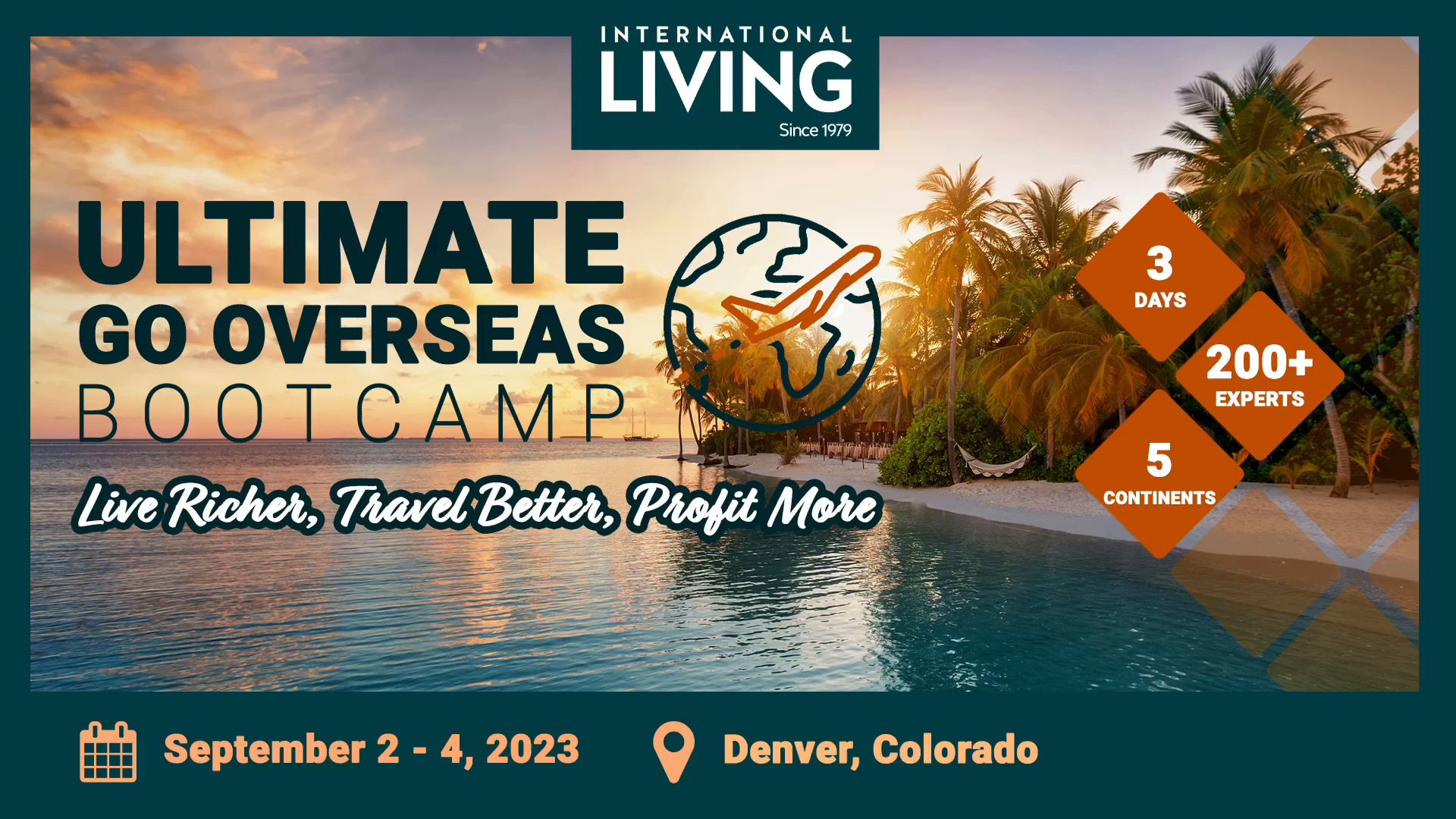 Most Popular Products
Popular Articles You May Also Like