For many people in the world, the southern European country of Albania might be difficult to find on a map. It certainly isn't showered with the international publicity of the romance of France, the cuisine of Italy, the ease of retiring in Portugal, or the sunny days of Malta. However, if you do have your sights on affordable retirement in Europe, you may want to consider the Republic of Albania as an alternative.
I recently spent some time in the charming seaside city of Durrës, quite by accident. With the COVID-19 restrictions still lingering into 2022, I was denied entry to Malta traveling from a "dark red" country. Malta has a rotating stoplight chart (green-amber-red-dark red) based on infection numbers and other factors. Therefore, I was required to find a red country in which to "quarantine". My criteria for choosing a location had to be mild spring weather, a county to which I had never been, affordability, and a safe place friendly to English speakers. Durrës, Albania not only met my criteria but turned out to be a hidden gem.
Nestled to the north of Greece, south of Montenegro and Croatia, and across the Adriatic Sea from Italy, I could feel the influences of these popular countries, and can see why they call it the affordable alternative to Italy—with its lovely coast, abundant seafood, charming cafes, and mountainous terrain it the distance. For those geographically challenged, it is nearly 1000 miles to Ukraine and shares no borders with the war-torn country.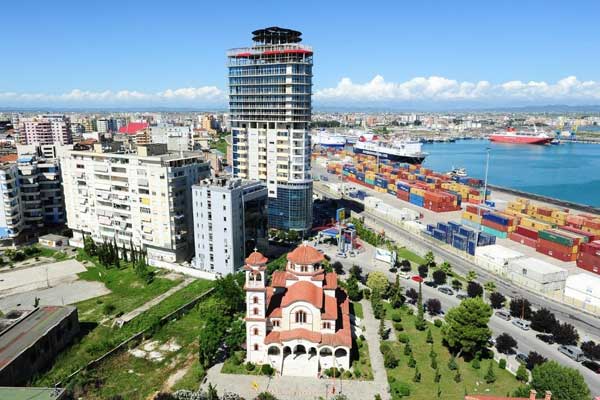 The port city of Durrës itself is located on the northwest coast of the country, just 24 miles from the capital city of Tirana. The capital is home to the country's major healthcare, commerce, best of shopping, and the only international airport (airport code TIA). The drive from the airport took about 35 minutes on modern paved roads—putting the roadway system to shame where I live in the Guanacaste region of Costa Rica. Albania's total population is estimated to be just under 3 million, with approximately 175,000 living in Durrës. Although, the summertime population swells due to its popular beaches and seaside activities.
Get Your Free Report on Europe Here:
Learn more about countries in Europe and other countries from around the world in our daily postcard e-letter.
Simply enter your email address below and we'll also send you a FREE report - All the Charm and Romance of Europe…at a Price You Can Afford.
When I mentioned quarantining in Durrës, Albania, friends scoffed at my plan figuring there would be nothing to do. However, I am having the last laugh. My days were not simply filled with seaside promenade walks and coffees at enchanting cafes. Durrës is rich in history. Ancient history! The Durrës Roman Amphitheater, built at the beginning of the second century, is the largest of its kind in the Balkans and could house 20,000 spectators for the gladiator fights. There are also remains of Roman baths and a forum to explore. The largest Archeological Museum in the country is located in Durrës on the main boulevard across from the beach. Housing over 3200 Greek, Hellenistic, Roman, and Byzantine artifacts, it gives a sense of how much foreign influence Durrës had received at each period.  This attractive seaside city was also home to the summer residence of His Royal Highness, King Zog during Albania's brief monarchy from 1914 to 1948. Perched on a hill, the short 25-minute hike from sea level is fairly easy and affords spectacular views of the city, the port, and the Adriatic Sea below. Restaurants, cafes, and bars are plentiful. Hundreds of them. And the nightlife (I am told especially in the summer) is pumping into the wee hours.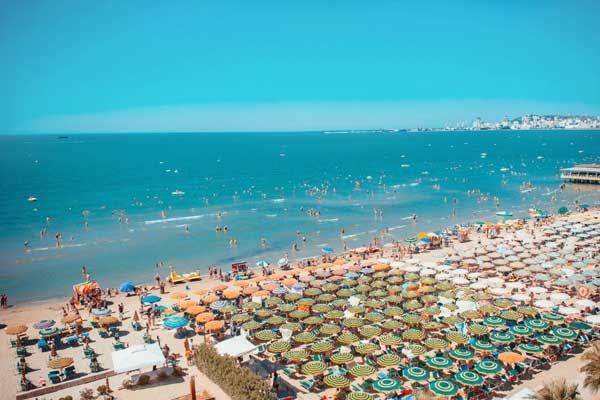 Flat at sea level and hilly on the periphery, the city of Durrës is quite walkable to all the major attractions, shopping, restaurants, and the popular Vollga promenade along the sea. For a restaurant price comparison, my husband and I lunched at an upmarket indoor/outdoor restaurant with a sea view directly on the promenade (think touristy). We ordered a large bottle of water, a large Greek salad to share, a perfectly portioned seafood pasta, a pasta ragu, and delicious complimentary Italian bread. The entire bill with tax was 1800 lekë (or about $16). This would cost nearly triple, given all the same factors, in Tamarindo, Costa Rica, the popular beach town where I live. And most likely a lot of places in North America too.
The accommodation in Durrës is plentiful and comparatively affordable. You will see high-rise apartment complexes dotting the skyline. Some are new complexes as the post-COVID recovery building boom is happening. Many buildings are older, but undergoing refurbishment. We stayed in a penthouse apartment with a sea view, and steps to the promenade.  This one-bedroom was completely renovated with modern finishes, furniture, appliances, and boasted a giant terrace. The price tag for one week was just $375. And that was the tourist price through Airbnb. Local pricing would reflect the same price tag or even less for an entire month.
The architecture of Durres is a mix of old and new with influences from each period of occupation from the Mediterranean basin. Architectural styles such as such as Art Nouveau, Neo-Renaissance, and Neoclassicism can be found, as well as practical Communist-style structures from the 1900s. All the modern-day comforts are available in homes today as well as modern Euro designs in home products such as stylish appliances and home finishes matching any designer Euro-trends.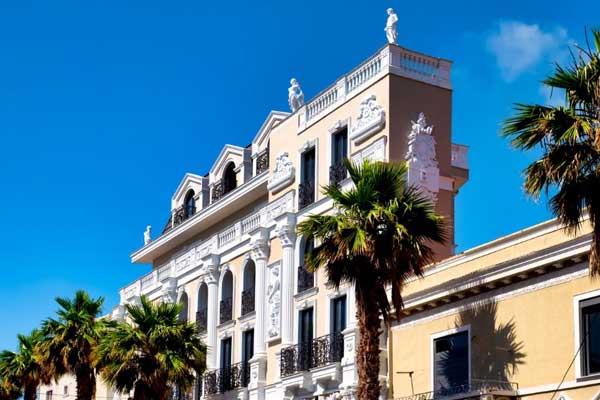 If you are looking to invest in a residence, the good news is that there are no restrictions for foreigners to buy property (except for agricultural land). You will not be able to get a mortgage locally, but the prices are so low that you most likely will not need one. I found a newly built one-bedroom, one bath condo/apartment with a balcony, steps from the beach for just $70,400.
Most new builds in Albania, I have found, require a finish out, so you would need to factor that into the price.  But labor and home goods are inexpensive too.  In Durrës, you could rent out the property for the summer months and rake in a decent partial-year income. Condos are most common in town, but on the outskirts, you can find a large two-story, four-bedroom villa for $378,000 sitting on over a half-acre of land.
What about staying connected? Albania's internet is among the fastest and cheapest in Europe. For example, ABcom is an Albanian ISP company that offers a download package of 30mbit for approximately $2.40 per month. Every business in town is willing to share their WiFi password— pretty much negating the need to have a data package on your phone for a short-term visitor to the country. However, if you are here longer term, the Albanian average price for a cell phone monthly package average around $6! The best companies are Vodafone, One Telecommunications, and ALB Telecom.
According to the World Bank, Albania was once one of the poorest countries in Europe and has now transformed itself into an upper-middle-income country. After seeing Mercedes and Audis at every turn, fashionable shops, modern infrastructure, and potable water, it is clear that Albania is rising out of the financial challenges of its fairly recent history.
But no place is perfect. The country still has challenges with corruption. However, Albania has been implementing reforms for job creation and is working towards EU integration standards. Albania applied to the EU in 2009 and the application was approved in 2020. Although the accession path has been long, Albanians continue the work needed toward joining at the next EU expansion. And although the lek is the official currency (lekë plural), we were able to use Euros nearly everywhere we made a purchase. But note that smaller shops will only take lek, not foreign currency or credit cards.  You can only exchange your money to lek inside the country. But it is very easy since there is a currency exchange and Western Union office on nearly every corner.
If you are not sure Albania is the right choice, but you want to spend more time than the typical  90-day Euro limit, US citizens can now ask for a 1-year visa without acquiring a residency permit according to the U.S. Embassy in Albania. Considering my time spent in Durrës, I see the boundless potential for their future.
Get Your Free Report on Europe Here:
Learn more about countries in Europe and other countries from around the world in our daily postcard e-letter.
Simply enter your email address below and we'll also send you a FREE report - All the Charm and Romance of Europe…at a Price You Can Afford.
Related Articles
Travel to Albania: Everything You Need to Know
6 Great Reasons to Live in Beautiful Albania
Why I Fell in Love With Albania… And You Will Too
Popular Articles You May Also Like