Under the leadership of former President Rafael Correa, the Ecuadorean government created the new coastal highway called the Ruta del Sol, or in English, the Route of the Sun. Thanks to that Herculean effort, we can now drive the entire coastline northward from Ecuador's "Miami Beach," to the remote resort areas in Esmeraldas Province, just south of the Colombian border.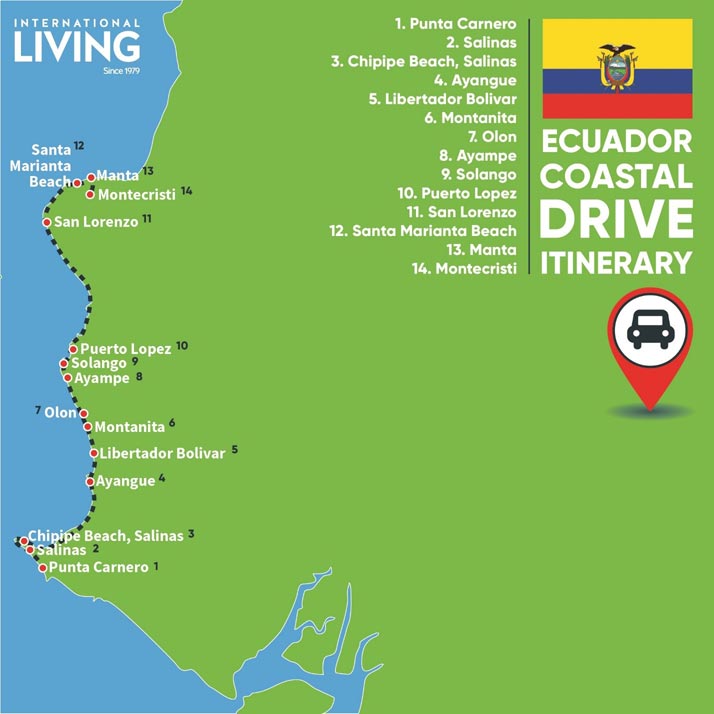 Santa Elena Province is a beautiful coastal zone that has stepped up its game and is a terrific place to visit. The Ruta del Sol begins in Santa Elena, so we'll start there.
Punta Carnero, along the southern edge of the Santa Elena Peninsula, is an area right next to the big city, but it feels like you're on a desert island sometimes. It's a great place to stay if you're looking for a little peace and quiet before hitting the road. The beach is quite underpopulated most of the time, and it's a perfect place to begin working on your Ruta tan. There is a very nice B&B called Las Palmas del Mar owned by an American expat couple (https://www.laspalmasdelmar.com/). It comes highly recommended by several people I know who have stayed there, and is beachfront, with its own pool, if that's what you'd prefer. The sunsets can be magnificent, as well. The road in is a natural preserve, with shrimp pools along its edges, with wild flamingos feeding in these tidal pools in season.
Salinas, called the "Miami Beach" of Ecuador, is high-rises and hotels, shops and restaurants, and caters to the thousands of people who come here to have fun. During Carnaval, Latin America's version of Mardi Gras, the city of Salinas is crazy, with standing room only on the beaches some days. The malecon (the term used to describe the road or walkway that accesses the beach directly; every beach town has one) is virtually impassable at times. It's a party, and if that's what you want, then it's where you should head.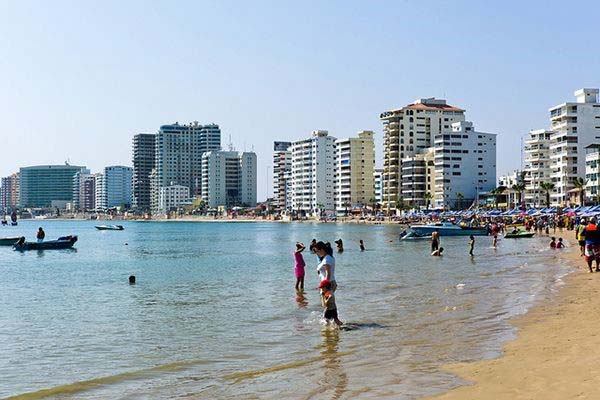 Chipipe Beach, a bit west of Salinas, is similar in looks, but very different in reality. It's more of a quieter, gentler beach, wider and cleaner usually than its counterpart next door. There's a nice beachfront hotel called the Hotel Amira that's right on the malecon, and if you can get a room there, you'll be quite comfortable. The Amira also features an excellent French bistro restaurant, Le Bistrot Gourmand, that probably has the best sea bass dinner you will have anywhere.
Go a little further west, and you'll arrive at the Naval Base. The base is open to the public upon showing proper identification. Drive through the gates and follow the signs to La Loberia, home to a couple dozen sea lions, who sun themselves on the rocks and pose for photos.
Continue following the road out to the west, and you'll come to La Chocolatera, the westernmost point in South America. You can walk out to the lighthouse, and see where two major ocean currents collide, causing the chocolate coloring of the water. Sorry, there's no chocolate here, but it is a beautiful place to visit. The park also features a couple of miradors, or overlooks, where you can take some great photos.
Let's leave the Santa Elena Peninsula and head north. There are so many things to do along the Ruta, but I'll try to give you some good ideas for overnight stays, meals, or just a quick visit.
About an hour's drive from Santa Elena you should keep your eyes open for the sign to Ayangue. It's about a 3-mile drive into the town, but it's worth the trip if you enjoy eating fresh lobster and seafood. The small town, called Lobster Bay by the expats, sits inside a small bay surrounded by cliffs on both sides. This makes the bay a very nice place to swim and hang out in the calmer water and is very popular with families with kids. There are scuba excursions from the beach, also, if you like to dive, and the calm water makes it a very good location for scuba or snorkeling. Oh, and the lobster? Ask the locals where the best is, but there's one place on the beach that has a bunch of flags flying; that's the best.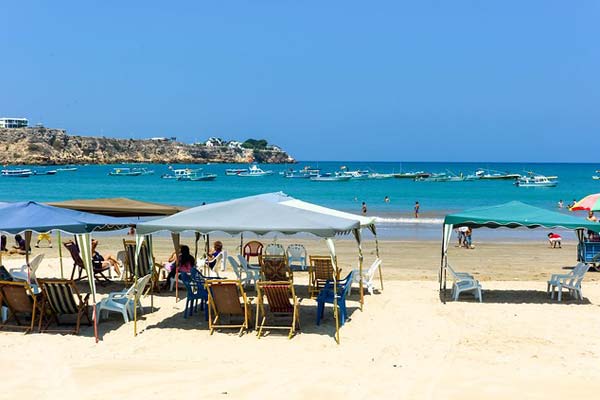 If you're looking for a nice place to stay overnight, there's a unique hotel on the north end of the beach called the Kanagua. It's relatively new and very well maintained, and features a remarkable open-air top floor, made completely from local bamboo, including a saddleback roof. Even if you don't want to stay overnight, it's worth checking out.
Not too far north, there's a parasailing center on a large hill along the highway, just above the Playa de las Brujas, the Witches Beach. If sailing with the local witches interests you, watch for the sign "Parapente," and drive up the hill. The views are fantastic from up there.
Just past the Parapente Center, you'll enter the town of Libertador Bolivar. There's a lot of touristy shops and restaurants where you can spend your money, and they have a new malecon, which is quite nice. The beach is quiet, so if you're looking for a break, this might be a better option than many other beaches further north.
Not too far north of Libertador Bolivar, you'll enter the Party Zone of Ecuador; Montanita. This town is both the surf and party capital of Ecuador, and justifiably so. Discos, bars, and 2 for 1 cocktail tikis are everywhere. The music can make your head explode on weekend nights, but this is a very interesting place with a great vibe. You might not want to stay in town here, unless you want to rock in the dawn with all the other partygoers.
There is a very strong international feel to Montanita; people visit there from all over the world to enjoy the free lifestyle it offers. And, there's a world-class surf break on the north end of the beach that can offer up some great waves. Best steak on the beach? The Lido Grill; excellent.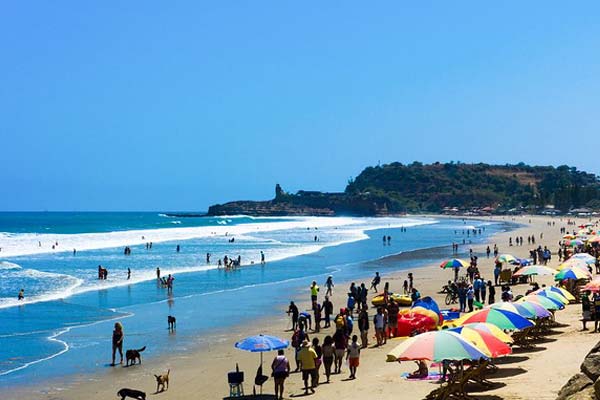 When you leave Montanita, you'll pass the Surfer Statue; you won't miss it. Stay to the right, go to the top of the hill and take your first left. There's an incredible overlook where you can take some exciting photos of you and your gang hanging on the edge of a cliff overlooking a gorgeous stretch of beach.
Just north of Montanita there's a town called Olon. This area is well-known for its beautiful beach and its much quieter lifestyle. If you're looking for a funky place on the beach to spend a night (or more), I recommend The Sea Garden House. The owners treat everyone like family, and it's a fun place to stay.  www.theseagardenhouse.com
There are quite a few small towns north of Olon that the Ruta winds its way through, and there's a trip over some coastal mountains that offer up some outstanding views as you make your way to the city of Puerto Lopez.  Along the way, you can stop at any of the roadside vendors to shop, or to get a fresh coconut, but I suggest Puerto Lopez as the place to shop and eat.
There are a couple spots worth mentioning before you arrive in Puerto Lopez. The beach at Ayampe is another surfing hotspot, but there's not much there besides the beach. There are some hiking trails up into the hills to the east of town if hiking is your passion.
The town of Solango, about 15 minutes before you get to Puerto Lopez, is a well-known dive spot, for both scuba and snorkeling, and those activities take place on the reef around the large island just offshore that bears the town's name. They have a nice quiet beach there, also.
Puerto Lopez is a much larger town; there's a new malecon along the beach, and a large pier open to both the tourist trade and the local fishermen. If you're fortunate enough to be there during the months of June through September, take one of the whale-watching tours offered from the pier. The ticket offices are along the malecon; I would recommend Rosita Tours. Their office is just across from the pier and they do a good job of finding the humpbacks.
There are some nice places to stay in Puerto Lopez. The Victor Hugo Hotel and Restaurant, La Hosteria Mandala, and the Hotel Ancora are all good. The Hugo and Mandala are on the beach, and the Ancora is one block in.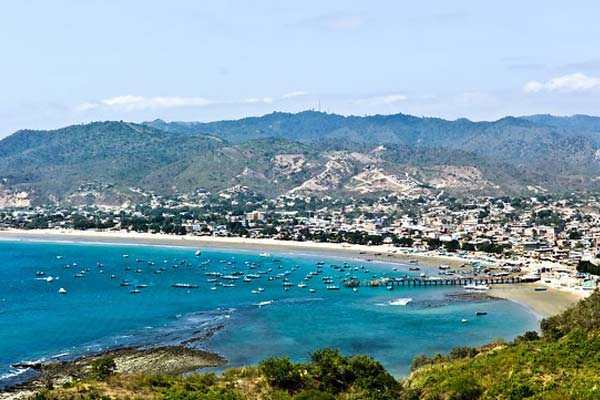 About an hour and a half north of Lopez you'll drive through San Lorenzo, a small town sandwiched between the Ruta and the ocean. There's not much there, but it has the best surfing beach in the area, and it also offers up some scenic photo ops of the mountains just to the north.
As you leave San Lorenzo, you'll start climbing up into an area called the Pacoche Rainforest. It is a very humid and green jungle, where coffee and bananas are grown. There's a rainforest walk through the jungle that features native monkeys, tarantulas, and other local fauna and flora. It's an easy place to drive by, so drive slowly as you go into the mountains and watch for their sign. The park is on the right as you head north. They have a short tour and a long one, so make sure you're clear on which one you'd like.
Kiteboarding anyone? Santa Marianita Beach, 20 minutes north of the rainforest is where you want to go if you'd like to sail a kite above the Pacific. Santa Marianita is known as "The Kiteboarding Capital" of Ecuador, and nobody will argue. The wind blows hard there, making it perfect for this extreme adventure. Kiteboarding is not a beginner's sport; it requires some training before you're ready to fly on your own, but my friends who have done it are absolutely addicted to it.
Just 15 minutes north of Santa Marianita you'll enter the city of Manta. It's Ecuador's fourth largest city, with over 300 thousand inhabitants, and it's also the country's second largest port. Cargo ships, cruise ships, high-rise car carriers, and a very large local fishing fleet all share the deep-water port, combining to create an exciting vibrancy throughout the waterfront. The Port is at the east end of Manta's favorite beach, Playa Murcielago, and there's a beautiful new mall right across from the beach.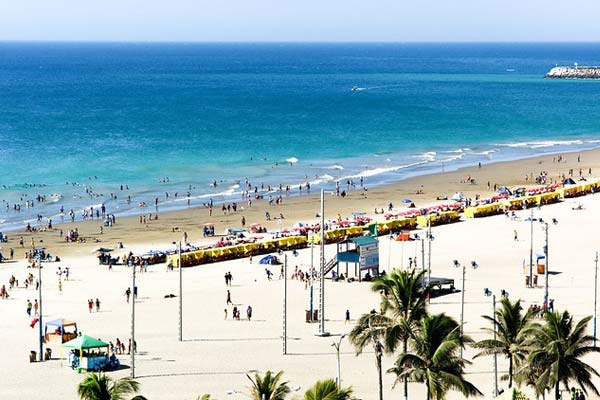 The Mall del Pacifico (the Mall of the Pacific) is a shopping mecca for everyone living or visiting here. There is a large MegaKiwi, a "Home Depot-type" store across from the mall, and there are dozens of restaurants within a few blocks. Hotels and condo towers fill the ridge that rises just above the Pacific to the west. Beautiful views are everywhere.
There are so many restaurants in Manta, but the favorite spot for most of the expats here is a four-block area of town called "Restaurant Row." You can find seafood, pizza, Tex-Mex, sushi, and incredible burgers and wings; everything an expat might be looking for.
There are some very good sushi restaurants in Manta, if you're in the mood for some Japanese food. There aren't too many sushi restaurants along the Coast, so get your fix here if you're a fan. There are five sushi restaurants here; my two favorites are Kobe by Noe, just off the Food Court on the top floor of the mall, and the other is Sushi Umina, located at the west end of Restaurant Row. Both are excellent.
There are quite a few places to stay in the city, but I'm comfortable recommending the Wyndham Sail Plaza, The Poseidon, and the Balandra. All of these have good reputations and great service.
Montecristi, a city just north of Manta, is a must-see if you're in need of a great Panama hat. The Panama hat has been made here in Montecristi for over 200 years, but thanks to an enterprising visitor who took the Ecuadorean hats to Panama to sell, the wrong name was used, and still is. The phrase "Panama hat" was coined by the thousands of people making their way across the Isthmus of Panama during the California Gold Rush in 1849, and during the building of the Panama Canal. President Teddy Roosevelt made the hats famous when he bought one while touring the Canal in the 1890's.
Oh, and if you're hungry, and you love Italian food, find your way to the Trattoria di Gabriele. Situated on a hillside out of town, this restaurant serves outstanding, made-from-scratch Italian, created by the skilled hands of the founder's granddaughter Gabriela. Surrounded by gardens filled with butterflies and birds, the restaurant makes you feel like you're out in the country, away from it all, someplace on a hillside in Italy, not Ecuador.
You can wrap up your tour here and get on one of the highways to Quito or Guayaquil, or you can keep going north, whatever your pleasure.  The Ruta del Sol goes all the way to Colombia, so go explore.
I think you will agree; the Ruta del Sol is Ecuador's Highway to the Sun. Visit often and stay longer.
Get Your Free Ecuador Report Here:
Learn more about Ecuador and other countries in our daily postcard e-letter. Simply enter your email address below and we'll send you a FREE REPORT - Ecuador: Live Well on Your Social Security.
This special guide covers real estate, retirement and more in Ecuador and is yours free when you sign up for our postcards below.
Related Articles
Enjoy Traveling in Ecuador for Its Unmatched Beauty
Move to Ecuador for Its Wealth of Charms
Upcoming Conferences
Live Better, Spend Less, Retire Sooner
IL's Retire Overseas Bootcamp
October 21-23, 2022 in Atlanta, GA

In safe, warm, welcoming communities abroad, as little as $1,700 a month can bankroll a good life... this fall, our experts will show you where—and how.
Details Here IL's Retire Overseas Bootcamp
---
"Online Income Engine" Masterclass October 15
An Online "Participate from Anywhere" Event
We'd like to show you how you can upgrade your life and live richer using an Online Income Engine.
Best of all, you needn't leave your home to see how you could make this happen.