After spending four years living and working in Sydney, Australia, we returned home to Vancouver, Canada, vowing that it would only be for a few years, and then we'd be off again, living and working somewhere new. However, we soon fell into the rat race of demanding careers, buying a house in the suburbs, getting a dog, and starting a family. Our "in a few years" plan became a "someday" plan with no set deadline.
It was during an extended family road trip that we realized we had everything we needed right there in the car—food, shelter, and the ability to work remotely. We dreaded returning to our house that always needed something maintained or fixed, and the commitments that filled every moment of free time. We decided that our "someday" plan needed a deadline and began researching our options for living and working remotely overseas. We discovered International Living magazine and subscribed; inspired by people living the life we wanted for our family.
Our wish list for our perfect spot overseas included a warm climate, a variety of outdoor activities, good quality education for our daughter, a high quality of life but a lower cost of living than Vancouver; and because we have aging parents, ease of travel to Canada. Our research led us to Costa Rica. We were particularly drawn to the Southern Zone, with its mountains that kiss the ocean, lush jungle, and small towns that offered all the services we'd need.
In 2018, we set off for Costa Rica to attend International Living's conference in San José. After the conference, we spent a week exploring Dominical, Uvita, and Ojochal and fell in love with the area. The gorgeous beaches, weekly markets with locally-grown fruits and vegetables, and laidback vibe exceeded all our expectations. We returned home with a firm plan to move to Costa Rica within two years.
We spent eight months selling and giving away most of our belongings, and completing necessary renovations. Our hard work paid off when our house sold quickly, and we finally had the freedom to make our dreams happen.
We rented a smaller home in Vancouver, and returned to Costa Rica with our daughter for a month in December 2019. We had a great holiday, touring the Guanacaste region and Nicoya Peninsula's many towns and attractions, but we knew the Southern Zone was the place for us.
We returned home with a plan in place to move to Costa Rica at the end of our daughter's school year in June 2020. Unfortunately, 2020 had other plans—the COVID-19 pandemic. Despite the challenges, we focused on getting ready to leave for Costa Rica as soon as possible. By November 2020, flights to Costa Rica resumed but travel restrictions in Canada were changing daily. It felt like that scene in Indiana Jones where the wall is coming down, and he rolls under, grabbing his hat just in time. We booked our flights for December 1st, found a long-term rental house in Ojochal, and moved to Costa Rica.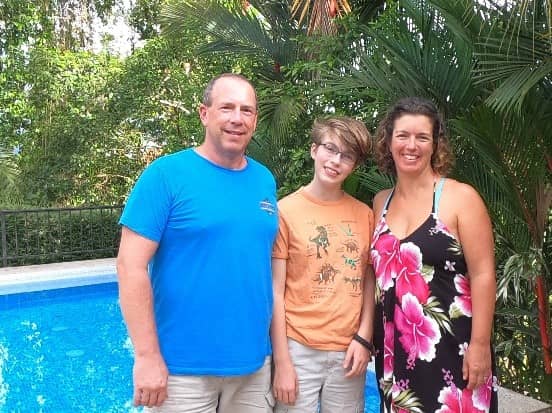 Our new home is in the foothills of the mountains that frame Ojochal, surrounded by jungle, pastures, and the sounds of howler monkeys, cicadas, and a large variety of tropical birds. They wake us early, encouraging us to go for long walks along the country roads several mornings a week, when the temperature is cooler. We've met other expats on our walks, several of whom have become friends. We return home, cool off in the pool, and prepare fresh fruit smoothies for breakfast.
After dropping our daughter off at her bilingual school, we often stop by Playa Hermosa for a swim and a pipa fria (fresh coconut water), before returning home to work remotely for the rest of the day. Working outside by the pool and taking swim breaks throughout the day is much better than the cramped home office we left behind in Vancouver.
We enjoy the abundant access to fresh, locally-grown food in Costa Rica and have been trying many new dishes. Our family is fitter and healthier than before we moved, and we spend more quality time together. We shop together at the open-air Saturday market, and spend the late afternoons at the beach until the sun sets.
Although it's been a challenging move for our teenage daughter, she is adjusting to her new school, making friends, and learning to speak Spanish. The opportunity to learn about and be immersed in a new culture and language is something we feel will benefit her for the rest of her life.
Costa Rica's slower pace of living and stronger focus on family togetherness has rubbed off on us. We smile more, and we are much more patient and willing to let things happen in their own time.
It wasn't easy to get here, but we are so happy we overcame the obstacles to make it happen. Costa Rica is our home now. Pura Vida!
Get Your Free Costa Rica Report Here:
Learn more about Costa Rica and other countries in our daily postcard e-letter. Simply enter your email address below and we'll send you a FREE REPORT – Costa Rica: The Land of Pura Vida
This special guide covers real estate, retirement and more in Costa Rica and is yours free when you sign up for our IL postcards below.
Related Articles
Maps of Costa Rica: Best Beachside and Mountain Towns
An Overview of Traditions and Culture in Costa Rica
Costa Rica's Southern Zone Has Grown Up
Upcoming Conferences
The Only 2023 Fast Track Costa Rica Conference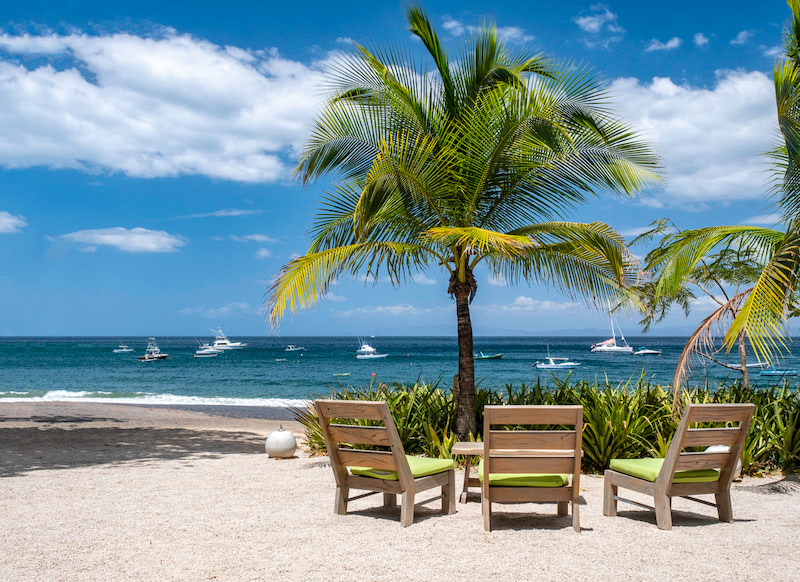 If your dream retirement involves stunning beaches… lush green mountains… a perfect year-round climate… first-rate healthcare… incredible value for money (a couple can live well on $2,109 a month—including rent!)...
Join our Costa Rica experts and expats in June and discover true Pura Vida.
REGISTER NOW, SEATS LIMITED: EARLY BIRD DISCOUNT HERE
---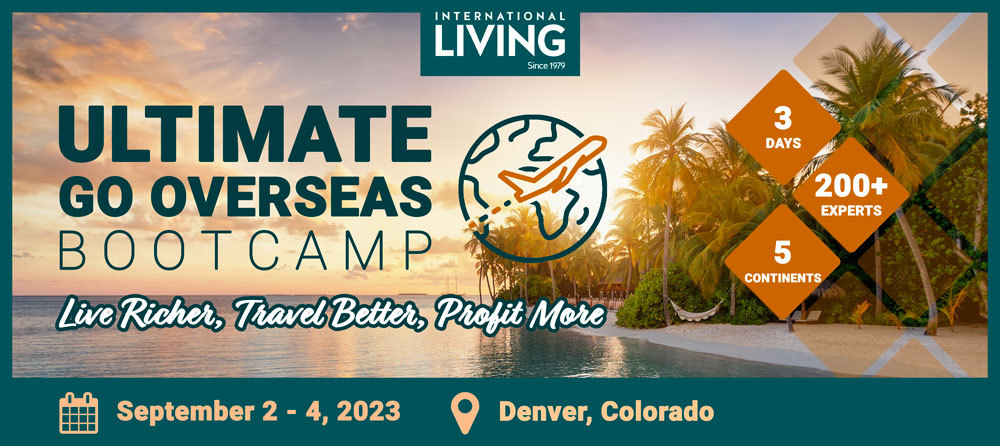 Most Popular Products