When planning their move out of New York City to some place warmer, Jesse and Gina Epstein considered a few locations—Australia and St. Petersburg, Florida, among them.
Costa Rica was also top of mind because, aside from year-round warm weather, it has no army and has a history of stability. Plus, Jesse had visited 20 years previously on a beach vacation and had fond memories. In fact, Gina notes her husband often spoke of Costa Rica over the years.
Are you interested in retiring abroad? Yes | Not Sure Yet
Two exploratory trips later and they moved. First, they set up in the busy capital, San José, so their daughter could attend one of the international schools there. But then a couple years later, after discovering several well-regarded schools on the country's northern Pacific coast, they decided to make a change.
Life by the Sea in Tamarindo
"We wanted to live near the ocean. We came here to Tamarindo and loved it. The first time we visited we didn't want to leave," recalls Gina of their move three years ago.
Tamarindo is one of Costa Rica's most popular expat and vacation destinations, a beach village set on an expansive bay first embraced by surfers and fishermen starting in the 1970s. It now attracts all types of people from all over the world.
Although it's grown a lot over the years, it remains a small town with a tight-knit community. It's very walkable, notes Jesse, and has quite a cosmopolitan vibe.
You can find restaurants of every cuisine, including high-end options, cafés, yoga studios, live music nights, markets carrying organic and gourmet foods, and chic home décor and fashion boutiques. Tamarindo is still funky but also hip and sophisticated.
"We love going to sunset," says Gina. "Many of the families in town—there are a lot of families—meet down on the beach. There's a real sense of community here. And you meet a lot of different types of people—and everybody helps each other."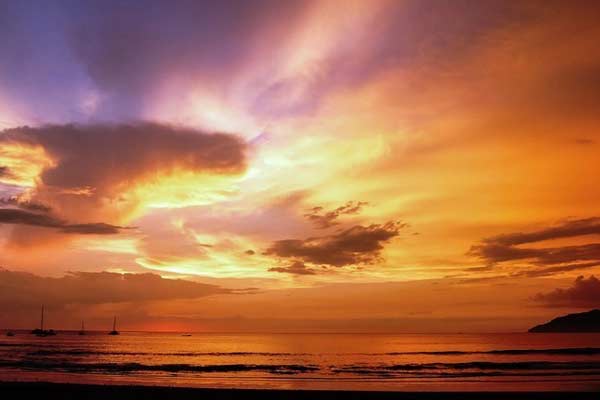 "I get a kick out of living every day in what is like a resort," says Jesse.
They spend a lot of time outdoors. Jesse often rides his bike around town. They go out on a friend's catamaran too.
Gina also enjoys a weekly ladies' night out with friends, with the group hitting up one of Tamarindo's many top-notch eateries every Tuesday. In Tamarindo, there is no shortage of choices, with restaurants featuring seafood, Italian, Argentinian, Mexican, Israeli, pub grub, and more.
Their daughter is an avid horseback rider.
"She rides at Finca La Garza," says Gina, who sometimes joins her. "It's been owned by the same family for 100 years. I can't tell you how great a morning I had…riding out in the pasture with this newborn colt and three other horses. Usually, we have six dogs with us too."
"We Feel Like We've Landed. This is Home."
The couple bought their home last year. And in a very rare occurrence for foreigners, even for legal residents like the Epsteins, they were able to secure a mortgage. Most transactions for expats in Costa Rica are cash, sometimes owner financing. They worked with a Costa Rican credit union. It was a difficult process, with lots of red tape and both were compelled to get life insurance.
But they say it was worth it. Their villa is on the quieter edge of town, and they have a nice pool, which comes in handy on hot days.
"I actually like the heat," says Jesse. "I've never had a pool at home before—we go in every day."
Occasionally, the Epsteins make the four-hour or so trek to San José to take in some culture. They saw the Bolshoi ballet at the National Theater and visited the famed Gold Museum and Jade Museum in the city as well. And they plan to visit a multimedia show about Van Gogh that is touring the world and has its next stop in Costa Rica.
"It's not quite New York but…" says Gina.
The couple does still work. Jesse, who is a documentary filmmaker and university instructor, continues to teach classes online part-time. And Gina, who was previously a fabric buyer in the fashion industry, has an online business and is a mental health advocate.
The couple does plan a trip to visit family back in the States this summer. But after that, they have no plans to return anytime soon.
"We live in paradise, they can visit us," says Jesse, laughing.
All in all, it's been a good move for the family.
"We feel like we've landed. This is home," says Gina.
Get Your Free Costa Rica Report Here:
Learn more about Costa Rica and other countries in our daily postcard e-letter. Simply enter your email address below and we'll send you a FREE REPORT – Costa Rica: The Land of Pura Vida
This special guide covers real estate, retirement and more in Costa Rica and is yours free when you sign up for our IL postcards below.
Related Articles
In Photos: The Top 5 Beaches in Costa Rica
There Are Many Reasons to Move to Costa Rica
Is It Safe to Live Costa Rica – Expat Safety
Popular Articles You May Also Like