Trading the biting Boston cold for Caribbean sunshine in Puerto Morelos­–located in Mexico's Riviera Maya–saved Kristen Perilli's sanity and quite possibly her life. No, I'm not being dramatic, making the move to Mexico was the positive change needed for her overall health when she was diagnosed with Lupus.
Working long hours as a paralegal in the stressful world of corporate law, Kristen was completely run down, taking a huge toll on her health. Being diagnosed in her early 40s meant that big lifestyle changes were needed to successfully manage her Lupus and minimize painful flare-ups.
Are you interested in retiring abroad? Yes | Not Sure Yet
Puerto Morelos was the key to restoring her health. The warm Caribbean sun, gentle sea breezes, and laidback lifestyle means that Kristen is now happy, healthy, and living a life most of us dream of.
Why Move to Puerto Morelos?
"This laidback seaside town ticked all the boxes," Kristen says. "It's big enough to have everything you need yet small enough to live life at a relaxed pace.
When asked why she chose Puerto Morelos instead of larger cities like Playa del Carmen or Cancun (both twenty minutes away) her answer was simple. "The culture, the people, and the sense of community. Everyone here is so supportive of each other, we support each other and each other's businesses."
What's Puerto Morelos Like?
In Kristen's words, it's "colorful houses with beautiful murals, Spanish architecture surrounded by nature with a lot of different birds, a lot of mangroves, and a huge coral reef just offshore. A picturesque town for nature lovers."
Instead of waking up and leaving for work in the dark, wearing layers and layers of clothing battling the cold, now she sits by the pool with her morning coffee listening to the birds serenade another day.
Long walks on the beach, an abundance of fresh fruit and produce, and swimming in the ocean has taken the stress out of her days. No more stuck in an office eating on the go or at her desk, now it's healthy long lunches and relaxed days.
My Typical Day in Puerto Morelos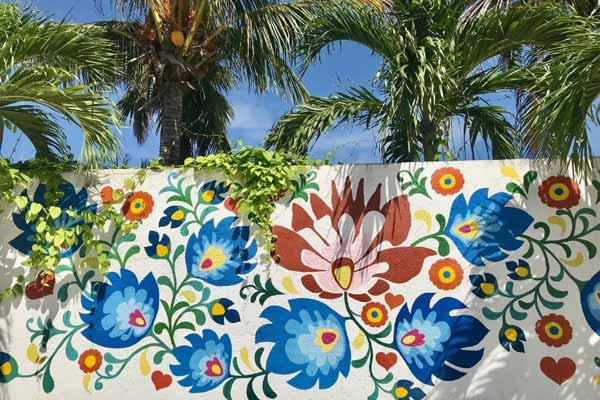 So, what do you do now?
A huge smile lit up her face as she said "I'm semi-retired and enjoy hanging out with guests who come to stay here at Casa Agave."
Laughing Kristen explains, "It varies. It's a flexible life depending on guests' needs. Anything from helping organize day trips, excursions, transportation, or renting bikes through to renovating the properties or just hanging out cleaning the pool."
She knew a less stressful working environment was needed after her leave of absence for health reasons back in Boston. The thought of returning to long stressful days, being overworked, and never feeling like there were enough hours in the day to finish what needed to be done was not possible.
"Work is very flexible and fun with ample time to do everything you want to do in a day, or, nothing at all."
Now, being semi-retired in her 40s means her 'work days' are fun. Greeting guests and showing them around, walking around town, and meeting people from all over the world lifts her heart and keeps things interesting.
So naturally, I had to ask…
Get Your Free Mexico Report Here:
Learn more about Mexico and other countries in our daily postcard e-letter. Simply enter your email address below and we'll send you a free special report - Why Millions of Americans Are Moving to Mexico.
This special guide covers real estate, retirement and more in Mexico and is yours free when you sign up for our postcards below.
Was This Always Your Dream?
I was surprised by the answer when Kristen shared.
"It was never something I planned on, it was a leap of faith. It was getting harder for me to work full-time with Lupus so I started looking for alternatives for my future. I was joking with my Uncle that we should buy a property in Puerto Morelos, and he agreed, so I started looking."
That is when fate stepped in. Casa Agave came on the market and it felt like destiny.
"I showed him and as soon as he saw it he agreed. He was close to retirement so we jumped on a plane from Boston and saw the property. We put in an offer the next day."
A smart move that enabled Kristen to make the much-needed life change for her health and to semi-retire in her 40s. Plus, it meant Uncle Freddy had a beautiful beachside place to live when he retired less than two years later.
What Was it Like Buying and Renovating a Property in Mexico?
"Finding contractors, good workmen, and getting renovations done was a lot easier than I expected," Kristen explained.
In Puerto Morelos they have a very supportive expat community and no matter what you need just post the question on the Facebook page and someone is there to help.
This made it easy to renovate both Casa Agave, and also a second property Kristen just bought with her brother.
Quick, efficient, and professional Kristen says "it was actually easier than back home in the U.S. And the best thing is that my contractor went to school in the U.S so he speaks perfect English."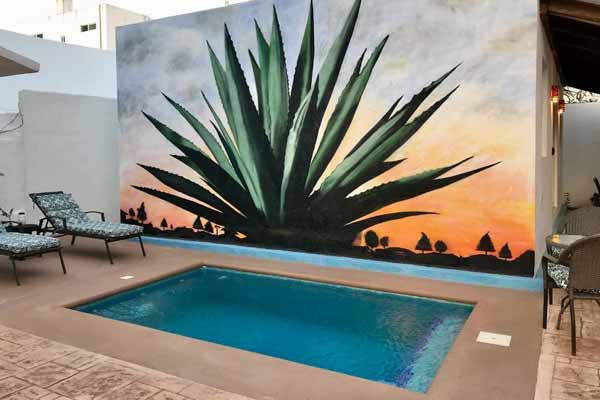 What About the Expenses of a Bigger Property Like Casa Agave?
"Electric is equivalent here. Renters, especially those coming from cold climates always use air conditioning, and it is the most expensive of all the utilities. But all of the other utilities are about a quarter of the price.
Can you give us an example?
"Sure, my Telmex phone and internet is 500 pesos a month ($25) and that's for my house, my uncle's house, the penthouse, and the casita."
Oh here's another great example she laughs "I was shocked at how low the property taxes are. I saw the yearly bill and saw 2,000 and thought it was $2,000. Then the attorney looked at me and said, "no, that's pesos." Which is about $100 and that's for the entire year!"
Can You Live off the Rental?
"Absolutely" Kristen beamed. "The low cost of living here means I can live comfortably on very little." So renting out the casita and the top floor of the main house Casa Agave is all I need. Being a three-story property, Kristen lives on the bottom floor, Uncle Freddy on the second floor and on the top floor, the Penthouse, is rented.
I asked this because I was curious about all the additional costs of her ongoing healthcare expenses due to Lupus.
Do You Have the Specialist Healthcare You Need in Puerto Morelos?
Paying pennies on the dollar compared to the U.S, especially with specialists' appointments needed for Lupus, the healthcare in Mexico is a godsend for Kristen.
Back home she said it was getting overwhelming, and completely unaffordable.
"What would cost $700 to $800 for specialist treatments plus a long wait time for appointments, is now a breeze here."
Plus she doesn't need to leave home. Her specialist in Cancun has a site where Kristen can log on and get a virtual appointment with her rheumatologist generally within hours, for only $35.
"It's pretty easy, I just choose the time I want in the schedule and we do a video call. If she needs lab work done she sends forms, I print them out and go get the lab work done."
Kirstin says the best thing about healthcare in Puerto Morelos is the freedom. "Being able to take care of your health, and being responsible for yourself without having to constantly go in for appointments that cost hundreds of dollars just to get a prescription refilled."
That means the money saved can be spent on other things like meeting friends for dinner.
The Foodie Scene in Puerto Morelos
I've been to Puerto Morelos several times and can tell you it's a foodie's paradise. I've never had a bad meal, no matter where I have eaten. It's got everything from fresh seafood served at dig-your-toes-in-the-sand style dining right on the beach, through to fancy restaurants. There's a ton of variety, and even a great vegan pizza place, too.
Kristen agrees. "I tell my guests to walk into town and follow their nose. They can't go wrong."
But do you have a favorite? That question was met with a big smile as she explained, "Lunch at one of my favorite restaurants I can get a couple of tacos along with a large alcoholic beverage for under two hundred pesos ($10). Or, something a bit more upmarket where I get an appetizer, a dinner plate, and four drinks for four hundred pesos ($20)."
Lastly, I had to ask …
If Someone Wanted to Move to Puerto Morelos What Would be Your Advice?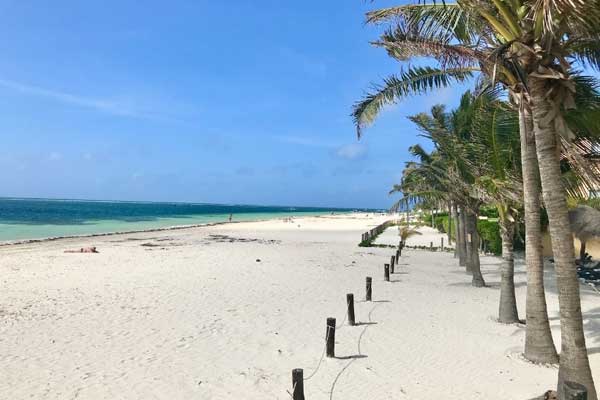 "Just come here. Visit first and stay a couple of weeks so you can walk the streets and really get a feel for the town. Or rent a place for a month so you can take time to find where you want to live."
Even though Kristen moved for health reasons initially, living in the Caribbean sunshine compared to the biting Boston cold has definitely paid off in more ways than one.
Get Your Free Mexico Report Here:
Learn more about Mexico and other countries in our daily postcard e-letter. Simply enter your email address below and we'll send you a free special report - Why Millions of Americans Are Moving to Mexico.
This special guide covers real estate, retirement and more in Mexico and is yours free when you sign up for our postcards below.
Related Articles
Guide to Puerto Morelos: An Idyllic Seaside Village
The Best Places to Live in Mexico as a U.S. Expat
Maps of Mexico: Best Beachside and Mountain Towns
Popular Articles You May Also Like