In International Living's March issue, Roatan was named as one of the best islands to retire to in 2015. Having just returned from an exploratory trip of Roatan, that didn't surprise me. So what exactly makes this island so special?
Most islands are surrounded by a sea…but not all are created equal. If, like me, you find the Caribbean Sea's aquamarine hues and vibrant sea life irresistible, this article was written with you in mind…
I've experienced many seas during my many travels. But the Caribbean Sea is my all-time favorite. After my first trip to the Virgin Islands, my mind kept leading me back to the idea of investing in a property on the Caribbean Sea. But the property prices on the Virgin Islands were already excessive. So after that first trip, in the 1980s, I began researching more affordable alternatives.
At the time Ambergris Caye was a little-known island and it was affordable. We visited in 1999, and could afford to buy there at that time. But things have changed since 1999…Ambergris Caye was voted the best island two years running by Trip Advisor members and the cost of property has consistently increased since 2010. So it really surprised me to find that Roatan properties are still affordable.
Map of Roatán
Is Affordable to live on Roatan?
Roatan has about 80,000 residents. The island, at 48 miles long and 5 miles across (at its widest point), has a variety of towns and regions to choose from and each appeal to a different type of lifestyle. A large percentage of expats settle in the northwest villages of West Bay and West End and other northern beach communities. But a growing number are settling in French Harbour, or the East Side, which are both on the south side of the island.
Each of the villages, towns and developments evoke a different feel and lifestyle. And the real estate prices vary considerably from one to another.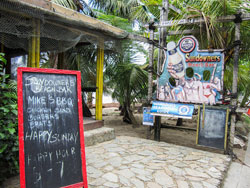 The cost of living on Roatan, for most expats, ranges from $1,500  to $3,000 a month. But we spoke with an expat couple, who live outside of French Harbour in the home they own, who spend less than $1,200 a month. Long-term monthly rents start at $600 a month. You'll find a good selection of rental homes and condos priced from $1,000 to $1,500a month in most areas of the island. These rentals are usually on the sea, or have a sea view.
There are plenty of activities on the island, as well as many good restaurants, bars and cafés. Some expats enjoy their beach time, or participate in water sports such as snorkeling, diving, fishing, and boating. Others join the local gym or take yoga classes. Expats get together at local expat hangouts like JavaVine, Bananarama, Sundowner's, or BJs. Many are actively involved in volunteer organizations such as the Humane Society, Rotary Club or baseball leagues. And expats regularly pointed out that it takes quite a bit of their time to shop on Roatan, since expats' favorite stores are spread around the island. This is an island where it's best to have a car to get around.
Where to Live on the Island
For those who are seeking a sophisticated beach town environment, West Bay is a fantastic spot, but it's pricey when compared to other spots. With its beautiful beach, cozy cafés, fun beach bars, and gorgeous homes perched on panoramic hills, the West Bay is perfect for expats who can afford a chic beach lifestyle. Home prices start around $250,000. But you can rent a house on a hill, with an exceptional view, for $1,000 a month for a long-term rental.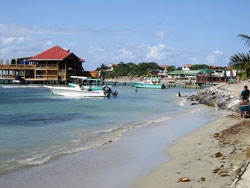 Nearby, the West End is a hip, funky village situated along Halfmoon Bay. Although the West End runs along the sea its beach can't compare to that of the West Bay. But the overall scene is still attractive, with the glorious reef waves within view. There are many dive shops located along the sea. Boats zip in and out of the bay, picking up divers and taking them to a favorite drop-off spot.
The West End feels like a hot spot for younger generations. After a day of diving, the 20 year olds hit the bars, cafés and discos, looking for evening diversions. But some retirees enjoy living here and frequent their own hangouts. Just outside of the busy central village area we viewed several 1,500 square foot townhomes with two bedrooms and two bathrooms, a few blocks off the sea, selling from $150,000 to $200,000 each.
Heading east on the main road you'll come to Sandy Bay, a local neighborhood that's gradually transitioning. It's an easy drive from Sandy Bay to the main town of Coxen Hole, or back to the West End, for shopping. For expats who enjoy living in a locals' neighborhood, there are some exceptional deals in this area. We viewed a three-bedroom, three-bathroom house on the beach listed for only $179,000.
Keep driving and on the south side of the island you'll come to the port town of French Harbour, another expat favorite. This town centers around an industrial harbor where fishing, shipping and shrimp boats dock. French Harbour is a good size town with several nearby developments, high-end grocery stores, and the island's only shopping mall, the Mega Plaza. For expats who want convenience, everything is within easy reach here.
Pineapple Villas, an off water condominium development in French Harbour, has a 1,500-square-foot, two-bedroom, two-bathroom condo unit for sale for $179,000, with a distant harbor view.  Herby's Sports Bar, and Pineapples Restaurant are located on site, as well as a spa and gym. The Pristine Bay golf course is located nearby. The local Rotary Club holds their weekly meetings on site.
The entire East Side of the island is spread out and remote as compared to the West End. It has a totally different feel, more reminiscent of Roatan country living, before cruise ship tourists regularly flooded the island. This area is less developed, wilder, and has maintained its natural habitat.
East End expats are an independent, self-sufficient lot. They value their privacy and enjoy living on a remote bays or bight. They live in spots like Mango Bay, Port Royal, and Calabash. They come and go from town in their boats. And they also make a point of coming to town to socialize. Their favorite watering hole is BJs, in Oakridge, for the Friday afternoon jam session.
If you've ever dreamed of living on a tropical Caribbean island, you should consider Roatan.
Related Articles
Everything You Need to Know About Roatán, Honduras
5 Best Caribbean Islands to Live On; and 2 to Avoid