It's difficult to sum up the Mediterranean archipelago of Malta with just a handful of photos.
This island nation offers photographers a stunning opportunity at nearly every turn. Due, in part, to their fascinating history of invasions.
Although Malta is not rich in natural resources, it holds a very strategic place in the middle Mediterranean Sea. Beyond the fortresses, you'll find unique architecture, topography, and endless sea vistas.
Valletta and the Three Cities
Valletta is the smallest, sunniest, and southernmost capital in Europe. Although it's compact, it appears immense and imposing as you enter from the sea into the Grand Harbour—Europe's deepest natural harbor.
With the bastions and fortresses still in place, the views are breathtaking from on both sides of the peninsula on which Valletta is located.
Valletta (and much of Malta) boasts charming architecture—different from anyplace else in the world. Here mixed Moorish and  Baroque influences delight the architectural eye.
But the extraordinary distinguishing features are the traditional Maltese balconies, colorfully painted. Valletta has managed to maintain its Maltese architectural heritage—requiring developers to adhere to the original façade during renovations.
Mdina
Mdina, with its tiny population of just under 300, was the capital of Malta until 1530. This walled city perched on the highest point in Malta offers commanding views of the entire island and the sea in every direction.
Today, it's Europe's finest preserved ancient fortified city. Primarily pedestrian within its walls, Mdina's monochromatic limestone alleyways cast imposing shadows… creating a photographer's dream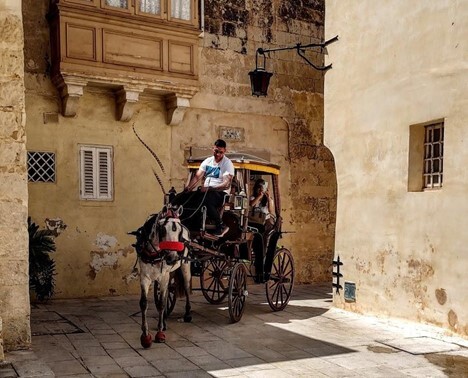 Some homes are adorned with brightly colored Maltese balconies and doors. So perfectly medieval is Mdina's setting, many television shows and movies have been shot here, including Game of Thrones, Gladiator 2, and Cutthroat Island.
Sliema
Malta was a British protectorate—a de facto colony for nearly 150 years (1813 – 1964).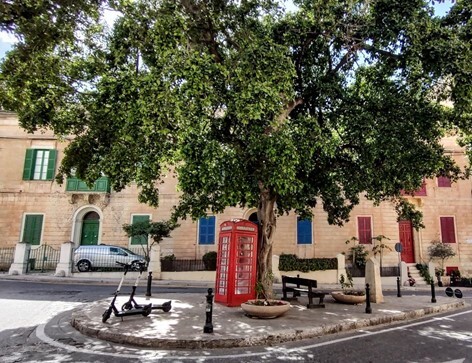 You still find British influences around the Maltese islands, including English as an official language (along with Maltese), a similar education system and parliamentary government, driving on the left, British outlets/plugs, and the iconic red phone boxes (seen above at a traffic circle in Sliema, an upmarket suburb across the harbor from Valletta).
Comino
Malta is subtropical, with rainy and cool winters (it doesn't snow), a mild spring and fall, and summers that can get quite hot (July and August temps flirt with 100F). The Maltese are masters at finding places to cool off.
Even though the islands are limestone rock, the locals have carved swimming holes into the rocks—creating dozens of sea water swimming pools. But if you prefer a sand beach, there are also many in the north and on the sister island of Gozo ranging from powdery white, tan, and red sands to pebbles.
There is no lack of water sports on the islands—from kayaking to stand-up paddleboarding and boating/sailing/jetskiing to diving—with 100 dive sites around the Maltese islands. The shipwrecks below, cave formations, and the crystalline waters make for an amazing underwater experience.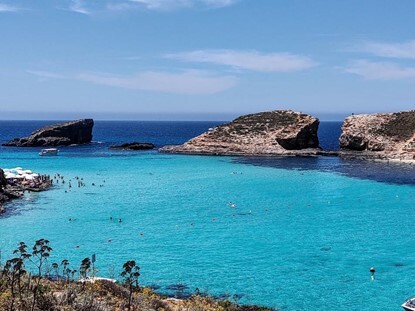 Perhaps the granddaddy of them all is Comino Island, between Malta and Gozo. This tiny, rocky island flaunts some of the most breathtaking waters in the Mediterranean. The aqua color juxtaposed against the deep blues is mesmerizing.
Marsaxlokk
Malta is one of the most densely populated places in Europe. In the 95 square mile space of the islands, there are approximately 512,000 residents (an estimated 25% are expats).
Around the Inner Harbour area, the density is real. You won't be able to distinguish the boundaries between the towns—it feels like one large city-state.
But if you drive just 20 minutes in any direction, you can still find charming seaside villages free of the hustle and bustle and towering apartment (condo) blocks.
Marsaxlokk (located in the south of Malta) is one such place. A true fishing village, you'll see small fishing boats heading out each day from the protected bay. The tiny, colorfully hand painted boats are still used today.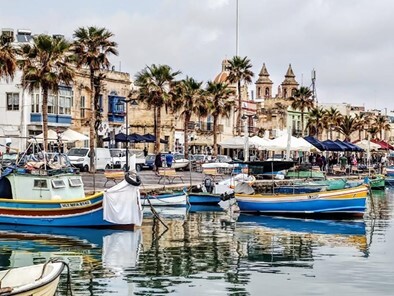 Every Sunday the town has a substantial fish market that's not to be missed. The seafood is so fresh, some of it is still alive. The village itself is oozing in small town Mediterranean charm—palm trees and cafes lining the promenade, colorful boats bobbing in the bay and a backdrop of old-world Maltese architecture.
Gozo
I took one of my favorite photos in Malta at the tiny seaside town of Xlendi on the southwest side of the island of Gozo. Not even one block inland away from the high-rise condo complexes now beginning to dot the seaside bay, there are still plenty of remains of old Gozo.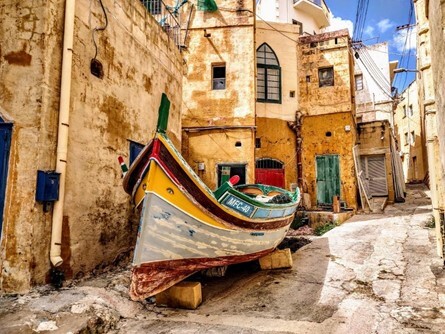 This tired fishing boat awaits repairs on a dilapidated road in front of a hodgepodge of old Maltese buildings from a bygone era. I think it would make a splendid puzzle.
Get Your Free Report on Europe Here:
Learn more about countries in Europe and other countries from around the world in our daily postcard e-letter.
Simply enter your email address below and we'll also send you a FREE report - All the Charm and Romance of Europe…at a Price You Can Afford.
Related Articles
Guide to Visa and Residency in Malta
Popular Articles You May Also Like