Healthcare is one of the top concerns for retirees when considering moving abroad. But, the good news for retirees, is healthcare overseas often proves to be a fraction of the cost it is in the U.S.
In fact, some medical expenses abroad can be so low that many expats find it easier to pay out of pocket, rather than use medical insurance. And not only that, in some countries low-cost healthcare benefits are built in for retirees.
Below we take some of the best overseas destinations for great healthcare at an affordable price, and compare five commonly used prescription medications costs there with what you would pay in the U.S.
Medications used in the comparison include, Ventolin, Glucophage, Lipitor, Synthroid, and Nexium. As you will see, there is a great disparity between what you would pay for these medications in the U.S. versus abroad as many medications are available over the counter, saving patients the cost of a doctor's visit.
Lipitor
Used in the treatment of lowering levels of cholesterol and triglycerides in the blood.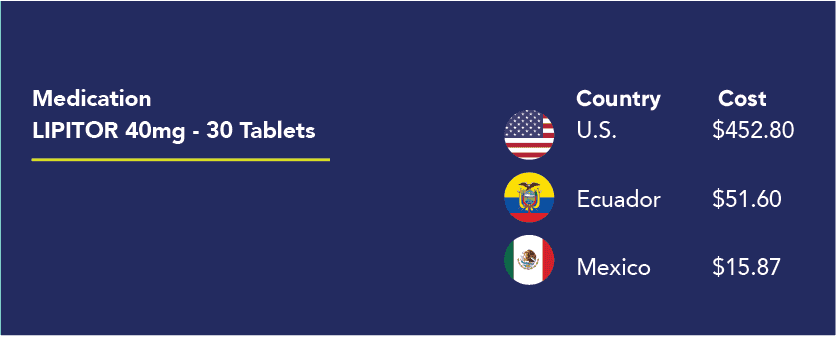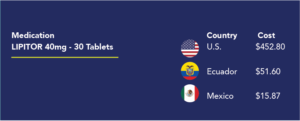 Lipitor is $436 cheaper in Mexico or 28 times cheaper than in the U.S.
Don Murray, IL Riviera Maya Correspondent, who lives in Mexico says, "The thing I like, most of all is how easy it is to simply purchase what you need from the pharmacy, without needing a prescription, in most cases. All the major pharmacies have an adjoining doctor's clinic in case you need a consultation. And it's free. Most meds cost only about 25% to 30% of the cost of meds in the States. We simply pay out-of-pocket."
Glucophage
Used in the treatment of high blood sugar levels caused by type 2 diabetes.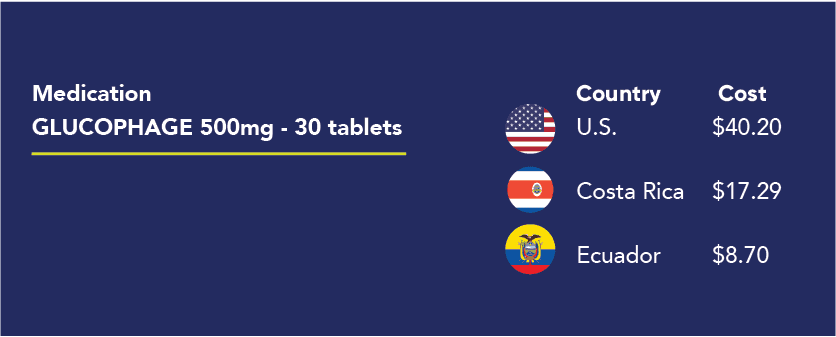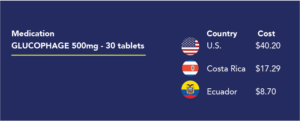 Glucophage is $22 cheaper in Costa Rica or more than two times cheaper than in the U.S.
Jackie Minchillo, who lives in the popular beach town of Tamarindo on the country's Pacific Coast recalls her first experience going to the doctor there.
"It was just before Christmas and I had a cough I couldn't shake. I went to a private clinic, the doctor I found that was closest to my house. I wasn't utilizing any sort of insurance coverage, I was just going to be paying out of pocket. It turned out I had bronchitis, and when I went to pay the bill, the charge was about $85. I was thinking 'oh boy, I wonder how much the prescription will cost,' but the pharmacist who rang me up handed me a bag with a week's worth of antibiotics and an inhaler and told me to have a nice day. Both prescriptions were about $15 of the total cost I paid that day and while I didn't have an exact comparison handy, I can remember days of paying upwards of $100 in Chicago for prescription medication alone, and here I was paying less than that for the visit and medication combined."
Ventolin
Used to treat and to prevent bronchospasm, Ventolin helps to open up the airways in your lungs to make it easier to breathe.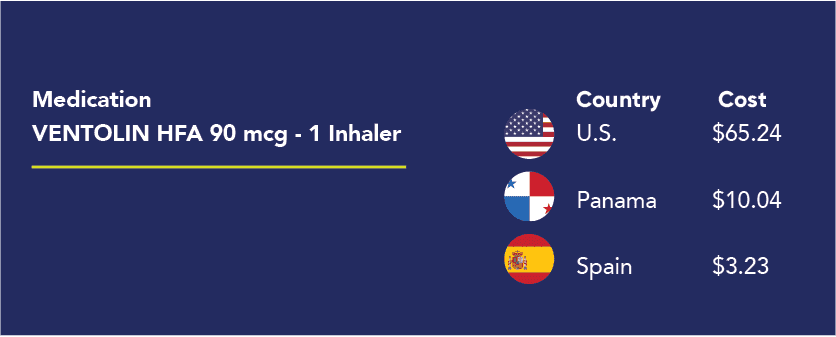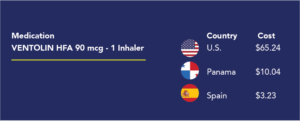 Ventolin is $55 dollars cheaper in Panama or six and a half times cheaper than in the U.S.
Low-cost healthcare benefits are built in for retirees in some countries, including Panama among them, the Pensionado Programme provides specific healthcare-related benefits and discounts. One of the medical benefits is a 10% discount on prescription medications in pharmacies and some over-the-counter medications. Nanette Witmer, IL's Chiriqui Correspondent explains, "Many people don't realize that these discounts are by law given to all who qualify by age—including expats as well as Panamanians. When women reach the age of 55 and men 60, they can automatically start using the benefits that the Pensionado provides. The law covers anyone who has permanent residence in Panama, no matter what visa they have residence under."
Synthroid
Used in the treatment of hypothyroidism, enlarged thyroid glands, and thyroid cancer.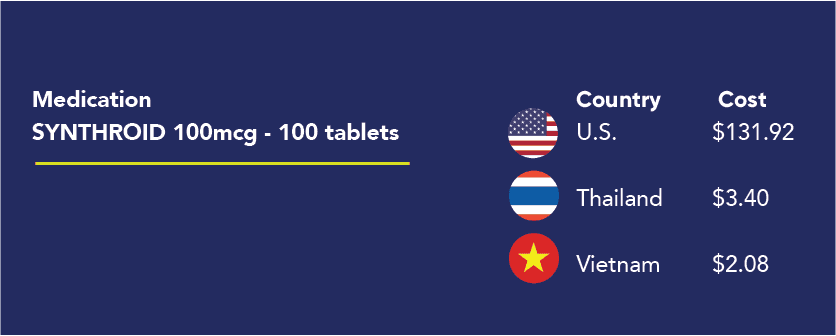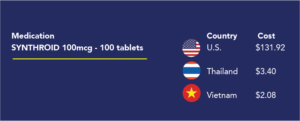 Synthroid is $129 cheaper in Vietnam or sixty-three times cheaper than in the U.S.
According to IL Vietnam Correspondent Wendy Justice, medications are also significantly cheaper in Vietnam comapred to the U.S.
"Medications are incredibly inexpensive in Vietnam. Even when buying the exact same drug that I would purchase in the U.S., I pay just a fraction of the price in Vietnam. Most name-brand medications are at least half the price here compared to the U.S., and generics tend to cost 20% or even less than typical U.S. prices. Whenever I have to make a trip back to the U.S., I'll make sure to stock up on everything that I might need in Vietnam before I go. Not only do the medications cost less, but they are available over-the-counter too, so no doctor's visit required".
Nexium
Used in the treatment of gastroesophageal reflux disease (GERD), ulcers, and inflammation of the esophagus.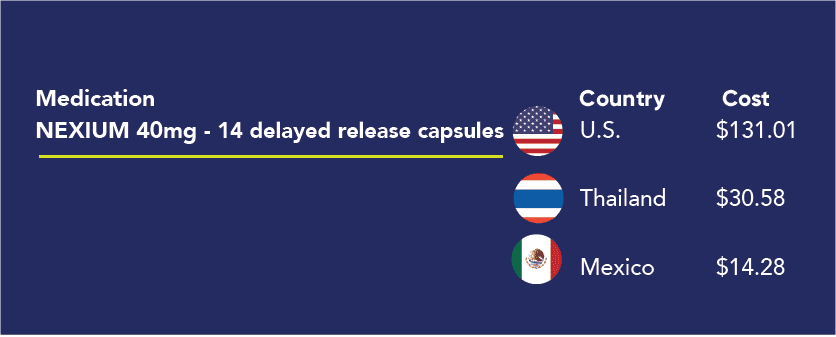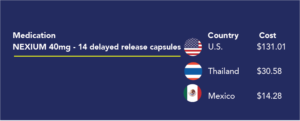 Nexium is $100 cheaper in Thailand or four times cheaper than in the U.S.
"When I think of how expensive US healthcare is it reminds me why I'm so lucky to live in Cambodia where the cost of brand name medication can be less than 10% of what they charge back in the States," says IL Cambodia Correspondent Steven King. "I've heard real life stories of monthly pharmacy bills dropping from $1,000 down to less than $100."
By retiring overseas, expats are shrinking their medication bills dramatically, leaving funds leftover for spending as they wish.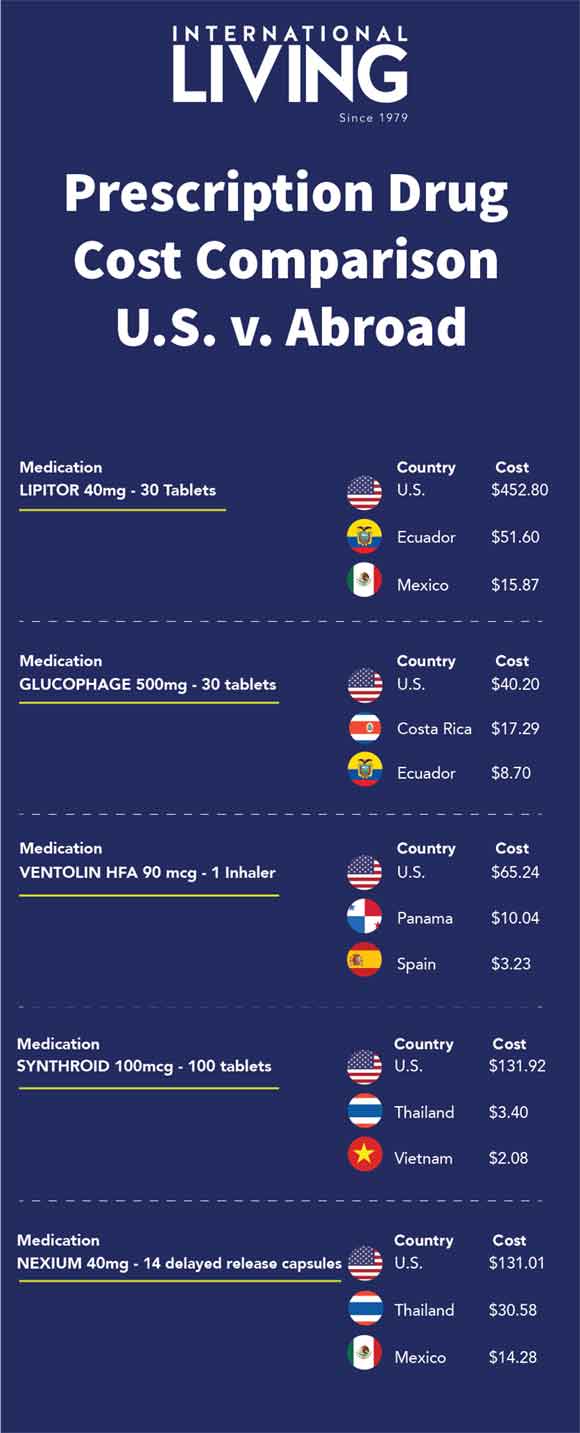 Related Articles
Medicare Abroad: What You Need to Know
The Cheapest Places in the World to Live