The dazzling Caribbean island of Roatán offers much more than spectacular sugar-sand beaches and cozy, inviting bays. You'll also find mountainous terrain lush with vibrant tropical flowers. Head up any of the many hills that form the interior to be awestruck by the surrounding Caribbean Sea, its surface sparkling in the sun, its depths tinged with aquamarine, topaz, and soft green hues.
Roatán offers an appealing expat lifestyle, diverse and healthy food, easy access to North America, and great infrastructure for such a small island (only about 50 square miles in size). You'll find an international airport, two cruise line ports, paved main roads, two hospitals, a golf course, and several high-quality grocery stores that stock North American gourmet items.
The lifestyle is also highly affordable for the Caribbean. I met one expat couple who own their own home and live comfortably on less than $1,200 a month.
Roatán was hit hard in the real estate crash of 2008 and 2009. The real estate prices—which dropped by almost 50% during the crash—have not come close to recovering, which makes now an ideal time to pick up your Caribbean dream home.
There's a good selection of affordable property, and most lots and homes have a view of the ocean and easy access to the beach. With $200,000 to spend, you'll have a lot of choice on Roatán. The lowest prices are for off-beach homes. Many are located on hillsides, with expansive sea views. For instance, I saw one six-bedroom home with an amazing sea view for only $129,000. I also visited a three-bedroom, three-bathroom home, with views of the beach, priced at $179,000 (more on those two properties later).
You'll meet many expats who are part-time: snowbirds taking advantage of short-haul direct flights to Roatán to keep a home in the sun…and make some money. There's an established, active rentals market for both short-term vacations and long-term rentals on Roatán. A well-run property in a desirable location can earn a 5% to 6% yield, after expenses.
The most popular villages are West Bay and the West End. Both are tourist hotspots. The beach at West Bay is one of the most spectacular beaches I've seen in the Caribbean, with pure white sand fringed by palm fronds and crystal-clear waters. Both villages offer snorkeling, scuba-diving, fishing, sailing, and kayaking. You'll also find high-quality restaurants, trendy bars and cafés, and an active expat community.
West Bay is known for its stylish condominium complexes on the beach and its attractive homes perched on hills, well above the seashore. The beach is usually jam-packed with tourists during the day, after the cruise lines' buses unload. But in the morning, late afternoon, and on weekends, it is fairly empty and peaceful. That's when expats gather at their favorite beach bar to socialize.
Prices for property in West Bay are higher than those in other island villages. But several 740-square-foot, one-bedroom, one-bathroom hotel/condo units are available on the beach. Prices start at $170,000. Everything I heard from expats and saw for myself indicates these units have a track record of generating a decent income stream.
The West End is a well-known scuba-diving destination. The beach is not quite as spectacular as that of West Bay. But the main street runs beside the seashore and the village is lively, filled with fun, colorful bars, cafés, and nightclubs. Dive boats buzz back and forth from dive shops during the day. At night you'll find plenty of music and dancing options. Expats who hang out in the West End are mostly younger. But some retirees also live on the edges of the village. They frequent expat hangouts such as the Sundowner Beach Bar and Restaurant.
A number of good deals are available in the West End. On the village's north side, an 800-square-foot, one-bedroom, one-bathroom lower unit is selling for $109,000. It's part of an Asian-inspired complex of six condos only 200 yards from the beach. And at a nearby townhouse development, resale deals for under $200,000 come up regularly. Currently, an upstairs 1,730-square-foot, two-bedroom, two-bathroom town-home is selling for $174,000. It's a short walk to the beach and to the village's many cafés, bars, and clubs.
Just above this, on a secluded hill overlooking the sea, is a 2,300-square-foot home with two bedrooms and two bathrooms, priced at $239,000. As well as having the ocean view, it's also conveniently situated close to restaurants, shops, and the beach.
Drive east from the West End and you'll reach Coxen Hole, the largest town on the island. Here I also found outstanding deals for condominiums. There are several one-bedroom, one-bathroom condos on the beach going for under $150,000.
Between the West End and Coxen Hole, you'll pass Sandy Bay, another area with well-priced property on offer. Sandy Bay is a relatively inexpensive neighborhood. That's partly because it is a mixed neighborhood, still primarily populated by locals. But it's gaining in popularity with expats. Sandy Bay's beaches are lovely and the reef is quite close to the beach. This is where I found the three-bedroom, three-bathroom home I mentioned earlier. With a beach view, it's on the market there for $179,000. And this is also where you'll find the six-bedroom home. It's on a hill with an ocean view and is selling for only $129,000. It sits on a half-acre of land and has a few rental units on the lower level.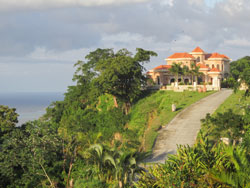 Also in the Sandy Bay area you'll find a 1,000-square-foot townhouse available for $120,000. This wooden unit includes three bedrooms and two bathrooms. It has two stories, with a large deck, and is steps from the beach. The Homeowner Association (HOA) fees include water, security, gardening, pool maintenance, and on-site management.
Land on Roatán is very well priced, so it's ideal if you're looking to build a home with a Caribbean view. There are many well-priced lots available for under $100,000. My favorites were close to the popular village of the West End, with spectacular ocean and reef views. Several are on offer here for between $50,000 and $75,000. Owners have access to the well-established developments' amenities, including their own beach. Another good area is near French Harbour, on the south side of the island, where you'll find several lots still priced from $60,000 to $70,000.
You can build on Roatán for around $80 to $100 per square foot for wood construction and $100 to $120 per square foot for concrete. Note that maintenance costs for a plot of land are low when compared to those for a home or condominium. And there is usually no requirement to build right away.
You will find condo units in "pre-construction" developments, but I don't think they represent good value, as compared to existing, proven developments and properties.
It's been legal for foreigners to buy and own property in Honduras, and on Roatán, since 1991. It's fairly easy to search for property, since there is a multiple listing service (MLS) for the island. It includes listings for all properties currently available that are represented by brokers who are members of the NAR (the National Association of Realtors) in the U.S., and of the local MLS. The Roatán Realtors Association has implemented a Code of Ethics and self-monitoring controls for its members.
I took an island tour and viewed properties with Larry Schlesser of Re/Max Roatán, who has been living on the island and selling real estate there for over 10 years. And Mike Carter, of Roatán Life Real Estate, also spent time showing me preferred neighborhoods and property. He owns both a real estate agency and a property management company, so he is especially knowledgeable about which properties are easiest to rent.
Get Your Free Fund Your Life Overseas Report Here:
Learn more about Honduras and other countries in our daily postcard e-letter.
Simply enter your email address below and we'll send you a FREE HONDURAS REPORT: Island-living at an Affordable Price in Honduras
This special guide covers real estate, retirement and more in Honduras and is yours free when you sign up for our postcards below.
Get Your Free Report Here