Ann and Lew Tucker, from outside Albany, New York, now invite everyone into their brand-new home on the Caribbean island of Roatán, Honduras. From here they can relax on the upstairs patio and watch the boats float by, admiring the sunset over the Caribbean. Meanwhile, the gorgeous scent of orchids wafts up from the garden below.
The place they now call home is a Cape Cod-style cottage on the hillside of a popular neighborhood in West Bay. But this is a relatively recent development. For nearly two decades, they've been sailing around the world together.
Years ago, they discovered that a sailing retirement was a lot easier (and cheaper) than they ever could have realized. And they didn't need a vast amount of knowledge to get started.
"The boat is in a marina right now," Ann, 75, says. "We decided to start spending part of our time on land; as we get older, it's getting a little hard now to be on the boat year-round. But this summer we finally finished our circumnavigation!"
Named Serannity, their boat is a 48-foot Camper-Nicholson ketch and has been "home" for nearly their entire retirement. After getting married in 1985 and joining their families together, Ann and Lew (now 80), raised their five combined children, and the nest was empty as retirement neared.
"We owned a sailboat that we used in Lake Ontario occasionally, but that was really our only experience sailing until the early 1990s," says Ann. "That's when we took a trip on our boat down the St. Lawrence River. We learned more about sailing as we went. Lew just wanted to keep going, so we started making plans. By 1996, we were both retired, so we sold our home outside of Albany."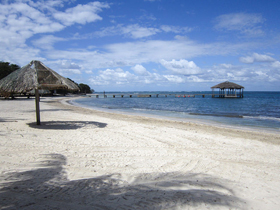 Aged 56 and 61, respectively, when they retired and set sail, Ann had spent her career as a special education teacher and Lew had been in construction. They used their retirement savings and the money from selling their home to fund their travels by sea.
With no monthly payments on rent or a mortgage, no utility payments, and very little temptation to eat at fancy restaurants when they're in the middle of the ocean, Ann and Lew's cost of living is incredibly low.
"We buy SIM cards in every country we stay in, and a modem if it still reaches offshore," says Ann. "It's easy to keep in touch, and those costs are so low everywhere in the world."
Their cost of living is so low, they can spend more on visiting new places and traveling all over the world. They can afford to fly from wherever they are to visit their children and grandchildren back home in the U.S. "We flew back from French Polynesia for a wedding, and another time from Australia for a visit," Ann says.
"When we first set sail we tracked every single expense on a spreadsheet," Lew continues. "Back then, we were spending about $15,000 to $20,000 per year. It's definitely possible to sail on Social Security."
The intrepid couple has visited many countries over the course of their adventure. Sometimes they moor off the coast and take daytrips to different areas; other times they rent a home for a few months to further explore a country. "For $200 per month, we rented a three-bedroom house with another cruising couple in Satun, Thailand," says Lew. "We spent that time fixing the boat and enjoying some really low-cost living.
Ask them about their favorite country and they'll look at each other and chuckle. "There are so many," Lew says. They spent last year cruising through Belgium, Germany, the Netherlands, Denmark, Norway, and England. The year before, they sailed from South Africa to the U.K., leaving their boat in the Netherlands for the winter while they headed home to visit their grandkids. Another trip took them from the Galapagos Islands all the way to French Polynesia, the longest single passage they've done: 3,000 miles.
Ann and Lew have spent their retirement seeing the world on their own terms and on their own time.
Get Your Free Honduras Report Here:
Learn more about Honduras and other countries in our daily postcard e-letter.
Simply enter your email address below and we'll send you a FREE HONDURAS REPORT: Island-living at an Affordable Price in Honduras
This special guide covers real estate, retirement and more in Honduras and is yours free when you sign up for our postcards below.
Get Your Free Report Here