With 912 miles of coastline on both the Pacific Ocean and Caribbean Sea, Costa Rica has plenty of beaches. And you get a wide variety of looks, too. Some of these beaches are all natural, Robison Crusoe-style tropical escapes that you'll have all to yourself. You can sit in the shade as you watch clear water lap against the shore on a lazy afternoon. Others are places to enjoy a cold drink in hand, toes in the sand, listening to music and people-watching. There are even large resorts and bustling beach towns with plenty of nightlife.
There are so many beaches in Costa Rica, it's hard to pick the best. But there are some standouts that offer easy accessibility and services, as well as beautiful scenery. And there are plenty of places to stay on the beach…or close by. Below are seven of my favorite beaches in Costa Rica.
Manzanillo
On Costa Rica's Caribbean coast, far to the south nearly on the border with Panama, is an enchanting tropical beach where you can usually find quiet secluded coves where you and your family can spend the day undisturbed. The beach is set within the Gandoca-Manzanillo National Wildlife Refuge, just south of the village of Manzanillo. You walk to the beach through jungle until you find your spot. The sand is golden, overhanging trees provide shade. And you can snorkel right off the beach thanks to rocks and reefs that are home to tropical fish, rays, sea turtles, and other sea creatures.
Manuel Antonio
It's one of the most-visited spots in Costa Rica, but Manuel Antonio National Park on the central Pacific coast is a must-visit when you're in Costa Rica. You can experience four different species of monkeys, sloths, toucans, scarlet macaws, and many other species as you trek through lush verdant rainforest. And at the end you can beat that tropical heat with a dip in the glittering turquoise Pacific at one of Manuel Antonio's white-sand beaches.
There is no development. Just rainforest, white sand, and the ocean. A tropical paradise. Just be sure to go on a weekday to avoid weekend crowds. And if you have food, watch out for the monkeys that frequent the trees above you—they love snacks and won't hesitate to carry your backpack (along with your wallet or camera equipment) into the canopy to find food.
Dominical
A somewhat isolated funky beach town on the southern Pacific coast, Dominical has been attracting travelers, especially surfers, for decades. You can walk everywhere—there are just two streets in the whole place. And on the road paralleling the beach, you'll find a row of open-air restaurants and beach bars offering up fresh seafood and cold beer with a view of the surf. Not a surfer? Lazing away the day beachcombing (or hanging out with new friends at the beach bar) is perfectly acceptable. You can also enjoy whale watching tours and hikes through nearby rainforests home to sloths, monkeys, and more.
Tamarindo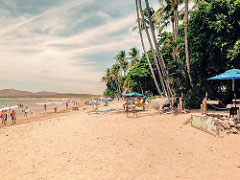 Tamarindo is a well-known resort town with plenty of hotels, condos, restaurants, and tourist shops. It's not secluded or quiet. But if you're looking for some fun in the sun and a "resort" experience, it could be your place. It's bustling but manageable.
Tamarindo is a walkable community with live music every night of the week. Restaurants offer everything from chic gourmet cuisine to simple but delicious seafood to sports bar fare. A highlight of every day you're there is watching the sunset from the beach—many bars and restaurants offer happy hour deals around that time. It's also a great place to hire a sport fishing charter or learn to surf.
Playa Ocotal
Playa Ocotal is a quiet beach village just south of the popular resort town of Playas del Coco, on the northern Pacific coast. It's set on a cove with calm waters; sailboats anchored just offshore. It's relatively undeveloped, small, and mostly residential, with homes and condos set in the hills above the beach, offering panoramic ocean views. It's a great place to unwind. There are a few places to grab a bite to eat and cold beer in Ocotal. But nearby Coco, a popular resort town, offers a large variety of shopping and dining options. Here you are also only 45 minutes drive from Costa Rica's second international airport in the town of Liberia, the provincial capital.
Playa Uvita
Imagine having miles of beach all to yourself. It's a beautiful backdrop. Tall, verdant mountains drop dramatically ending in rainforest and then the sand…the blue Pacific beyond. That's what you get at Playa Uvita, on Costa Rica's southern Pacific coast, a region known as the Southern Zone. It's in a large national park, meant to protect migrating humpback whales who congregate offshore. If you're lucky you'll see one, as well as dolphins.
Because this is a protected area there is no development on the beach. And no large-scale development exists in this region. There are a few small towns, including Uvita, a small town inland where you can get supplies for visits to this area. Accommodations tend to be boutique hotels and eco-lodges, catering to the relatively small amount of visitors who make it to explore the beaches and rainforests of this area. Increasing numbers of expats call the Southern Zone home, drawn by the natural beauty and relaxed lifestyle.
Playa Guiones
On the remote Nicoya Peninsula is a popular expat community on the Pacific known as Nosara. It's a center for yoga and natural health practices, as well as surfing. The area has several beaches, including Playa Guiones, close to the heart of town. It's surrounded by a wildlife refuge that prevents any development, which means no condo towers or hotels spoiling the view. It's just you and the dunes. If you're a surfer, you'll be in heaven thanks to consistently good waves. A must-visit in this area is Playa Ostional further north. About once a month it features thousands (sometimes tens of thousands or even hundreds of thousands) of sea turtles coming ashore to lay eggs on the beach. And as long as you're courteous and careful you can watch this miracle of nature.
Get Your Free Costa Rica Report Here
Learn more about Costa Rica and other countries in our daily postcard e-letter. Simply enter your email address below and we'll send you a FREE REPORT – Why Are Americans Still Flocking to Costa Rica. 
This special guide covers real estate, retirement and more in Costa Rica and is yours free when you sign up for our IL postcards below.
Get Your Free Report Here