I recently returned home from a mother-daughter trip to Poland this past September. Pre-trip, I fielded many questions.
Them: Poland? Huh. Are you Polish?
Me: No.
Them: Is there anything to even do in Poland?
Me: Um, yes. A lot. Like everywhere in Europe.
Them: But in September? Isn't it already cold there?
Me: No, September is a lovely time to visit.
Here's why.
High Season: Summer
When the majority of North Americans think about travel to Europe, we typically consider the months of June, July, and August, right? High season. The weather is warm (even in Poland), the attractions and restaurants are all open, the kids/grandkids are out of school, and a swim in the Mediterranean sounds divinely romantic.
I have been to Europe during various summer months of high season over the years. It is lively and bustling nearly everywhere you go. Lively and bustling are often "travel speak" for overcrowded and expensive.
Do you want that iconic carefree coin-tossing photo at the Trevi Fountain in Rome? Good luck making it through the 20-deep crowd of tourists attempting the same pose.
Insider tip #1: Nights are less crowded and the piazza is well lit, so photos still turn out well.
Or how about feasting your eyes on the enigmatic Mona Lisa at the Louvre in Paris? You may need to wait 30 minutes to two hours to purchase a walk-up ticket and then only have a quick glance at the prize before being whisked away in the constantly moving tourist line.
Insider tip #2: Skip the wait and buy your e-tickets online. Note the museum is closed on Tuesdays; thus, Mondays are very crowded. https://www.ticketlouvre.fr/louvre/b2c/index.cfm/home
Did I mention that all this humanity is going to drive up the demand for hotels, meals, and transportation, such as air, trains, and ferries? Even booking early doesn't mean you will find a deal. After all, the tourism industry knows what high season brings. Those prices will all be increased even before the new fiscal budget planning.
Second High Season: Christmas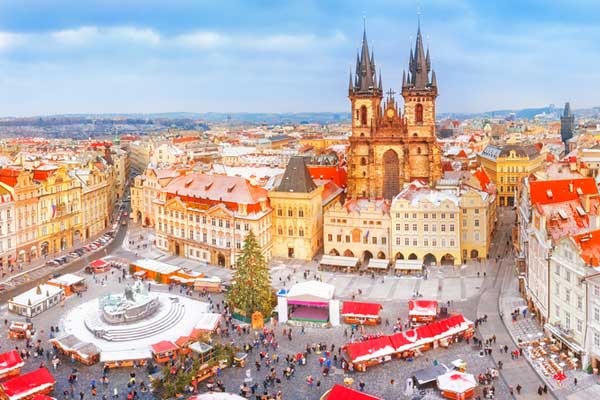 Not only is summer a favorite time to escape to the old world, but the Christmas/New Year's holidays in Europe (late November through early-January) have become the second "high season". Understandably so. Each European country has rich centuries-old holiday traditions, festivals, and markets—guaranteeing a Christmas season for the entire family to forever cherish.
I do have a few recommendations if your heart is set on Europe for the holidays. Prague, in the Czech Republic, truly becomes a winter wonderland showcasing the best European Christmas markets with their spectacular architecture lit with twinkling lights for the holidays as a backdrop. Nuremburg, Germany boasts 2 million visitors for their Christmas market highlighted by a steam train and a giant carved wooden Ferris wheel. Also, in Valkenburg, Netherlands they uniquely host their Christmas market in a cave. It is the largest subterranean market in Europe, arranged in a labyrinth of passages under the city.
Pushing winter high season even later is skiing in the Alps from Cortina d'Ampezzo, Italy to St. Moritz, Switzerland to Großer Arber, Germany and many points in between. Therefore, there is no shortage of winter entertainment.
That means getting to and staying at these winter hot spots comes at a hefty price. For example, a flight from Dallas to Nuremburg during the height of the holiday can push the airline ticket over $2,000 round trip. Even flying from an east coast hub like Washington, DC, I was not able to find a route cheaper than $1,200 (until after Christmas). Plus, you will be dealing with crowds, difficult-to-find hotel rooms, and snowy winter weather, which can disrupt travel.
Traveling to Europe in the Shoulder Season: The Advantages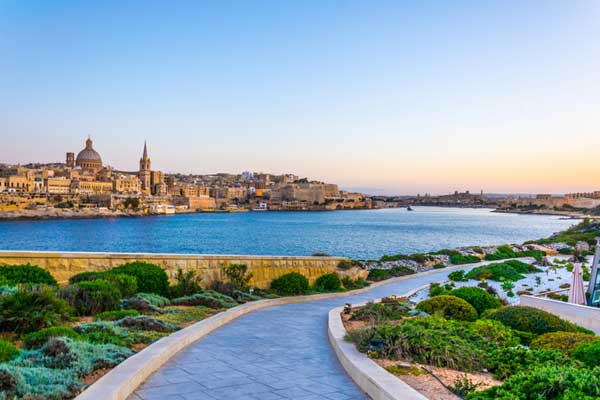 Shoulder Season was a term coined by the travel industry in the 1960's to promote off-peak travel. It specifically targets Europe's "light heating" season or spring and fall. If you are looking for bargains and less tourists, this is the time to trek to Europe.
The same routes I mentioned at Christmas drop down to the $500 to $600 range for a round trip ticket. Each of those Christmas cities are more costly routes. So, I researched the sample flight New York to Rome. I found prices as late into shoulder season as early May for just $340 round trip.
1. Weather
The weather in Europe in spring and fall is fairly temperate. Especially in the Mediterranean countries. You won't experience those uncomfortable heat waves, nor will you have to deal with snow and bitter cold. During my trip to Poland we had an unexpected cold front in September. The evenings required a coat, but the daytime highs crept up to a comfortable upper 60's/low 70's F.
2. Deals
Not only will you find great airline prices from North America, there are also a good number of discount carriers who fly within the European continent (Ryanair, Wizz, EasyJet, GermanWings, Pegasus to name a few) for as low as $30 one way. So why wouldn't you want to see all you can and hop from London to Paris to Rome to Athens?
Hotels and Airbnb flats also drop rates as much as 50% in shoulder season. I was searching for a long-term one-bedroom apartment in Valletta, Malta in 2020. In April, the nightly rate was listed for €58 and it jumped up to €110 in August for the same place.
3. Crowds
As you might have guessed, it will be a lot easier to capture that Trevi Fountain picture you want to post on social media during shoulder season. But seriously, the crowds can be sparse. While in Poland we spent a somber day touring Auschwitz Concentration Camp. It is one of the most visited destinations in the country and the number of tours swell in high season. We were not required to rush through or wait in long lines—having time to pause and reflect on this troubled time of Europe's history.
4. Color
Another reason to visit Europe in shoulder season is for the colors and nature. Everything is blooming in the springtime. For example, the Floriade Tulip Festival in the Netherlands is a must-see for any anthophile. And fall also features its amazing colors throughout the continent as the leaves change September through November.
With all of Europe's charm, there is truly not a "bad" time to visit. Each season has its trade-offs.  It simply comes down to what fits your budget, timing, and desires. But trust me on the shoulder season deals.
Get Your Free Report on Europe Here:
Learn more about countries in Europe and other countries from around the world in our daily postcard e-letter.
Simply enter your email address below and we'll also send you a FREE report - All the Charm and Romance of Europe…at a Price You Can Afford.
Related Articles
Europe's Top 5 Affordable Retirement Havens
11 Places in Europe Where You Can Retire on $35,000 a Year
5 of Europe's Best Hidden Beaches
Upcoming Conferences
The Only 2023 Fast Track Costa Rica Conference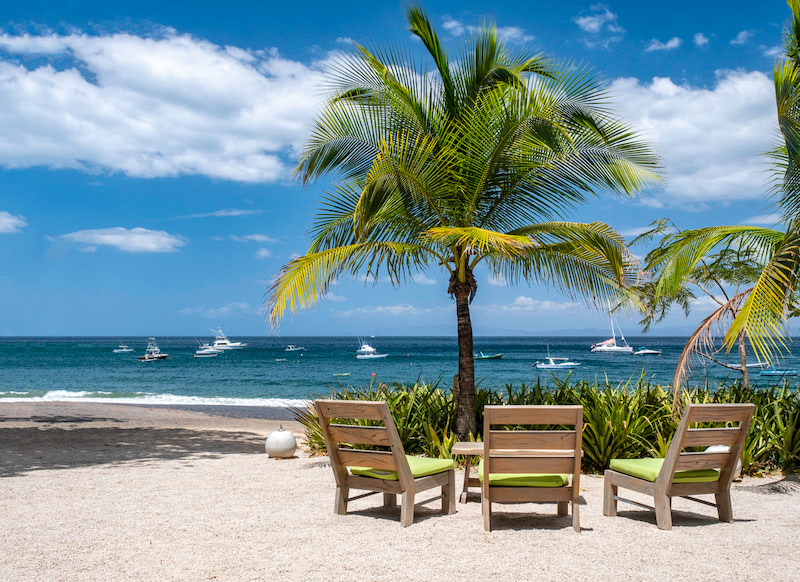 If your dream retirement involves stunning beaches… lush green mountains… a perfect year-round climate… first-rate healthcare… incredible value for money (a couple can live well on $2,109 a month—including rent!)...
Join our Costa Rica experts and expats in June and discover true Pura Vida.
REGISTER NOW, SEATS LIMITED: EARLY BIRD DISCOUNT HERE
---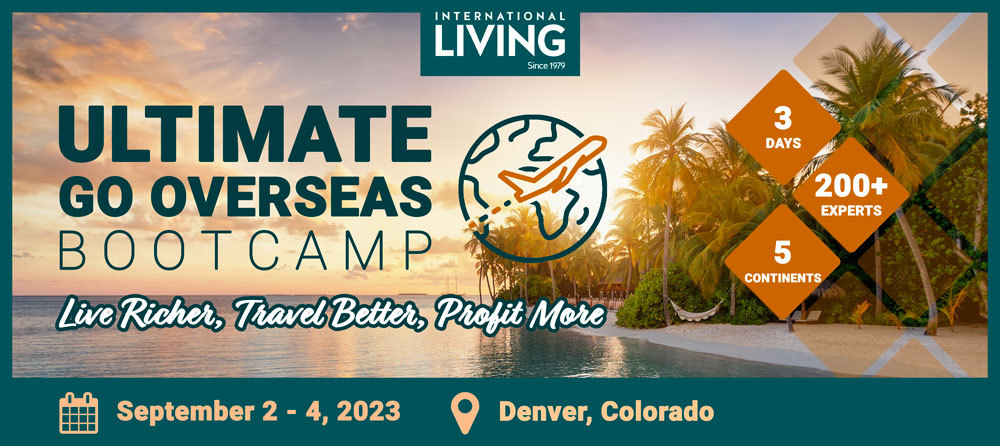 Most Popular Products