Standing on a path overlooking the Neuschwanstein Castle, we could hear the clip-clop of horses' hooves. A pair of chestnut-colored horses stomped past me and my husband, pulling a carriage carrying visitors. While the animals were a handsome pair, it was the scene of the medieval-style castle—and its towers and turrets—that held our attention. The autumn colors framing Neuschwanstein were also magnificent: evergreen and deciduous trees mingling, resulting in a sea of amber, green, and gold-colored leaves. The sky was a brilliant turquoise, with only a few fleecy clouds, bringing to mind the blue-and-white-flag of Germany's Bavaria region.
Bavaria—Germany's largest state—is well-known for its castles and palaces. It's also home to pristine forests, snow-capped mountains, charming towns, spirited festivals, and hearty cuisine. I've called Germany home for more than 12 years, but still, I've only scratched the surface of Bavaria. Since the state's attractions are many, in this article I will only focus upon a handful of spots in Southern Bavaria (Oberbayern), including castles, the city of Munich, and several tiny towns with rich histories and abundant nature
King Ludwig's Fairy Tale Castles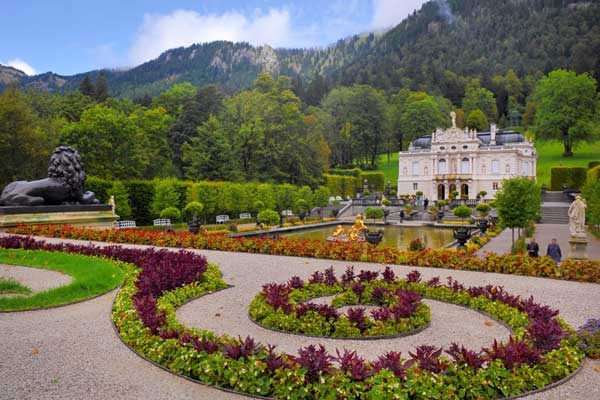 Bavarian castles are often said to be the stuff of fairy tales. However, when you learn more about King Ludwig II, who was instrumental in building many of them, these palaces actually seem better suited as the backdrop of a Hollywood drama or murder mystery.
Eccentric Ludwig is said to have admired France's resplendent royal buildings. Wanting to emulate his idol Louis XIV but also to create cultural attractions in Bavaria, Ludwig ignored his advisors' concerns about bankrupting Bavaria and went ahead and commissioned several palatial structures. Eventually, Ludwig was declared insane and deposed. He died in 1886, at the age of 40. Even today, it's still debated if Ludwig's drowning was accidental or something more sinister. However, one thing is for certain—Ludwig's extravagant castles did become tourist magnets. It's estimated that more than 130 million people have visited.
The most famous of Ludwig's castles is Neuschwanstein (which in turn inspired Walt Disney's signature castle nearly one century later). Relatively new, at least by European standards, Neuschwanstein sits on a rocky ridge near the town of Füssen. Ludwig actually grew up nearby, in a yellow palace named Hohenschwangau.
Ludwig also built lovely Linderhof, which is smaller than Neuschwanstein. What it lacks in size, Linderhof makes up with unique outbuildings. One of them is the Venus Grotto, an artificial grotto and lake. The grotto resembles the set of Tannhäuser, an opera composed by Richard Wagner, a composer beloved by Ludwig.
Elsewhere in Bavaria is Herrenchiemsee, which is modeled after France's Versailles. Built on an island in the middle of a lake, Herrenchiemsee even has its own opulent Hall of Mirrors—but it's longer than the one in Versailles.
Munich—the City of Art and Beer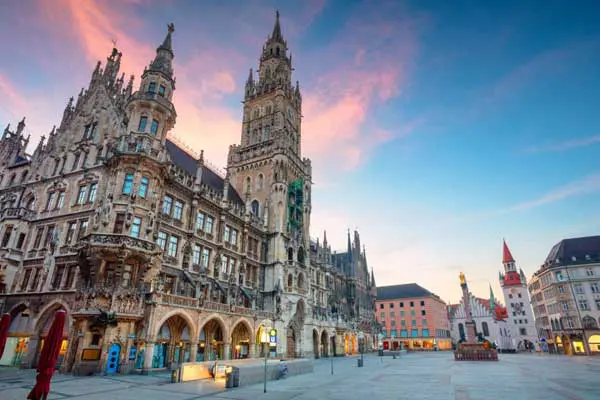 Dubbed the "city of art and beer," Munich is home to 1.5 million people, exceptional museums and restaurants, graceful green spaces, regal buildings, beer gardens, and Oktoberfest—one of the world's most famous festivals.
A great spot to get your bearings is the Marienplatz, a large square in central Munich. Several times a day, a mechanical clock on the Rathaus (Town Hall) sounds, setting into motion a blend of bells and colorful figurines. The spectacle depicts historic Munich scenes, including a royal wedding.
A few minutes' walk from the Marienplatz is the Frauenkirche, a 15th-century brick church with towers that are topped with onion-shaped domes. Also nearby is the Hofbräuhaus, Munich's—and perhaps the world's—most famous beer hall. I've been here a few times and I've never seen the Hofbräuhaus in anything but a lively state. Inside, you can enjoy a hearty meal and a 1-liter glass of beer (called a Mass). You can also sway to the animated tunes of a brass-band with musicians dressed in Lederhosen (leather shorts) or Dirndls (a traditional dress usually worn with a puffy-sleeved blouse). There are five other big breweries in Munich, including AugustinerBräu, Hacker-Pschorr, Löwenbräu, Paulaner, and Spaten-Franziskaner-Bräu.
Munich is consistently rated as being one of Germany's—and the world's—most livable cities. Part of these accolades are due to Munich's many green spaces. Two of my favorite spots for strolling include the grounds of the Nymphenburg Palace (notably the birthplace of King Ludwig II), and the Englischer Garten. Dating back to the 18th century, the English Gardens are one of the world's largest urban parks. With lakes and meadows, the gardens are naturally popular with walkers, joggers, and picnickers. But this park has eclectic offerings too, including a Japanese teahouse, the Chinesischer Turm (a pagoda-like tower with a 230-year-old beer garden inside), and a Greek-style temple called the Monopteros. On a body of water called the Eisbach, you'll even find surfers riding a wave—not something you'd expect to see in Germany's third-largest city.
The Resort Town of Garmisch-Partenkirchen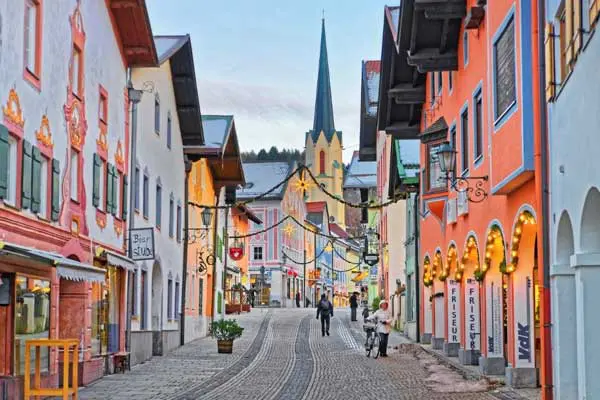 Located 60 miles southwest of Munich, Garmisch-Partenkirchen (host of the 1936 Winter Olympics) is one of Germany's most famous resort towns. The accolades are well-deserved due to Garmisch's superb mountain views, fresh air, storybook architecture, boutiques, and ample opportunities for spa treatments and natural pursuits. Some of the most popular are skiing, hiking, biking, and swimming.
South of Garmisch-Partenkirchen is Germany's highest mountain, the Zugspitze. You needn't be an alpinist to climb this 9,718- foot beauty as there's both a cable car and a cogwheel train to whisk you to the top. If the weather is agreeable, you'll be able to see mountain peaks in Austria, Germany, Italy, and Switzerland from the summit. In addition, visitors to the Zugspitze can enjoy cheese fondue, a glass of champagne, and even spend a night in the imaginative ice hotel, the IgluDorf.
Back in town, another worthwhile experience is a walk through the magnificent Partnach Gorge (Partnachklamm). A powerful river rushes through this natural landmark, which is made all the more dramatic by the 282-foot-high walls that enclose it.
After you've worked up an appetite, it's time for a bit of comfort food. One of my favorite restaurants in Garmisch-Partenkirchen is the Riessersee restaurant, with views of a lake and snow-capped mountains that will leave you feeling like you're admiring a painting. Another delightful culinary experience can be had at the Berggasthof Almhütte, a cozy guesthouse that's a favorite among locals. It's nestled in the forest and serves savory fare. But many people simply come for the Windbeutel—indulgent creampuffs that are garnished with strawberries.
400 Years of Passion Plays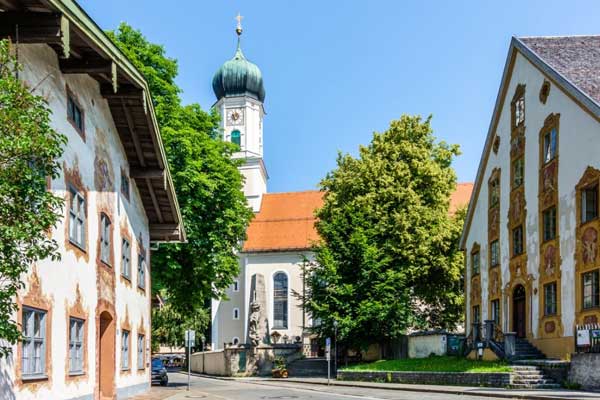 The village of Oberammergau is celebrated the world over for its nearly 400-year tradition of staging a passion play. According to historical accounts, Oberammergau residents made the vow to perform this story of Jesus' life if God prevented further deaths from the bubonic plague. The villagers have held to this promise since 1634, with their vow only being interrupted by war and the COVID-19 pandemic. Over the past centuries, kings, presidents, generals, and famous writers have attended. The next Oberammergau Passion Play will be staged May to October 2022. It's expected to attract hundreds of thousands of visitors from around the world.
The Passion Play is only held once a decade. However, even during non-Passion Play years, Oberammergau is a popular destination for nature lovers, shoppers looking to buy a woodcarving (nativity scenes are especially sought-after), or visitors wanting to see its quaint buildings, which are painted with murals called Lüftlmalerei. Some of the best examples can be found on the whimsical Hansel and Gretel House, as well as the Little Red Riding Hood House. Other town landmarks, like the 18th-century Pilatushaus, feature religious murals. The Pilatushaus also hosts local artisans as they demonstrate traditional Bavarian crafts such as reverse-glass painting, woodcarving, and gold embroidery work.
Violins and Nature Walks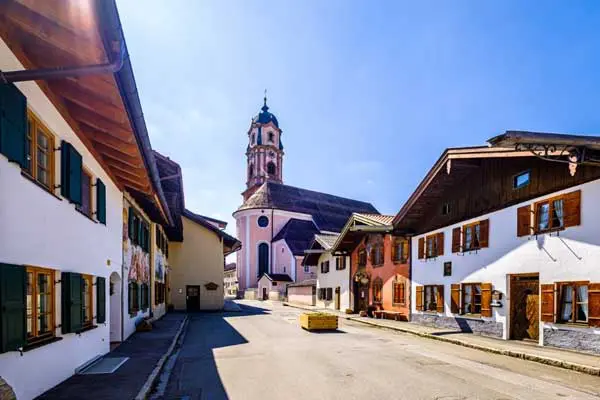 Centuries ago, the German poet Goethe declared Mittenwald to be a "living picture book." That idyllic description still holds true today, thanks to Mittenwald's alpine setting, beautifully painted homes, frescoed baroque church, and the calming sound of the tiny stream that passes below its cobblestoned main street.
Mittenwald has long been known as a violin-making center. In the 1680s, following his apprenticeship in Italy, Matthias Klotz opened Mittenwald's first violin workshop. His descendants continued with the family trade—even Mozart is reputed to have played a violin produced in their workshop. The Geigenbaumuseum (Violin-Making Museum) showcases Mittenwald's violin-making history. Stringed instruments are on display, and you can also learn how a violin is handcrafted. Several Mittenwald craftsmen continue to carry on the town's tradition of violin-making. You can visit some of these workshops, but an appointment is recommended.
Beyond violins and attractive architecture Mittenwald is a great launching point for nature lovers. One of the best ways to experience Mittenwald's mountainous surroundings is via the Karwendelbahn. In seven minutes, this cable car whisks you up to Germany's highest nature information center. At the mountain station there's also a unique lookout (which resembles a gargantuan wooden telescope), as well as a restaurant. This is also a great place to begin a hike.
Need to Know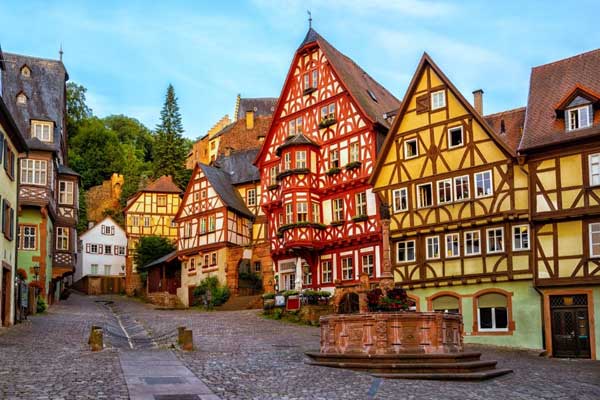 Getting There: Bavaria (Bayern) is one of Germany's 16 states. Located in Southeastern Germany, it borders Austria, the Czech Republic, and Switzerland. Bavaria is well connected by flights, trains, and highways. For those arriving from abroad, Munich International Airport provides excellent connections. Likewise, you can fly into Frankfurt International Airport or Salzburg International Airport, and drive or take a train.
Getting Around Bavaria: Bavaria, like Germany as a whole, has an excellent transportation network. Deutsche Bahn, Germany's railway company, offers money-saving passes for each state. The Bayern-Ticket allows you to make an unlimited number of trips within Bavaria in one day. It costs €33 ($40) for two passengers. During my 10 years living in Germany, I made trips both with my car or solely via mass transit. If you'll be primarily visiting cities, you might find it easier traveling without a car. Germany's city centers are usually walkable, and local transportation is typically very good. If, on the other hand, you're on a tight schedule or intend to visit areas unsupported by mass transit, you might opt to drive. While the popular belief is that there aren't any speed limits on Germany's legendary Autobahn, some sections of the roadway do restrict speeds. Note that cities and towns usually charge an hourly fee to park your car.
When to Go: Bavaria experiences four seasons and stages festivals year-round. When temperatures get hot in lower-lying areas during the summer, mountain towns offer a cooler getaway, as well as ample opportunities for cycling, hiking, or swimming in Alpine lakes. Bavarian winters are typically cold, but you'll find an abundance of sports such as downhill and cross-country skiing, plus snowshoeing. Annual events in Bavaria include Maypole-hoisting festivals, summer folk festivals replete with brass bands, and colorful horse and cattle processions during autumn. Munich's world-famous Oktoberfest runs from mid-September until the first week of October, and during the lead-up to Christmas, many Bavarian cities host Christmas markets. For a comprehensive list of events, see Bavaria's official website.
Where to Stay: From Gasthäuser (guest houses) in tiny towns to sophisticated hotels in Munich, Southern Bavaria has a wide range of accommodation offerings. Munich's family-owned Laimer Hof Hotel is a mid-range option located a few minutes' walk from the Nymphenburg Palace. Housed in a 19th-century villa, the Laimer Hof offers a breakfast buffet and convenient access to a tram stop. For something luxurious, the Hotel Bayerischer Hof features fine dining options, a spa, and a gym. Established in 1841, it's located just footsteps away from stately gardens and the celebrated Residenz. If you'd prefer to escape the big city, the serene town of Oberammergau is the perfect place for a nature-filled holiday. The Villa Asih is a charming three-bedroom property located about a half mile from Oberammergau's center. With its pretty gardens and whimsical woodwork, the Villa Asih looks like a gingerbread house.
What to Drink: Bavaria is known the world over for its beer, which was originally brewed in monasteries. Today, Bavaria produces more than 40 types of beer—all brewed without additives, stabilizers, or coloring agents. Some of the most popular varieties are Weissbier (wheat beer), Bockbier (a strong tipple), Helles (a light Lager), Pils (notable for its hops flavor), and Radler (beer mixed with lemonade). Wine is also produced in the Bavarian region of Franconia, with white grapes being the most common. Some white varietals to be on the lookout for include MüllerThurgau, Silvaner, and Riesling (my favorite). For reds, try Spätburgunder and Domina.
Get Your Free Report on Europe Here:
Learn more about countries in Europe and other countries from around the world in our daily postcard e-letter.
Simply enter your email address below and we'll also send you a FREE report - All the Charm and Romance of Europe…at a Price You Can Afford.
Related Articles
Best Places to Live in Germany
Popular Articles You May Also Like