Indonesia is a nation comprising over 18,000 islands, and is known for its array of beaches, many of which are ideal surf havens. Each year surfers from all over the world flock to the islands in search of the perfect wave and an idyllic holiday.
One of the benefits of surfing in Indonesia is the amazing number of world-class surf breaks scattered across the countless islands. This is what keeps many die-hard surfers returning year after year.
Lombok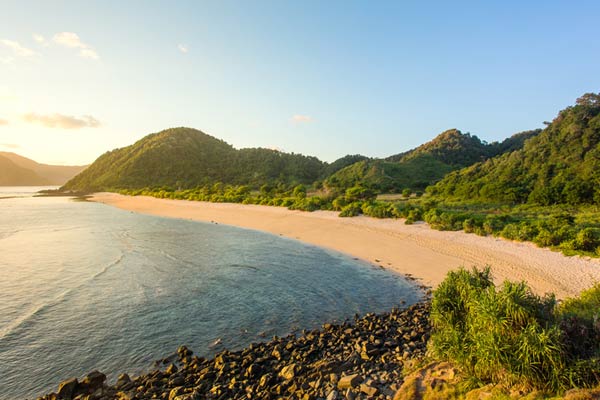 Lombok has some of the most beautiful scenery; it's similar in size to Bali, with a southern coastline exposed to the Indian Ocean. It's this coastline that provides some of the best surf spots across Lombok. The most famous break is "Desert Point" and it's arguably one of the best left in the world. It can also be treacherous, so it's recommended for experienced surfers only and definitely not for swimmers. Accommodation in this area is basic, with a few homestays on the beach; you could also find more options in the neighboring town of Bangko-Bangko.
Kuta on Lombok is the most accessed base for surfers and can be reached easily from the island's main airport or by fast boats, which depart from Bali regularly. The best breaks here can be found during the wet season after the trade winds have gone. On Kuta beach, you'll find open white sand, but in low tide some of the reef and rock pools can be exposed. There are many homestays and hotels for accommodation and wide range of restaurants and local warungs for dining in Kuta.
Mentawai Islands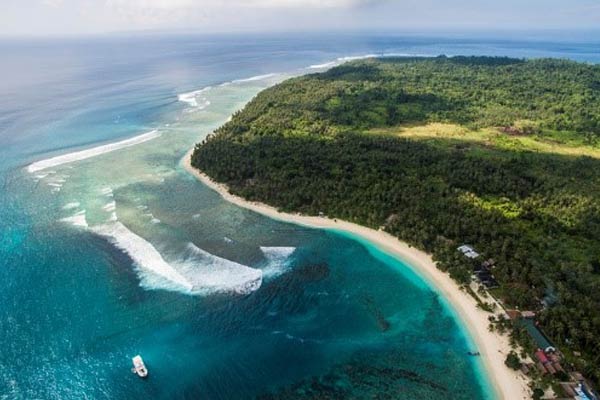 The Mentawai Islands, located about 90 miles off the west coast of Sumatra, are considered the holy grail of surf breaks. They're a stand out with incredible waves, warm water, and accessible land-based accommodation. The Mentawai islands first became popular in the 1980s and 90s, and ever since then the islands have been sought after by surf travelers around the world. There are many different breaks to choose from, and most have featured in many surf movies over the years, which is why it's not odd to see camera crews at this location occasionally.
There are quite a few private surf charter operators in this area and most operate from Padang Harbor on the island of Sumatra. This is also where you'll catch your ferry to the islands if you're going direct. The land-based accommodation ranges from surf camps to high-end resorts with Macaronis being the stand out.
The best time to visit the Mentawai Islands depends on your capabilities, expect epic waves April to October and mellow, cruisy waves December to February. The Mentawai people are one of the oldest tribes in Indonesia, with a self-sufficient culture.
Java
This island is more known for its bustling cities and sacred archaeological sites; however, you'll also find some spectacular surf as well. There are three areas to take note of on Java— East Java, West Java, and Central Java. All of these areas seem to be best between April and November when the offshore trade winds blow in.
One of the most respected spots in Java is Grajagan Bay, otherwise known as G-land.
Located on the southern tip of Java, it was first discovered as a surf haven in the 1970's by an elite group of surfers. Grajagan is considered a world-class surfing spot, with a 10,000-foot drop off, a coral reef, and exposure to the Indian Ocean all contributing to the perfect wave. The beach at G-Land is unspoiled white sand and fringed with a lush jungle where you can still see wildlife exist and at night, you'll hear it.
There are two ways to get to Grajagan Bay, with the easiest option being a fast boat from Kuta in Bali. The trip by boat will take you about two hours. The other route is by car, heading up the west coast of Bali where you'll board a ferry to Ketapang. This trip can take from seven to 10 hours and is usually made overnight.
Balinese Surfer Bobby Radiasa began a surf camp in the late '70s and still runs this camp today, and these days there are around five other surf camps to choose from. You'll also find basic hotel rooms nearby.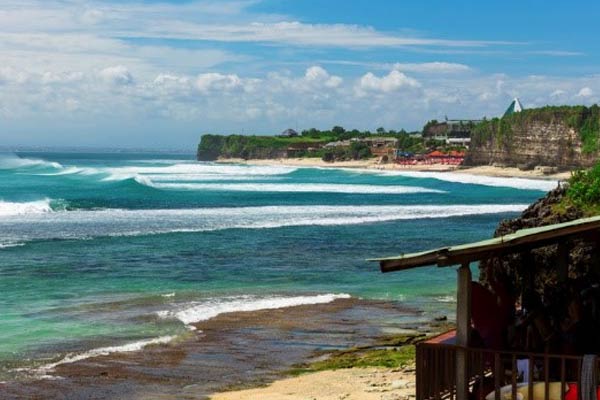 Indonesia's tourist hot spot, famous for its volcanic mountains, iconic rice paddies, an array of beaches, and the amazing Hindu culture. Thousands of travelers, expats, and surfers flock to the island annually and have done so since the 1930s. White sandy beaches to the south and black volcanic sand to the north, all of the beaches are spectacular.
As for surfing opportunities, there are many to choose from, reef breaks for the experienced surfers and many more calm spots for the intermediate and beginners. If you want to be shown the best stops, there are a number of surf camps or guided tours to ensure you make the most of your visit.
The Bukit Peninsular, the southern tip of Bali, is where the best-known surf spots are found. Not too long ago, many of these places were hard to find, but they're now very popular for surfers and swimmers. Balangan, Bingin, and Green Bowl just to name a few, are easily accessible, but some can be affected by the high tide so do your research first. Many of the beaches in this area are at the bottom of cliffs, so steps are unavoidable. They all have beachside warungs serving traditional local food and cold drinks, and most have sunbeds giving you a break from the surf.
Head 30-minutes north of Sanur and you'll find Keramas beach and Komune Resort. This beach was once only surfed by those in the know, but it's slowly become a popular spot. Keramas is recommended for the experienced surfer and there's a reef that you need to be aware of. Many local surfers love to share their knowledge, so sit and have a chat before hitting the waves. Accommodation is available at Komune resort, and there are a few homestays and surf camps in the area. Keramas beach has also been home for quite a few pro-surfing events over the last few years.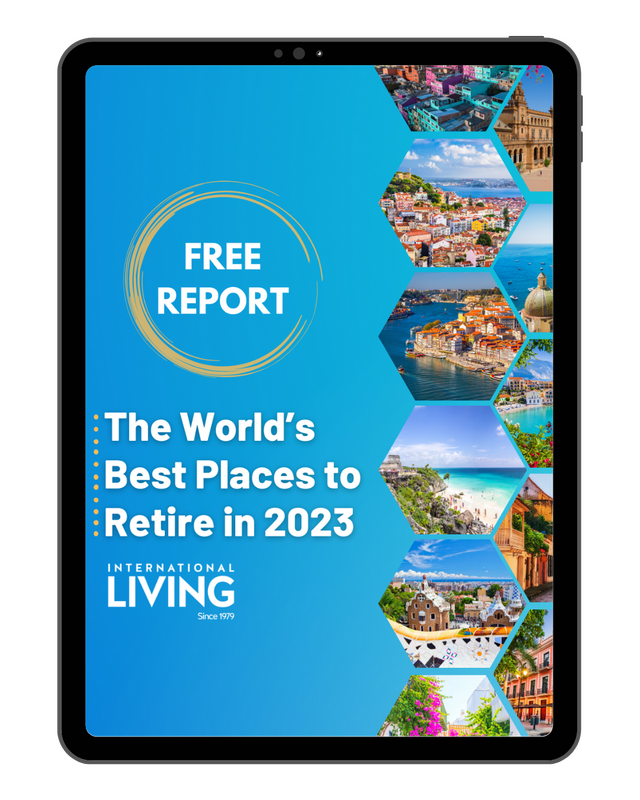 Get Your Free Report on the World's Best Places to Retire:
Learn more about the best places in the world to retire in our daily postcard e-letter.
Simply enter your email address below to sign up for our free daily postcards and we'll also send you a FREE report on The World's Top 10 Retirement Havens, plus access to over 10 more free reports. Our gift to you, on our favorite destinations.
Related Articles