Thanks to consistent, high-quality waves and a variety of breaks, Costa Rica has been one of the world's top surfing destinations for decades. It's famous for breaks like Ollie's Point, Witch's Rock (made famous in the movie Endless Summer 2), Salsa Brava (site of many national surf contests), and Little Hawaii. You'll find waves for all surfers here, from pro level to beginner-friendly.
With low costs, good-value real estate, and a great climate—with highs in the mid-80s F to mid-90s F during the day year-round and cooling off at night—Costa Rica has a lot to offer out of the water, too. And don't forget the warm and friendly Costa Rican people. There's a saying in the country: Pura Vida. It translates literally to "pure life." But it's more like "life is good," and it's an attitude locals and visitors alike share.
There are world-class surfing beaches up and down the 800 miles of Caribbean and Pacific coastline. And the waters in Costa Rica are warm throughout the year here, so you can leave that wetsuit at home.
But here are five of the best surf towns in Costa Rica:
1. Dominical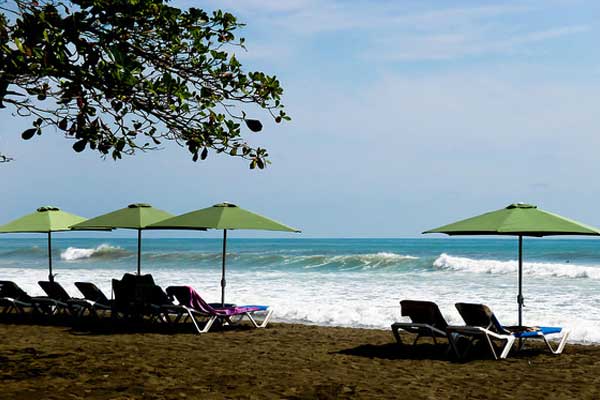 Costa Rica's southern Pacific coast is one of its most beautiful regions. Tall mountains drop dramatically to the coastline. Rainforests here abound with wildlife like capuchin and howler monkeys, sloths, and coatimundis (long-tailed relatives of the raccoon, with an upturned nose and an insatiable appetite for garbage).
Dominical is known for its powerful waves (a hollow beach break) best left to experienced surfers. Just to the south in Dominicalito, it's calmer. It's a funky little beach town, with a few open-air eateries and handicraft vendors in the shade of palm trees. You can buy fresh seafood off the boat. You'll pay about $10 a kilo (2.2 pounds) for red snapper or sushi-quality tuna. And be sure to check out roadside stands for ceviche—fish marinated in lime juice, with peppers, onion, and coriander. A heaping cup costs $3.
A simple one-bedroom cabin in the secluded rain forest and a short drive to the beach is listed at $600 a month. Also available is a two-bedroom villa, surrounded by nature and wildlife, is available for $900 a month. Both are furnished.
2. Jacó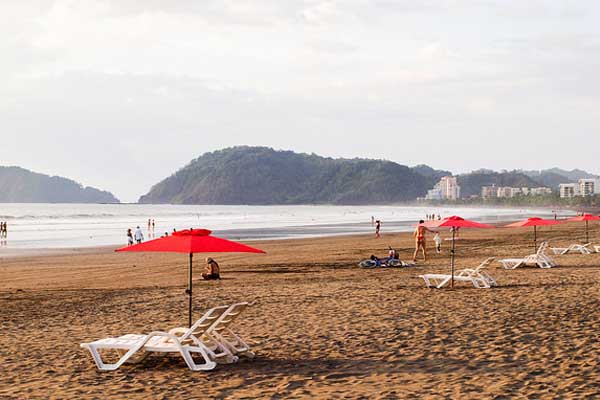 To the north of Dominical, about 1.5 hours by car, is the central Pacific coast beach town of Jacó. At two hours, it's the closest major beach destination to Costa Rica's capital, San José. and the most populated region, the Central Valley. That proximity—and the large beach and fun off-beach activities—has made it popular with Tico travelers, as well as "gringo" tourists and expats. It has condos and hotels looming over the sand and a long pedestrian friendly avenue lined with restaurants, bars, and shops.
Once known as party hotspot, Jacó has become much more family friendly in recent years and has seen major residential and high-end commercial development, including an outdoor mall and a mixed-use commercial, hotel and condo project. It has all the modern conveniences you might need, like gyms and health clubs, a sizable medical clinic, hardware stores, and more. Plus, the big city, with its international airport and warehouse club shopping, is just down the road in San José.
The town is arranged along a miles-long beach that curves gracefully along a wide bay. The waves here are good throughout the year—a beach break best during high tide. It's a great place to learn and for beginners to practice as well. So you'll find many surf schools. And it's a great launching off point for surf trips to nearby Playa Hermosa and Playa Esterillos—you could even make Dominical in a day trip.
Within walking distance to the beach and the heart of town is a two-bedroom home with pool that features tropical landscaping. It's $1,050 a month. A one-bedroom condo, furnished, is available for $700 a month. There is a community pool and well-landscaped common areas, and you can walk to the beach.
3. Tamarindo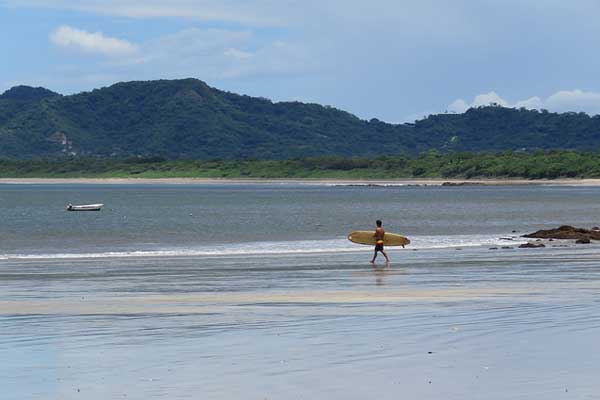 Lying on the country's north Pacific coast, Tamarindo features several breaks along its long, gracefully curving beach. Gentler, more beginner-friendly waves are to the south, and more powerful waves are near the river mouth. It's an ideal jumping-off point to Playa ("beach" in Spanish) Grande, just across the river, as well as to Playa Avellanas and Playa Negra, about a half-hour south. This is where I learned to surf. With the many surf schools and board rentals in town, my skills improved quickly with daily practice.
Beach bars and restaurants line the sand in Tamarindo, offering the perfect setting for sunset viewing. In town you have chic boutiques, spas, and restaurants. For filling Costa Rican meals, you'll pay about $5. Double that price for international dishes.
There are a variety of condos available in Tamarindo, within walking distance of the beach, which is handy for surfing. Two bedrooms start at around $800 and go up from there—check with local real estate agents and vacation rental management companies for long-term rates.
Witch's Rock Surf Camp is a hotel, restaurant, beach bar, microbrewery (be sure to try the pale ale—that's my favorite), surf school, surf shop, and tour company all rolled into one. They'll take you in a shuttle to the famed breaks of Ollie's Point, an hour to the south, and Witch's Rock, an hour to the north, reachable by panga (small open boat with outboard motor) only.
4. Playa Cocles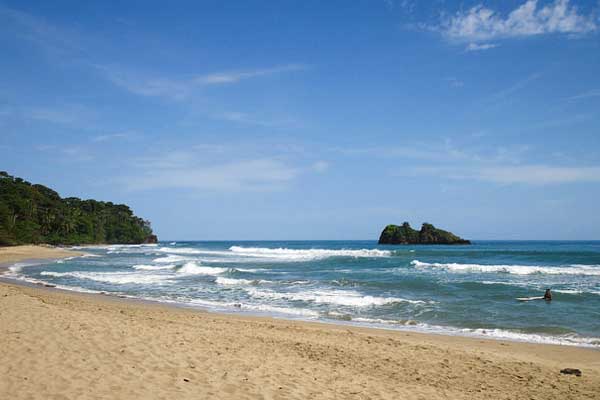 Switching gears, we hit Costa Rica's Caribbean coast, which is the country's least developed area—and its most bohemian. Considering how laidback all of the coastal areas are, that's saying a lot. You won't find big resorts or hotels, tall condos, or gated communities cluttering the environment. It's mostly jungle and beach, with small villages, boutique hotels, and open-air restaurants, small shops, and yoga studios.
The nearby town of Puerto Viejo de Talamanca has plenty of places to stay, eateries (you must try the spicy and savory local Caribbean dishes), and cool shops and bars to explore, as well as the few essential services like banks and medical clinics you'll find in this region, which stretches all the way to the Panama border to the south.
Cocles itself is just one of many beaches along this stretch of coast. There's a cluster of restaurants and small hotels here, which is considered one of the best surf spots in the country. The break, called Salsa Brava, is a hard and fast left reef break, with powerful beach breaks as well. Not for beginners. It's no wonder it hosts some of Costa Rica's biggest surf tournaments each year.
When you're not surfing, you can go sport fishing for snapper, scuba diving, and snorkeling at tropical fish-filled reefs right off the beach (at beaches to the south), check out sloths and capuchin monkeys in the jungle, and just laze away the day in a hammock.
Because many of the locals are descendants of Jamaican immigrants from a century ago, English is widely spoken, and reggae music is heard as often as Latin tunes from car stereos, dance clubs, and speakers.
Real estate is limited in this area because of its small size and lack of development. But there are some options. A one-bedroom furnished villa in the jungle and near the beach is listed at $830 a month. In Puerto Viejo, just down the road from Cocles, is a one-bedroom apartment surrounded by tropical gardens for $500 a month, furnished.
5. Nosara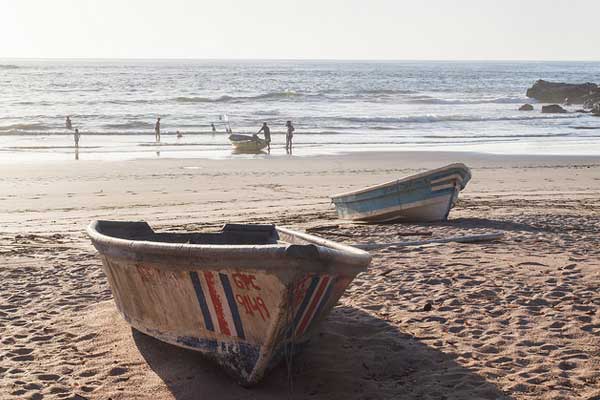 On the Nicoya Peninsula is little Nosara. It's a charming town that has been a well-known surf spot for many years. Nicoya is a center for yoga, alternative healing practices, and healthy living. Homes, shops, and restaurants are spread out in the forest along the coast, with sandy roads snaking between the trees.
The main surfing beach, Playa Guiones, has a beach break surfable at all tides, with multiple line-ups. It's virtually undeveloped, thanks to a large wildlife refuge that protects nesting sea turtles. Just the water, beach, and grass-covered dunes. It's one of my favorite beaches for that reason. Just be sure to pack your own drinks and a sunshade, as there are no stores nearby…and certainly no loungers and umbrellas for rent.
A studio villa with large porch, furnished, is listed at $700. It's walking distance to the beach. For $1,200 per month during high season, December to January, you can get another studio also close to the beach.
Get Your Free Costa Rica Report Here:
Learn more about Costa Rica and other countries in our daily postcard e-letter. Simply enter your email address below and we'll send you a FREE REPORT – Costa Rica: The Land of Pura Vida
This special guide covers real estate, retirement and more in Costa Rica and is yours free when you sign up for our IL postcards below.
Related Articles
Maps of Costa Rica: Best Beachside and Mountain Towns
Best Places to Live in Costa Rica: Five Top Expat Havens
There Are Many Reasons to Move to Costa Rica
Upcoming Conferences
Make 2023 Your Best Year Yet. Discover Panama with International Living

Panama has it all: beaches, mountains, a world-class capital city, top-notch, low-cost healthcare and the "World's Best Retirement Program" that makes the already low cost of living even more affordable.
Join us for International Living's Fast Track Panama Conference to see all that Panama offers. There's no better place to be and no better way to make 2023 your best year.
Most Popular Products