Thanks to consistent, high-quality waves and various breaks, Costa Rica has been one of the world's top surfing destinations for decades. It's famous for breaks like Ollie's Point, Witch's Rock (made famous in the movie Endless Summer 2), Salsa Brava (site of many national surf contests), and Little Hawaii. You'll find waves to suit all types of surfers here, from pro-level to beginner-friendly.
With a pura vida vibe, good-value real estate, and a great climate—with highs in the mid-80s F to mid-90s F during the day year-round and cooling off at night—Costa Rica has a lot to offer out of the water, too. And don't forget the warm and friendly Costa Rican people, and you, too, can adopt the "life is good" attitude that locals and visitors are happy to share.
There are world-class surfing beaches all along the 800 miles of the Caribbean and Pacific coastline. And the waters in Costa Rica are warm throughout the year—you can leave that wetsuit at home.
Educating yourself about an area before surfing is always key. Before you go out in the water, analyze the beach. For example, you should know the tide schedule, the location of rip currents, and where there are rock formations. Asking the locals is your best bet.
Rest assured, there is something for everyone regarding surfing in Costa Rica; kids and retirees alike can take a surf lesson. Beach towns are filled with surf schools with experienced instructors, where you can rent and buy shortboards, longboards, SUP, and boogie boards. Many Facebook groups are helpful when trying to learn about local shops. I often ask for recommendations and get many responses. I love how surfing immerses me in nature, enjoying the beauty and power of the waves.
Here are five of the best surf towns in Costa Rica:
1. Dominical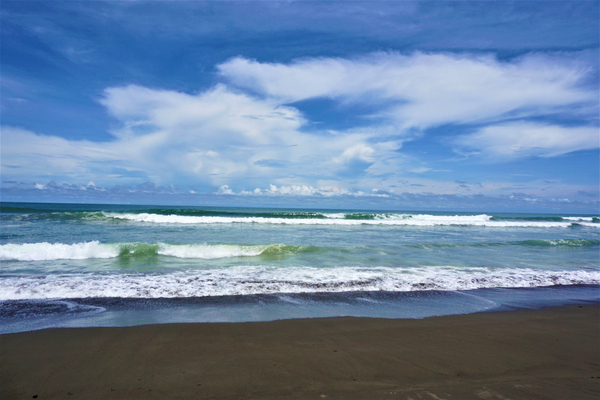 Costa Rica's southern Pacific coast is one of its most beautiful regions; tall mountains plunge dramatically, giving way to the beautiful coastline. Rainforests here abound with wildlife like capuchin and howler monkeys, sloths, and coatimundis (long-tailed relatives of the raccoon, with an upturned nose and an insatiable appetite for garbage). The area is lush year-round due to its high humidity.
Perched upon this coastline, Dominical is a funky little beach town with a few open-air eateries and handicraft vendors in the shade of palm trees. Its off-the-beaten-path vibe may make it easy to miss, but this sleepy town is a surfer's dream.
Dominical is known for its powerful waves (a hollow beach break), best left to experienced surfers. Some call Dominical the most consistent surf spot in the country. Like most beaches in Costa Rica, low tide means no rideable waves, but the high tide can produce impressive barrels (the hollow part of a wave when it's breaking). Just to the south in Dominicalito, literally called 'little Dominical,' it's calmer.
You can buy fresh seafood off the boat, and only pay about $14 per kilo (2.2 pounds) for red snapper or sushi-quality tuna. And be sure to check out roadside stands for ceviche—fish marinated in lime juice with peppers, onion, and coriander. A heaping cup costs $5.
A one-bedroom ocean-view apartment about a 10-minute drive to the beach is listed at $1,200 a month. A two-bedroom home with a great mountain view, surrounded by nature and wildlife, and 15 minutes from the beach, is also available for $1,900 a month. Both are furnished.
2. Jacó (and Hermosa)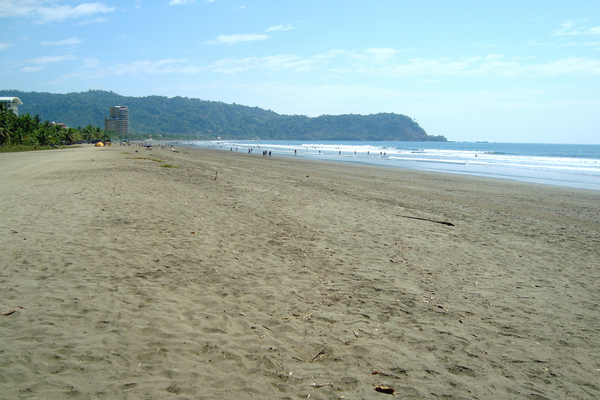 To the north of Dominical, about 90 minutes by car, is the central Pacific beach town of Jacó. At two hours, it's the closest major beach destination to Costa Rica's capital, San José, and is based in the most populated region, the Central Valley.
That proximity, and the large beach and fun off-beach activities, have made it popular with tico travelers, as well as "gringo" tourists and expats. It has condos and hotels looming over the sand and a long pedestrian-friendly avenue lined with restaurants, bars, and shops.
Even though Jacó is referred to as a party hotspot, it has become much more family-friendly in recent years. Opportunities are increasing with residential and high-end commercial development. Jacó has all the modern conveniences you might need, like gyms and health clubs, a sizable medical clinic, hardware stores, and more. Plus, the big city, with its international airport and warehouse club shopping, is just down the road in San José.
The town is arranged along a two-and-a-half-mile-long beach that curves gracefully along a wide bay. The waves here are consistent throughout the year, and breaks are best during high tide, making it a great place to learn and for beginners to practice. And there are many surf schools to choose from.
If you are in the area, Jacó is a great launching point for surf trips to nearby Playa ("beach" in Spanish) Hermosa and Playa Esterillos—you could even make Dominical in a day trip.
It is worth mentioning Playa Hermosa in more detail since it is right down the beach from Jacó. Richard Lyons, who owns Pedro's Surf Shop in Playa Tamarindo, says, "The waves are bigger and steeper in Hermosa, compared to Jacó, and are often amazing. Hermosa is a big beach break with powerful waves." Richard first came to Costa Rica in 2005 on a surf trip and decided to invest in the country and open a surf shop in 2008.
About five minutes from Jacó beach, there's a long-term one-bedroom rental in a gated community with a pool and gym for $1,100 a month. Another rental in Herradura, close to the beach with a community pool and well-landscaped common areas, costs $1,200 monthly for a two-bedroom, two-bathroom.
If you're set on ocean and sunset views, you can rent a beachfront property, such as a 1,400 square foot two-bedroom, two-bathroom in Jacó, for $2,500 a month.
3. Tamarindo and its Surrounding Areas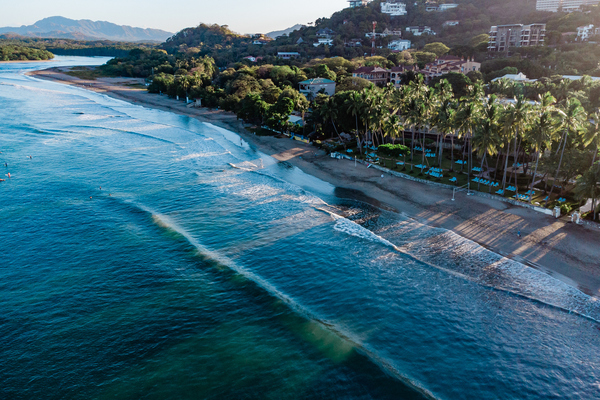 Lying on the country's north Pacific coast, Tamarindo features several breaks along its long, gracefully curving beach. There are gentler, more beginner-friendly waves to the south, and more powerful waves are near the river's mouth. Because it's a bay—making it more protected —Tamarindo is a great place to learn, so you'll find many surf schools here. I should know, it was the beach where I learned to surf! I guarantee you'll find many options to purchase and rent boards in this area.
Beach bars and restaurants line the sand in Tamarindo, offering the perfect setting for sunset with friends any day of the week. Music festivals throughout the year add to the already prevalent nightlife scene. In town, you have chic boutiques, spas, and restaurants. The area has plenty of clinics; health care services are top-notch.
Tamarindo is a mostly sandy-beach break, and one section has lifeguards. "When giving surf sessions in Tamarindo, I can stand on the ocean floor, allowing me to give guidance while pushing and helping out my students easily. When students stand up on waves, everyone is excited," explains Sofie Kyséla, owner of Tuanis Surf School.
Tuanis is a local slang word representing a generally good sense of well-being. It also embodies what Sofie wanted to create when she moved to this area from Sweden in 2017; a surfing community empowering women.
Witch's Rock Surf Camp is a popular hotel, restaurant, beach bar, microbrewery, surf school, surf shop, and tour company all rolled into one in Tamarindo. That name is famous in the surfing world, and many instructors offer excursions, for more advanced surfers, to the famed breaks of Ollie's Point, an hour to the south, and Witch's Rock, over an hour to the north, reachable by panga (small open boat with outboard motor) only.
There are a variety of condos available in Tamarindo, within walking distance of the beach, which is handy for surfing. It is more challenging to find a rental in Tamarindo these days. A two-bedroom rental starts at around $2,000 (on the low end, especially in high season), but a one-bedroom can cost about $1,300 a month.
If you are looking for quieter or more affordable options, Tamarindo's surrounding area may be for you. Many visit Villarreal, Santa Rosa, Brasilito, Playa Potrero, or Playa Flamingo for more options. When you move away from Tamarindo proper, you will most likely need to invest in transportation since places will be more spread out. Import taxes make cars in Costa Rica a costly expense.
In Villarreal, you may get lucky and find a small unfurnished one-bedroom apartment for rent for $600 a month. On the other hand, Playa Flamingo now has a world-class marina, and a lovely three-bedroom condo with a pool just minutes from the white sandy beach costs $3,500 a month.
Tamarindo is an ideal jumping-off point to many other worthy surf points, especially for those with more experience. 
Playa Langosta is accessible through Tamarindo. "Langosta has a place where you can surf right on top of the rocks or by the river. Or you can surf the beach break where there are almost no rocks. Yet I don't recommend the beach break there for beginners because the waves break really steep," Richard Lyon shares his expertise.
Playa Grande, just across the Tamarindo river mouth, has something for everyone. "Casitas has a nice little wave that is super fun for beginners," Sofie adds, "but at high tide, its wave gets big, too big for lessons. Generally, Playa Grande has fast and hard waves, suitable for short boards."
Playa Grande is less built up than Tamarindo, as it is surrounded by Las Baulas National Park, which was created to protect the famous leatherback turtle nesting site.
Playa Avellanas and Playa Negra are a 30-minute, usually bumpy ride south from Tamarindo.
"Playa Negra has a wave that is too far out for me to take a beginner since it takes a lot of paddle strength to reach the wave," Sofie explains. Richard says "Negra is a consistent place to find barrels. In addition, Playa Avellanas can be a good beginner beach too. It's a big beach break, so you can see peaks to surf all down the coast."
When it comes to real estate, Playa Grande is booming; there's so much construction in this area. A 1.29-acre ocean-view lot close to the surf is on the market for $136,000. In Playa Negra, a jungle 0.24-acre mixed lot (meaning there is no limit to the number of buildings you can build) costs $39,000.
4. Talamanca (the Southern Caribbean Coast)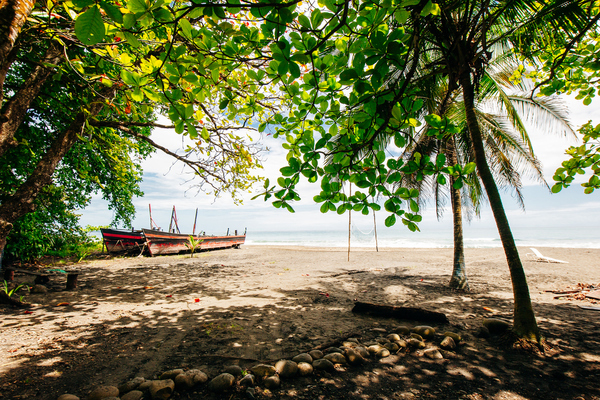 Switching gears, we arrive at Costa Rica's Caribbean coast, the country's least developed area—and most bohemian vibe. You won't find big resorts, hotels, tall condos, or gated communities cluttering the environment. It's mostly jungle and beach, with small villages, boutique hotels, open-air restaurants, small shops, and yoga studios.
The nearby town of Puerto Viejo de Talamanca has plenty of places to stay and yummy local cuisine, such as rice and beans made with coconut milk, highlighting that Caribbean flair. You'll find excellent shops and bars to explore, as well as the few essential services like banks and medical clinics in this region, which stretches to the Panama border to the south.
In this region, you can surf Cocles, Puerto Viejo, and Manzanillo along this stretch of coast. "The road there is good because it's asphalt along the beaches. Or you can strap your board onto a bike and travel to different beaches that way," reminisces Sofie, thinking about her last trip to the area. "In the Caribbean, there are many more breaks around rocks, and the waves are more challenging."
The water is different on the Caribbean coast, and the prime surfing season is from December to April, with a few swells in July.  When it is wet in the northwestern part of Costa Rica, from August through October, the Caribbean coast experiences dryer weather.
"The waves come in closer together on the Caribbean side, so it's harder to paddle out, and there is much more duck diving. I experienced my first rip current on the Caribbean coast, too," Richard shares.  Rip currents are something to always be aware of while in Costa Rica, and look out for local signs warning about them.
In Cocles, there's a cluster of restaurants and small hotels here, considered one of the best surf spots in the country. The break, called Salsa Brava, is a hard and fast left reef break, with powerful beach breaks as well—not for beginners. It's no wonder it hosts some of Costa Rica's biggest surf tournaments yearly.
Because many locals are descendants of Jamaican immigrants from a century ago, English is widely spoken. Reggae music is heard as often as Latin tunes from car stereos, dance clubs, and speakers.
Real estate is limited in this area because of its small size and lack of development. But there are some options to buy available. A simple wooden mountain-view home is available for $110,000 in Cocles.
In Puerto Viejo, there is a property with three bungalows walking distance from the beach for $235,000.  Renting out one or two of the bungalows would be a great way to earn income on your investment.
5. Nosara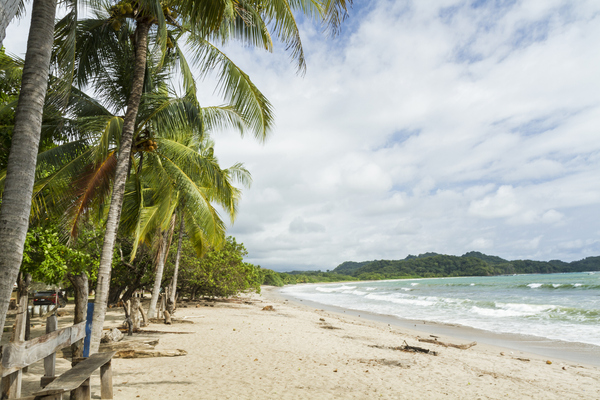 On the Nicoya Peninsula is little Nosara, a charming town that has been a well-known surf spot for many years. Nicoya is a center for yoga, alternative healing practices, and healthy living. Homes, shops, and restaurants are spread out in the forest along the coast, with sandy roads snaking between the trees.
The main surfing beach, Playa Guiones, has a beach break surfable at all tides, with multiple line-ups. This area is virtually undeveloped, thanks to a large wildlife refuge that protects nesting sea turtles. Yep, you'll find water, sand, and grass-covered dunes here. Make a day out of it, pack your drinks and sunshades, and head out for beach time to enjoy nature.
Playa Guiones offers a consistent right and left beach break with 4.3 miles of long white sand. Although its waves are usually the perfect shape for any surfer, it is essential to note that the waves can reach up to 10 ft depending on the swell.
"This area contains lovely little beach towns with a low-key vibe. From my perspective, it's very earthy, vegan, and alternative, less commercialized than other areas," Sophie shares. "Samara (about 20 miles south of Nosara) is a little bay with smaller, rounder, gentler waves."
In Nosara and Samara, various property managers can help you find two to three-bedroom condos or houses anywhere from $1,500 to $2,000 a month. This area has started to gain popularity over the past few years, especially for a younger crowd and families, so prices continue to rise.
Get Your Free Costa Rica Report Here:
Learn more about Costa Rica and other countries in our daily postcard e-letter. Simply enter your email address below and we'll send you a FREE REPORT – Costa Rica: The Land of Pura Vida
This special guide covers real estate, retirement and more in Costa Rica and is yours free when you sign up for our IL postcards below.
Related Articles
Maps of Costa Rica: Best Beachside and Mountain Towns
Best Places to Live in Costa Rica: Five Top Expat Havens