Mexico is the oldest wine-producing country in the Americas dating back to the 1500s, but it wasn't until the 1970s when foreign investors began looking for new opportunities that the Mexican wine industry started to see growth. The Baja region was already well established, but the interior of Mexico provided high altitude and hot days/cold nights that were perfect for vineyards.
In the early 16th century, the Spanish brought their religion, culture, and viticulture to the New World and established missions and vineyards from Puebla to Monterrey. While there were already native grapes in Mexico, Spanish grape varietals flourished. By the late 17th century, Mexico was producing vast quantities of wine and Spanish wine imports were down. Because of this, the King of Spain Charles II prohibited wine production in Mexico in 1699 except for religious purposes. This wine prohibition would last until the end of the Mexican War of Independence in 1821, but the people of Mexico had already shifted their interest and consumption to brandy, beer, tequila, and mezcal.
Today, Mexico's wine production can be divided into three main regions. The North encompasses the Baja Peninsula and Sonora. Laguna stretches across Northern Mexico from Chihuahua to Valle de Parras. Central Mexico includes the Altiplano and Bajio regions in the states of Querétaro, Guanajuato, Aguacalientes, Zacatecas, and San Luis Potosi.
Both states of Guanajuato and Querétaro are popular tourist destinations for their colonial architecture and historic centers. Each has developed its own Ruta de Vino to promote the wineries in their regions. Guanajuato's Ruta de Vino stretches from the western side of Dolores Hidalgo to the eastern side of San Miguel de Allende. Querétaro's Ruta de Arte, Queso y Vino lies between the third largest monolith in the world in Bernal and the sleepy little cheese and wine town of Tequisquiapan.
What's fascinating about the wineries in these two states is not that they produce familiar varietals, but that they are experimenting with lesser-known varietals and blends to compliment Mexican tastes and cuisine. The consumer market in Mexico is small and wine is still considered a luxury for the wealthy. Areas with a large middle class such as Querétaro, are warming to the idea of wine tasting on the weekends, and it is quickly becoming a favorite pastime for young adults and wise middle-agers. Winemakers began by making fruity wine to appeal to the newest generation of wine consumers but are changing their focus to drier wines that work better with a variety of cuisines.
The large temperature swings between daytime and nighttime in the Central region give these wines more acidity than the wines from Baja. Summer is the rainy season in the Central region and can lead to many challenges. Late rains can cause lower sugar levels and mold to grow on the grapes, and summer hailstorms can damage the vines and smash the fruit before it can ripen. Wineries will often net their vines to offer some protection from hail and birds, and many winemakers prefer grapes that ripen early to reduce the chance of late rains affecting the harvest.
Thick-skinned grapes like Cabernet Sauvignon, Malbec, and Syrah resist rain and hail damage, and as wineries gain knowledge about their vineyards, they are branching out to experiment with other varietals. While Baja is known for a rich, opulent "wine style", the Central region makes wines with classic acidity and structure reminiscent of European wines. In Spain, Rioja is recognized for its Tempranillo, and Argentina is renowned for Malbec, but in Mexico, you may see these two varietals blended together to compliment Mexican cuisine.
Wines in Mexico are typically not aged more than two years in the barrel. Wine is not stored in oak barrels as long as their European competitors for two reasons: one, all barrels are imported into Mexico and import duties make them twice as expensive as they would be in France or America, and two, heavily oaked wines clash with spicy Mexican cuisine. Older generations may enjoy going to a steakhouse and ordering an oaky red wine, but for barbacoa, pozole, and chile en nogada, you need something a little more fruit-forward without being sweet, plus the right amount of acidity and tannin from oak aging.
Wine festivals are common throughout the year in Guanajuato and Querétaro. In late spring, Tequisquiapan has its annual Feria Nacional del Queso y el Vino. Harvest festivals known as vendimias take place from August through September. Wine festivals in both states start in March and end around November.
Wineries in San Miguel and Querétaro
Here are a few wineries to check out on your exploratory visit to San Miguel and Querétaro: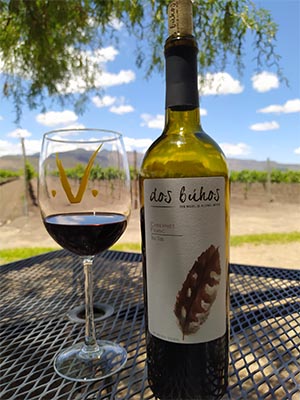 Vinedos Dos Búhos is a certified organic winery 10 minutes outside of San Miguel de Allende. This artistic hacienda-style winery has plenty of outdoor seating in full view of its vineyard. This winery is continuously experimenting with different varietals and is one of the few growing Aglianico and Cabernet Franc.
Cuna de Tierra is the most established winery in Guanajuato. It has won awards for its modern architectural style and produces some of the best Nebbiolo blends in the region.
The wine region of Querétaro is known for its sparkling wine thanks to Finca Sala Vivé by Freixenet México, a subsidiary of the Spanish Freixenet enterprise that chose this region for its microclimates back in the 1970s. They also have the most established wine tourism facility with a full production tour, tasting room, outdoor picnic areas, and host several wine festivals throughout the year. Check their website for monthly events.
Puerta del Lobos has discovered that the hills in the Colon valley northeast of Querétaro are better suited to white grape varietals like Sauvignon Blanc and Verdejo. They have separate summer and winter wine bars, a hotel, and one of the best restaurants in the state of Querétaro.
Other wineries are also experimenting with white grape varietals. Chenin Blanc, Chardonnay, Semillon, and Macabeo do well, and Bodegas De Cotea and Vinaltura are trying their hand at Gewürztraminer.
Reservations for winery visits are highly recommended. Wine and cheese tours by van or customized private wine tours to different wineries are available. Many of the wineries are only open a few days during the week, and English-speaking guides do not work every day.
Enotourism in both states is expanding to include hotels, cycling in the vineyards, wine bars just for tastings, and restaurants for those that want to enjoy a Saturday afternoon lunch in the countryside.
Get Your Free Mexico Report Here:
Learn more about Mexico and other countries in our daily postcard e-letter. Simply enter your email address below and we'll send you a free special report - Why Millions of Americans Are Moving to Mexico.
This special guide covers real estate, retirement and more in Mexico and is yours free when you sign up for our postcards below.
Related Articles
The Best Towns and Cities to Retire in Mexico and Central America