Anyone who travels through the Andalusia region of Spain will notice a peculiar similarity in the names of many of the towns and cities. Jerez de la Frontera, Arcos de la Frontera, Vejer de la Frontera, Morón de la Frontera, and others all have the words "de la Frontera" attached to their names. Although these words translate to "on the border" in English, there is absolutely no border in sight. In fact, the closest border to Spain is Portugal, over a two-and-a-half-hour drive or 146 miles from Jerez de la Frontera. Could this mean that Spanish cartographers were not good at their jobs or perhaps had been sipping too much Spanish wine? Or maybe there is another reason for this mystery?
Turn back the clocks by a few centuries to when these words made perfect sense. The frontier was simply the dividing line between the Islam and Christian territories at that time and not what we think of as a border today. Most of the frontier towns are located in the province of Cádiz and the largest one is Jerez de la Frontera.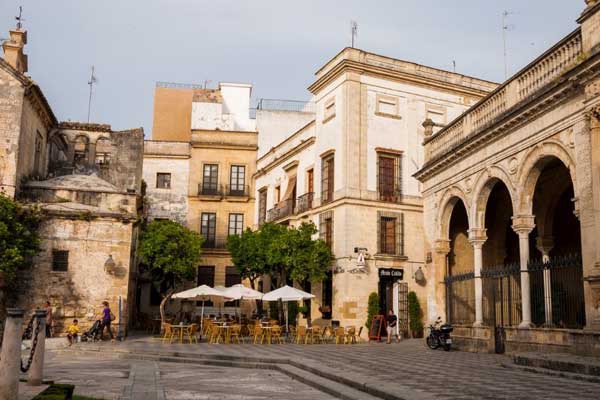 With a population of 213,000, Jerez is the largest non-capital city in the province of Cádiz and the fifth largest in the region of Andalusia. Through the years Jerez has become the transportation and communications hub of the province, surpassing even Cádiz, the capital of the province. The expansive area around Jerez spreads out to include fertile areas of agriculture, cattle ranches, horse breeding operations, and vineyards.
Each year in May the city welcomes tens of thousands of bikers from around the world who head to the Circuito de Jerez, where Grand Prix motorcycle racing events have been hosted since 1987. The same circuit has hosted Formula 1 Grand Prix events.
Besides motorcycle racing, Jerez is synonymous with Andalusian horses, the spectacular art of flamenco dancing, and sherry, a type of fortified wine.
The history of horse breeding in Jerez goes back to 720 BC when Berber horses were brought in from North Africa. The breed was refined through the centuries, mixing it with other breeds. In later years Carthusian monks began breeding horses, some of the best sub-breeds in Andalusia. In 1912 the best of the breed was given the distinction of "Pura Raza Española", translated as a pure Spanish horse. Today the majestic Andalusian horses with their slender, muscular build, slightly arched neck, and elegant head are recognized around the world.
Jerez is part of the sherry triangle which includes El Puerto de Santa Maria and Sanlúcar de Barrameda. The best place to experience and learn about sherry is at one of the local bodegas or wineries, and many offer tours with tastings. Sherry is a fortified wine made from white grapes that grow abundantly in the area. The word sherry comes from Xérès (Jerez) but was originally called sack, from the Spanish saca, meaning "extraction" from the solera, a vat used in the aging process.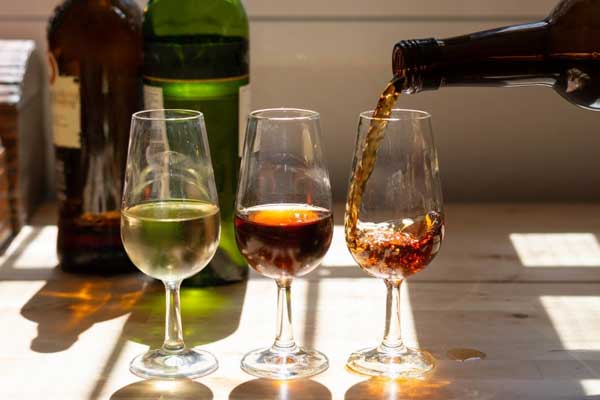 After a glass of sherry take a walk over to Iglesia de San Miguel, a church built between the 15th and 18th century. Inspired by Seville Cathedral, the richly adorned church combines a mix of architectural styles including baroque, Gothic, and Renaissance. The elaborately carved three-tiered, baroque bell tower is crowned with a tiled patterned roof. Entrance to the church is $7 with reduced rates for seniors and children.
Since Jerez is known for horses, a visit to the Andalusian School of Equestrian Art will delight horse lovers and animal lovers alike. One of the "big four," this school is considered to be one of the most prestigious riding academies in the world. The school is devoted to conserving the ancestral abilities of the Andalusians, keeping the tradition of baroque Spanish horsemanship alive, and training some of the best riders in the world for competition.
Visit the school to see how the horses train and take a self-guided tour of the facilities that encompass a palace, gardens, museum, and horse jumping shows. Entrance fees to the school start at $13 and prices to see a show start at $25 and increase to over $100.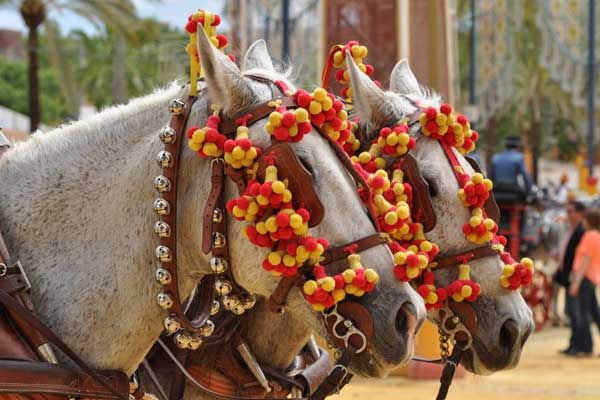 Famous for the art of flamenco dance, the Santiago neighborhood of Jerez is where visitors go to learn about this spectacular art form. Housed inside a beautiful 15th-century mansion is the Centro Andaluz de Flamenco, a museum that documents the history of this traditional dance style. Tour the grounds of the palace and breath in some Spanish culture, all for free.
Later that evening enjoy a heart-pounding flamenco performance at Tablao Casa del Arte Flamenco. This lively art form is a spectacular display of dance, music, song, and passion that will permeate your soul forever. Ticket prices start at $26.
No visit to Jerez would be complete without a stroll through the old town for some history and culture. A must-see for all visitors is the 11th-century Islamic fortress called the Alcázar. The former mosque turned chapel opens into an expansive patio with a Moorish feel. Lush gardens dominated by fountains, flowers beds, and a well-preserved Arab bath with cute star-shaped openings in the ceilings designed to let in sun are quite impressive. Climb up to the ramparts and walk along the wall overlooking the city.
Not far from the Alcázar is the immense Jerez Cathedral, built in the 17th century with a combination of baroque, Gothic, and neoclassical styles. Standing on the site of a former mosque, then a church, before it was completed to look as it does today. The bell tower was said to have been erected on the spot that a minaret once stood. Ticket prices start at $6 for general admission with reduced prices for seniors and children.
Video Tour of Jerez de la Frontera
Get Your Free Spain Report Here:
Learn more about Spain and other countries in our free daily postcard e-letter. Simply enter your email address below and we'll also send you a FREE REPORT - Live the Good Life in Sunny, Affordable Spain.
This report covers real estate, retirement and more in Spain and is yours free when you sign up for our IL postcards below.
Related Articles
There Are Many Reasons for Moving to Spain
Five Places to Live in Spain; Two to Avoid
Two Beautiful Small Towns to Live in Spain
Upcoming Conferences
Make 2023 Your Best Year Yet. Discover Panama with International Living

Panama has it all: beaches, mountains, a world-class capital city, top-notch, low-cost healthcare and the "World's Best Retirement Program" that makes the already low cost of living even more affordable.
Join us for International Living's Fast Track Panama Conference to see all that Panama offers. There's no better place to be and no better way to make 2023 your best year.
Most Popular Products
Popular Articles You May Also Like