Mui Ne is a small beach resort village along Vietnam's south-central coast about halfway between Ho Chi Minh City and Nha Trang. The town consists of one main road lined with resorts, restaurants, bars, and shops that stretches about six miles along the beautiful, palm-lined South China Sea coast.
Mui Ne has the driest, most agreeable weather in Vietnam, with an average 310 days of sunshine each year and pleasant breezes every day. The powdery coastal sand extends up to 20 miles inland.
You'll find some of the best surf and prettiest beaches in Vietnam here, but there's a lot more to do in Mui Ne than soak up the sun.
Sled the Sand Dunes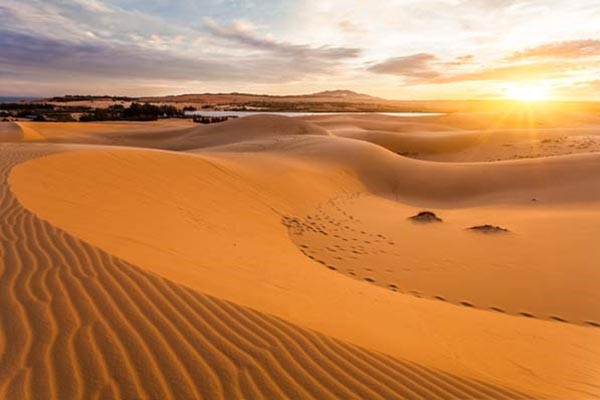 Mui Ne has two main areas with impressive Sahara-like sand dunes. These dunes are responsible for Mui Ne's unique climate; the breeze coming from the ocean mixes with the hot, dry air that comes off the dunes, creating a microclimate where prickly-pear cactus, dragon fruit, and other dry-weather flora flourish.
The Red Dunes, which are closest to town, are perfect for sand-sledding and a favorite location for photography, especially during sunrise and sunset when they radiate an intense fiery-red hue. Local children are happy to rent sleds for about a dollar; they'll teach you how to use them and laugh hysterically when you take a tumble.
Though the Red Dunes are a popular attraction, the area is large enough that it's quite possible to find a spot by yourself to take memorable photos or simply contemplate the striking landscape around you.
The appropriately named White Sand Dunes are 18 miles northeast of Mui Ne. This huge expanse of towering, shifting dunes is peppered with several picturesque small lakes, marshes, and the occasional pine tree grove. Dune buggies are available for hire, though you can experience the barren landscape—it's best at sunrise and sunset—on your own for free. The wide-open expanse of sand lends itself well to kite flying, and local families often come here in the afternoon for a picnic.
Enjoy Some Kitesurfing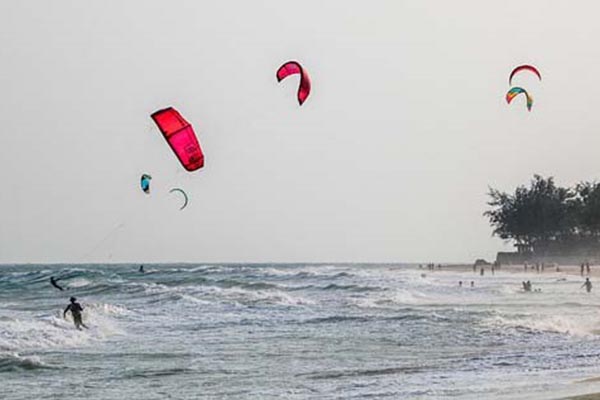 Mui Ne is one of the top places for kitesurfing in all of Southeast Asia. The nearly rock-free beach, constant breezes, and sunny weather all but insure good kitesurfing conditions. The area experiences an average of 227 days each year with winds over 12 knots. Hon Rom Beach, in the central part of the village, is the busiest beach for kitesurfing, with the best conditions occurring between October and May. Suoi Nuoc Beach, which is on the way to the White Sand Dunes, experiences the best wind and waves from July through October. You'll find several schools offering kitesurfing instruction as well as equipment rentals in and around Mui Ne. Annual surfing and stand up paddleboard competitions are hosted by Jibes Beach Club, which also offers lessons starting at about $45 per hour. Mui Ne attracts fans of the sport from all over the world; many return here every year to take advantage of the reliably excellent conditions and affordable prices.
Visit the Ancient Cham Ruins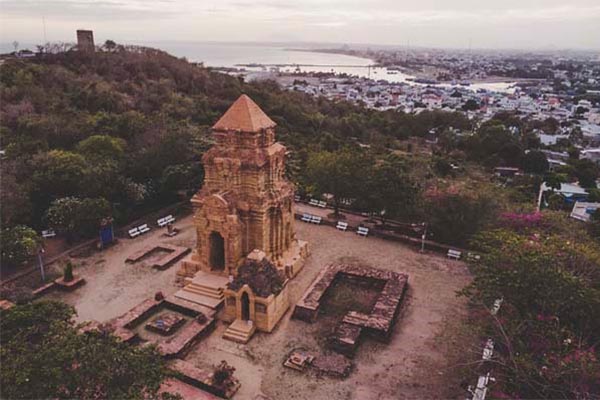 Mui Ne is a district of the bustling city of Phan Thiet, where you'll find the best medical care and other services in the area. It's worth going there to see the Poshanu Cham Tower, built in the late 8th century when the area was a part of the Champa Empire. The Cham, who resided along Vietnam's central and southern coasts, built a group of temples honoring the Hindu deity Shiva on what is now the outskirts of Phan Thiet. The temple complex is just 10 miles from the center of Mui Ne. Most of the ancient structures are in ruins, but one impressive brick-red stone tower containing an altar inside is in good condition, and two other temples are also on the site. Though they no longer have their empire, many Cham descendants come to the towers every year to worship and practice their age-old rituals.
A short trail beyond the towers leads up a small hill to an old fortress built by French and South Vietnamese troops in the 1940s. You can explore the remains of the fortress, which looks out over the ocean. On a clear day, the view is spectacular.
Go Hot Air Ballooning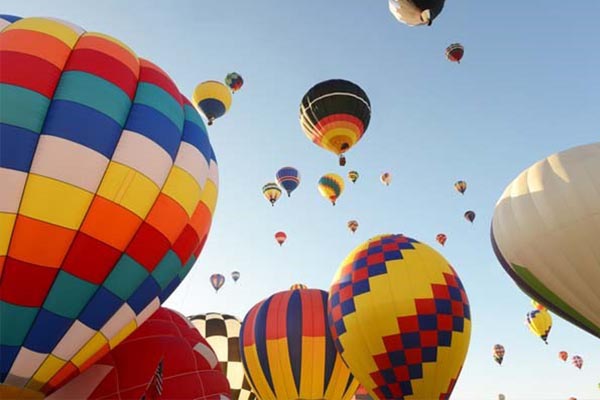 Mui Ne is the only place in Vietnam where you can tour in a hot air balloon. You'll get a birds-eye view of the White Sand Dunes and the intriguing geometry of dragon fruit plantations and the country's largest solar power installation. Flying in near silence, 1,800 feet above the ground, you'll look down upon gliding coastal birds, copses of coastal pine trees, pristine desert landscapes, mysterious roads and tracks, and the glory of the sun rising over the South China Sea. These tours begin about an hour before sunrise—it takes 45 minutes or so by van to reach the lift-off point—and they finish with a champagne toast.
Eat, Drink and Be Merry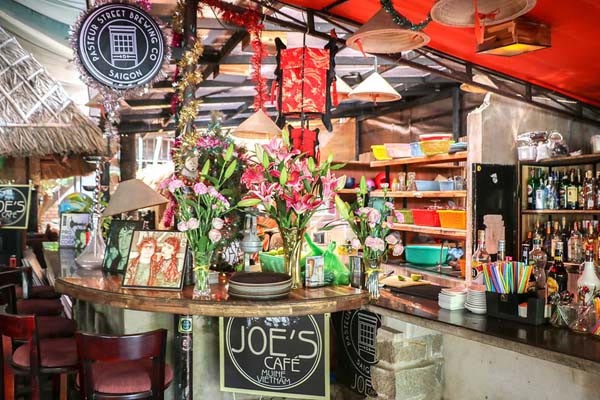 Take a small town, add a gorgeous beach, big waves, and a thriving tourism-based economy, and you have a recipe for good times. Mui Ne is packed with restaurants and bars to suit every budget and taste.
Most resorts have beachfront restaurants and bars, and the more luxurious hotels offer fine dining and buffets. Other restaurants around the village serve high-quality Vietnamese fare, as well as Japanese, Chinese, German, Australian, Mexican, and American cuisine.
There are many "Bờ Kè" restaurants along the main road; these places specialize in fresh seafood at incredibly low prices. They're popular with Vietnamese holidaymakers, but hungry foreigners love them, too,
If you're on a tight budget, Lam Tong serves great seafood and Vietnamese food, and the Dong Vui Food Court offers a more international cuisine (think Portuguese Piri Piri and kangaroo steaks). Dinner for two at either place costs less than $10.
Joe's Café offers live music every evening (blues is the genre most nights) and several other bars and restaurants along the beach offer live music on weekends and holidays.
The entire coast is open to the public. Relax in a chaise lounge with a cold drink and soak up the sun, join a volleyball game or listen to DJ music while sipping cool drinks. There's always something to do in Mui Ne.
Related Articles
Visas and Residence in Vietnam