"Come as guests, leave as friends."
This is Cindy and Dan Hines' motto. It fits perfectly into the laid-back Caribbean island lifestyle they live on Cozumel, Mexico's largest island. A lifestyle many people dream of. Which is why the Riviera Maya in the Mexican Caribbean is one of the top destinations in Mexico chosen to retire to.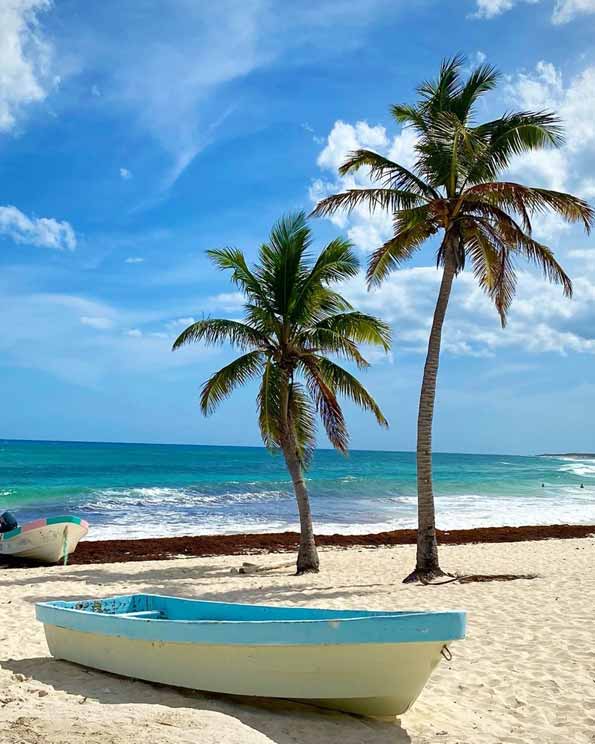 Yes, there are swaying palm trees, sugary white-sand beaches, and those gorgeous Caribbean blues you can sit and look at for hours. In fact, it's a popular game. See how many blues you can name when gazing at the ocean. I'm lucky enough to live here too and I've counted 14 blues ranging from the light turquoise near shore out through cerulean and cobalt to the deeper azure and sapphire hues.
Ocean Love and a Caribbean Wedding
When I asked, "What bought you to Cozumel?" Dan smiled and pointed at Cindy and Cindy smiled and said "the ocean."
One of the world's top dive destinations, Cozumel is full of water sports, fun in the sun, and some of the clearest high-visibility water worldwide. It is a paradise for ocean lovers and nature lovers alike. But it's not all about the deep blue sea. There's plenty of other stuff to see and do around the island like Mayan ruins, tequila tastings and tours, horse riding, free walking tours, sunset sails, and over 350 restaurants to satisfy any cravings you may have. That's the tip of the iceberg.
Being avid divers, exploring the world's second largest barrier reef–Mesoamerican Barrier Reef–coral reefs, swaying sea fans, and tropical marine life was the reason for Cindy and Dan's first visit to Cozumel. They are not the only ones. It's a story told again and again as you meet expats from all over the world.
"I came to dive and fell in love with the island," Cindy said. This is why Cindy and Dan fit so beautifully into the local spirit. Their deep-seated respect for the ocean and nature slips seamlessly into the mentality of the Cozumeleños, the local Cozumel community.
Cozumel stole their heart so much so that the northern Colorado couple decided on a Caribbean beach wedding. The perfect place to take their vows while digging toes into the warm sand and sunset.
Their House Funds Their Dream Life
A fun ocean theme is beautifully woven through their three-bedroom home. Its name, Los Alcatraces, the calla lilies. Cindy and Dan fell in love with Los Alcatraces when they stayed as guests. So, when the owners decided to sell it was time to take the leap and move from Colorado to Cozumel.
Costing in the high $200,000's, the initial purchase investment has already paid off. The property, due to location and renovations, has already increased in value by about forty percent in three years.  A new paint job, some renovations, and a fun ocean-loving theme turned Los Alcatraces into one of the top boutique hotels/guesthouses on Cozumel. It's currently sitting at #3 on TripAdvisor.
A wide smile broke out when Cindy told me "we were awarded TripAdvisor's Top Travelers Award in 2021 which is only bestowed on the top ten percent of establishments worldwide."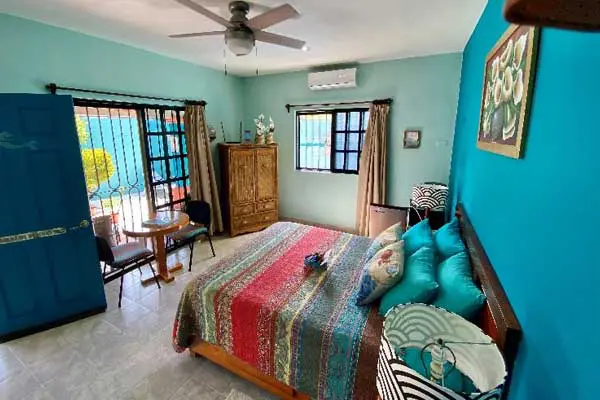 Perfectly complementing their beloved Caribbean blues, Los Alcatraces' cheery, golden sunflower-yellow walls uplift and relax the guests. Loving to support the local community, a neighboring young girl and budding artist hand-painted the finishing touches for Cindy and Dan.
I had to laugh out loud seeing the fun sign that said …
"A Salty Pirate Lives Here with His Beautiful Mermaid."
On the wall outside their bedroom door so privacy isn't an issue. All guests know that is the main house where Cindy and Dan live.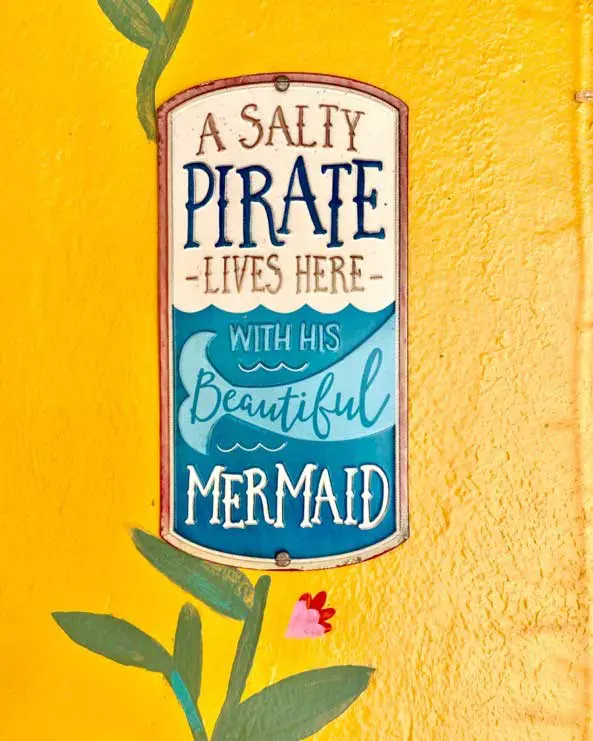 Come as Guests, Leave as Friends
Friendly smiles, happy to chat and recommendations on everything from day trips to dining like a local, Cindy and Dan enjoy "relaxed" workdays. It's more like visiting with friends than work.
Dan says his favorite thing about this island life is "the more relaxed structure. If it doesn't happen today, tomorrow is okay." Even with people around the world popping in to stay anywhere from a few nights to a few weeks, Los Alcatraces is quiet and still feels like a home.
It's a far cry from the long hours of running his own vintage car restoration business back in Colorado. Dan still gets to work with his hands which he loves but it's at his pace. A casual pace. There's plenty of time to meet friends at a local cantina for a beer whenever he wants.
Cold Beer for a Buck and Eat for Free
Part of the Caribbean's appeal is warm weather and sunshine nearly every day of the year. So a nice cold beer goes down well on a hot day. Especially if they bring you botanas (snacks) for free.
Mexicans know how to live a balanced life. To be flexible and work around the hotter parts of the day. Dan slipped seamlessly into the local lifestyle preferring local cantinas over touristy places.
It's easy to see why when he shared "I enjoy getting together with friends at a local cantina. The beer is cold and cheap, only 25 to 30 pesos ($1.50 U.S.) for a cold bottle of beer. Plus free botanas of fried fish, ceviche, chips n salsa, or something similar so you can eat for free."
A $3 seafood lunch including two cold beers. Now that's a great-value get-together with friends.
Cozumel has hundreds of restaurants and a lot give locals a heavy discount. Even elegant dining surrounded by gorgeous gardens at places like  Casa Mission has a locals' menu where you get a drink, soup, main meal, and dessert all for 100 pesos, $5.
Or for everyday meals, the local comida economica, small family-owned restaurants, are a great option. A couple can dine out for $20. The food is fresh, non-processed, and delicious. I have friends that eat out five times a week because it's cheaper than making it at home.
Abundant Healthcare and Amenities
As we discussed the low cost of living on Cozumel I was intrigued to hear about the differences in our amenities. See, I live in an apartment. A mere three-minute walk from the ocean and all of my amenities are included in my incredibly cheap rent. I'm talking gas, internet, garbage pickup, water, the lot. All I pay for is electricity and my drinking water and rent is only $400 a month.
But Cindy and Dan have a larger house right in town. So we laughed when they told me "trash pickup is every day and only $40 per year. We used to pay that a month back in Colorado."
Another thing that had us smiling was when Dan told me, "Recently I had to see an ear, nose, and throat specialist. The consultation and tests were only 1,000 pesos, $50."
Then Cindy chimed in with "I just got my teeth cleaned at the dentist for $17." And the examples just kept coming. Cozumel is a major port so the island's six hospitals have top cardiac and orthopedic surgeons due to high demand with elderly cruise ship goers.
With top healthcare at low cost like this it frees up your money to make your dreams come true. Like finally ticking things off your bucket list.
Ticks Off Your Bucket List
Cindy has always wanted to try deep-sea fishing. I couldn't help but smile as she beamed; "last week I joined a Ladies Fishing Tournament and finally got to do deep-sea fishing. We came third!"
Even pottering around home she has time to try things she's always wanted to do like making a huge mosaic on the wall above their pool.
So lastly, I had to ask …
What Advice Would You Give Someone Wanting to Move Here?
After a moment their answer was the same. "Rent first and stay in different neighborhoods so you know which feels right. Patience is a virtue, be prepared because things don't always work in the same way or timeframe you are used to. Things may take longer."
And finally: "If you're going to buy a place and move down here then realize it's a different culture. Things take longer. You have to have the right attitude."
I second all of that and we all agree, the laid-back life, fantastic food, warm friendly people, and beauty of Caribbean life are well worth it.
Related Articles
Top 10 Reasons to Move to Mexico
Overview of Cancun, Mexico: Video Tour and Expat Lifestyle Information
Maps of Mexico: Best Beachside and Mountain Towns
Popular Articles You May Also Like