Everybody talks about their hustle today. Their online hustle, their side hustle, their part-time hustle. A hustle used to be a negative; a scam, a rip-off. Today it's a smart way to make some money outside the normal systems. That's something that became a necessity for many in the last year, when the normal economic systems broke down. COVID affected everyone everywhere, including retirees, remote workers, and digital nomads.
I live in Pak Nam Pran, in the region of Pranburi, Thailand. It's a relatively undeveloped stretch of coastline just a few hours from the capital, backed by protected forest and mountains. It's not big, but its physical surrounds make it a world-class kiteboarding location, which draws a lot of in-the-know travelers to the area.
Among the expats here, quite a few have had to pivot from their regular occupations in order to make ends meet. And some have found their side hustles worked out pretty well. Maybe better than the job they put on hold. From various walks of life and widely different occupations, people all around were innovating to make it through the rough times.
Kay Subriachat and Nick Jones, for instance, quit their day jobs and moved to Pak Nam Pran last year from Bangkok. They wanted to scale back and live the beach life here. Both Kay and Nick are obsessive kiteboarders who had been making the trip from Bangkok every weekend for years.
Ditch the city and move to the beach permanently.
They had a plan when they finally decided to ditch the city and move to the beach permanently. Nick, originally from Sioux City, Iowa, would continue to teach online and Kay, Bangkok born and bred, would use her hospitality know-how to open a beachside bar that catered to the kiteboarding community. They opened their place, called Barracuda, making sandwiches and smoothies all day, then selling cold beers and cocktails after 5 p.m.
Charlie Coughes, who has worked on offshore rigs his entire adult life, is married to a local woman, with a couple of kids and a nice house. His offshore work always provided him with a consistently high income, but demanded a lot of time and sacrifice. When international travel shut down due to the spread and fear of COVID, the offshore industry was thrown into chaos. Big C—as he is known here in Pak Nam Pran—found himself for the first time in years wondering how to make some money.
Wai Ling was only passing through Thailand when she became one of several thousands of travelers stranded in the country, unable to return either to Singapore where she worked, or to New York where she's from, because of the international lockdown. As a therapist, Wai Ling found she could qualify for a volunteer visa, working with a local organization that deals with refugees. She could remain in Thailand, but still needed to generate some income to fund her stay.
Like people all over the world, Kay and Nick, Charlie, and Wai Ling had to take stock of what they needed to live and what they knew how to do, then turn that into a way of generating some cash. Charlie had been making bread for his family for years. Good bread is hard to find in Thailand, and his was well known in the town from parties and occasions when he would show up with loaves of rye bread or focaccia in his arms.
The opportunity that Kay and Nick saw was to work with local restaurants under lockdown rules that allowed for take-out only. Wai Ling, on the other hand, was already using Zoom for personal reasons and figured that it would be a great way to console people during a time when so many would be homebound and experiencing real trauma.
"I went through my old appointment book and contacted my former clients in Singapore to tell them I was available online for sessions. I thought I knew who was going to reach out and who wouldn't. I was wrong; almost all of them reached out," Wai Ling says.
The response she got was unexpected, to the point where she was scheduling group sessions for those whose problems weren't too personal. Once it was all set up, she ended up working five or six hours a night.
Kay and Nick had to close the Barracuda bar, just like everyone else adhering to lockdown regulations. Nevertheless, they thought that maybe they could continue making the same sandwiches for delivery from home.
Kay had food experience from her years of working in the hotel industry, but it was Nick who had the inspiration to re-create one of their favorite comfort foods, Ameri-Chinese fusion, and offer that menu from their home. With a set menu of orange chicken, beef and broccoli, egg rolls, and regular daily specials, they began to take orders using social media and Grab—a delivery service that boomed during the pandemic.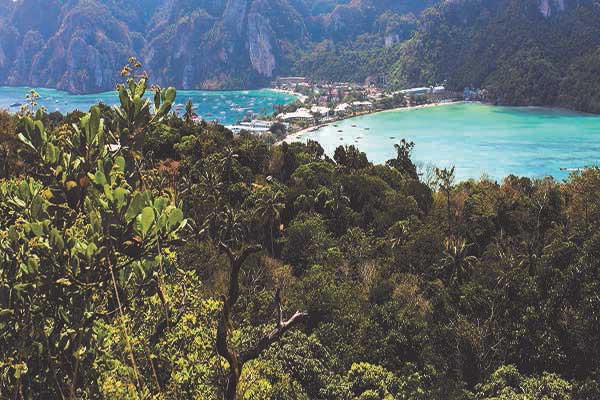 Charlie was already making bread at home. He figured that if he could up his production level by recruiting his wife and even getting his two boys involved, he could bring in a little extra money. He made up a menu and got it around to the last few gathering places in town left open, and also used messaging apps like Line and WhatsApp to spread word through the community. "One of the boys came up with the pun Knead the Bread, and our menu is simply all of the favorite breads I would make at home. Right now, bagels are my best seller."
I can make enough in one day to pay my rent!
In order to get his production numbers up, Charlie invested in a commercial oven, which, because of the mass closure of restaurants, came pretty cheap. He also had to hire a couple of actual paid staff, since his boys still had school and his wife had a household to run. "It works out now and it's good to be able to circulate a little money into the local community as well," he says.
Charlie plans to keep Knead the Bread going even after he gets back to his main work. His wife is handling the orders and he's taught his local staff all the secrets of making bread that he learned over years of baking for himself. He calls it "a nice little earner" and would like to see his boys take it over in a few years.
"The Thai people are getting more and more interested and particular about the bread they eat. The expat community will always be interested. When it comes down to it, who doesn't love a fresh-baked loaf of bread?," Charlie laughs.
The success of Kay and Nick's take-out home food has them second guessing their original intentions when they moved here. Kay had figured that, once the bar was organized and running well, she would begin working with some of the local high-end boutique hotels as a wedding coordinator. That was her former job in Bangkok. Nick's plan was that he would continue to teach online.
Now, Kay is considering transferring the menu she created back to the bar and making it part of the daily offering. "So many people already told me that if we stop, they're going to miss this food, especially the Sunday Sea Bass special. I think now this can bring more customers to the bar once we reopen. Maybe we'll get a wider base outside of the local kiters, more Bangkok people," Kay says with a smile, making a money counting gesture with her fingers.
For Wai Ling, her side hustle and temporary expat status here in Pak Nam Pran is now going to be her life. After a year of living at the beach with the mountains all around, she won't be returning to live in Singapore or New York. Her schedule is always booked, with clients paying her the same rate as when she lived in Singapore—that's worth triple in spending power here. "I can make enough to pay my rent in one day! That is unthinkable in Singapore," she says. With a new boyfriend, and having been lured into the kiteboarding life that draws so many to Pak Nam Pran, she is staying put.
One of the upsides of what has happened over the last couple of years is that it has shown companies that working remotely may be even more productive than turning up at their offices every day. This, in turn, has helped the cause of the digital nomad. Countries are now seeing a path towards issuing more useful visas to remote workers who may want to stay and live in their country longer than a tourist visa would allow. Thailand is currently preparing to roll out a long-term visa that will grant freelancers a 10-year stay.
Governments are seeing that welcoming remote workers and giving them the legal status they need to live and work, is good for their own economy. As one MP recently told the Bangkok Post in Thailand, "we have so long promoted tourism we didn't really respect the expat community." A vacationer may spend more in a week, but the expat is here, spending a year, or five, or even 20.
Related Articles
Find Your Dream Retirement in Thailand
Enjoy a Low Cost of Living in Thailand
Popular Articles You May Also Like