Despite having lived in Vietnam for well over a decade, it took years before I even heard of Quy Nhon, a city of more than 450,000 sun-kissed souls on the south-central coast. A friend told me it was a beautiful place, just right for retirees, but there were only a few foreigners living there. How could this city have escaped my notice? My curiosity was piqued; I had to check it out for myself.
What I discovered astounded me: a long golden beach (which I had entirely to myself), mouth-watering food at crazy-low prices, an abundance of lovely parks and plazas, and a small, but welcoming expat community. I was excited to find a new place that in-the-know expats love, but that hasn't even made it into the guidebooks yet.
Mountains, Beaches, Parks, and Plazas
"I have traveled all over the world, says New York retiree Bob Ebers "and this is one of the most beautiful cities that I have ever visited; the huge waterfront, surrounded by mountains, the greenery. These are the things that really drew me here."
Quy Nhon nestles below forested hills and mountains to the south, west, and north. To the east lies the South China Sea, offering a particularly beautiful stretch of tropical coastline. The city itself sits along a clean, peach-colored beach. The sand stops at rocky headlands outside of town in both directions; small, mostly empty beaches lie beyond the southern headlands. Watching the sunrise is spectacular here.
The entire coast, stretching nearly from the northern marina to the southern end of town, is one long public park and promenade. Parks and plazas line most of the opposite side of the coast road, too, with more scattered through every neighborhood in the city. Some have exercise equipment, others have playgrounds; some are for cycling or hiking, and others for relaxation. Most are decorated with colored lights come nightfall. All of them are maintained and clean.
The parks and plazas come alive in the evenings, when families come out to enjoy the cool air and vendors line the sidewalks selling ice cream, cotton candy, and treats. It seems as if you are never more than a five- or 10-minute walk from a well- kept public area.
A City That Feels Small
Quy Nhon feels like a prosperous town. It wasn't even established as a city until 1986, though its history goes back to the 11th century when it was a major center of the Champa culture (a kingdom of seafaring traders who settled in what is now central Vietnam from the 2nd to 17th centuries A.D.). There are still Cham towers—ornate brick shrines built in the medieval period—in the area, including a pair of matching towers right in town.
The beach has a few newer hotels and resorts, but it's pretty low-key in terms of tourist development. Most of central Quy Nhon looks quite settled, with a pleasing mix of Art Deco-styled buildings, Buddhist temples, Catholic churches, small city parks, and pedestrianized areas.
Quy Nhon doesn't have many big city attractions; there aren't any shopping malls and there are hardly any high-rises. That's not to say that you can't find what you need in Quy Nhon, but you may have to shop around for it.
What you will find is a busy little downtown, several traditional markets, modern supermarkets, a delectable food scene, and an uncrowded beach that stretches for miles. The lifestyle tends to be slow, social, and laidback. That said, the city comes to life once the sun goes down.
The bill for two came to just $2.60.
That's when the restaurants fill up—Quy Nhon has some good ones—and the prices are some of the lowest that I've seen in Vietnam. I had a big dinner at the Gia Vy 2 (address: 14 Diên Hô`ng), a renowned local restaurant that serves up delicious bánh xèo (crispy Vietnamese rice crepes filled with bean sprouts and shrimp, squid, or beef). The bill for two came to just $2.60, including iced tea. If you prefer street food, sitting on a little plastic chair on the sidewalk, it's even cheaper. Expect to pay around $1 for enough bánh xèo and iced tea to feed two people.
Local food served in Vietnamese restaurants is varied and prices are uniformly cheap—even seafood is affordable. Houston native Michael Harding says, "The Buffet Nuong No Ne has salads, sushi, grilled shellfish, ribs, and all sorts of meat for $5.15. That's where I'll go if I need to load up on protein."
My husband, David, and I went to a place called Nuong Happy—a similar grill-it-yourself restaurant. It was a fun dinner, the food was great, and the two of us ate well for $13 (excluding a few 60-cent beers).
Quy Nhon doesn't have many restaurants with western cuisine, but the ones they do have are good. Probably every expat living here—around 100 of them when I visited—has been to the Quy Nhon Sports Bar at least a few times. Their pub food is excellent and the Australian owner is happy to share her considerable knowledge of the city with her customers.
Just past the Sports Bar is the Blue House, another popular western restaurant and bar owned by a friendly Finn and his Vietnamese wife, who serve up an amazingly good breakfast.
The Italian-owned Sisters Tavern and Pizzeria skillfully creates all their dishes from scratch. Their calzones are especially delicious. The Hai Rom Tapas Bar is a new, surprisingly elegant bistro whose talented chef creates beautifully plated salads, seafood, and small plates using the finest, freshest local ingredients. Quy Nhon has several Japanese restaurants, and there's even a KFC if you have a craving for comfort food.
Rent, Transport, and Weather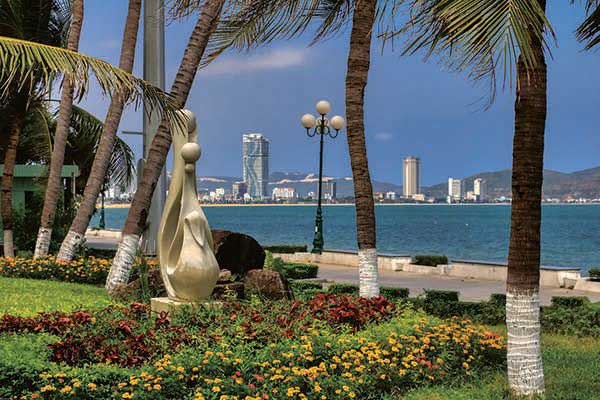 Housing in Quy Nhon is inexpensive, even by Vietnamese standards. Monthly rents for furnished studio apartments start at less than $200, while spacious two-bedroom, unfurnished single-family homes are available for less than $300.
You won't find any property agents in Quy Nhon; the rental market operates almost entirely by word-of-mouth. If you want to find housing, it's easier to start by renting a local room or an apartment through Airbnb or another booking website. Long-term housing is best found once you're in the area, as it requires networking at local businesses and expat hangouts.
Dia Oc Binh Dinh is the only online resource I've found that's dedicated to property listings in Quy Nhon; the site is in Vietnamese but you can translate it to English using your browser.
The cost of living is extremely affordable given the high quality of life in the city. Two people can live comfortably on less than $1,000 per month. Michael Harding's average monthly budget is only $300. "That includes rent, utilities, gas for my motorbike, and eating out frequently. But I know the cheap spots," he says.
Quy Nhon's roads are above average, and many expats use their own motorbikes to get around. That isn't a necessity, though. Grab, a ride-hailing app similar to Lyft or Uber, offers both car and motorbike taxis; they charge an affordable fixed rate so no haggling is required.
A ride across town generally costs less than $2 on a Grab Bike. Competitively priced metered taxis are also available. Since this isn't a large, sprawling city, it's entirely possible that wherever you're going will be within walking distance; bicycling is also a good option.
Medical care is good for a relatively small city. The Quyhoa National Leprosy Dermatology Hospital—don't let the name put you off—gets glowing reports from expats. It offers a full range of healthcare services, and has some English-speaking staff and translators. Prices are incredibly low; a consultation with an English-speaking specialist costs less than $3. Good dental care is also available at several clinics in the city.
Quy Nhon is served by Phu Cat Airport. Getting there from abroad requires a transfer in either Hanoi or Ho Chi Minh City. The Reunification Express trains, which run the length of Vietnam, stop at Dieu Tri Station, about six miles from town.
Quy Nhon is situated along a horseshoe-shaped bay and avoids most of the typhoons and seasonal flooding that occur farther north. It's also less humid than much of coastal Vietnam. Temperatures between May and August are usually in the mid-80s F, though it may occasionally get above 100 F for a few days. September through April are cooler; most days are in the mid-70s F. More than half of the annual precipitation occurs in October and November.
Vietnam's Best Beaches on Your Doorstep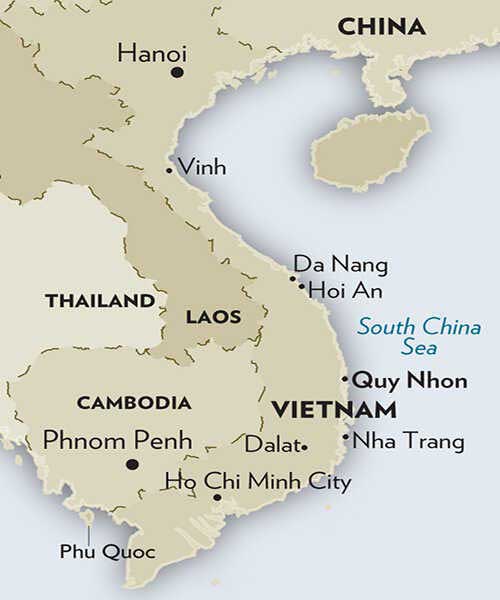 Quy Nhon Beach, closest to downtown, is beautiful, but it's only one of several outstanding beaches in this area.
Quy Hoa Beach gets high marks from Quy Nhon's expats. This secluded, sandy beach five miles south of the city center hardly ever gets busy, and it offers spectacular views of rocky coastline in both directions.
Bai Xep Beach, a short drive south of town, and Ky Co Beach on the peninsula, are other easily accessible options. Mui Dien Cape, which has a scenic lighthouse, is another notable beach within a short drive of the city.
Related Articles
Cost of Living in Vietnam with Sample Budget
Guide to Traditions and Culture in Vietnam
Is Vietnam A Safe Place to Live?
Popular Articles You May Also Like