If you've dreamed of retiring to Italy, but it's a bit beyond your budget, read on to learn about Vlorë, Albania, only 50 miles across the Adriatic Sea from the boot heel of Italy (and ferries make daily runs).
In Vlorë you'll not only enjoy Italian coffee every morning, but Italian is widely spoken, you can buy Italian foods in the supermarkets, perhaps enjoy a pizza Margherita at lunchtime, and indulge in cool, creamy gelato on the evening passeggiata (called the 'zhiro' here). And all this is yours for a fraction of the cost of retirement in Italy.
What's Vlorë like? In a word, relaxed. You won't find a symphony, lively nightclub scene, posh shopping, or 5-star dining, but you'll find incredible beaches with turquoise waters, loads of outdoor activities, vibrant markets, stunning mountains, a rich history to explore, delicious local foods prepared to perfection, and above all, the most sincere and caring people you'd ever hope to meet. So, let me introduce you to the city I call home, Vlorë.
Location and History
Located on the southern coast of Albania, Vlorë dates back to the 6th century B.C. The city has a population of 188,000, making it the third-most populous city in Albania. Located just 50 miles from the boot heel of Italy and 100 miles north of Greece, the influence of both those countries is present in the wonderful cuisine. The predominant religions are Islam and Christianity, so you'll hear the call to prayer from the local mosque as well as the bells of the Catholic church ringing in the hour.
Things To Do in Vlorë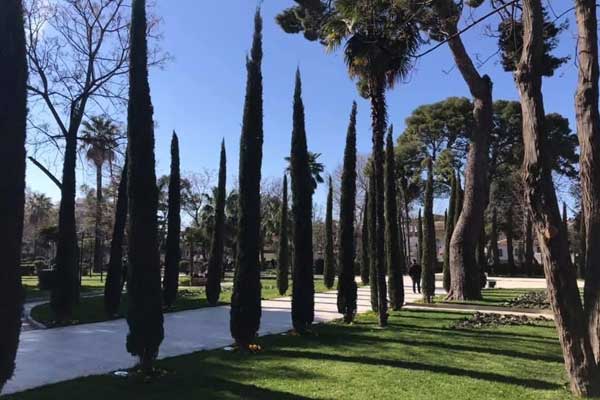 Vlorë is well-suited to those who enjoy the great outdoors. That's not to say you can't be perfectly content indoors, but with the mild Mediterranean climate and breathtaking beaches, there's so much to do outside for at least eight months of the year that you'll probably find yourself saving indoor hobbies and activities for the cooler winter months.
If you enjoy football (soccer to Americans), the Flamurtari Stadium is located in the center of the city, so make time to cheer for the local team. For the occasional rainy day, there are several museums. Perhaps you love walking? Vlorë is a very flat coastal city with great walking and cycling paths.
Or, if you're in the mood for a climb, stroll through olive groves as you head up to Kaninë Castle (or take a taxi for just a few dollars, if you're not feeling up for the climb). You'll enjoy beautiful views of the city and Vlorë bay, but don't be surprised if you see horses and cows strolling the roads alongside you—it's not uncommon for a few to get loose and head out on an afternoon walk.
Alternatively, maybe pack a picnic and cycle north through shady woods to the medieval Byzantine monastery on a tiny island in Zvernec. Add in swimming, pedal boats, paddle-boarding, paragliding, and walks to the markets, and you'll find that fitness comes naturally in Vlorë.
Vlorë also boasts a very low cost of living while still being close to Central Europe (more on both of those in a bit). Although Vlorë is a mid-size city, it feels more like a town. I live in an older house in the historic center, on a quiet street shaded by tall trees, and even though I'm a mile from the shore, the cool aromatic sea breezes still rustle the palms outside my windows.  Most expats tend to gravitate to the capital city of Tirana, so Vlorë is still relatively undiscovered by expats at this point, thus offering you the chance to live like a local. People are incredibly hospitable here, proud of their city, and they want to make foreigners feel at home.
Climate
Situated on the southern coast in the Bay of Vlorë, the city enjoys a Mediterranean climate, which means hot, dry summers and cool, damp winters. Like the rest of Europe, July and August are the hottest months, with average temperatures of 68 F overnight and 86 F in the day. January and February are the coolest months, with daytime temperatures averaging 66 F, and overnights around 48. With the mild climate and 300 days of sunshine annually, beach season starts mid-April and extends through the last days of October.
Getting Around Town and Beyond
Vlorë is a great city for walking and cycling as it's remarkably flat and has wide sidewalks and dedicated cycling lanes. Taxis are inexpensive, the local bus is just 35 cents, and you can rent bicycles, scooters, and cars. There are daily ferries to Italy ($35 each way), or you can fly into Rome for as little as $40.
To get to the airport in Tirana, the shuttle is $9 (just under two hours), or you can take a taxi for about $60 (under 90 minutes). From Tirana, you can catch direct flights to London and Vienna for under $100, and non-stops flights to other destinations include Berlin, Paris, Zurich, and Athens.
Finally, if you want to travel by land to a bordering country, there are multi-lingual international drivers who will transport you door-to-door at very reasonable prices, even getting your passport stamped at the borders while you relax in their air-conditioned SUV.
Cost of Living
Housing:
To Rent: On average, $200 to $300 per month. I rent a spacious two-bedroom/one-bath apartment with a balcony (50 square meters) for $250 a month.
To Buy: The Century 21 office here quoted me a range from $400 to $1,200 per square meter, depending on fixtures, appliances, furnishings, and age of the building.
Water:  A couple might expect to pay $18 to $20 a month
Electricity:  Mine averages $20 to $25 a month, but would increase if you use AC in summer, or heat in winter (like most locals, I use neither)
Internet:  $18
Mobile phone: Depending on the carrier you use, $8 to $9 a month
Transportation: The city bus costs 35 cents, taxis are about $2 to $4 depending on where you're going around town
Groceries:  I spend about $25 to $30 per week for myself
Dining out:  My favorite café offers morning coffee and brioche for $1.20.  An evening meal for two at a grill restaurant on the beach (with wine or beer) would total about $20. Restaurants include pizzerias (individual size is $3, while the family-size is $7), Greek taverns, and more.
Visa
Albania is just now starting a retiree visa for those with a pension. While it's not quite finalized, the basic requirements will be a monthly pension of $980, a local bank account, health insurance, a notarized rental agreement, and a background check. But if you haven't taken your pension yet, you could still live in Albania quite easily; Americans can stay for 365 days, and are then free to return for another year after spending 90 days outside Albania.
Those three months are a great time to explore the Balkans, wider Europe, and beyond. While waiting for the new pensioner visa to be finalized, that's what I do—I spent last winter in the snowy mountains of Ohrid, Macedonia just a few hours away, then returned to Vlorë just in time for beach season.
Shopping and Banking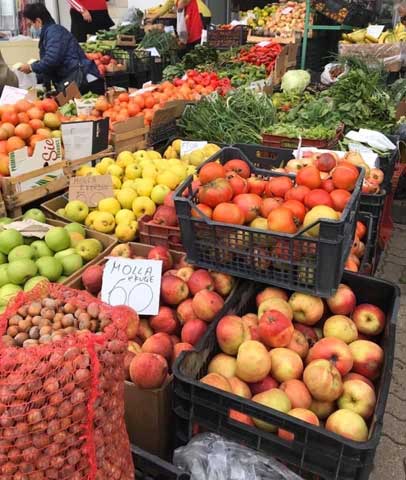 You'll find everything you need in Vlorë. The huge central outdoor market (open 365 days a year) has everything from clothing, toys, and footwear to electrical appliances, furniture, and plumbing/hardware needs. If they don't have it, it likely doesn't exist!
Across the street is the central outdoor produce market (also open every day of the year), with everything from fruits, veggies, and eggs, to seedlings in spring, and freshly pressed olive oil and nuts in autumn. And of course, there are smaller produce markets on every block. For supermarkets, you'll find several well-known European chain stores (Coop, Conad, Spar), a popular Albania chain (Haso), and mini-markets on every block.
Banks are plentiful, and many ATMs don't charge fees (I use Credins ATM, and the only fee is the 1% of my U.S. bank charges). If you need a pharmacy, they are plentiful and well-supplied; there's nothing I can't find here, including my favorite brands of supplements, toothpaste, etc.
Language
Albanians will tell you that their language is notoriously difficult to learn, but not to worry. Students must study two foreign languages in school, and English is almost always one of their choices, with Italian, Spanish, French, German, or Greek making up their second elective. So, while you may not learn more than a few words or phrases, Albanians enjoy practicing their language skills with expats.
Safety
Petty crime exists, as it does in every city in the world, but Vlorë is a relatively safe city. I'm a single woman and take the normal precautions I'd take anywhere, and have never had any concerns for my safety.
The Takeaway
In a nutshell, that's Vlorë. If you're a trailblazer who prefers being off the beaten path and exploring the unexplored, this stunning city on the sea is waiting to welcome you and let you turn this frontier into your dream retirement!
Get Your Free Report on Europe Here:
Learn more about countries in Europe and other countries from around the world in our daily postcard e-letter.
Simply enter your email address below and we'll also send you a FREE report - All the Charm and Romance of Europe…at a Price You Can Afford.
Related Articles
6 Great Reasons to Live in Beautiful Albania
Why I Fell in Love With Albania… And You Will Too
Three Faces of Albania—Europe's Last Frontier
Popular Articles You May Also Like