Belize has been popular with expats for decades and one of the biggest reasons why is the range of living options in the country. Whether you are looking for a self-sustaining farm in the mountains, a cabin in the rainforest, a simple beach cabana, or your dream home on the beach, you can find it in Belize.
This is also a reason you will find a hot debate over the cost of living in Belize. Those looking to maintain a North American lifestyle are not going to find living in Belize to be cost-saving. Those looking to simplify and live a non-materialistic life can definitely find that Belize fits the bill in many ways
The most popular places to live in Belize remain the coastal, beach living areas of Ambergris Caye, Placencia, Caye Caulker, and Hopkins. You can live steps from the beach in these areas. More seasoned expats looking to cut their cost of living tend to explore Cayo and Corozal. You'll find vastly different expat populations in these areas—but most enjoy the year-round tropical weather, proximity to the U.S., and English-speaking locals that are present in all of these areas.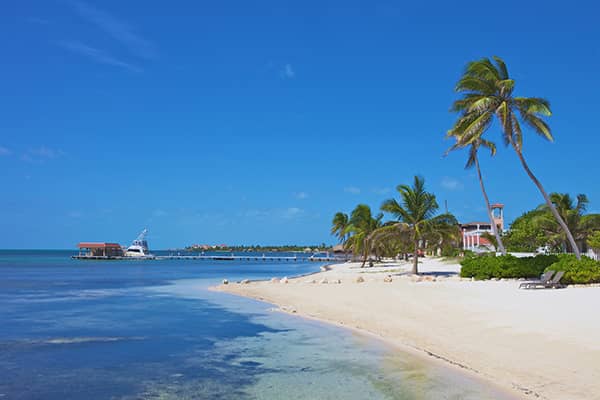 If you want to live on a Caribbean island, it is tough to find a way to live cheaply. The least expensive way to live on Ambergris Caye is to live in one of the "local" neighborhoods, of which there are many. You can find many simple but totally adequate rentals or even houses, depending on how simple your needs are.
One other option right now, that may not last long, is to consider the "Secret Beach" area. This area is currently exploding with expats, you can buy a three-bedroom beach cottage, steps from the water, for around $100,000—brand new! This is on the leeward side of the island and is a bit of a drive to town but with the amount it is growing, it is possible that as "retail follows rooftops", that there may be whole new communities built up around these inexpensive housing communities. You can rent a simple house in a working-class section of the local neighborhoods for around $500 a month, or buy a simple home in the $100,000 range.
If you are looking for something mid-range, there are some great deals right now for condo purchases on Ambergris Caye, because some of the condo buildings are now about 15+ years old. They have great bones but may need a bit of a refresh. One of the great middle-priced areas on Ambergris Caye right now is at Mara Laguna—many expats live here at least for a time, as a rental, or buy a one-bedroom or two-bedroom apartment. While most condos are in the $300,000 range, these condos are listed starting at $125,000.
Rentals in the mid-range are harder to find. The going rate for a nice one-bedroom is around $850 a month. If you go lower than that, you may be looking at older places with fewer amenities or less convenient to town. Another rare find right now are the new condos at Grand Caribe, which is a well-run, established, luxury apartment complex north of the bridge. They have just built Sunset Caribe, where the condos were listed at $199,000, although the least expensive listed right now look like they are at $230,000.
If you are looking for luxury, there is no shortage of luxury apartments on Ambergris Caye. For those with a healthy budget, you can find endless options of new, high-end rentals, homes, or condos. One of the most popular places to live is Grand Caribe, where you will have every luxury at your fingertips, even a gorgeous new medical clinic right on site. Another great new option is the Alaia, a Marriott property, which is bringing luxury to a new level on the island. The best neighborhood on the island is lovingly called "millionaire's row" north of the bridge in Tres Cocos.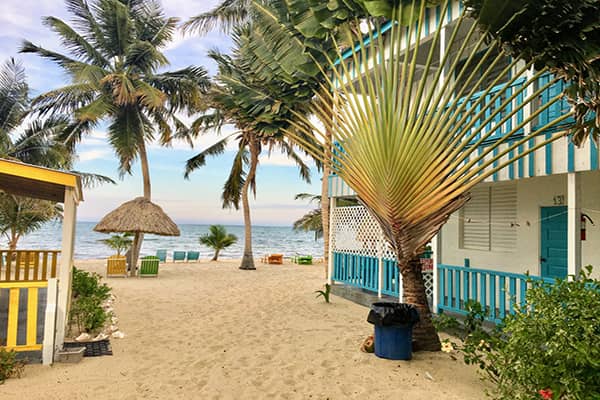 Placencia appeals to those looking for a tranquil, go-slow life. It is a charming, vintage Caribbean village that has many simple, cottage-style homes for rent, for those willing and able to forego some North American-style amenities. You can find these on the vast Facebook pages that Placencia runs on—like Placencia Long Term Rentals or Flowers Management on Facebook.
It's difficult to find value for money in terms of real estate in the village. You can find some cabana-style homes that are inexpensive, or a rare build in the $100,000 range. Here is a great site to show you the low cost of building a Mennonite cabana, which is a popular option starting around $15,000 to $20,000: https://plettshomebuilders.com/.
Placencia doesn't have a huge housing stock, so the range of middle-cost rentals is a tough find in Placencia. These would be considered rentals that are under the "going rate" of about $850, which is the approximate cost of a North American-style rental in the village. You can find less expensive rentals sometimes in Maya Beach, an expat village about 20 minutes from the village, but there is not a huge housing stock. Many people end up buying a small plot of land and either do an inexpensive Mennonite cabana. Wood homes are less expensive than block. You can buy land and put up a cabana in the 100,000 range in the village, but many people will use this as a temporary house until they build a permanent dwelling.
There is not a huge amount of availability in the luxury housing range in Placencia, but there are still plenty of options. The most popular higher-end homes in the village can be found at Sunset Point, or Harbor View is a great place on the lagoon side, where you can have your boat right outside your home. In Maya Beach, Coco Plum is a hugely popular option for luxury, or Itz'ana is another option located about 15 minutes out of the village.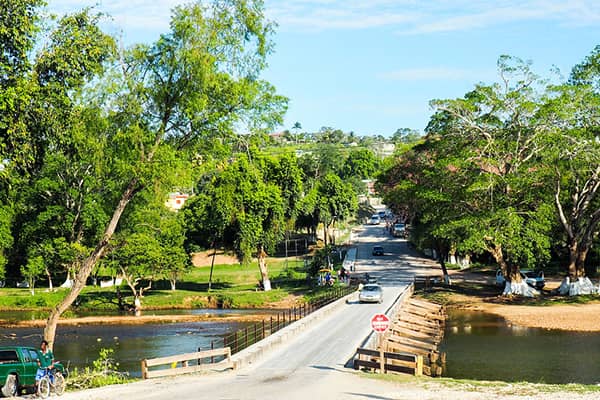 Cayo has everything from rainforest, to mountain, to in-town living. There are countless villages to explore outside of San Ignacio, and you'll find expats sprinkled throughout the area, most looking for a more wild-west experience. You can find plenty of options for renting and buying in the Cayo area for a low budget. Many expats move there to take advantage of the opportunity to live a self-sustainable life, with a small plot of land to even have a garden or farm. The options are endless—land is ample and inexpensive, and you can put up a Mennonite cabana for $15,000 to $20.000. Rentals are ample for inexpensive prices. You can find plenty of rentals on the Cayo Facebook pages.
For around $500 to $600 a month, you can find a ton of rentals in San Ignacio with wonderful views. Luxury is a bit harder to find. Although there are plenty of huge, private homes that you'll find for sale. The land and square footage you can find in the Cayo region gives you a lot more for your dollar than you can find in the coastal areas.
Free Webinar: Belize, The Last Affordable Caribbean Paradise
This Special FREE Online Event, The Caribbean's Last Affordable Paradise will show you where you can...
  ➢ Recapture the carefree, contented days of time gone by...spend your time playing in the sea, fishing, swimming, sunning...
  ➢ Rent a luxuriously furnished two-bedroom condo just steps from the beach for just $1,200 a month. Or buy one—furnished—for as little as $139,000.
  ➢ Live all in...rent, utilities, groceries, fun and entertainment included...on as little as $1,700 a month—less than $20,000 a year—and vastly reduce your overall tax burden.
All in a friendly and welcoming English-speaking haven just 2 hours from Miami.
Your Hosts...Two of the Most Qualified Caribbean Experts are ready to share all their insights and first-hand knowledge about this often overlooked, low-cost paradise.
Sign up for our daily postcard e-letter and you'll get FREE and INSTANT access.
Related Articles
Five Places to Live in Belize; Two to Avoid
Is Belize a Safe Place for an Expat to Live?
Popular Articles You May Also Like