Living in Cambodia
Cambodia is fast becoming known as an up-and-coming destination for expats seeking to retire overseas or simply looking to relocate and enjoy a better quality of life.
This country is known as the Kingdom of Wonder for good reason. Everywhere you turn you'll find something to amaze you… ancient temples abound, as do charming colonial cities, Buddhist temples, bustling local markets, lush green fields and mountains, unspoiled coastlines, and pristine undeveloped islands. There is something here to suit everyone.
There are so many reasons why Cambodia is a suitable place to enjoy your retirement, such as the extremely low cost of living, some of the simplest and most flexible visa requirements available in Southeast Asia, the welcoming local population, and the benefits of living in a fast growing economy, where everything from Hollywood cinemas to international airports are in close proximity.
And, of course, Cambodia is also one of the region's tourism hotspots with millions of tourists pouring in each year to visit the temples of Angkor Wat and explore the cities and coastal resorts, meaning that the country remains eager to cater to Western standards and requirements, with English being spoken widely by many Cambodians in the urban and tourist areas.
Where to Live in Cambodia
Phnom Penh remains the top choice for expats, with the majority living in the capital city. Here, everything you desire is easily available, as the city offers a mix of both old and new, with modern property developments and shopping centers being built around the existing landmarks and colonial buildings. Expats here are spoilt for choice when it comes to fine dining and there is a thriving network of expat associations and communities, as well as a big social scene.
Siem Reap is another popular choice, especially for those with a love of exploring temples since the Angkor Wat Complex covers an astounding 17,502,118 square feet. Known as "temple town", Siem Reap city is also a bustling but relatively small metropolis. With a picturesque river running through it and its local markets and temples, as well as the old French colonial quarter, it is a pleasant place to call home. The famous "Pub Street" also means that there is no shortage of bars or restaurants to keep you entertained and well-fed.
Sihanoukville is Cambodia's largest and most popular coastal resort which attracts both foreign tourists, expats, and locals to its shores. With a large number of beaches to choose from and over 30 pristine and undeveloped islands to explore you can quickly come to understand the attractions of this small city.
The laidback, colonial city of Battambang is the second largest city in Cambodia. With a small, but growing, expat population there are a number of restaurants, bars, and hotels, many of which are held in quite high esteem.
Kep and Kampot are two complimentary locations in the south of Cambodia that have captured the hearts of many an expat.
Kampot is a riverside town where life goes by at a leisurely pace. The area is known for its world famous Kampot Pepper, as well as its prominence as a stopover for tourists on their way to visit the Damrei and Bokor mountains. A decent number of quality restaurants and hotels have grown to accommodate tourists, as well as expats from Phnom Penh who come to enjoy the water sports activities on the river.
Kep is just down the road from Kampot and is known as the "Saint Tropez of Southeast Asia", due to its development by French colonialists to become what is now Cambodia's second main coastal resort. The French influence is noticeable in the colonial villas around the town, which is centered around the beach and the fresh crab market.
"I Can Afford Luxuries in Cambodia I'd Never Allow Myself at Home"
by Lina Goldberg
Like many expats in Cambodia, I ended up in "the Kingdom of Wonder" completely by accident. But living in the capital Phnom Penh, I feel like I have discovered the secret to a laid-back lifestyle.
Life here is almost entirely devoid of the high-pressure stress I endured when I worked in a cubicle in New York.
In that past life I worked in advertising…but I quit my job to travel around Asia and South America—and 10 months later, I applied for a fellowship with an American non-profit in Cambodia. In three short months I fell in love with Phnom Penh and the expat lifestyle there, and once my fellowship concluded, I never left.
Phnom Penh feels untamed and full of potential, and the locals are friendly and happy to have a laugh with anyone, be they Khmer or expat. It's in the midst of massive development, but there is still plenty of Asian small-town feel, such as the farmers who sell ripe, juicy mangos for 25 cents apiece on the side of the road, or the stalls serving strong, sweet, iced coffee that's the perfect antidote to Cambodia's tropical heat.
I've been in Cambodia for three years now, and that has allowed me to pursue a career that I love. I'm a freelance writer, publishing articles about food and travel for local and international newspapers and magazines. Recently I even wrote a book.
I love the freedom that being a freelancer affords me. And making my base in Cambodia, where the cost of living is so low, allows me to have the lifestyle I'd always dreamed about but never thought possible.
In Phnom Penh a one-bedroom apartment can be had for between $150 and $500 per month, depending on what level of luxury you require. If you're frugal, you can live here on less than $1,000 per month, although most expats prefer to budget a bit more.
Luxuries that I'd never allow myself at home are easily affordable. I can have a pair of leather shoes made to order for $22, a dress tailored for not much more than that, and a weekly manicure for $6. For transport I take tuk-tuks, which get me anywhere in Phnom Penh for between $1 and $3.
And Phnom Penh has a wealth of fantastic international restaurants, wine bars and a vibrant nightlife and live music scene. It has western-style gyms and grocery stores that stock American, British and French brands—these days you can get nearly anything you want, from chorizo to cocoa powder.
The expatriate population in Phnom Penh is large—although Cambodia's laxity about gathering statistics means no one is quite sure how large—and very diverse. Cambodia offers a readily attainable long-stay visa, with a year-long visa available to most nationalities for just under $300. The expat social scene is friendly and it's easy to meet other foreigners who have made a home here.
Cambodia is one of the easiest countries in the world to move to. Since I left the States, this is the third country I've relocated to, and although it's the most "foreign" it was also the most painless one to settle in. The commitment level is low, apartment leases can be had for as little as three months' rent with a month's deposit, the visa is easy and anything you need can be found in Phnom Penh. For those thinking of coming, I would suggest not wasting any time…
When I compare my life now—wearing flip flops every day and doing work that I love—to my high-anxiety existence working at a corporate job, I can't believe how lucky I am. I have so much more time to do the things that I enjoy, like traveling, cooking and reading, and the things that were so important before, like owning an expensive handbag or the latest gadget, now seem ridiculous. When I walked away from my old life to go traveling I was not sure exactly what I was looking for. But whatever it was, I found it in Phnom Penh.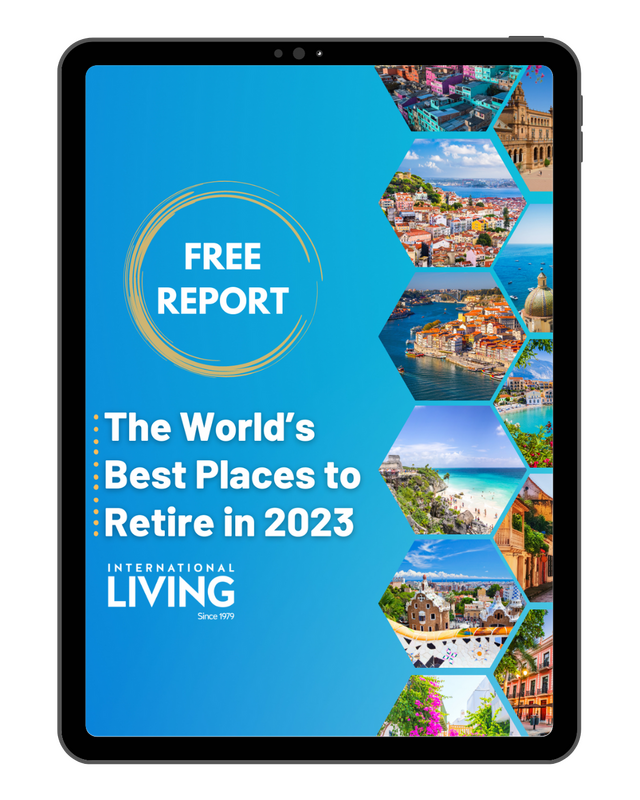 Get Your Free Report on the World's Best Places to Retire:
Learn more about the best places in the world to retire in our daily postcard e-letter.
Simply enter your email address below to sign up for our free daily postcards and we'll also send you a FREE report on The World's Top 10 Retirement Havens, plus access to over 10 more free reports. Our gift to you, on our favorite destinations.