The Real Estate Market in Cambodia has Undergone a Massive Transformation
The real estate market in Cambodia has undergone a massive transformation over the past 10 years due to an ongoing boom of foreign investment for new large-scale property developments.
The overwhelming majority of these projects have taken place in the capital city of Phnom Penh, with the skyline growing rapidly due to construction of the country's first skyscrapers and condominium complexes with prices ranging anywhere from $200,000 to over $1 million for apartment units in prime locations.
Increasingly there are also more gated housing communities, townhouse complexes, and satellite cities being developed across the suburbs and outer areas of the city, while in the beach town of Sihanoukville a similar increase in real estate development is taking place.
Real Estate Regulations
Cambodia's Foreign Ownership Property Law of 2010 has been essential in making the process for buying property much simpler and clearer for foreigners interested in investing in new condominium and apartment developments.
All foreign nationals with valid passports are now eligible to purchase any unit of a property above the ground floor of a building such as an apartment complex or condominium. While other countries such as Thailand limit foreign ownership to a maximum 49% of the units, in Cambodia foreigners are now permitted to own up to 70% of the building's units.
For those more interested in the purchase of land, rather than property units, there are two main options available to you:
The first option is to acquire a 50-year lease on a piece of land, with the option of including sub-clauses to allow renewals of the lease duration and restrict any re-sale of the land during the agreement. This enables a properly structured agreement to double the duration of the length of the lease up to 100-years under Cambodian law.
The second option is to purchase the land using a Cambodian Limited Liability Company. However, if a company is being used to purchase land in Cambodia then a foreign national is restricted to owning only 49% of the shares in the company. In order to maintain control of the company and of the land it is possible to structure the company using two classes of shares, with one class being dominant when it comes to nominating directors, transferring shares, and ensuring majority director agreement. Also, by registering any land purchases using a mortgage in your name it means that land titles cannot be transferred without your consent. Furthermore, it is possible to document an agreement between company shareholders to establish your minority control of the company by nominating the board of directors or assuming power of attorney.
One thing that should absolutely be avoided is buying through a spouse or a partner's name. No matter how much trust you may have in them, technically the investment is no longer yours if it is not in your name. Legally you would have no right to stay in the property should the unfortunate outcome of a divorce or sudden death take place.
If you are seriously considering investing in land or property it is highly recommended that you first contact a well-regarded law firm with experience in real estate and incorporation arrangements.
Better to Rent Than Buy?
While the growing number of new property developments might seem interesting to expats looking to invest, it should be noted that recent reports by international real estate agencies, including Knight Frank and CBRE, indicate there will be an expected five-fold increase in new units on the market by 2020, leading to considerable oversupply.
With such a large increase in development many expats in Cambodia have decided it is more prudent to rent during the next few years since property prices are currently at a peak and are likely to decrease in value as the supply of new units continues to grow. Also, since many developments are built off-plan, there is always the risk of investing in a project that does not reach completion. It may well be wiser to wait for construction to be completed and for prices to adjust in your favor before considering to make a property purchase a few years from now.
The good news is that rental prices in Cambodia can be extremely good value, with Western-style apartments or floors of a town house in respectable areas of Phnom Penh available to rent from as little as $300 to $600 per month.
The price of renting a unit in a newly built condominium complex or serviced apartment are naturally more expensive, but deals can be found anywhere from $750 upwards in buildings with dedicated parking, 24-hour security, gyms, and swimming pools, as well as other amenities such as regular cleaning services and free wireless internet.
A Selection of Properties Available
Below are some rental properties currently on offer:
A fully renovated two-bedroom, two-bathroom Western-style apartment in Boueng Trabek that is fully furnished, with a large kitchen, washing machine, living room with flat screen television, and free internet access. Price: $320 per month.
A newly built two-bedroom, two-bathroom Western-style apartment in central Phnom Penh that comes fully furnished with a modern kitchen and living room, plus its own balcony. Price: $600 per month.
A Modern apartment building near the Russian Market with a two-bedroom, two-bathroom unit that comes fully furnished, including multiple air-conditioning units, flat screen television, and a modern kitchen and living room. The building has its own rooftop swimming pool, communal gym, and provides free-of-charge cable TV, as well as a private car parking space. Price: $850 per month.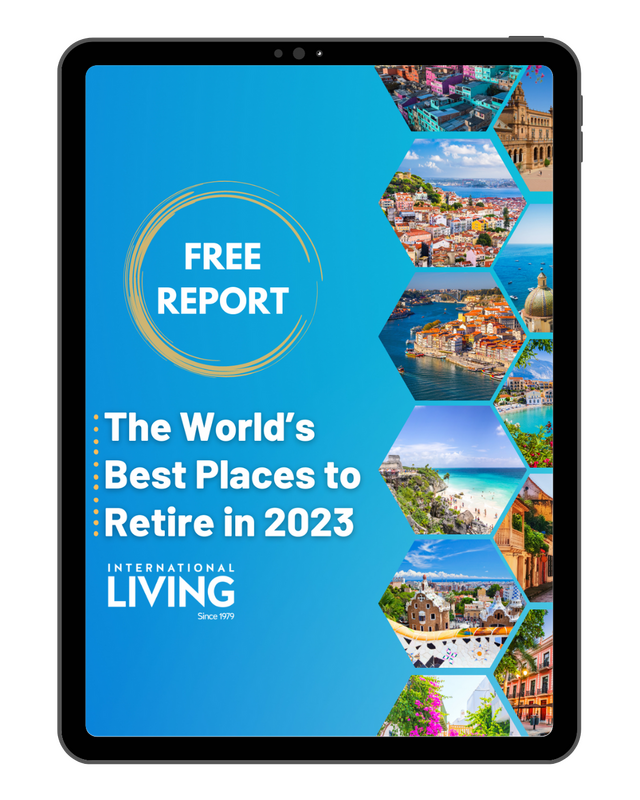 Get Your Free Report on the World's Best Places to Retire:
Learn more about the best places in the world to retire in our daily postcard e-letter.
Simply enter your email address below to sign up for our free daily postcards and we'll also send you a FREE report on The World's Top 10 Retirement Havens, plus access to over 10 more free reports. Our gift to you, on our favorite destinations.