Guide to Osorno, Chile: Best Things to Do and Safety
By Jennifer Roberts
Southern Chile is full of pristine landscapes dotted with imposing volcanoes, shimmering lakes, winding rivers, and rolling hills where cows and sheep are constantly grazing. In the midst of all of this sits Osorno, one of southern Chile's largest and most popular cities with a population of nearly 140,000.
Osorno was built under the influence of the Spanish and Germans and evolved into a sprawling city that boasts the unmistakable hospitality of the south. Only about an hour from both the Pacific Ocean and the Andes Mountains, Osorno offers access to a multitude of activities for every interest and time of year.
Unlike the busy capital of Santiago, in Osorno one can enjoy modern attractions while also finding time and space to relax and take it easy. Those who appreciate an active nightlife will have no trouble finding restaurants and bars to fill an evening, while those who prefer a quiet daytime stroll will revel in the city's historical landmarks.
Where is Osorno?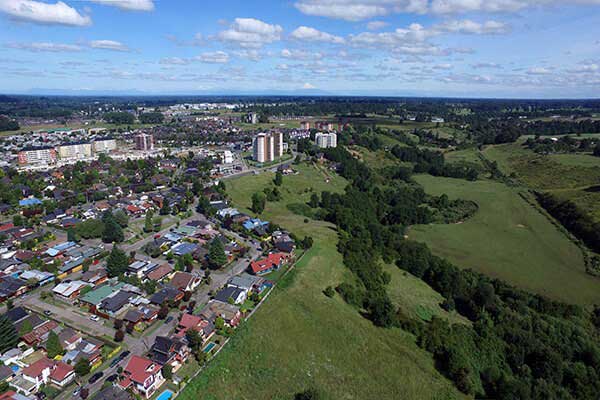 Osorno is located in the region of Los Lagos ("the lakes") in southern Chile. The Los Lagos region, along with the Los Ríos region, marks the beginning of Chile's stunning Patagonia region, which extends down through the far south of Chile and Argentina.
Osorno has its own national airport, and a short one-and-a-half-hour flight from Santiago will get you there. The city straddles Chile's Ruta 5, the major highway that runs the length of the country, meaning it is well connected to other nearby cities, such as Valdivia, Puerto Varas, and Puerto Montt.
As the name of the region suggests, Osorno is situated near a handful of lakes. The largest is Llanquihue Lake, which sits about an hour outside of Osorno. Near Llanquihue Lake you'll also find Volcan Osorno, a stratovolcano that has been dormant since 1835.
Getting around Osorno is quite easy. Colectivos, which act like taxis but pick up more than one person at a time, are constantly buzzing through the streets, as well as the local buses (micros), which will take you just about anywhere you want to go for less than a dollar. If you're in the center, you can find restaurants, museums, hotels, and more within walking distance.
Why Should You Visit Osorno?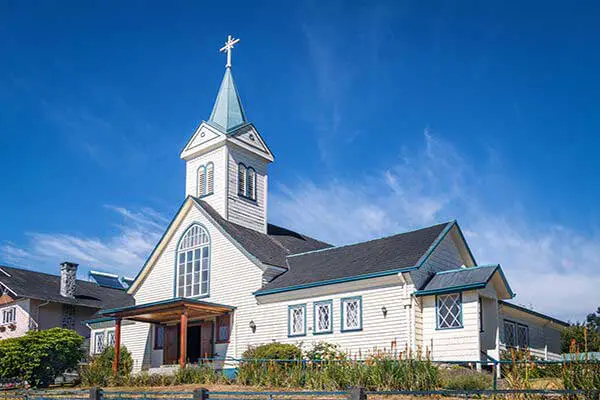 Whether you're a history buff, a ski enthusiast, a nature lover, or are simply interested in exploring a city overflowing with the culture and hospitality of southern Chile, Osorno is the place for you.
In the middle of the 19th century, German immigrants began to arrive in the south of Chile, and many craftsmen and carpenters settled in Osorno. You'll notice that German architecture is tucked into many of the streets, blending the two cultures seamlessly and adding a level of cultural complexity that visitors will find fascinating.
Only an hour or two outside of the city, you can easily reach a series of beaches overlooking the Pacific Ocean, national parks full of hiking trails, ski resorts situated atop the Andes Mountains, and multiple lakes nestled against towering volcanoes and sporting their own lovely beaches. Nature lovers will have no problem filling a day or a week with their favorite activities.
Accommodation is plentiful in Osorno, and whether you're looking for a cheap hostel or a high-end hotel, Osorno has something for every personality and budget. Accommodation will generally be a bit more expensive in the warmer months between November and March, but this is certainly the best time to visit, as average temperatures settle in around the high 60s F and low 70s F. However, in January and February, you can find summer days where temperatures jump into the 80s F and 90s F—perfect for a day at the beach. The winter months (June to August) are perfect for skiing and other winter sports, but be prepared to battle almost daily rain (and snow if you're heading to the mountains).
Best Things to Do in Osorno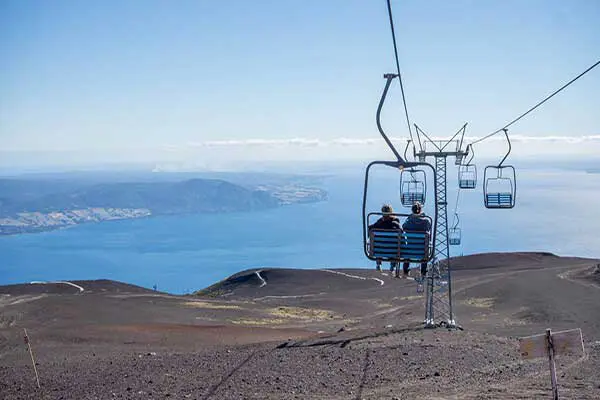 For those who want to soak up the German influence found in the architecture of Osorno's buildings, a walk around the city is a great start. For a deeper dive, you can head to Mackenna and Cochrane streets, where you'll find six painted houses built in the 19th century that have since been declared a National Monument.
While walking around the city, you may stumble upon the central Plaza de Armas, which features several sculptures, a large fountain, and plenty of space for visitors to sit and relax. Just steps from the plaza is the Catedral de San Mateo, a Gothic Revival architectural icon dating back to the 16th century. The cathedral features a 147-foot tower that dominates the city and invites visitors to explore the beautiful interior.
Those who are interested in history will also enjoy a visit to see the oldest human footprint in the Americas. The footprint is around 15,600 years old and dates back to the Late Pleistocene. The print was discovered in 2011 by scientists from Austral University in Valdivia and is located in the Pilauco archaeological site on the northern edge of Osorno.
Parque Pleistocénico in Chuyaca Park will take you back to the Pleistocene and features sculptures of Pleistocene fauna and animal species in real size, including the gonfoterio (similar to the more well-known wooly mammoth) and the milodon (a type of extinct ground sloth). If you want more information on the flora and fauna of the Pleistocene, a small museum in the park is the place to go.
Back in the city center, a few blocks from the Plaza de Armas is the Pueblito Artesanal, a wooden structure housing nearly 50 small shops that sell goods from local artisans. Here, you can find products made of local wool, leather, iron, wood, and more. The nearby Mercado Municipal is another great place to find local goods and is also a good stop for lunch if you're craving local seafood. To continue your day of shopping, head to Lynch Street, which is lined with stores selling everything from used clothes to kitchen utensils to furniture.
Those who are up for an afternoon stroll will find the walk to Fuerte Reina Luisa well worth their time. This historical fort, built between 1793 and 1794, sits above the Rahue River and was meant to protect against attacks by the Mapuche and Huilliche tribes, which had previously attacked and destroyed the city during the Arauco War. The fort was destroyed by an earthquake in 1835 but was later rebuilt and in 2007 underwent a second remodel.
Near the fort you can stop in to see the old train station, built in 1917, which now houses a modern interactive museum. Both kids and adults will love exploring the science-inspired activities in the museum.
Only an hour outside the city sits San Juan de la Costa, a coastal community that includes the towns of Maiculpue, Pucatrihue, and the port of Bahía Mansa. Spend a day (or two) beach hopping along the Pacific to enjoy a bit of Osorno's amazing summer weather.
In the opposite direction, in the Andes Mountains, you can find Antillanca, a popular ski resort. The one-and-a-half-hour drive will take you past amazing views of Puyehue Lake, as well as Aguas Calientes, a hot spring that is a welcome stop after a day on the slopes.
Another ski resort can be found on Volcan Osorno, but this ancient volcano isn't only for ski lovers. Volcan Osorno is also open to hikers and features a lift for those who prefer an easier ascent to check out the sublime views of Llanquihue Lake.
Is Osorno Safe?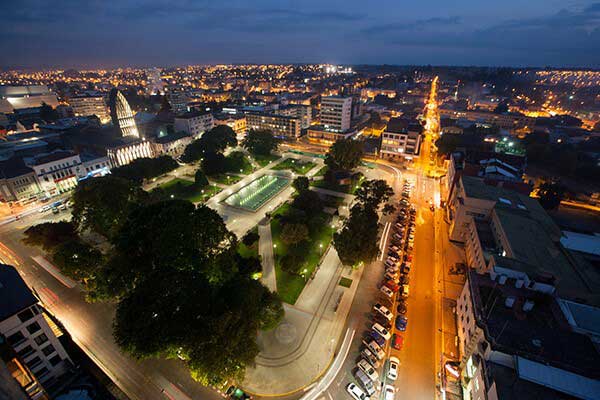 Chile is generally considered among the safest countries to visit in South America, ranking only behind Uruguay in the Global Peace Index. Protests shook the country in 2020, and Osorno saw its fair share of civil unrest, but it has since settled back into its former tranquility. Though the city still sports scars in the form of burned buildings and broken windows, it is slowly rebuilding back into its former self.
In general, the streets of Osorno are incredibly safe, though tourists should exercise some caution with their personal belongings, especially at night. Money and wallets should be placed in the front pocket, and it's often best practice to carry purses that include a cross-chest strap. It's also not advised to hang your purse or other belongings on the back of your chair at restaurants—your lap is the safest place.
Osorno is located close to Volcan Osorno, but the volcano hasn't erupted in nearly 200 years. With that said, earthquakes are quite common, so knowing basic earthquake safety is a good idea before traveling.